A well-seasoned cast iron skillet and other cookware provide you with the best cooking surface because it not only heats foods evenly and has a naturally non-stick coating, but it can be used on the stovetop or go into the oven. Use this ultimate guide for learning how to clean a cast iron skillet to keep it sparkling clean.
Cast iron cookware is practically indestructible, and if it gets mistreated, it is quickly restored. However, cleaning cast iron can be tricky if you don't know what you're doing. Caring for cast iron is a lot like caring for a car.
If you take the time to service it regularly, the cast iron pan will last you a long time. However, if you neglect it or abuse it, you will need to spend more time on heavy-duty repair work. Following this guide on how to clean cast iron will bring your cookware back to life, no matter the condition.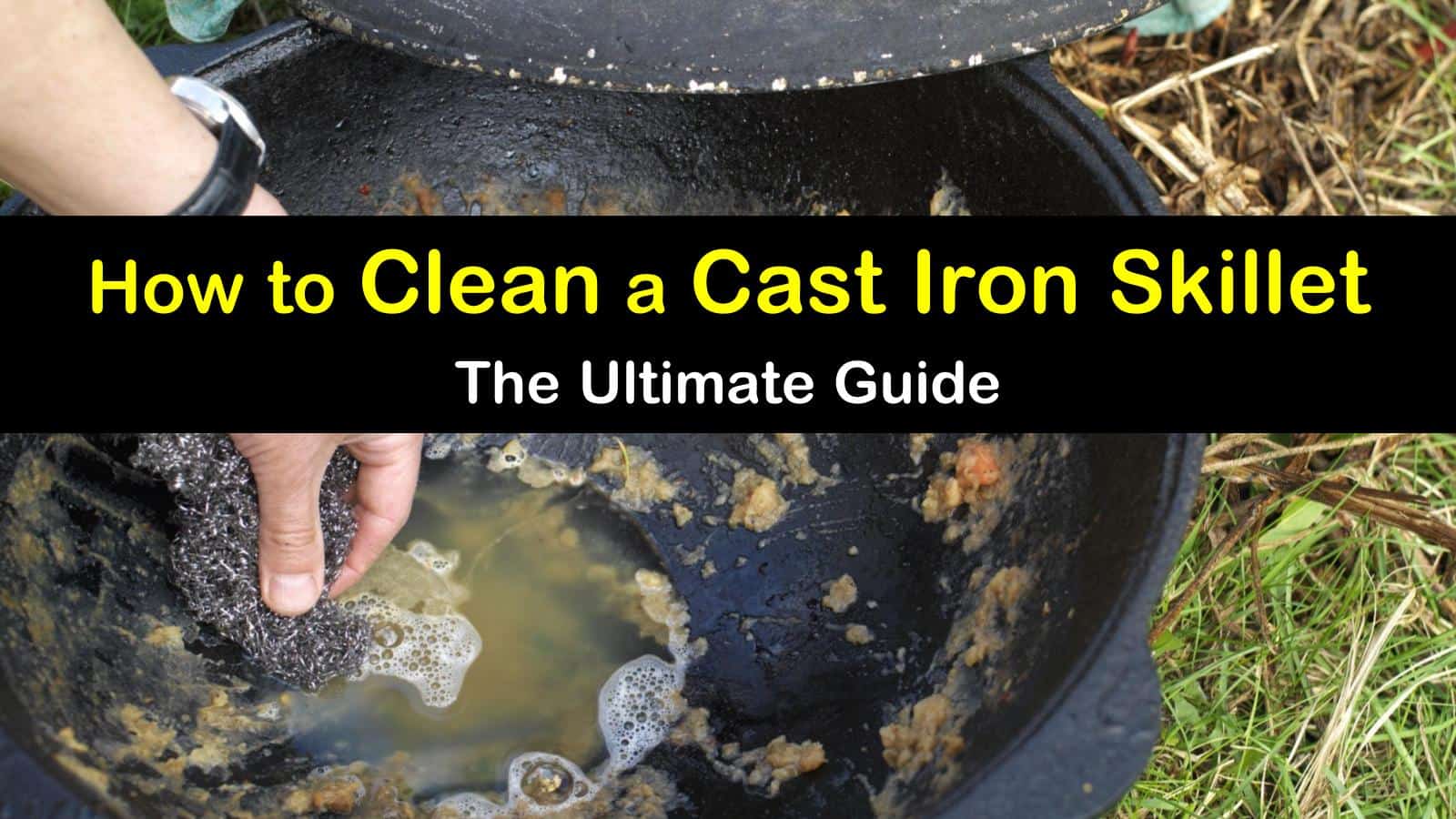 Cleaning a Cast Iron Pan
Many professional chefs love to cook with cast iron rather than stainless steel because it has excellent retention properties. This makes it an ideal choice for frying, baking, and searing food. When you learn how to care for it properly, your cast iron pans will develop a naturally non-stick surface that will last for a lifetime.
Cleaning nonstick pans is similar to cleaning cast iron; you just don't have to season them afterward. The appropriate care of all your cookware ensures that they will last a long time.
Cleaning Cast Iron after Every Use
Every time you use your cast iron, you need to clean it. Fortunately, knowing how to clean a cast iron pan doesn't take a lot of time or effort. While the interior surface of the pan is still warm, use a clean paper towel to wipe out any excess oil and food.
Rinse the pot under hot water and use nonabrasive scouring pads or nonmetal brush to remove food traces. You can also use soap to help clean the cast iron. Then rinse thoroughly with warm water.
After you've rinsed the pan, take it back to the stove, place it on the burner and heat on low heat for 30 seconds, or until the excess water starts to evaporate. When the pan is dry, turn the heat off. Use a paper towel to rub a few drops of cooking oil into the surface of the pan, then let the pan cool before storing.
Never soak your cast iron pan in soapy water or put it in the dishwasher. You also should never scrub your cast iron cookware with harsh cleansers or metal scouring pads like steel wool or a chainmail scrubber.
These items can put scratches in your cast iron and damage the non-stick surface. If you do accidentally scratch the skillet, while you don't need to throw the pan away, you will have to re-season the skillet, which can take a substantial amount of time.
Cleaning a Cast Iron Skillet with Burnt on Food
Even if you adequately seasoned your new cast iron skillet, occasionally you might have to deal with burnt on food and food sticking to the surface of the pan. This can happen for many reasons, including cooking something high in sugar or not using enough fat when cooking. To get rid of baked-on, burnt food residue from your cast iron skillet you'll need some salt and vegetable oil.
Mix the oil and salt in a small bowl and pour the mixture into the cast iron skillet. Use a paper towel or other clean cloth to scrub the salt into the surface of the pan. Focus on the areas with burnt-on food.
Continue to scrub the surface until all of the food remnants are loose, then dump them in the garbage.If it is impossible to remove the burnt-on food with the above method, bake the cast iron in the oven.
This is also the perfect time to use a homemade oven cleaner recipe to get off any burnt-on food in your oven. Set the pan in the oven and turn on the self-cleaning setting. Let the oven run its course.
Once the self-cleaning cycle is complete, leave the pan in the oven until it has thoroughly cooled. You'll need to season cast iron skillet again with vegetable oil before storing it since the seasoning burns off during the self-cleaning cycle.
If you have cast iron grates on your barbeque grill, you can also use salt and oil as a gas grill cleaner to get them shiny again. Be sure that the grill is cool to touch and either remove the grates or scrub them while they're still in the grill.
This DIY remedy to clean a cast iron grill is ideal for eliminating tough baked-on food stains from sauces or seasonings and will get your grill ready for its next use in no time.
How to Clean Rusty Cast Iron
Over the lifetime of your cast iron cookware, you will need to maintain and touch up the seasoning from time to time. However, if the seasoning becomes overly dull or damaged, or if the pan starts to rust, give your pot a complete overhaul by stripping the cast iron.
If your cast iron skillet is on the rustier side, use coarse salt to help remove rust from metal with ease. Stubborn rusting and surface stains are no match for the incredible power of a potato and salt. Cover the inside of your pan with the salt.
Use half of the cut potato to scrub the cast iron skillet. You can do this by using the flat side of the potato to clean the surface of the cast iron pan. The coarse nature of the salt and the potato's moisture makes removing rust much easier than if you were to use a scrubber brush or sponge.
Next, use a stiff brush and some hot water to remove the rust from the surface. Rinse the pan thoroughly and completely dry with a paper towel or clean cloth. Season the pan before using again and you are ready for your next iron skillet meal.
How to Clean a Cast Iron Skillet that's Burnt
No matter how careful you are with your cast iron skillet, there is always a chance that you will end up burning your cast iron cookware. Fortunately, it isn't difficult to clean a burnt cast iron pan. First, you need to wipe down the skillet with oil to remove any lightly stuck food.
If you can catch your food right before it starts to burn the cast iron, you might be able to use a few tablespoons of canola oil to clean it out. Just pour the oil into the pan while it is warm and use a paper towel to wipe the surface down.
This method works best for food that is recently burnt onto the pan. If your skillet is severely burnt or if it has been left for a long time, you will need to give it a more thorough cleaning. It needs something a bit more abrasive than oil to get the burnt cast iron skillet cleaned.
Spread some baking soda over the base of your skillet. Use a paper towel to start scrubbing out any food that is stuck to the skillet. Lightly rinse the skillet with warm water to remove the leftover baking soda.
Unfortunately, even using baking soda might not be able to clean a burnt cast iron skillet if the food is challenging to remove. Lift away more difficult burnt-on food by boiling water in your skillet.
Fill the skillet with about one inch of water and place it over medium heat. When the water starts to boil, use a plastic spatula or wooden spoon to scrape away the burnt areas. After you've removed the burnt area, make sure to pour the water out and allow the skillet to thoroughly dry before using it again or putting it in storage.
To remove excess water quickly, dry it in the oven. Wipe the surface of the cast iron pan down with a cloth to remove water, then put it in an oven heated to 350°F for ten minutes. If you store your cast iron pan when there is water in or on it, the pan can start to rust, so you need to make sure it is thoroughly dry before seasoning or storing.
After you've cleaned your skillet, always apply a thin layer of oil to the skillet. After removing it from the oven, while it is still warm, add one to two tablespoons of oil to the skillet and use a paper towel to spread it around the surface. The oil will react with the warm surface of your cast iron cookware to form a polymer, which is what keeps it non-stick and in excellent condition.
Restoring Your Cast Iron Skillet
If you haven't been regularly cleaning and maintaining your cast iron skillet, you might think that it is irreversibly damaged and that you'll have to throw it away. Fortunately, you can restore your skillet to its original glory with a few steps. If you aren't able to clean your skillet with one of the methods mentioned earlier, you can use steel wool to scrub your skillet clean.
The steel wool will strip the pan back to new cast iron. Place a small amount of warm water and dish soap into your skillet and scrub it with a small ball of steel wool.
Continue to scrub until you reveal the natural, unfinished cast iron. The only time that you should use steel wool on your cast iron is when you need to strip and season the skillet.
Clean the skillet with hot water and soap. Hold the skillet under the running water and use a damp cloth to clean the inside of the skillet until the water runs clear.
Place the skillet in the oven, heated to 350° F, and let it dry for ten minutes. Remove the pan from the oven and put it on a tea towel to keep it from touching your work surface directly.
Pour one to two tablespoons of oil into the pan and use a paper towel to spread the oil over all of the surfaces. Use the same procedure to season cast iron on your grill. Once it is covered in oil, use a second paper towel to remove excess. Put the skillet in a 500° F oven for one hour or turn on the grill.
Place a piece of tin foil on the lowest rack and place the skillet upside down on the highest shelf in the oven. This helps seal in the oil and season the cast iron. After an hour, remove the skillet from the oven and let cool.
Seasoning a Cast Iron Skillet
If you recently bought a new cast iron skillet or your old one needs a little TLC, you'll need to season it before cooking with it. To season your cast iron Dutch oven or other cookware, heat it over medium-high heat.
Dip paper towels in two tablespoons oil and hold them with tongs to wipe the surface of the cookware until the oil starts to smoke and there isn't any remaining oil residue. Repeat the process between three and five times, making sure the oil smokes and you let the skillet cool slightly between applications.
What is Seasoning?
When cooking oil or fat is heated to its smoking point in cast iron, the fatty acids oxidize and reorganize into new plastic-like molecules. This plastic-like layer gets trapped in the pitted surface of the cast iron and bonds with the metal.
This reaction is what creates the thick coating that is known as seasoning. With repeated exposure to smoking hot oil, the coating continues to build, making the surface more slippery, and ultimately more durable. That's why, even though most cast iron cookware comes with a factory seasoning these days, the surface of your pans will become more non-stick the more you use them.
The more polyunsaturated fat that is in the oil, the more readily it oxidizes and polymerizes in the pan. Flaxseed oil, which polymerizes and oxidizes much faster than other vegetable oils, forms an incredibly durable seasoning.
However, cheaper oils, like grapeseed and sunflower oil, also work. A well-seasoned cast iron pan has a dark, semi-glossy finish. It also won't be greasy or sticky to the touch.
An easy way to test whether or not your skillet is seasoned well is to fry an egg in one tablespoon oil over high heat. The egg won't stick to the pan if it is well-seasoned.
How to Store Your Cast Iron Cookware
While cast iron is known for its incredible durability, storing it improperly can cause your cookware to become severely damaged. There are several ways to store your cast iron skillet and other pans that will keep them in good shape for years to come. The best place to store them is in a dry cabinet.
Excess moisture turns to rust in a hurry, which makes thoroughly drying them after use incredibly important. If you don't have much space to spare in your kitchen cabinets, you can always keep your cast iron skillet on the stovetop, or even in the oven. Ovens make a great place to store your cast iron as long as you remember to remove the items from the oven before you heat it.
Another option for storing your cast iron is to hang them up on the wall. If you choose this method, you need to make sure that the hooks are securely mounted to the studs so they can easily handle the weight of the cast iron cookware.
Hanging your cast iron pots and pans makes them both functional and decorative so that you can show off your collection. Plus, free airflow helps prevent rust from forming. No matter where you decide to store your cast iron pans, be sure to place paper towels between the pots to help prevent rusting and scratching.
This includes placing paper towels between the pans and their lids, as well. The most important thing to remember is that no matter where you choose to store your cast iron pans, you need to focus on keeping them dry.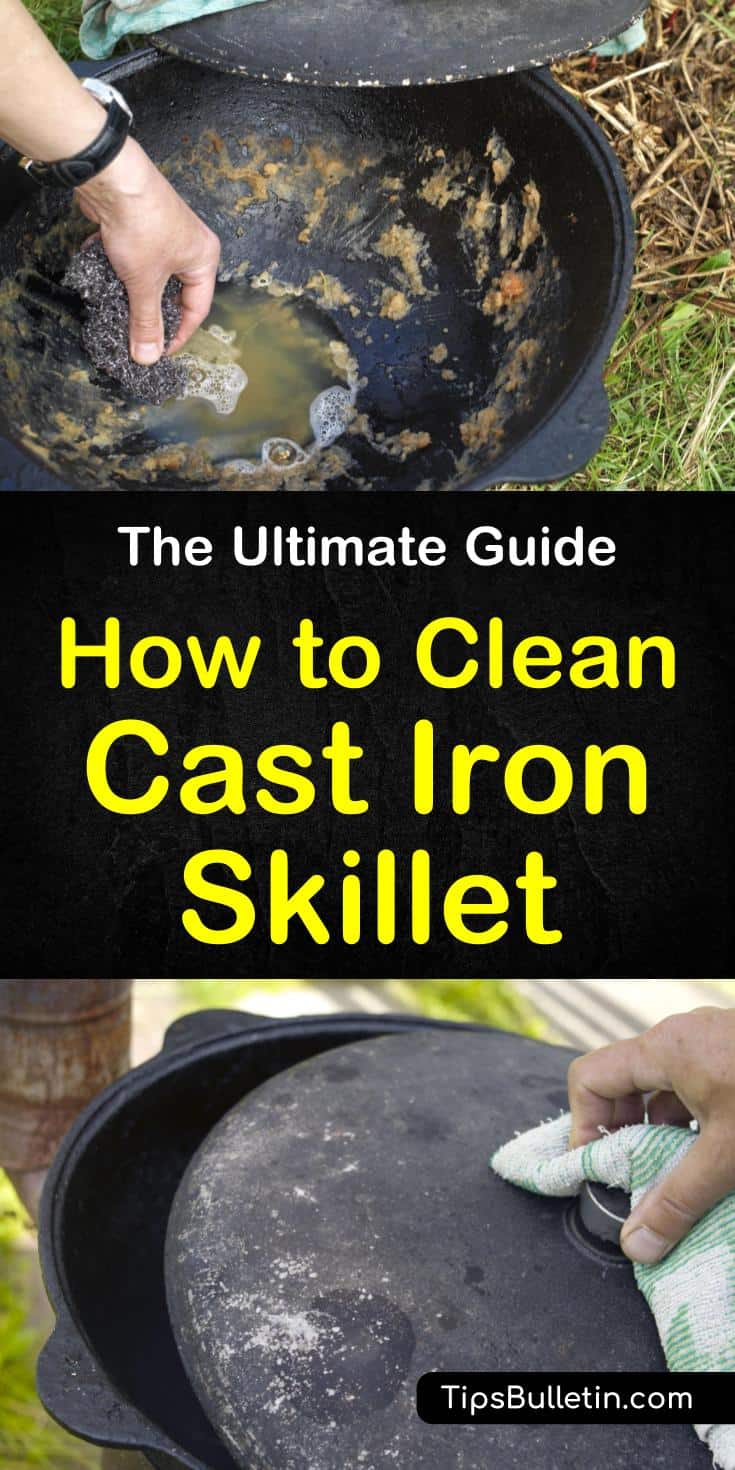 Keeping your cast iron skillet and other cookware clean and in good shape doesn't have to be intimidating. While there are specific things that you need to avoid if you want your cast iron cookware functioning properly, the process of keeping it clean and well-seasoned is simple. This guide on how to clean a cast iron skillet will help you keep it clean and looking fresh.
We hope you found this article on cleaning and seasoning cast iron helpful. If you found the tips on cleaning cast iron useful, please be sure to share these techniques on how to clean a cast iron skillet on Facebook and Pinterest.