One of the best ways to enjoy beautiful weather is to get outside and have a BBQ. However, to make sure you enjoy this summer pastime for years on end, you have to take care of your grill. The key to preventing rusting and caked-on build up is to learn how to season a cast iron grill.
A cast iron grill is a great cooking surface because the high heat cooks the meat through and adds a delicious charbroiled flavor. The seasoning process ensures that food particles don't stick to the cast iron grates. This lowers the chance of rust developing and protects the grills, helping them last longer.
Cast iron cookware is very porous, which means it quickly soaks up fats and excess oil if these particles are left to harden. Seasoning your new cast iron grill creates a non-stick surface, making it easier to maintain throughout the year. Additionally, if you season your grill right away, you need to re-season it less often.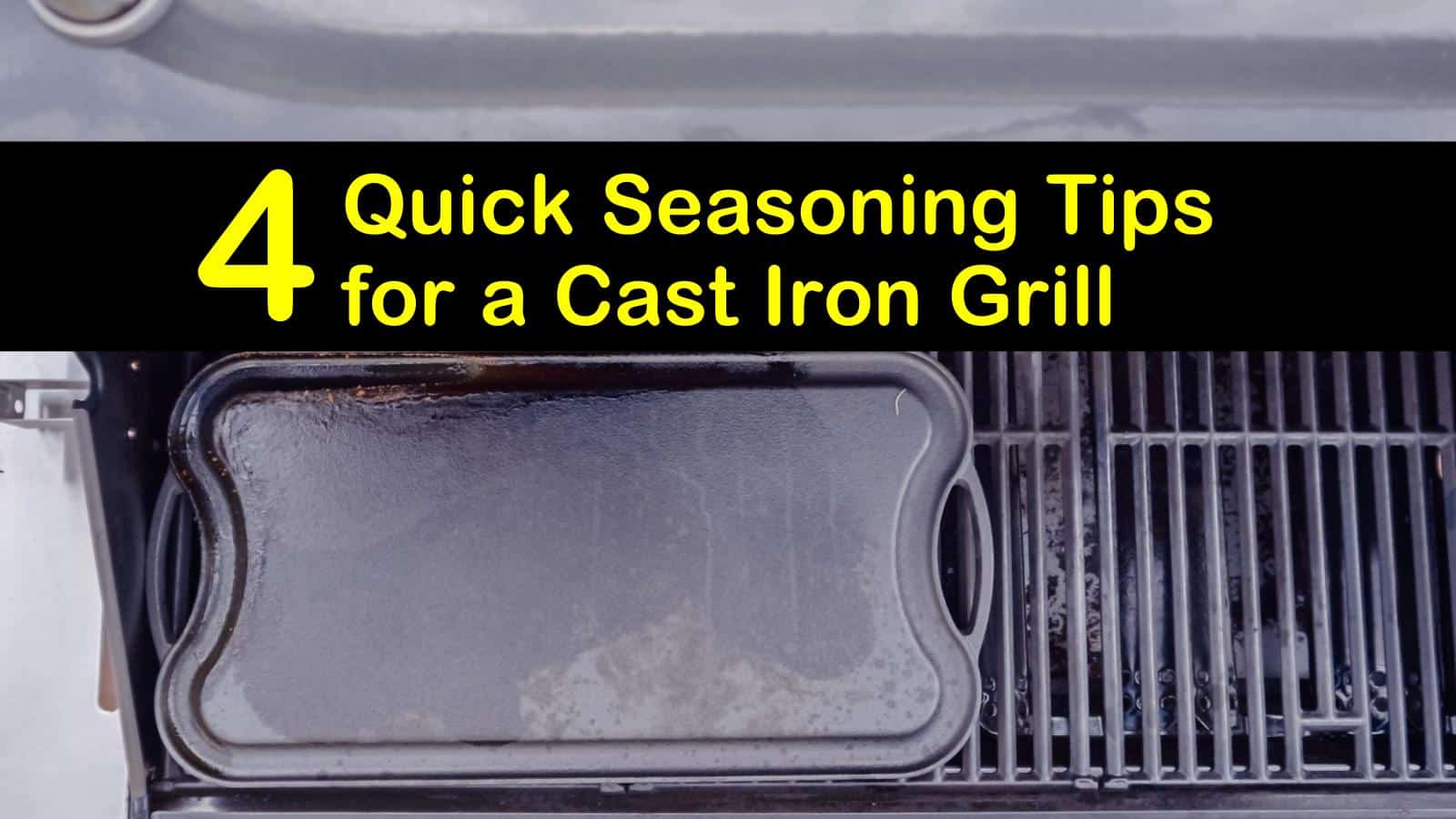 Seasoning a Cast Iron Grill
Before grilling for the first time on your new BBQ or griddle, you need to season it. Or, if you have recently given your grill a thorough cleaning, it's time to re-season.
Start by cleaning an iron grill and grates. Use soap and warm water to wash the grids and rinse with clear water to remove potential contaminants from the factory.
Dry them with a paper towel. Never put your grill in a dishwasher or let it air dry, as rust is more likely to form.
Using soap and water is one of the easiest and most straightforward ways to clean a propane gas grill. If you have stubborn, stuck-on grease and food, a brush may be necessary to loosen the debris.
One of the easiest ways to clean grill racks with debris that is hard to remove is by either burning it off on the grill or using a wire brush specifically designed for the grill.
How to Season a Cast Iron Grill with Oil
Once the cast iron grids are dry, coat them with a thin layer of cooking oil to season a cast iron pan or grill and as a way to prevent cast iron from rusting. You can either spray the cast iron or spread a light coating of oil on the grill using a paper towel.
Make sure you thoroughly coat every inch of the surface, including the corners.You can use any cooking oil, though we recommend using one with a high smoke point.
Non-stick cooking sprays do not work as well because they have a lower smoke point, meaning they will burn off even on low heat. You can also use melted shortening, but you should not use any fat with salt in it such as butter or margarine.
Once it is thoroughly coated, place it back in your BBQ and light the grill. Turn it to medium/low heat and let it sit for about 30 minutes.
This allows the oil to bake into the pores and creates a non-stick surface. Turn off the control knobs. Once the grills are cool, they are seasoned, and you can start cooking!
Seasoning Cast Iron Grill Grates in the Oven
If the weather is off or you're not ready to turn on the BBQ just yet, then you can also season your grill grates in the oven.
Preheat the oven to 275° to 350ºF (135° to 175ºC). Using soapy water, wash the grill to remove residue and dry with a clean towel or paper towel. If your grid is old, use a grill brush or metal scraper to remove crust and baked-on residue.
While hot water and a mild soap is the best way to clean a cast iron grill, you can also make a grill cleaning solution. A vinegar cleaning solution is also suitable. Finish the cleaning with steel wool or stiff-bristle brush.
Coat the grill with oil, shortening or melted lard and wrap it with aluminum foil. When the oven is heated, place the covered grill in the oven. To avoid drippings in the oven, put a foil-covered cookie sheet on the rack below the grid and bake for at least 30 minutes.
Remove the cast iron grid and let it cool in a dry place. Repeat the cooking process two more times, until the grill has a dark finish. By baking it repeatedly, you are deepening the seasoning, guaranteeing a non-stick surface.
This method of seasoning cast iron grill grates works for any BBQ. After you clean your stainless steel grill or gas grill, give it a good seasoning. Because you are removing the rack from the BBQ, you don't have to worry about whether it's compatible.
How to Season a Charcoal Grill
How to season a charcoal grill is similar to other types of BBQ, except when it comes to baking. If you choose to remove the cast iron and bake it in the oven, then you're all set, but if you want to season it in your BBQ, the process is a little different.
Wash and dry the rack in the same manner already described. Once it is completely dry, coat the grill with oil using a cloth. Make sure that there is a thin coating on the surface to ensure the pores are filled.
Place the charcoal on the bottom of your charcoal grill. Make sure it is spread evenly, and ensure you have enough charcoal that it can burn for three hours. Open the vents on your grill and light the charcoal.
Allow the charcoal to burn until you have coals with a red center and a gray coating. Place your cast iron rack on the grill.
Close the lid and let it the rack season for at least two hours. At that time, close the vents and let the coals and grate cool completely. If you need to handle the grill at any time, use tongs to avoid burns.
Maintaining Seasoning Year-Round
Maintaining your seasoning requires a little effort. To get the most out of the seasoning process, you have to do some occasional light cleaning. After you've finished grilling for the day, let the rack cool down and clean it with warm water and very mild soap.
When you clean a charcoal grill or one powered by propane, never soak it or you risk damaging the internal components. Rinse the grill thoroughly and dry with a paper towel.
You can put the grates in a warm oven for a couple of minutes to dry if desired. Coat the grill with a light layer of melted lard, shortening, or oil and place it back in your BBQ with the burners off.
If you have a high-quality BBQ like a Weber, then make sure you take care of it to get as many years out of it as you can. Re-seasoning is essential to maintaining the quality of your grill for years to come.
Additionally, seasoning isn't only for BBQ grills. If you have a cast iron skillet or cast iron pan, it can also benefit from this process. Any cooking item you have that is cast iron should undergo a little seasoning to ensure the longevity of the product and to make the cooking process better.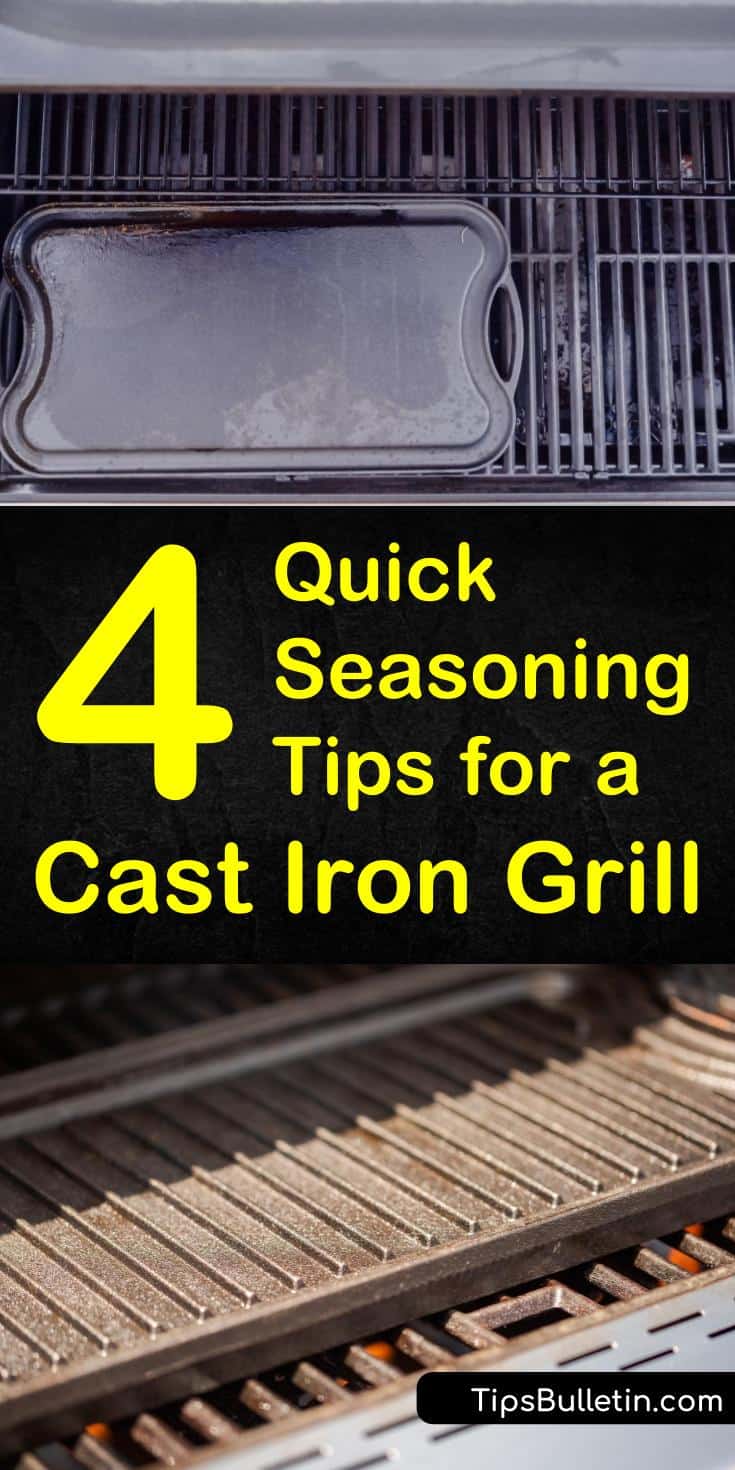 If this article helped you learn how to season a cast iron grill, then share our BBQ tips with your friends and family!