A wood deck adds beauty and class to your yard and makes your home a more valuable and attractive place to be. Deck staining won't last forever, though, and you'll likely find yourself preparing to re-stain your wood deck at some point. Knowing how to clean a deck before staining helps ensure that your experience with deck preservation is a smooth one.
When you're comfortable with what to use to clean deck before staining, the staining process will be painless. This guide shows you the vital details of deck cleaning and staining.
You'll learn how to inspect and prepare your deck for a thorough cleaning before you add stain, and we also let you in on a reliable washing and final preparation method you can use on your floor. You'll be ready to make your home beautiful once more.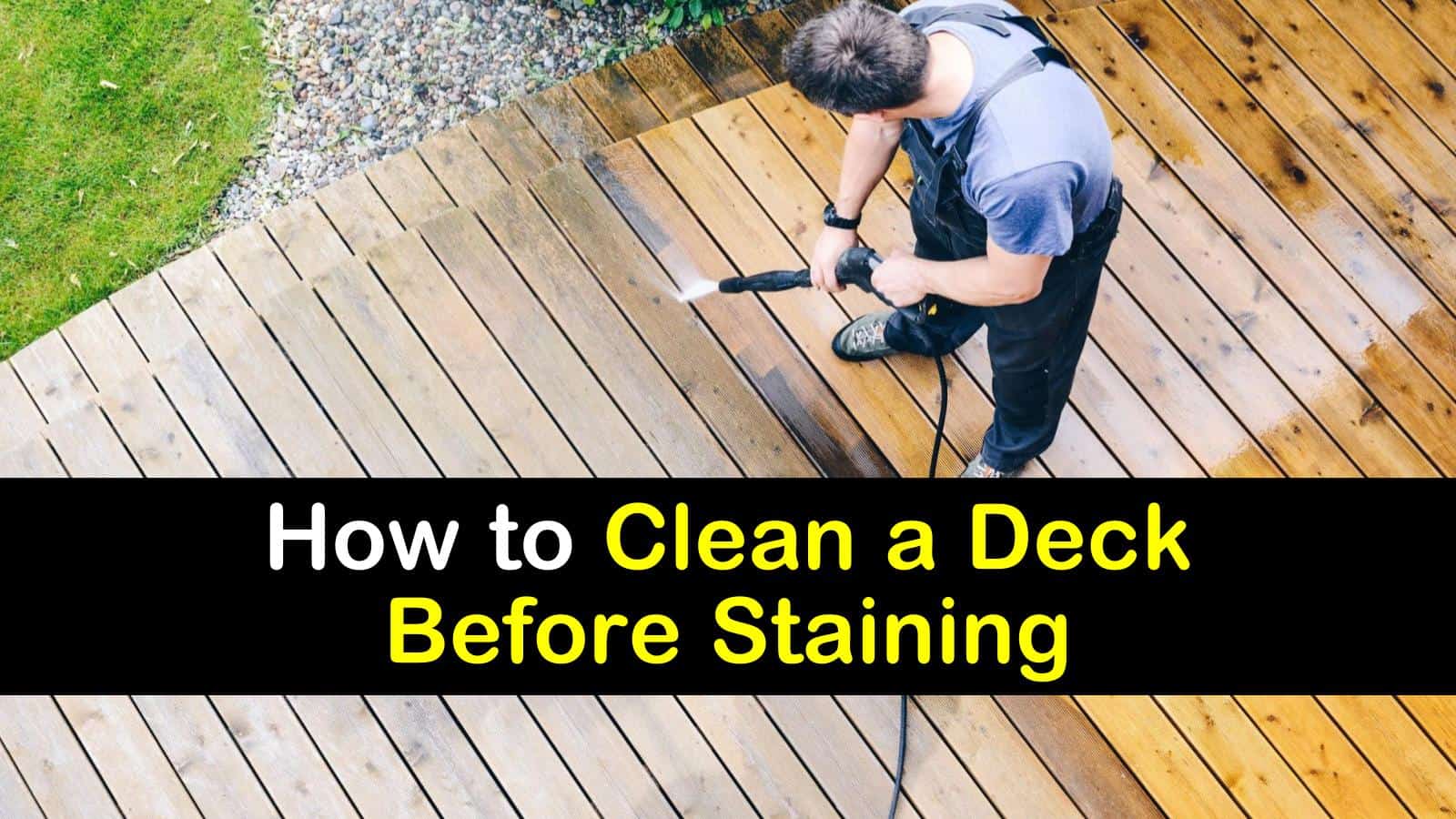 Cleaning a Deck Before Applying Stain
If you want your deck stain to take and to last, you need to ensure that it goes onto a surface that you've thoroughly prepared. To get to that point in your work, you'll have to walk through and carefully check your deck to make sure that you aren't missing any components, and you'll also need to remove any debris, mold, mildew, and good old dirt ahead of a power wash.
When you get the prep work down, it's more likely that the washing and staining will succeed and that your home improvement project will be a triumph. The best way to stain a deck is by having a nice clean surface on which to apply the new stain.
Preparing to Wash
This section looks at deck cleaning solutions that begin with an inspection and preparation for a wash. The time you take in this section will pay you back manyfold when it comes time to wash and stain. A little care in your prep work results in a smooth and straightforward staining process, so it's worth taking a few minutes to ensure that you have a well-stained deck at the end of the day.
Inspect the Deck
Any project you undertake will rely on your advance work for it to succeed, and your deck staining is no exception. A thorough inspection of your decking, especially an older deck, ahead of time allows you to nip any troubles in the bud before they arise and helps you get your deck as ready as you can make it for the semi-transparent stain.
Give your deck a complete walkthrough to catch and take care of any problems and make the final product much sturdier and long-lasting.
As you inspect the old deck surface, check for loose or warped planks and missing nails. Look for splinters and other free items, as well.
Hammer in new nails wherever they're needed, and replace warped planks with new wood to correct issues with the deck. By the time you finish the inspection, your deck planks and nails should be in place and ready for cleaning.
Sweep Down the Deck
Proper deck cleaning and staining require you to clean up and remove all debris before you can get down to an intense wash. Sweep your deck a few times to remove extra dirt, grime, and dust. A good sweeping will get your planks ready for a good scrubbing.
Use the broom to sweep all areas of the deck. Make sure to clean in the corners and crevices. And, throw the resulting pile away in a trash bag rather than sweeping it off the deck, as dirt tends to blow back onto the deck in a short time.
What to Use to Clean Deck Before Staining
A big part of knowing how to clean a deck before staining involves finding reasonable deck cleaning solutions and making sure that you use a pressure washer to clean the deck.
It's important to know what to use to clean deck before staining if you want to make sure that the stain lasts for a long time. Having the correct deck cleaning and staining tools and using them properly will keep the deck looking good for years.
Deck Cleaning and Staining – Washing the Deck
This section delves into washing and touching up your wood planks before applying a new stain. We show you the way to clean patio furniture and the deck itself, and you'll also find out how to make sure that your wood is mold-free and ready to absorb the new stain. You'll be prepared to take on your deck staining projects when you complete this section.
Apply a Wood Cleaner
Before you start the actual washing, apply potent cleaning products to clean a deck for staining purposes, or even if you want to leave it unfinished. Using the correct cleaner is essential and can make or break your staining project, so make sure you use a winner.
You can use a DIY cleaning solution and mix your own powerful pressure washer detergent, or you can opt to purchase a commercial wood cleaner that includes a guarantee and access to customer support. A deck cleaner purchased in a store has the advantage of providing a helpline when you need it.
Don the long-sleeved clothing and safety gear. Use a roller or spray applicator to cover every bit of the surface of the deck with wood cleaner. Let the deck cleaner sit for at least 15 minutes on the deck boards, and then scrub at the wood with a stiff-bristled scrub brush with a bit of elbow grease to clean the timber.
Rinse the Deck with a Pressure Washer
Once you've scrubbed the wood planks with deck cleaner and made sure that they're clean, rinse all traces of soap from the entire deck before you can start staining.
You can use a garden hose with a pressure nozzle attached, but we recommend pressure washing with a power washer. A power washer will blast into the wood pores and clean out everything, leaving behind open wood fibers ready for new staining. Here is an easy way for how to pressure wash a deck before applying new stain.
Put on all safety gear, and set the machine to 1200-1400 psi. Hold the washer tip about a foot away from the wood, and begin washing. Take your time, but make sure not to get the washer too close to the wood to avoid damaging it.
Check the Wood for Old Stain and Other Issues
Your cleaned wood is just about ready for the new wood stain, but you still need to do some final checks before you proceed. If you're re-staining the deck, the wood fibers have to soak up the new stain. Planks with old sealer can prevent that from happening, though, so check for spots where the water beads up on the wood grain.
If you find a spot, use stripper or a little sandpaper to clean off the sealer with some sanding. A new deck can also have wood treatment such as a brightener that you need to remove before proceeding. You might also run across spots of mold or mildew once you've cleaned everything.
Treat those areas with homemade mildew remover. You can find excellent commercial wood treatments for mold and mildew, too, or you can easily whip up a homemade deck mold remover with some peroxide, bleach, or vinegar.
Once you've taken care of any discolorations and final trouble spots, have gotten the planks back to a solid color, and let the deck dry, you're ready to start staining!
We hope you had a great time looking over our steps on how to clean a deck before staining. Your deck makes your home more valuable and adds beauty to your yard, but the stain fades and leaves behind vulnerable wood planks. Our guide shows you deck cleaning and staining tricks and helps you discover what to use to clean deck before staining.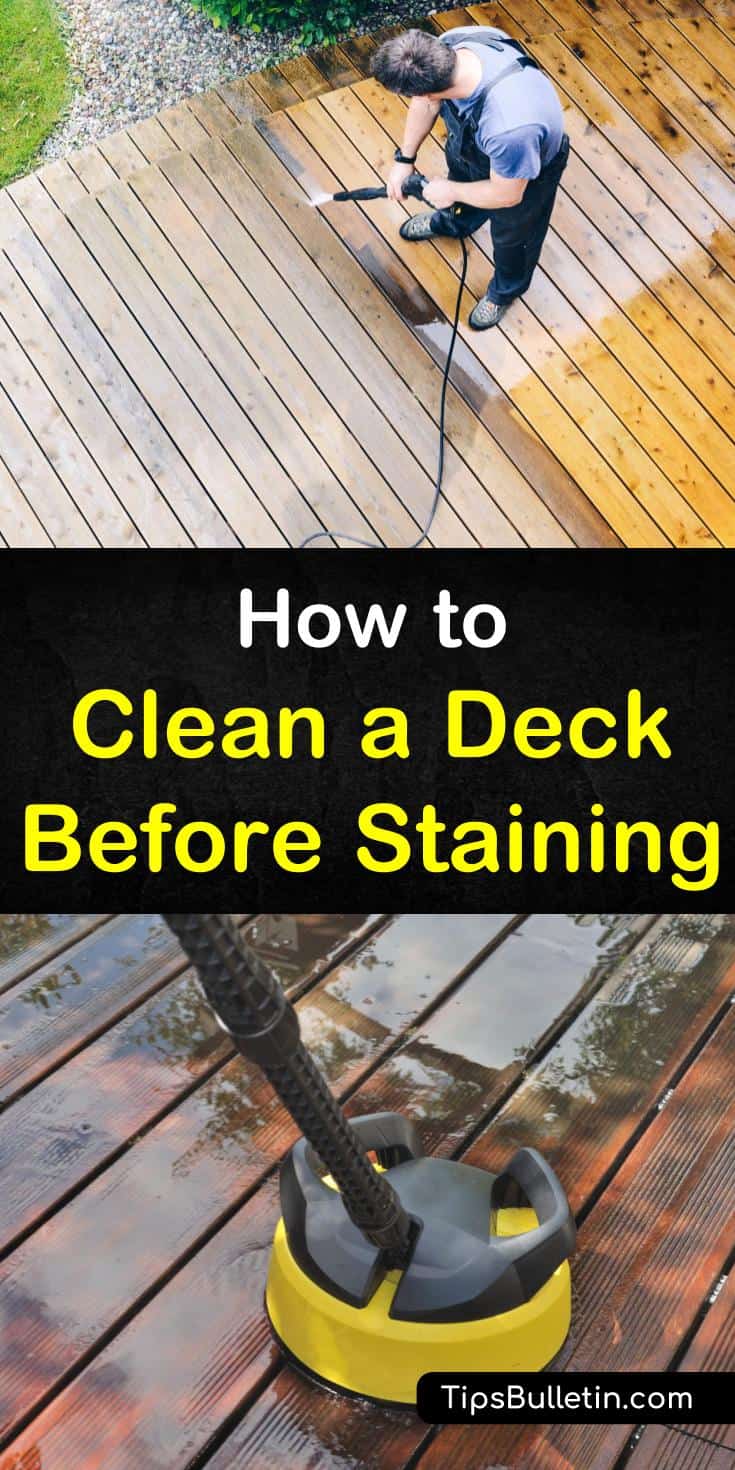 Thanks for reading our deck-cleaning tips. If you found our suggestions on how to clean a deck before staining useful, please share these methods for cleaning decks ahead of staining with your friends and family on Facebook and Pinterest.