Kitchen sinks see lots of daily use, and they can get dirty in a hurry. Whether you have a stainless steel or porcelain sink, you're going to spend plenty of time trying to get it clean again. Knowing how to clean a kitchen sink properly makes your life easier and ensures that you won't be stuck with a cleaning challenge you can't handle.
When you use a reliable cleaning approach, you can relax and take care of any issue you encounter without worry. This guide digs into methods of cleaning your kitchen sink. In this article, you'll find techniques for how to remove rust stains from a kitchen sink made from either porcelain or stainless steel.
Our cleaning options cover daily maintenance, heavy-duty scrubbing, and everything in between. You'll be ready for any kitchen sink cleaning emergency you encounter after you review our tips and tricks.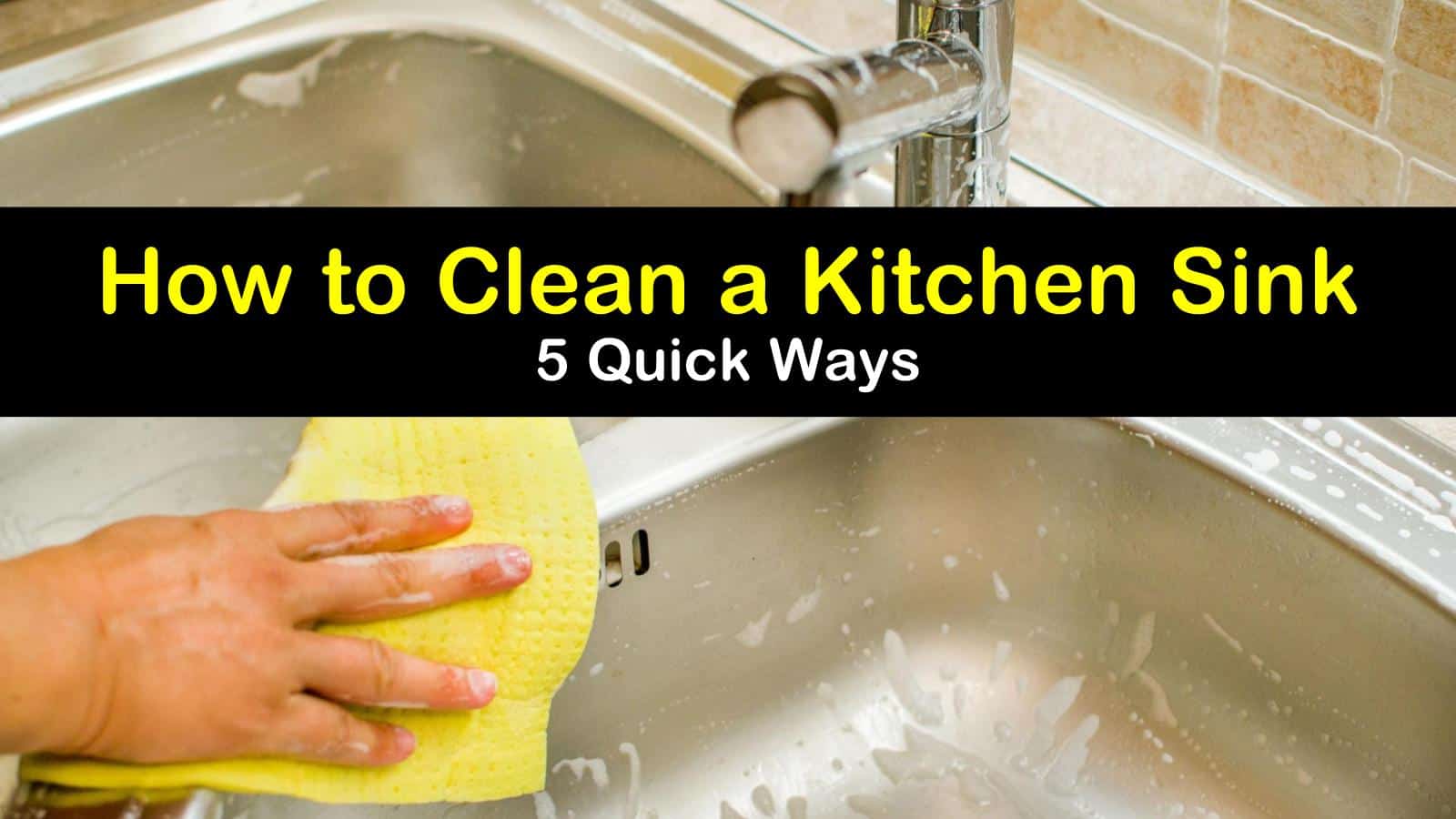 Cleaning Your Kitchen Sink
When you put together your daily kitchen cleaning checklist, the first thing you need to determine is what kind of sink you have in your kitchen. Stainless steel behaves very differently than porcelain, and the cleaning approach you use to treat it is different, as well.
Methods for Cleaning Stainless Steel
This section covers techniques for getting your stainless-steel sink looking like you just installed it. These cleansers also work on cast iron sinks.
We show you a simple cleaning method for everyday use, and you'll also get a recipe for a robust and effective cleaner that cuts through grease and grime in no time. Your sink will look and smell great, and it will stay germ-free and ready for action.
Treat Your Sink with Hot Water Every Day
Your stainless steel sink gets lots of abuse and sees plenty of action, and you'll want to keep on top of it. Regular maintenance is the key to avoiding larger and less pleasant cleaning jobs, and boiling water is the magic ingredient to get the task done.
A daily visit by boiling water keeps grease from clogging your drains and pipes in the first place. A regular dousing with hot water also keeps smells down and kills off any gnats or flies that might be making a home in your drain.
Put on all safety gear before you clean. Open your sink drains, and slowly pour the boiling water into the sink. Use a scrubbie to take care of stuck-on stains.
Repeat if needed to take care of any lingering stains or dirty spots on the sink. If you miss a day of cleaning, use a bit more water to clear the drains the next day. If you have hard water, follow the methods for cleaning hard water stains from a stainless steel sink by wiping down all surfaces with a clean cloth.
Of course, if you have a copper sink rather than a stainless one, don't use boiling water. Dish soap and warm water are best for cleaning copper sinks on a regular basis.
Scrub Away Tough Stains with Baking Soda and Vinegar
Sometimes, you'll wind up working on something that stains your sink well and proper. In those situations, hot water and soap won't get the job done nearly as well as our advanced stainless steel cleaner. Baking soda and vinegar are old cleaning buddies and will get your sink shining once more.
The vinegar acts as a disinfectant and eats away at the stuck-on organic matter, and the baking soda's gentle abrasive action helps to clean the steel without scratching it. This cleaning product also makes a dynamite DIY all purpose cleaning spray, and it's an excellent dishwasher cleaner.
To make this simple homemade sink cleaner, fill the spray bottle with baking soda and vinegar and wait for the reaction to subside. Spray the mixture on all sink surfaces, including the faucets and drain, and wait for ten minutes to give the cleaning solution time to work.
Scrub at stubborn spots with a toothbrush or clean cloth, rinsing the sink with hot water as you go. Use a toothbrush to get the drain clean, as well.
When you've cleaned and rinsed the sink, wait about an hour. Then, pour some of the cleaning solution directly in the drain to get at any gunk hiding in the pipes and garbage disposal.
Vinegar and baking soda are also ideal to deodorize sink drains while cleaning them at the same time. Not only will your sink be clear of unwanted debris, but it will have no lingering odor.
How to Remove Rust Stains from a Kitchen Sink
You might not live in a home that has a stainless-steel kitchen sink, of course. There are plenty of houses and apartments in the world that have porcelain sinks, and they need cleaning, too.
A porcelain sink has different reactions to cleaners than stainless steel does, so it requires specialized cleaning products. When determining how to clean a kitchen sink, your approach depends on whether you're dealing with porcelain.
Options for Cleaning a Porcelain Sink
This section lays out how to remove rust stains from a kitchen sink. In this section, we show you methods of cleaning your porcelain that involve cleaners as varied as dish soap, peroxide, and salt.
You'll get a top-notch daily cleaning option for ceramic that's gentle enough to use as often as needed, and we also include a dynamite recipe for tough stains that might also be the best way to clean kitchen cabinets. You'll be ready to deal with any stain you run across.
Clean Your Porcelain with Liquid Dish Soap and Water
Liquid dish soap and good old hot water can take you a long way in your cleaning tasks no matter where you are cleaning in the house. Dish soap is mild enough to clean ceramic without damaging or discoloring the surface, and you can use it 20 times a day if needed.
This cleanser cuts through any grease buildup in your pipes and the hot water loosens and removes any dirt it encounters in the sink or on the countertop.
Give this simple cleaner a try before reaching for something stronger. You may be pleasantly surprised by the excellent results.
Add a squirt of soap to the sink before you begin to pour the water and add another one about halfway through. Pour the water slowly into the sink basin, and clean off any tough stains with a scrubber or soft cloth.
If the water drains too slowly, boil the water before pouring it into the sink for a deep clean. The heat gives the soapy water a more powerful scrubbing action. Repeat as often as needed.
Bleach Away Stubborn Stains with Peroxide
If you're dealing with a dirty white porcelain sink, you have the option of treating it with a bleaching agent to get rid of discolorations and bad stains. Hydrogen peroxide is perfect for these sorts of situations.
Peroxide works well on pale-colored ceramic surfaces and won't leave spots, and it isn't as caustic or harmful as bleach. Use peroxide to bring a stained and discolored ceramic sink back to life.
Test this cleaning option on a hard-to-see spot. Fill a spray bottle with peroxide and spray down the entire sink. Let the peroxide sit for ten minutes to loosen any dirt.
Then, use a scrubber or old toothbrush to get the sink clean, making sure to clean crevices and corners. Rinse the sink out with hot water. Repeat whenever you find a stain in the sink.
Use Lemon Juice and Salt on the Worst Stains
When you've cleaned and cleaned but still have a spot or stain on your ceramic sink that requires attention, you might want to turn to our all-time sink-cleaning champion, lemon juice and salt. Lemon juice, like vinegar, eats at organic material, and the salt works as a gentle abrasive without leaving scratches like some abrasive cleaners.
As a nice bonus, this cleaner leaves the sink smelling fantastic, and the olive oil finisher gives the sink a warm glow. Give this cleaner a try on your kitchen cabinets as well; it's perfect for all sorts of cleaning tasks.
Salt can scratch some ceramic surfaces, so test this method on an out-of-the-way spot first. Sprinkle salt on all stains in the sink. Fill a spray bottle with lemon juice, and spray each salted area until you create a paste.
Wait five minutes, and then clean the compound off with a soft cloth. Rinse with hot water. After drying the sink, use a homemade metal polish for a finishing touch.
Add a few drops of olive oil to a cloth and buff the sink to a shine using a circular motion. Repeat the cleaning or polishing if you don't get the results you want the first time.
We hope you had a delightful time investigating our sink cleaning recipes. Your kitchen sink gets an intense workout every day, and you need to keep it clean to ensure that it works well.
A clean kitchen requires a clean kitchen sink, and our guide shows you methods of getting your sinks, whether ceramic or steel, looking spick and span.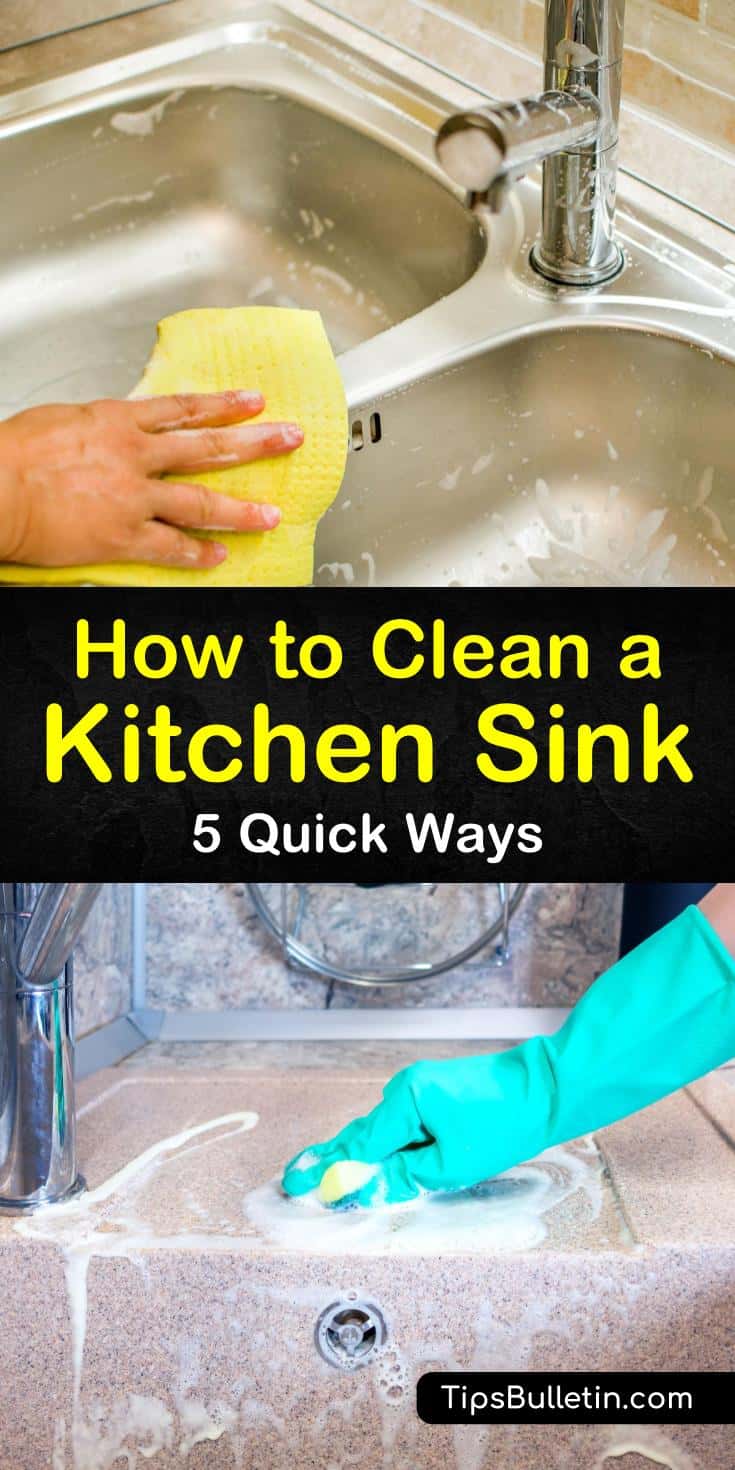 Thanks very much for reading our sink cleaning tips. If you enjoyed learning about how to clean a kitchen sink, Pinterest and Facebook are fantastic forums through which to share our tips for a clean sink.