A house fire is devastating; even a minor fire leaves smoke stains and odor behind. The soot particles settle on the wall and ceiling, and it's even worse if there's water damage. Learn how to clean fire smoke off walls to help you restore the wall's clean surface.
Smoke damaged walls are challenging to clean, whether it's soot residue from a fireplace, a smoke stain from cigarette smoke, or smoke from fire damage. It's sometimes necessary to use more than one cleaning method to remove the loose soot, stains, and smoke odor.
Smoke damage cleanup is a multi-step process. You may need to contact a fire damage restoration service if the fire smoke is severe. However, there are ways to clean smoke damage from small fires if you prefer to do the job yourself. All you need is a bit of elbow grease and the proper cleaning solution.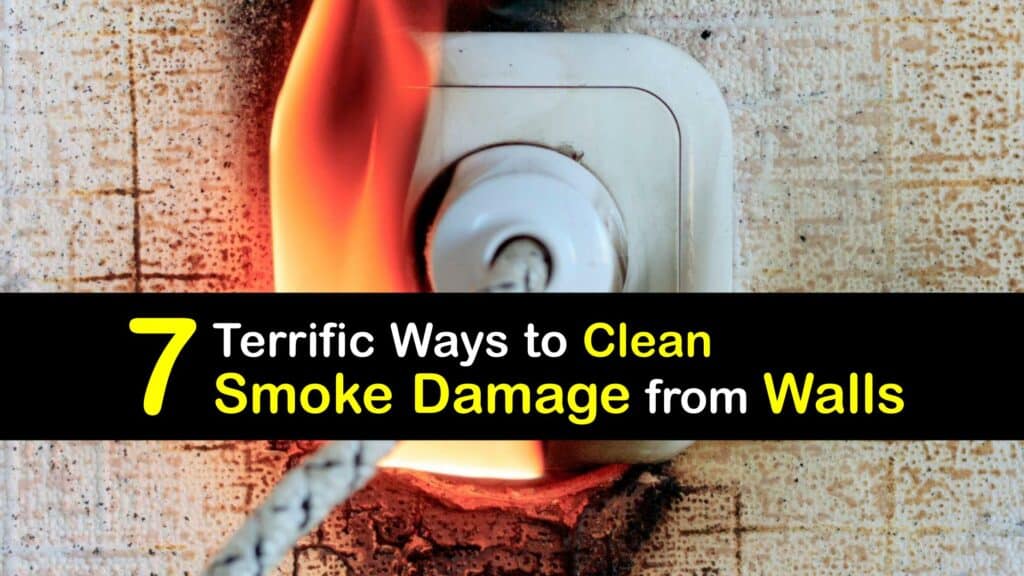 Ways to Clean Fire Smoke off Walls
Soot damage is troublesome, yet it's possible to clean smoke off a painted wall and restore its original appearance. Discover several ways to remove black soot on your walls and smoke smell in your home.
Preparing for Cleaning Fire Smoke off a Wall
Before cleaning smoke damage off walls, preparing the room for the cleaning process is useful, so you don't spread soot onto other areas. Follow some pre-cleaning steps to take to make the job easier.
Use old towels to dry the surfaces before cleaning brown spots on the ceiling from smoke damage. Move furniture and other items that may get in the way, and spread drop cloths over the floor, counters, and other immovable objects. Gather the cleaning materials, a ladder if necessary, protective wear like goggles and a face mask, and open windows for ventilation.
How to Remove Smoke Damage From Walls
Smoke damage often leaves the wall covered with loose soot; removing these particles before using a wet cleaner is crucial to ensure you don't make the stain worse. Explore ways to remove BBQ smoke stains from a wall by vacuuming any of the left over soot.
Use the hose on your vacuum cleaner or a shop vac to remove loose soot particles from the wall. Start vacuuming at the top of the stain and gently work your way down while taking care not to scrub the smoke and make it worse.
How to Clean Smoke Damage From a Painted Wall
A chemical sponge cleans smoke residue off walls without getting them wet and spreading the stain further. Find out how to clean smoke damage from a painted wall with a dry cleaning sponge.
Dry Cleaning Smoke Stains
Use a dry cleaning sponge rather than a regular sponge for this method since a chemical sponge absorbs soot oil. Wipe the walls gently with the soot sponge by starting at the top edge of the stain and wiping downward.
Use overlapping strokes and press firmly as you make your way from one side of the smoke stain to the other. Flip the sponge over as it gets dirty or cut off layers clogged with soot.
How to Clean Fire Smoke off Walls With White Vinegar
White vinegar is excellent for removing fire smoke and candle smoke damage on walls. Its degreasing action eliminates stubborn soot stains and is safe to use on most wall types. Learn how to use vinegar to remove a soot stain.
Pour warm water into a spray bottle until half full and fill it to the top with white vinegar. Spray the liquid on the soot stain and let it sit for a few minutes as it dissolves the oil. Clean the wall with a sponge and repeat until the soot is gone.
Clean Fire Smoke off Walls With TSP
Trisodium phosphate is an inexpensive, all-purpose, heavy-duty cleaner that removes tough stains, including those from fire damage. Find out how to remove smoke damage from walls with TSP.
Combine the hot water and TSP in a bucket, and soak a sponge in the solution. Protect your hands with rubber gloves and wring out the excess liquid from the sponge. Clean the wall from top to bottom and rinse it promptly with cool water to prevent white powder residue. Check the wall for remaining stains and repeat the cleaning process if necessary.
Get Fire Smoke Residue off Walls
Use Dawn dish soap if the smoke stain is small and you prefer a gentle cleaner. Discover how to clean smoke damage from a painted wall with a sponge and soapy water.
Pour a gallon of hot water into a bucket, and add three tablespoons of liquid dish soap and half a cup of baking soda. Swish the liquid to mix.
Dunk a clean rag into the solution, wring out the excess water and wipe the soot stain by starting at the top and pulling the rag down. Rinse the rag with clean water, repeat until the smoke residue is gone, and dry the wall with a towel.
Tips for Removing Smoke Odors From Walls
Smoke particles are tiny and seep into materials, leaving an unpleasant smell. You may notice a lingering smoke odor after successfully removing soot stains from the wall. Follow these odor-removal tips to help you freshen the wall and room.
While wall and carpet cleaning help clean soot and smoke stains, they don't always do the trick of removing soot odor. Sodium bicarbonate and vinegar are everyday household items that absorb smells. Pour baking soda or white vinegar into a bowl or two and place them in the smelly room for a couple of days.
Another way to absorb smoke odor is to use activated charcoal. This type of charcoal has tiny pores that soak up foul smells; find it at your local hardware store.
Air fresheners are ideal for masking smells while you wait for an odor absorber to do its job. Try spraying the room with air freshening spray, or use a scented plug-in or essential oil diffuser.
Ozone generators reduce or eliminate the smoke smell from the house. They use an electric discharge to produce ozone, which reacts with the odor molecules to change their chemical makeup.
It may seem impossible to restore smoke-damaged walls, but there are ways to clean soot from surfaces. The key is to remove as much loose soot as possible and use the right cleaners to remove smoke particles and odor.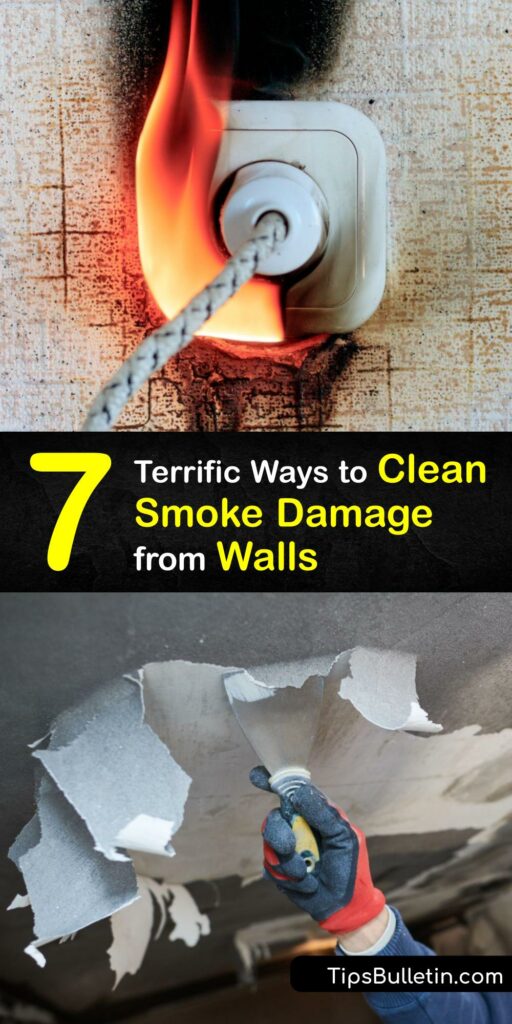 Now that you've learned how to clean fire smoke off walls to remove soot stains and smoky odor, why not share our tips for removing smoke damage from walls with your family and friends on Pinterest and Facebook?