If you've ever pulled a pair of shoes out from the closet and been surprised by the presence of mold, it's not time to toss the shoes; learn how to clean mold off shoes. Mold forms from sources of moisture, and the inside of your shoes is the ideal place for mold to grow.
If you wear tennis shoes for long periods during workouts or stay on your feet throughout the day in hot weather, moisture builds up inside your shoes. Without allowing your shoes to properly dry, the next time you toss your shoes into a poorly ventilated closet, you're allowing mold to form.
With improper storage, you risk mold exposure on other items in your closet and a mildew smell. To avoid mildew on your shoes and moldy shoes, follow this guide that covers tips so you can get mold out of suede shoes and suggestions on avoiding mold when it comes to your footwear.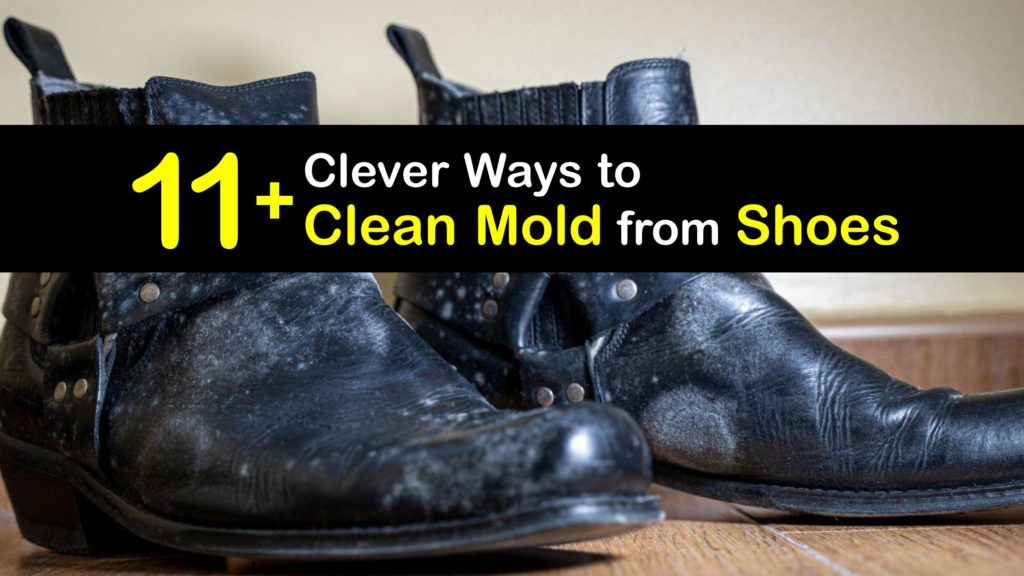 How to Remove Mold from Shoes
Despite how bad it may seem to find mold growing on your shoes, it's not the end of the world. Moldy shoes are salvageable, and with the proper steps, we'll help you safely restore the condition of your footwear.
The first step to cleaning mold off shoes is identifying water spots on suede shoes. The presence of water on suede can be the beginning of mold spores. Consider keeping an eye on your suede footwear to ensure that mold isn't growing before it's too late.
How to Clean Moldy Shoes Safely
Before cleaning mold from your shoes, protect yourself by wearing a mask and rubber gloves. Mold exposure could result in a skin rash, nasal congestion, and itching for people with mild sensitivity to mold. For anyone with a severe allergy, contact with mold can trigger an asthma attack, chest tightness, and shortness of breath.
To clean your shoes safely, relocate outside to allow proper air circulation as you clean mold spores. Use paper towels to easily dispose of anything that comes in contact with the mold once you finish cleaning your shoes.
Removing Mold from Shoes with Vinegar
Vinegar is vital for any home to have on hand because its acidic properties make it useful in various cleaning jobs. Make a shoe cleaner with water and vinegar, it's strong enough to clean and disinfect mildew from shoes.
Mix water with white vinegar in a bowl to make your cleaning solution. Use a hard bristled brush to clean off any loose mold from your shoes before cleaning. Dip part of your cloth into the mixture, then wipe over areas of mold growth on your shoes. Dry your shoes with a new cloth and let them air dry out of direct sunlight.
Kill Mold Spores on Leather with Rubbing Alcohol
When dealing with mold, removing and killing the spores is essential to prevent any further mold growth. Rubbing alcohol is safe for cleaning mold off leather items like shoes and purses. Take out the insoles and shoelaces and use a brush to remove mold from shoes. Kill any remaining mold on the surface of your shoes with rubbing alcohol.
Pour water and rubbing alcohol into a bowl and use a cloth to wipe down the surface of your smooth leather shoes with the soap. If you're cleaning the crevices of finished leather shoes, use a cotton swab to kill mold and mildew. Wipe your shoes with a damp cloth.
Leave your shoes out to dry away from heat or sunlight. After cleaning your shoes and drying them, moisturize your shoes with a leather conditioner.
Clean Mold Stains with Bleach
After cleaning mold or mildew from your shoes, you may notice discoloration on your footwear. If you have light-colored shoes, mold spots are easily recognizable as small dark spots on your shoe fabric. To clean these dark spots, create a mixture using water and oxygen bleach to remove the stains without affecting the color of your shoes.
Soak a white cloth in this mixture before applying it to the stained area, allowing the bleach to sit on your moldy shoes for at least an hour. After soaking the stain with bleach, dampen a clean cloth with water and sponge the area clean.
Bleach will also help to remove grass stains on shoes, especially green spots on leather shoes.
Removing Mildew Smell with Baking Soda
If you've cleaned your shoes after discovering mold, but they still have a strong, musty odor, baking soda is the perfect way to deal with the smell. Most unpleasant scents are acidic in their chemistry, and baking soda is neutral, allowing it to neutralize foul smells.
Place your shoes in a container and fill the insides with baking soda to remove mildew smell from shoes. Pour enough baking soda inside to cover the bottom of the shoes and fill the toe box. Leave your shoes inside for a week to give the baking soda time to absorb the odor.
Cleaning Mold with Tea Tree Oil
Tea tree oil is an effective tool when learning how to clean old shoes. Tea tree oil cleans mold and also helps prevent new mold.
Pour water and tea tree oil into a 16-ounce spray bottle and shake well. Use the tea tree oil spray to soak the moldy areas of your shoes thoroughly. Leave your shoes out to dry for an hour before wiping them with paper towels.
Hydrogen Peroxide as a Mold Cleaner
Hydrogen peroxide is one of the few antifungal, antibacterial, and antiviral products. This combination of properties makes hydrogen peroxide a perfect tool for cleaning mold from your shoes without damaging them.
Add peroxide to a spray bottle and treat your moldy shoes to saturate the fabric. Leave the peroxide to sit on the mold for at least ten minutes before using a brush to clean the mold from your shoes. Wipe the shoes with a clean cloth or paper towels.
Using Salt and Lemon Juice
The answer may be as close as your kitchen if you're looking for ingredients to clean mold from your shoes. Lemon juice is acidic and works well for dissolving and breaking down buildup. Add salt to include an abrasive element in your cleaner.
Use a soft cloth to wipe mold from your shoes. Mix two tablespoons of lemon juice in a bowl with salt, and scrub moldy spots on your shoes with an old toothbrush.
Using Petroleum Jelly and Rubbing Alcohol on Suede Shoes
Petroleum jelly has many uses, from healing rough and dry skin to treating mild dermatitis. On top of these topical uses, petroleum jelly is useful when cleaning mold from suede shoes.
Before treating your shoes, gently brush the nap of your shoes with a suede brush to remove most of the loose mold. Use a swab to apply the jelly to the areas that still have mold.
Wait 15 minutes for the suede nap to absorb the jelly. Combine a solution that is half water and half rubbing alcohol before using a cotton swab to apply it to the mold. Leave the rubbing alcohol on the mold for five minutes before using a microfiber cloth to wipe it off. Restore the condition of the nap with a suede brush as you let your shoes dry.
How to Clean Mold off Shoes with Chlorine Bleach
Only use chlorine bleach to remove mold from shoes that are completely white. Bleach is a powerful cleaner and disinfectant that causes colors to fade and lighten. To clean your shoes, pre-soak them in cold water before washing them in hot water and your choice of laundry detergent.
After washing, let your shoes dry before placing your shoes in the washing machine with bleach. To avoid damaging your shoes, remove the laces and insoles. Allow your shoes to air dry after cleaning in the washing machine.
Clean Mold with Ammonia
If you find mold growing on tennis shoes, using ammonia is one way to kill mold spores and remove any dirt on the shoe fabric. Before using ammonia on your shoes, wipe off as much mold as possible using a cloth.
Put your moldy shoes in a tub and add ammonia to a spray bottle. Cover your shoes with ammonia and leave the shoes to sit to allow the ammonia to absorb the dirt and mold. Clean mold with a brush before rinsing the shoes with water. Dry your shoes thoroughly before wearing them.
Killing Mold with Baking Soda
Aside from removing odors, baking soda can eliminate mold on your shoes after combining it with other ingredients like vinegar. The acidic and cleaning properties of these items make cleaning mold from your shoes easy.
Add the baking soda and vinegar to a spray bottle and shake to combine. Spray this mixture over the moldy areas of your shoes and use a sponge or brush to clean the mold from your shoes. Rinse the mold off with warm water.
Preventing Moldy Shoes
To prevent your shoes from growing mold, it's essential to store your shoes properly. If you have spare silica gel packets, place a packet in each shoe to help with excess moisture.
If your shoes are wet after wearing them, either due to foot sweat or from the weather, allow your shoes to air dry before putting them away. To ensure mold doesn't grow on your shoes, spray your shoes with a mix of vinegar and water to kill bacteria on your shoes.
It might seem obvious, but you should never wear shoes with mold. If you're wearing moldy shoes, it could lead to a fungus infection on your feet, and the mold spores could cause respiratory problems if you handle the shoes daily. Avoid risks to your health and thoroughly clean any mold using our suggestions.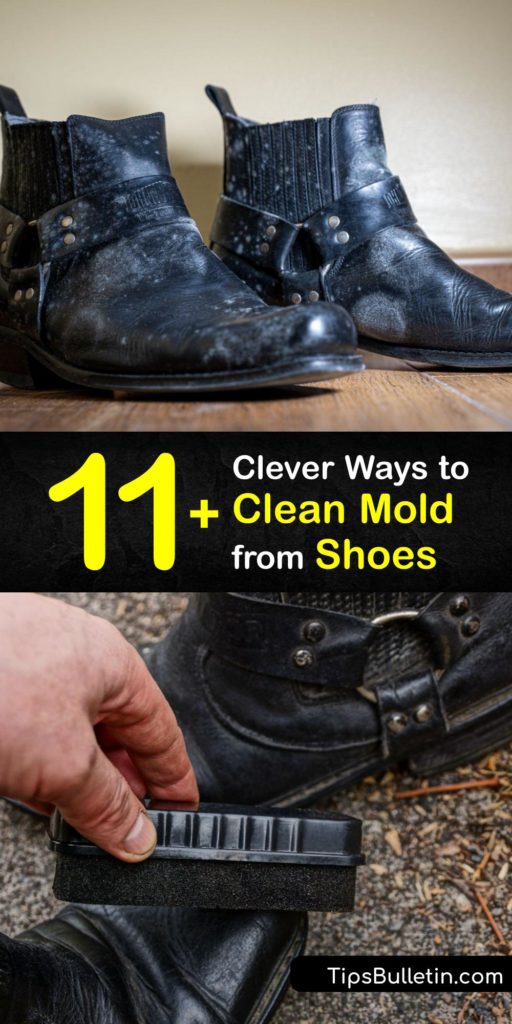 If our guide helped you learn how to clean mold off shoes, please share our advice on mold cleaning with your friends on Facebook and Pinterest to answer their questions about how to clean moldy shoes.