Probably the biggest nightmare that any homeowner imagines is a bed bug infestation. One bug the size of an apple seed finds its way into your home, and the next thing you know, you're covered in bed bug bites and trying everything in your power to take back control of your home. Figuring out how to deal with bed bugs is a trying process.
Most of us don't have experience dealing with bed bugs. Trust us; take action as soon as possible.
According to the Environmental Protection Agency (EPA), these nasty little pests are one of the most challenging to get rid of and can cause harm to public health.
If you don't already have integrated pest management around your home, it's time to get to work. We put together some all natural ways to kill bed bugs and deter them from finding their way into your home again.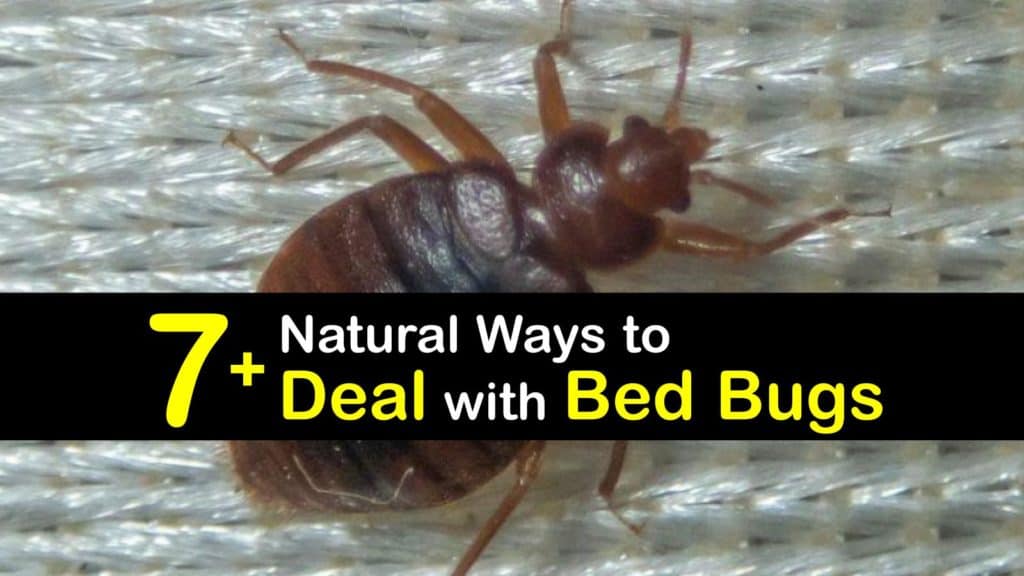 All about Bed Bugs
Pest control isn't easy, and it's only more challenging when handling a bed bug problem. Figuring out how to deal with bed bugs is the only way to control the situation.
The first step in dealing with bed bugs is understanding how they work and how they snuck their way inside to begin with.
Bed bugs or Climax lectularius begin as a tiny white egg laid around the small crevices of your home. Bed bugs hide in hard-to-reach hiding places like the cracks of baseboards, your bed frame, electrical outlets, and mattress seams.
These hidden areas allow the eggs not to be disturbed as they wait for two weeks to hatch. After this, the nymphs start to feed.
Nymphs feed and molt five times before they reach full adult size, which takes around five weeks. If they have made their way inside, you'll know by the bed bug bites you get when hanging around infested areas.
How long can bed bugs live? The lifespan of adult bed bugs is hard to pinpoint. Some only live for a couple of months, while others could live for over a year. Their environment and food supply are the most significant contributors to their lifespan.
Bed bugs easily travel from one area to another by hitching a ride on an object like clothing, furniture, or pets. Any soft material is a suitable vessel for a bed bug.
Dealing with bed bugs is no joke. If you don't feel prepared to call an exterminator, use some of these all natural ways to kill bed bugs that have worked for many people.
All Natural Ways to Kill Bed Bugs
Bed bug control is sometimes a long and painstaking process. If you find a remedy that works, stick to it. Implement other forms of pest control on top of it to make your home as bed bug proof as possible.
How to Deal with Bed Bugs
The best action in dealing with bed bugs is by preventing them in the first place. Always take precautions against these pests because they are tough to get rid of once they're inside.
Always check your hotel room when traveling to ensure there are none in the room. Whenever you get home from a trip, immediately wash your clothes in hot water.
Seal any cracks in your home with caulk that they may enter. Walk around your house regularly to inspect it for any signs.
Dealing with Bed Bugs in the Bedroom
Bed bugs are on a constant hunt for their next meal. Once they find a supply, they don't plan on going anywhere. Your bed frame, box spring, and headboard are the perfect place for tiny critters to hang out.
Check the entire bed and room for signs of bed bugs. Small bites on your body, blood on the sheets, and small eggs the size of a grain of salt are all indications that they're present.
One way to kill bed bugs is to use a mattress encasement that traps the live bed bugs inside and prevents them from feeding. If possible, wrap your bedding and clothing in sealed plastic bags as well. A plastic bag keeps them from escaping as long as you keep it closed.
You might also consider using interceptors, or bed bug traps, around the feet of your bed. These traps have a slippery surface that won't allow the pests to climb out when they fall in them.
Make an essential oil spray and spritz it around the room to keep bed bugs out. Cedar wood repels bed bugs as do several other essential oils.
Using High Heat
Bed bugs are easy to spot on hard surfaces. It's another ball game when they're hiding on fabrics. Give all your clothing, linens, couch covers, and other soft materials in the house a heat treatment as one way to get rid of bed bugs fast.
High heat will kill most bed bugs that linger on fabric. Perform a thorough inspection before returning them to their original place. For extra protection, store them in sealed plastic bags.
Creating Homemade Solutions
While not everyone is okay with using insecticides and pesticides inside their home, there are natural remedies for killing bed bugs. Homemade bed bug sprays are easy to make with a few common household ingredients.
When using peppermint essential oil for bed bugs, find or purchase a glass spray bottle, add the witch hazel, peppermint oil, and water to the bottle and replace the top. Shake the glass bottle to make sure the solution mixes well.
Spray the solution around all areas of the home where you suspect bed bug activity. Use it twice per day or as often as necessary. For added protection, use it around the entire house to keep bed bugs from traveling from one room to the next.
It's also acceptable to substitute vinegar for witch hazel, as well as make a lavender oil spray instead of using peppermint oil. Bed bugs respond to both. A homemade bed bug spray with vinegar is easy to make and use.
Using Foggers on Bed Bugs
While not everyone is a fan of chemical-based products, foggers have been known to get rid of bed bugs in a single room. The fog product comes in a canister.
Set the canister in your desired location, release the fog, and let it work its magic. The mist contains pesticides that cover even the hardest to reach places you are likely to miss when cleaning the room yourself.
You and your pets must leave the room while it is working. However, this time varies depending on the kind that you use. If you decide to use a fogger to kill your bed bugs, read all the instructions and safety warnings.
How to Utilize Diatomaceous Earth
Diatomaceous Earth is a one-stop shop for pest control. The best thing about this powder is that it is not toxic to humans and won't harm you no matter how much of it you use around the house.
Spread diatomaceous earth around areas where you suspect any bed bug action could be taking place. These areas include entryways, baseboards, headboards, electrical plugs, closets, windowsills, and more.
If you suspect they're around, don't be afraid to use it. The powder dehydrates the bugs after they crawl through it. It doesn't take long for each bug that comes in contact with it to pass away.
Deep Cleaning the House
It probably seems like common sense to clean every part of your house when there is a bed bug infestation, yet you'd be surprised what people miss. Always use hot water when wiping down surfaces in the house or washing fabrics.
For materials you cannot put in a washing machine, use your vacuum cleaner. Vacuuming sucks up all live bugs and eggs when you do a thorough job. The big thing that people miss, however, is the vacuum bag.
These tiny insects don't die just because they're in a vacuum bag. They eventually find their way out and take over your home again. Take the vacuum bag outside to empty it the moment you finish cleaning.
After that, keep the garbage bins outside the house and garage to ensure that they don't sneak in again.
Hiring a Pest Management Professional
The last step to take in your mission of killing bed bugs is to hire a pest control company. It isn't ideal for all people, but it is well worth the investment to hire somebody who will get the difficult job done the first time.
These professionals have access to products that we can't always get our hands on. They also have much more experience and know exactly where these pests like to hide.
For many people, it's only a matter of time before the bed bug problem gets out of control, and they're calling pest control anyway.
Dealing with bed bugs is a complicated task that is a pain both physically and mentally. Unfortunately, bed bugs are persistent critters that seem to never go away no matter how hard we try.
Hopefully, with patience and dedication, you can put these tips to good use and make your home free from bed bugs.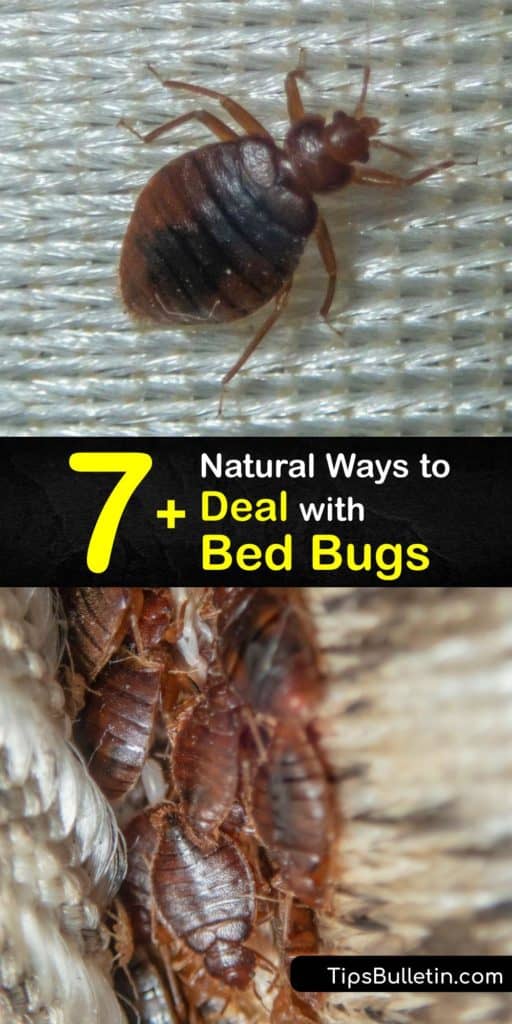 If learning how to deal with bed bugs has saved you from dozens of bed bug bites, share these all natural ways to kill bed bugs on Facebook and Pinterest.