Just as your sink needs cleaning after washing dirty dishes, so does your washing machine. If you notice an unpleasant odor building up inside your appliance, it's time to take action. Discover how to deodorize a washing machine with our simple tricks; your washing machine works hard for you, and it's time to return the favor.
Your washing machine should smell neutral. However, over time, the buildup of things like fabric softener, laundry detergent residue, soap scum, and body oils gets trapped in the moving and stationary parts of the machine. The soap dispensers, gaskets, seals, and washer drum become a place for bacteria to thrive.
The laundry room is typically very humid, encouraging mildew, mold, and other bacteria growth exponentially. How, then, do you clean a moldy smell in your washing machine? Learn how to clean, sanitize, and deodorize your washer in a few quick steps. Plus, we discover tips for both top-load and front-load washing machines.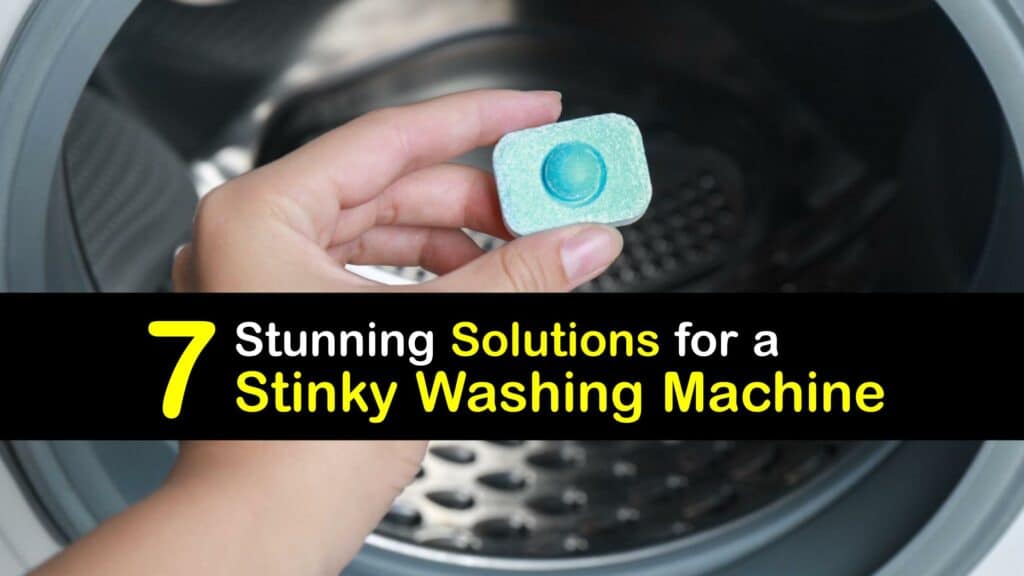 How to Make Your Washer Smell Better
A clean washing machine means fresh-smelling clothes – we have a cleaning tip or two that might change your life. Find out how to remove a sewage smell from a top loading washer, neutralize odors, and perform a few easy steps to keep your washer in tip-top shape and smell great.
Hard Water and a Smelly Washing Machine
Many people don't know that hard water buildup could be the source of the washing machine smell. Hard water is full of dissolved minerals that get left behind in your washing machine; they continue to build into limescale which causes damage to the individual pieces of your washer.
If you're concerned about how to freshen a washing machine when working with hard water, inexpensive water-softening tablets combat the problem effectively. Choose a variety to suit your budget and usage requirements.
Scrubbing the Soap Dispensers
The detergent dispenser is often neglected and is a great place to begin if you want to deodorize your smelly washing machine thoroughly.
Over time, water makes its way into your laundry detergent drawer. Standing water is ideal for bacteria and mold to develop and propagate. Clean a damp smell from your washer with vinegar to eliminate any bacteria.
It's time to clean your soap dispensers to make your washer smell good. Fill a bowl with a cup of warm water and white vinegar; add a teaspoon of baking soda if you like. Some detergent and bleach dispenser doors are removable, which is helpful for getting into nooks and crannies.
Use an old toothbrush to scour the drawer with your DIY cleaning solution. Grab a few fuzzy pipe cleaners from the craft box to clean those hard-to-reach pipes and hoses. Carefully clean anything trapped in the dispenser pipes and give all the pieces a final wipe-down.
How to Deodorize a Washing Machine With Bleach
Learn how to make your washer smell better with a simple bleach treatment. Set the water temperature to hot and add four cups of bleach to your detergent dispenser.
Allow the washer tub to fill with hot water and the agitator to mix the bleach. Stop the washing cycle and let the hot water sit for about 30 minutes. Allow the wash cycle to finish, and run a second rinse cycle if you're concerned about any residual bleach.
Though chlorine bleach effectively destroys mildew and bacteria growth, it is caustic and volatile. We recommend safety gear and well-ventilated spaces. Never mix chlorine bleach with other cleaners like ammonia and acids. Avoid direct contact with your skin.
How to Freshen a Washing Machine With Vinegar
If chlorine bleach is too harsh for your tastes, try something all-natural. Plain white vinegar is a true superhero around the house because it's mildly acidic and a proven antibacterial.
Pour four cups of vinegar into the detergent dispenser, ensure the water is hot, and let the washer tub fill. Once the vinegar is mixed, let the water sit for a half hour, and then finish the washer cycle. Give the washer a light wipe and buff it with a microfiber cloth – don't forget the washing machine door.
Try a Professional Product for Stubborn Washer Smells
Many people aren't comfortable using bleach but want something more potent than vinegar to clean their smelly washer. In that case, it's time to consider professional washer cleaner products.
A professionally manufactured washing machine cleaner guarantees the job is getting done right. Tons of eco-friendly, biodegradable cleaners destroy soap residue without harsh solvents or unwanted phosphates.
Deodorizing a Front Load Washing Machine
Although a front load washer is highly efficient and has superior cleaning quality, these units are susceptible to mold and mildew. Discover ways of getting mold off a washing machine rubber seal to make your washer smell better.
Two cups of bleach or white vinegar are enough for any front loading washing machine. Pour it into the soap dispenser and run a normal wash cycle on hot water. Use a damp cloth to clean the washing machine's surfaces, and be sure to get the rubber seals. Experts recommend a monthly vinegar or bleach cycle.
Professional Appliance Care for Lingering Smells
Even if you know how to deodorize a washing machine, sometimes there are lingering odors you can't explain. If you've run our list of cleaning ideas and even tried professional products, but your washer still smells like sewage, it could be a problem with a clogged drain standpipe.
Turn the washer off, disconnect the hose from the standpipe, and use a drain snake or auger to unclog it. However, if you're uncomfortable with that, contact an appliance repair professional, or inquire about the length of your washing machine's warranty.
We hope you enjoyed learning how to deodorize a washing machine and that our recommendations help get things smelling fresh again. While some new model washing machines have a "service cycle," most don't and require you to run a deodorizing cycle with vinegar or bleach to get rid of stubborn washing soda buildup and body oils.
Remember to remove your clothes before starting a clean cycle. Don't neglect the detergent dispenser, washing machine door, and rubber seals. Your washing machine performs best when you provide scheduled maintenance and little TLC. Schedule a monthly date with your washer to keep odors and soap scum in check.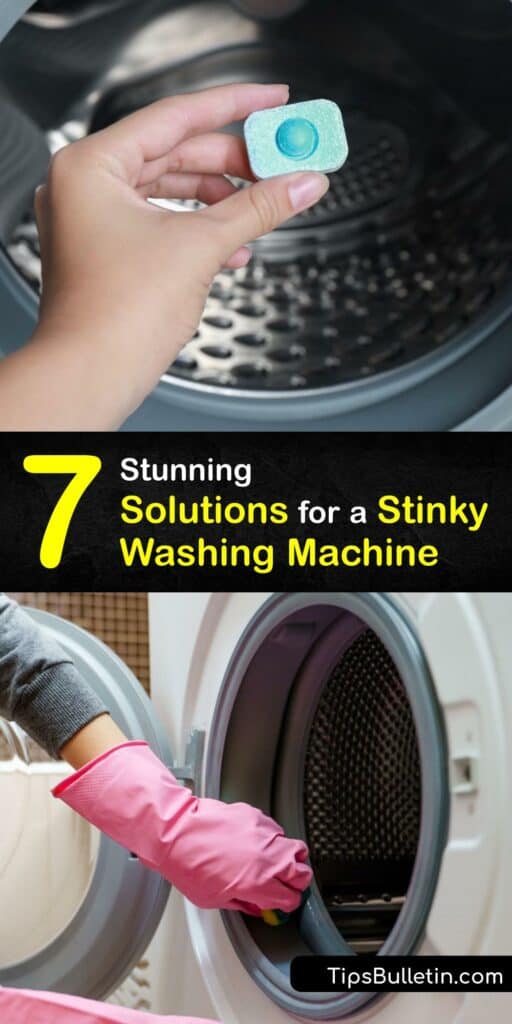 If you loved finding how to deodorize a washing machine, share our legendary laundry tips with friends on Pinterest or Facebook who want a sparkling clean washing machine.