Farinae mites, better known as dust mites, are recognized for their ability to leave you suffering from allergic reactions. Learning how to get rid of farinae mites may seem impossible.
However, we show you how simple DIY steps significantly reduce the number of house dust mites that leave behind dust mite allergens.
Prevalent symptoms of dust mite allergens include sneezing, itchy and watery eyes, runny nose, sore throat, and itchy skin. Dust mites are tiny arachnids invisible to the naked eye, making it unlikely to know precisely where an infestation is located.
Knowing where a dust mite population thrives is a straightforward way to get a dust mite allergy under control. To kill farinae mites in your home, you must first know how they survive.
Dust mites survive and feed on dead skin cells from pets, pet dander, and dead human skin found on carpeting and other soft surfaces. We provide you with quick and easy techniques to prevent and control a farinae mite infestation in your home.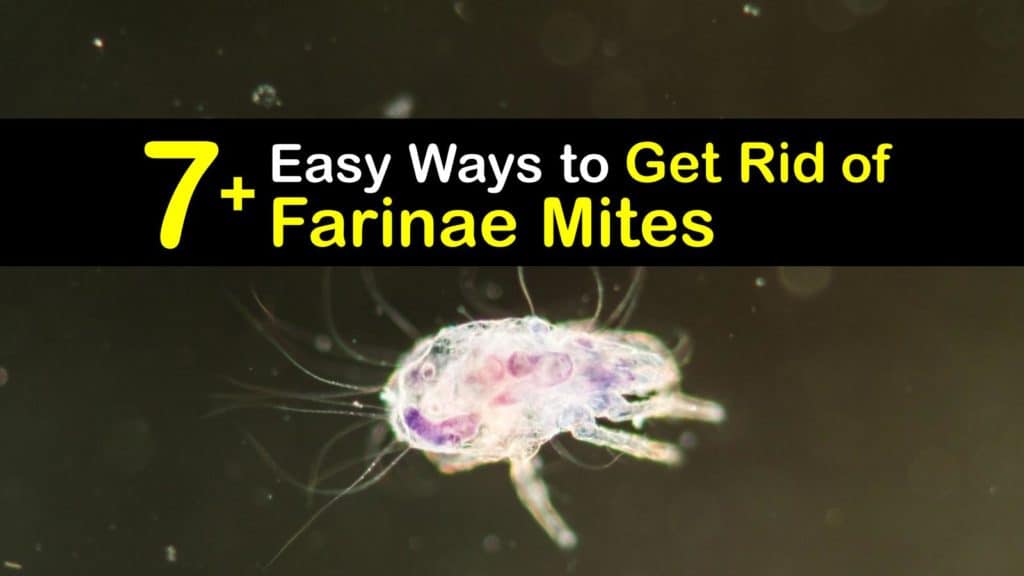 Distinguishing between Bed Bugs and Dust Mites
People often confuse bed bugs and dust mites. Bed bugs leave a bite mark that is red and itchy, and they usually hide in the crevices of your bed and box springs while leaving behind feces. Bed bugs are also tiny, but they are visible to the human eye.
Treatment for a bed bug and bed mites infestation is quite different than dealing with dust mites.
Dust mites are not parasites and do not bite, burrow, or sting you. Dermatophagoides farinae, or dust mites, multiply as the levels of dust in your home increase.
What do dust mites look like? Well, it doesn't really matter since we can't see them without a microscope. However, the main symptoms of a dust mite are allergic reactions like watery eyes and a runny nose. Although your home can't be completely dust-proof, some methods significantly decrease the amount of dust.
There is also a difference in black mold mites, which are present when you have mold. Knowing more about bugs helps you ensure you utilize the right removal techniques.
How to Get Rid of Farinae Mites with Essential Oils
Dust mites prefer to live in bed linens and mattresses because of the humidity levels. Dust mites love humid areas, and your mattress offers plenty of food for the dust mite.
Creating a homemade farinae mites spray with essential oils is an excellent dust mite control tool. Another benefit of choosing essential oils is that the ingredients are all-natural and free of harmful chemicals.
The scent of essential oils repels a farinae mite infestation. To make one of the best home remedies for dust mites, pour the ingredients into a small spray bottle and carefully shake them to combine.
Lightly spray your mattress and bedding with the essential oils to repel existing dust mites. Using a homemade spray is best used in combination with other methods used for killing farinae mites.
Kill Farinae Mites with a HEPA Vacuum
What do farinae mites look like? Because dust mites are too tiny to be seen with the human eye, vacuuming your carpeting with a HEPA filter helps eliminate and trap nearly every dust mite.
A HEPA vacuum cleaner uses a filter that traps dust particles that do not go into the bag. With a standard vacuum cleaner, dust not trapped in the bag spews back into the air.
Vacuuming with a HEPA filter distributes less dust and other microns into the air that trigger allergy symptoms.
Vacuuming once every three days controls the amount of dust on your carpeting and is one of the most effective ways to kill dust mites. Consistently cleaning prevents a farinae mite infestation and keeps severe allergy symptoms from ruining your day.
A HEPA vacuum is an investment; however, it encases and prevents excess dust from being spread into the air. If you are continually suffering from allergic reactions, purchasing a vacuum with a HEPA filter may be the best option to control your symptoms.
Clean Air Vents to Prevent a Farinae Mite Infestation
Air vents accumulate a lot of dust because of the number of particles that travel through the ducts daily. As the filters collect dust, it becomes harder for clean air to be filtered through.
If you do not consistently clean your air vents and clean the air in your house, many dust particles build up and promote a farinae mite infestation. One way to remove dust from an air vent is to use the hose from a vacuum cleaner to suck away dust clumps.
If your vacuum cleaner does not have an extendable hose, use a damp rag to wipe down your vents. A dry cloth only spreads the dust around to other places.
Although cleaning your air vents does not kill farinae mites, it does prevent an excessive amount from invading your house.
Avoid Making Your Bed to Reduce Dust Mites
Dust mites, scientifically labeled as Dermatophagoides pteronyssinus, are most often found in your bed. Because dust mites love humidity and feed on dead skin cells, your bed is the perfect place for these unwanted critters to call home.
When your bed linens and comforter are always closed, humidity levels remain ideal for dust mites to survive. Occasionally refrain from making your bed to get a farinae mite infestation under control.
When your sheets are pulled back, the humidity evaporates, and your sheets can air out after a night's rest. Learning how to get rid of farinae mites is straightforward when you do not make your bed in the morning.
How to Clean the Air in Your House
Removing dust mite allergens from the rooms in your household is easier when the air is clean. Clean air that is free from dust mites reduces the chances that you suffer an allergic reaction from the dust in the air.
It's also vital that you have clean air in your home to ensure you breathe fresh air and not get harmful particles in your lungs. Using a dehumidifier or air cleaner with a HEPA filter ensures that nearly all of the dust and other allergens in the air are trapped.
Don't open a window to clean the air in your house. Opening a window only brings in more pollen and other particles that provoke an allergic reaction.
Control Humidity Levels to Control Dust Mites
One step for farinae mite prevention is to control the humidity levels in your house, as well as your bed. Humidity is a controllable variable that immensely reduces the number of dust mites in your carpeting, upholstery, and bedding.
Dust mites thrive in a relative humidity level above 60 percent. Additionally, warm temperatures between 68 and 77℉ are desirable for a dust mite infestation.
Adjust your humidity levels to below 40 percent, so dust mites have difficulty surviving and reproducing. To lower temperatures, use an air conditioning unit to ensure you filter clean air throughout every room in your home.
Learning how to get rid of farinae mites is simpler when you understand the ideal humidity levels that allow the unwanted pests to thrive.
Kill Dust Mites with Hot Water
A simple way to kill farinae mites is to regularly wash your sheets, pillowcases, and other washable parts of your bedding. Hot water above 130℉ effectively kills all dust mites that reside on your bedding.
It is crucial to wash your bedding at a high temperature because dust mites accumulate on your sheets and pillowcases. Once every two weeks, wash your bedding and pillowcase on a high heat wash cycle.
After washing, dry the contents on high heat to guarantee every single dust mite dies. Consistently cleaning your bedding prevents dermatitis and allergic reactions caused by excessive dust mites.
Vacuum Your Mattress with Baking Soda
Although it may seem unusual, spreading baking soda on your mattress is a fantastic way to kill any dust mites that live on your bed. Use this method as you wash your bedding and sheets to eliminate as many dust mites as possible.
Baking soda dries out dust mites, effectively killing them. Pour one cup of baking soda on the top of your mattress and let it sit on the surface for 15 minutes to allow the ingredients to attract as many dust mites as possible.
Use the hose on your vacuum to clean up the baking soda and dead dust mites. Not only does baking soda collect dust mites, but it also removes their feces that they leave on your mattress.
If you have severe allergies, you may be able to avoid visiting an allergist if you control the accumulation of dust in your house.
Simple practices like washing your sheets, purchasing a HEPA filtered vacuum, and using baking soda to kill farinae mites are great ways to prevent a farinae mite infestation.
You do not need to suffer from allergy symptoms because of dust mites. Eliminating as much dust in your house is simple when you follow a cleaning regimen.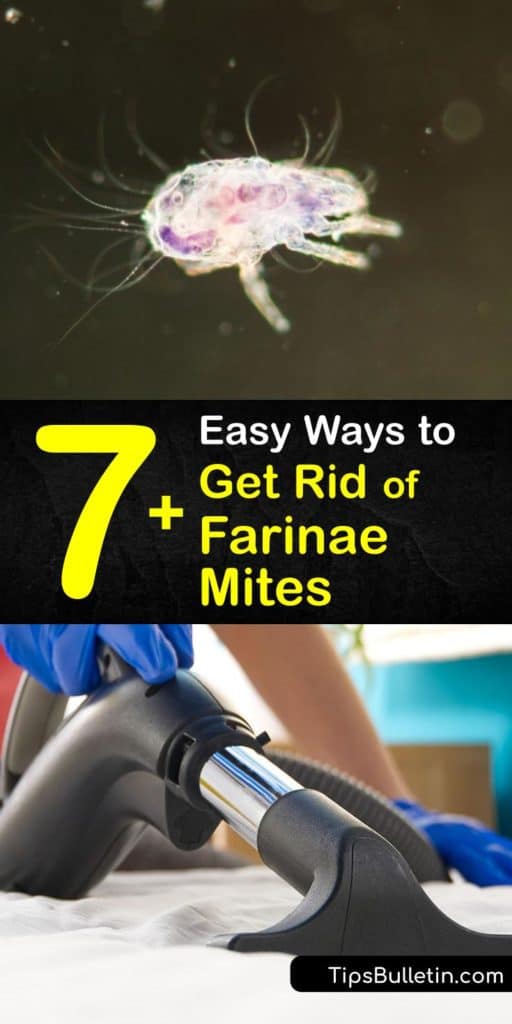 If you discovered how to get rid of farinae mites, share this article with ways to kill farinae mites with your roommates and family on Facebook or Pinterest.