Avocado trees (Persea americana) originated in the Americas, with evidence to support their origins in Mexico before they became cultivated across the world. Avocados thrive in tropical and Mediterranean climates, and in the United States, Florida and California have the ideal weather, with the latter being the lead producer of avocados. Because avocados are warm-season trees, they don't handle cold weather well, but even home growers living in cool growing zones can learn how to grow avocado indoors.
The fruits that avocado trees produce are pear-shaped, with thick bumpy skin protecting the buttery flesh inside. These fruits grow a large avocado seed inside their skins that vary in size based on the type of avocado.
Avocado trees typically grow up to 80 feet tall, so it might seem odd to try and grow an entire tree inside, however there are different avocado tree types. It is possible with hybrid varieties of avocados designed to grow compact trees. Continue reading to find the secret to growing avocados indoors anywhere.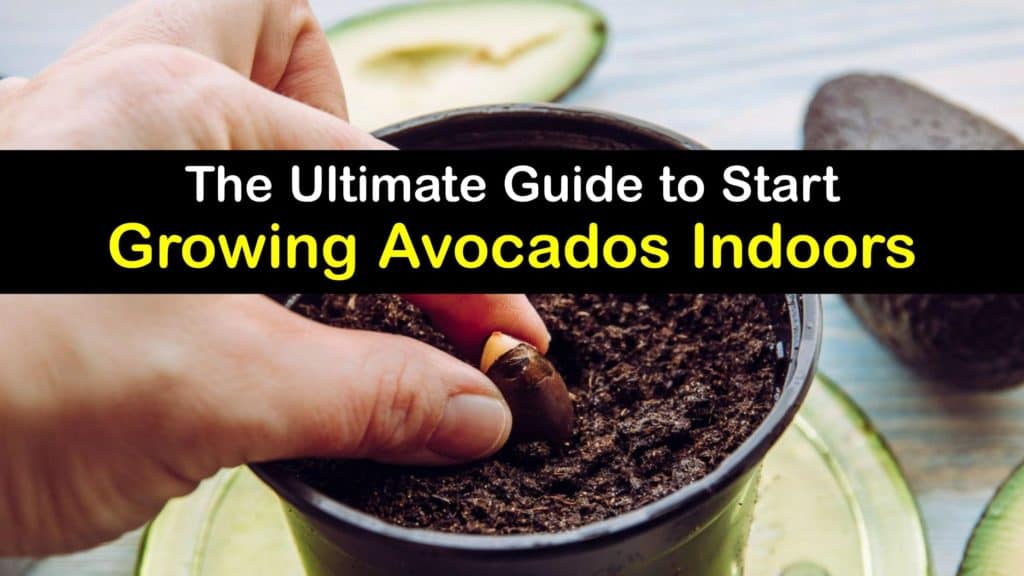 How to Grow Avocado at Home
Because avocados thrive in warm weather, you'll struggle to grow an avocado tree outdoors if you live in growing zones eight or below. Given the space limitations, growing avocados indoors involves planting the right variety to thrive.
Growing an Avocado Tree Indoors
Growing avocados at home is a time commitment for anyone looking to produce delicious fruits inside their house. Growing an avocado tree indoors begins when you start an avocado seed from inside a ripe avocado or a grafted rootstock.
Starting an avocado tree from a seed is not likely to grow fruit, and if your tree does produce fruit, it won't taste like the avocados you're familiar with getting from the grocery store. Indoor plants are unlikely to produce fruit because indoor conditions are not typically suitable for growing healthy fruits.
Avocado trees require lots of light during the day and cool nights to trigger fruiting in the tree. It also takes avocado trees up to ten years to start producing fruit.
For the best chance at getting a tasty avocado fruit, use rootstock to begin growing an avocado tree indoors. When growing avocado trees from a rootstock, don't expect avocado fruits the first year, but with proper care, your tree should start fruiting after the third or fourth year.
When looking for how to grow avocado at home, shop for dwarf varieties at the nursery. Dwarf trees do not grow as tall as regular avocado trees, and you can trim them to keep the tree even shorter while still producing fruit.
Although there are semi-dwarf varieties like Gwen, the only true dwarf variety is Wurtz avocados, also known as Little Cado. You can grow an avocado tree in a pot of this variety as it typically reaches up to 15 feet in height, although 12 feet is average. Like all avocado trees, prune Little Cado trees to keep them even shorter while still fruiting.
The fruits produced by Little Cado trees are small to medium-sized. The skin on the fruits is thin and remains green as the avocado ripens.
How to Grow Avocado Indoors
After purchasing your avocado rootstock, allow your tree to become accustomed to the room temperature before transplanting. If you transplant your new tree shortly after bringing it home, you risk causing transplant shock to your tree.
Select an adequate container for transplanting. A half wine barrel with drainage holes is ideal for Little Cado trees. Place a drainage dish under the container before filling the container with potting soil, and lay your avocado tree on its side to remove its original pot.
Inspect the root system of your avocado tree for any dead or rotting roots. Use shears to remove roots suffering from root rot. While inspecting the roots, gently pull any roots wrapped around the base of the plant. Avoid damaging the brittle roots of your tree when repotting.
Place your tree on top of the soil in the new container and fill the space around the tree with more potting soil until the soil level matches the height of the original pot. Deeply soak your soil and relocate your tree where it receives full sun.
Caring for an Avocado Tree
Because avocado trees have specific growing conditions, caring for them often requires more work than another houseplant. Avocado trees require full sun, warm temperatures, and water to grow healthy. Be mindful of overwatering your tree while maintaining the proper conditions. The same holds true when growing gourds indoors on a trellis or other support system.
The avocado tree needs at least six hours of sunlight each day. During winter months, when the days are shorter, and the sunlight is not as strong, experiment with grow lights to ensure your tree receives enough light to continue growing.
Once a week, give your tree a deep soak when watering or anytime you notice the leaves beginning to wilt. Provide enough water to drain out of the bottom of your container. If your top leaves turn yellow, it is a sign of overwatering. Allow your tree to dry out and the leaves to return to green.
In the first year of your tree's life, we suggest adding a citrus tree fertilizer to help your tree grow. Follow the instructions for applying for the initial few months of your tree's first year. As your tree grows, spray it with a fertilizer made of copper, zinc, boron, and manganese during the year's warm months until it bears fruit. Watch for avocado tree diseases and treat them promptly.
Avocado trees grow both male and female flowers; however, these flowers do not open simultaneously. This pattern prevents self-pollination among avocado trees. To help your avocado tree produce fruit, use a cotton swab to transfer pollen between the two flowers as the flowers bloom.
Growing an Avocado Houseplant
Like all trees, avocado trees start with a seed, also known as the pit of the avocado fruit. Although you can grow your own avocado tree from an avocado pit, the plant is not likely to bear fruit.
To start growing an avocado plant from seed, remove the pit from an already ripe avocado. Rinse the pit off and pierce the seed with toothpicks. Pour water into a glass and place the seed inside using the toothpicks to hold the pit, so only an inch of the pit sits in the water.
Place the glass of water on a windowsill in direct sunlight when temperatures are at least 65 degrees Fahrenheit. Change the water regularly and watch as roots grow from the seed into the water. As the seed continues to grow, it sprouts stems and leaves. After sprouting, and once the new roots fill the bottom of the glass, your pit is ready to plant.
Place your seed in an unglazed pot with drainage holes at least ten inches across and twice as deep as the newly sprouted root system. Fill the pot with fast-draining potting mix amended with compost.
Harvesting and Using Avocados
Like some other fruit trees, avocados do not ripen while on the tree. Once your avocado fruit reaches a mature size, it's avocado harvest season. Pick the fruit off and leave it to sit at room temperature. The avocado softens and shrivels. Continue picking fruits off your tree to allow them to ripen.
If you aren't using your avocados right away, store ripe avocados in the refrigerator to slow the ripening process. Place your avocados in the crisper section of your refrigerator for two to three days. Learn how to tell if an avocado is still good so you only use the freshest and tastiest fruit.
The skin of the avocado protects the flesh from oxygen that turns the green flesh brown through oxidation. Once you cut your avocado, store the unused flesh by drizzling lemon juice on top and placing it in plastic wrap in the refrigerator.
Cut avocados keep in the fridge for up to two days. If you have avocado stored another way that turns a little brown, stir it to freshen its appearance when you're ready to cook with it to make guacamole or another tasty dish.
Mash your avocado flesh in a bowl before adding yogurt, a squeeze of lime juice, salt, and garlic powder to taste. Thoroughly mix and serve as is, or chill before serving.
Growing avocados inside your house isn't a hobby for everyone. If you have the patience and put forth the effort, the reward is worth it when you have a supply of fresh and delicious avocados on hand whenever you crave one.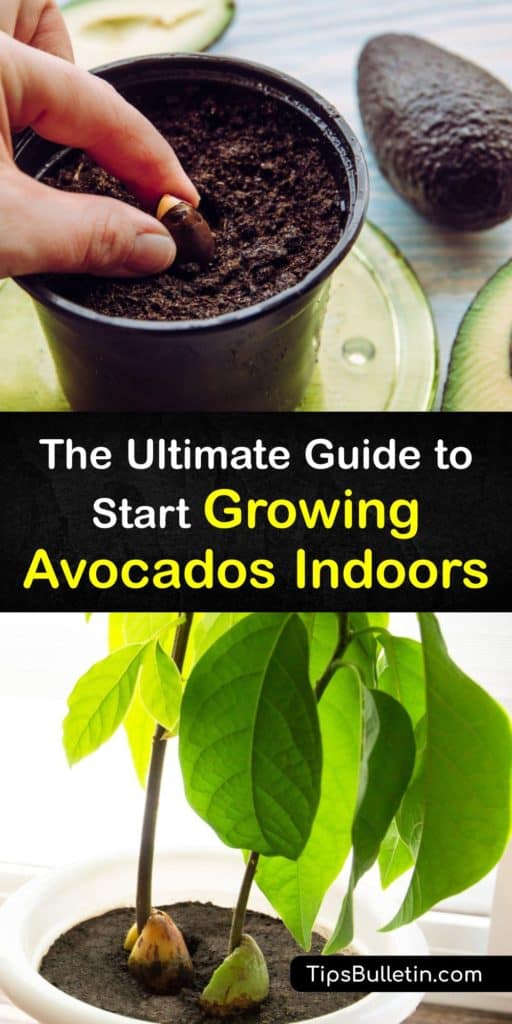 If you learned how to grow avocado indoors with help from our guide, please share our tips for how to grow avocado at home with your fellow avocado lovers on Facebook and Pinterest.