Learning how to grow basil is easy. This herb requires little effort to plant and care for in your backyard. Fresh basil goes great with a variety of dishes. The most well-known recipe for basil is pesto.
Learning how to grow basil from seed also produces an abundant harvest within a few weeks when cared for correctly. We provide you with helpful tips and tricks for planting your basil plants.
Whether you plant sweet basil, Thai basil, or Genovese basil, all basil varieties have the same basic needs. Another great thing about this fragrant herb is that it does not take up that much space in a planter or your garden.
If your windowsill receives enough direct sunlight, place a planter in the windowsill. One or two basil plants produce enough basil leaves to use for several Italian recipes.
We show you the correct way to take care of basil seeds, so you create a bountiful harvest as fast as possible.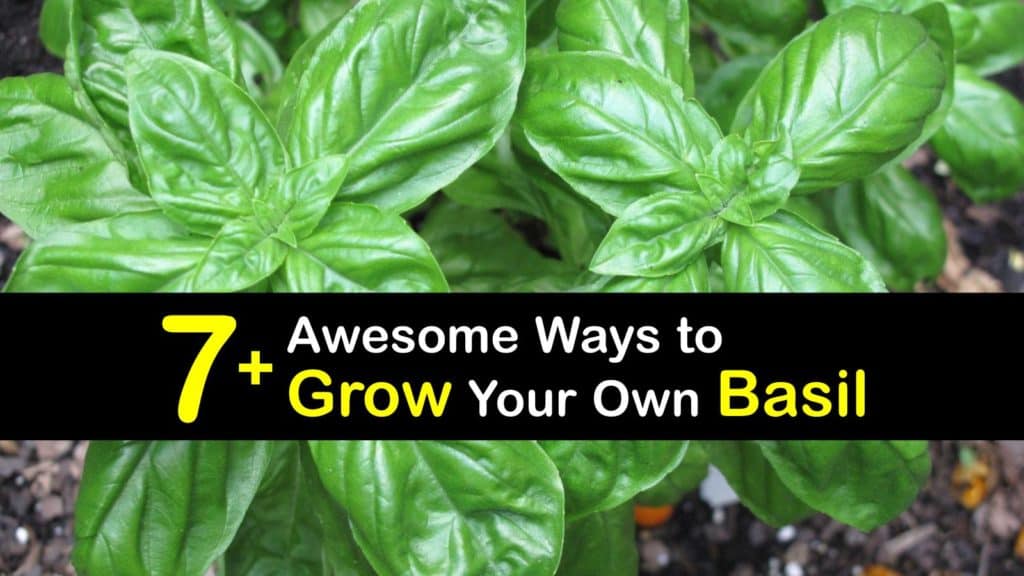 Knowing the Correct Way to Plant Basil
Your local grocery store is not the only place to find fresh basil. Growing basil is a great way to reduce waste, save money, and reduce your environmental footprint.
When you grow basil in your garden or indoors with grow lights, you produce a delicious tasting herb. Not only do we show you unique ways to initiate basil propagation and produce the best basil plants, but we also provide you with tips to prevent invasive pests that also enjoy your herbs.
The Correct Conditions for Growing Basil
How do you know when to plant basil? You can plant basil almost any time as long as the growing conditions are right. A critical step for basil growing is to plant the seeds at the correct temperature. If you plan on growing basil outdoors, plant your seeds indoors about six weeks before the last frost in the spring.
Basil plants cannot survive freezing temperatures, so ensure the outdoor temperatures do not drop below 50°F overnight. The ideal temperature for growing basil is 70°F.
Basil also needs full sun and plenty of warmth to thrive, so it is what to plant with sweet potatoes to take advantage of similar growing needs. Learning how to grow basil from seed starts with making sure the entire plant receives sunlight and heat at the correct temperature.
Planting the seeds of basil indoors before the last frost is a fantastic way to get a head start on the growing season.
How to Grow Basil in the Ideal Location
A basil plant multiplies in a place that receives six to eight hours in direct sunlight. Planting your basil in pots on a sunny windowsill ensures the plant gets enough sun. Basil plants need a ton of direct light to prosper.
Another valuable tip about growing basil is to keep the plant away from busy streets and driveways. Basil plants are negatively affected by the exhaust fumes given off from cars when planted near busy roads. However, when you plant basil with peppers, both plants benefit.
Growing basil in a raised bed or a windowsill allows better drainage. A container or planter with good drainage allows for the roots to breathe and avoid root damage.
How to Grow Basil from Seed
Different basil varieties like Spicy Globe Basil usually grow about one to two feet tall. The initial step in learning how to grow basil from seed is to plant the seeds at the correct depth in your potting soil.
Plant your basil seedlings about ¼ inch deep and ten inches apart. Plant the seeds far enough apart so the roots have enough room to grow, and the plant can thrive.
Keeping the soil of your Ocimum basilicum plant, or basil plant, correctly watered is an important maintenance technique to produce a healthy plant. Water your basil plant, so the soil is moist.
If you reside in an area with higher temperatures, pour a little mulch around the base of your basil plant so the moisture stays locked in. Understanding how to grow basil from seed is simple when you implement the correct planting method.
Utilizing the Right Kind of Soil for Your Basil Plants
One significant aspect of growing basil is that the plant grows in a wide array of soils. The most important thing about planting your basil is to space the plants far enough away from each other correctly.
When basil plants are located too close to one another, they are more prone to fungal elements like fusarium. To avoid fungus, make sure your potting soil is of higher quality and has good drainage. Keeping your soil moist but not soggy.
When a basil plant's soil is too wet, the fungus is more prone to grow. Remember that when learning how to grow basil, it is necessary to keep your soil correctly watered.
Pests that Invade Your Basil Plants
Aphids and Japanese beetles are a pair of the most common pests that like to overtake your basil plant. Because basil plants thrive in the summer months, Japanese beetles and aphids quickly attack basil plants due to the warm weather.
Aphids are tiny insects that usually appear green or white, depending on the species. Japanese beetles have a shiny body and are generally around ½ inches in length.
Both these pests live on the nutrients in the leaves of the basil plant. Aphids and Japanese beetles suck on the plant's sap and cause significant damage.
If you do not take care of these pests right away, they continue to feed on your basil plant until it dies. When your basil plant is in a window sill, it is easier to identify when these pests are present.
Getting Rid of Aphids and Japanese Beetles
The ingredients in neem oil and other essential oils are successful in preventing and getting rid of any pest or fungus that attempts to destroy your basil plant.
To repel aphids, beetles, and fungus and keep bugs and aphids off basil plants, use a combination of water and neem oil. Find a ready-to-use neem oil spray at your local retail store. Spray the solution on any affected area to get rid of any pests or fungus.
To prevent or eliminate aphids using an all-natural solution, essential oils are a great alternative. Essential oils contain scents that repel aphids and drive them away from your basil plants.
Pour the essential oil into the spray bottle and fill the rest with water. Shake your spray bottle gently to mix the oils into the water. Spray the solution on the affected area to prevent and get rid of any aphids that are invading your basil plant.
Harvesting Your Basil Plants
Basil cultivars are very easy to harvest when you know the correct time to pick the fresh leaves. As your basil plant grows, prune the leaves as soon as the plant grows to six inches tall.
Keep up on pruning your basil plant, so it grows throughout the entire summer. Take a pair of gardening shears and snip the fresh leaves in the morning, so they are at their best.
Snip the leaves at the leaf base to get the most out of your harvest. We also recommend pinching off the flower buds that emerge on your plant to promote more leaf growth.
If you wonder how to grow basil the right way, you need to understand the right way to harvest basil leaves on your plant.
Freezing Extra Basil Leaves
Instead of transplanting excess basil plants, freeze your basil leaves to preserve them for an extended period. Freezing basil leaves prevents the plant from spoiling.
Additionally, freezing the leaves preserves the flavor when stored correctly in an airtight freezer bag or ice cube trays.
Lightly coat your chopped basil leaves with a little bit of olive oil in a small bowl. After the ingredients are mixed well, dump the solution into ice cube trays and place it in the freezer for later use.
For an easier way to freeze your basil leaves, place the leaves in an airtight freezer bag or container and put them in the freezer until you are ready to use them.
When cooking, one substitute for Thai basil is regular basil with some cilantro or mint mixed in.
Growing basil is an easy plant to grow in your backyard. Basil does not require that much space, and a single plant produces enough basil for your entire family.
Using the correct planting methods, soil, and maintenance routine make it simple to grow a bountiful basil plant.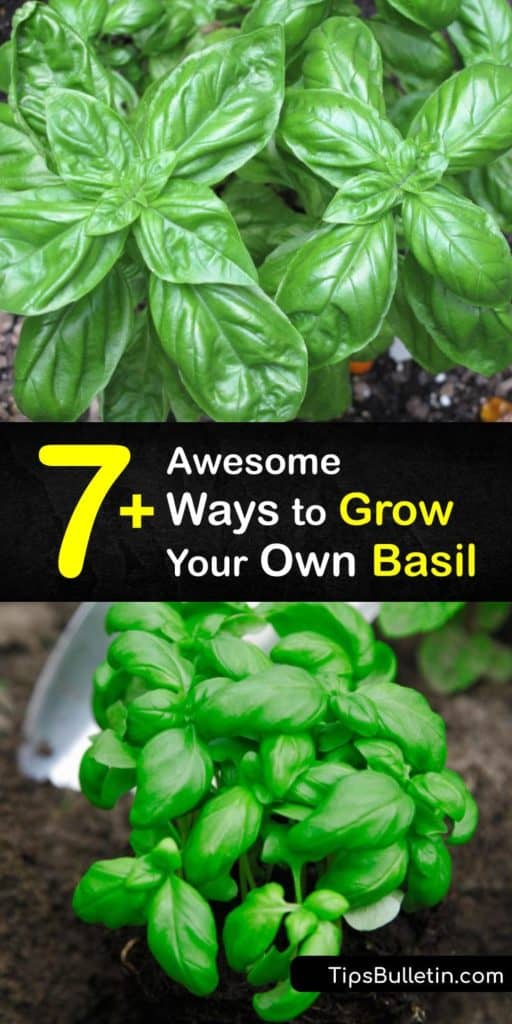 If you discovered how to grow basil with these tricks, please share this article about growing basil with your family and neighbors on Pinterest and Facebook.