There is just something about the creamy taste and texture of black beans, and tacos, enchiladas, and three-bean chili are not the same without them. They are also a great addition to the vegetable garden. Learn what black bean plants require for healthy growth, how to grow black beans in the garden bed and care for them as they mature.
Common black beans, or turtle beans, have a hard shell, shiny black skin, and a white center. They are boat-shaped, about the size of a pea, and packed with flavor.
They are among more than 500 varieties of kidney beans native to the Americas. Like pinto beans, soybeans, runner beans, snap beans, green beans, and other bean varieties, black beans are famous worldwide.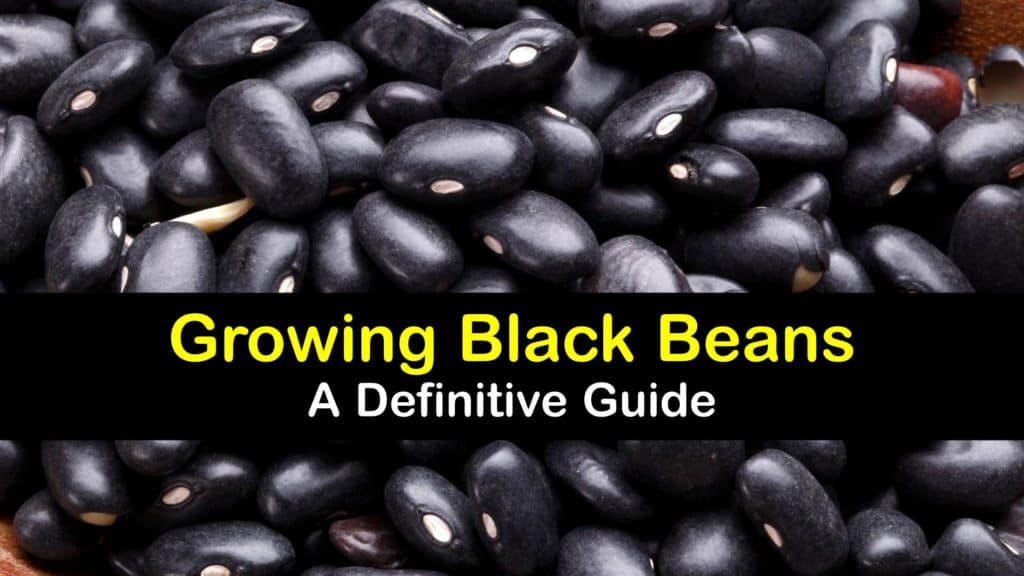 How to Grow-Black-Beans and Care for Them in the Garden
While they begin to lose their moisture over time, dried black beans seem to last indefinitely, and cooking them makes them creamy and slightly sweet.
Their flavor and versatility make them a common staple in Mexican, Cajun, and Creole cuisine. The best thing of all is that these legumes are easy to grow in the home garden.
You've probably seen all the bags of different colored beans at the grocery store and wondered if it's possible to grow your own at home.
While the plants want several hours of sunlight each day and the right soil temperature for germination like the way to grow kidney beans, growing black beans is easier than you think.
Planting black beans at home is a great way to produce food for long-term storage. The dried beans last a very long time, and they are a healthy complement to the diet.
Learn how to grow bean plants in the garden and harvest and store them for use in all your favorite recipes at the end of the growing season. There is little to no difference in pinto beans vs black beans when looking at growing them yourself.
Planting Black Beans in the Right Conditions
How do black beans grow, and what do they need to produce bean pods? Note that growing vanilla bean plants has quite a few differences than black beans.
While planting black beans is similar to planting other types of vegetables, they require the right soil type and the proper amount of sunshine to thrive. There are also different types of beans with varying growth habits. It's important to know the difference between legumes and beans when planting so you can follow proper maintenance procedures while they grow.
Black beans (Phaseolus vulgaris) are available as both pole beans and bush beans. When you plant pole beans, it's important to remember that pole types are climbing vines that require support from a trellis or other structure to grow, while bush varieties grow compactly.
Choose wisely when browsing bean seeds at the garden center to ensure you pick the right type for growing at home.
All black bean plants grow ideally in soil with a pH of 6.0 to 6.5, and using a test kit is the simplest way to determine if your garden pH is too low or too high.
They also need to grow in a full sun area where they receive eight to ten hours of sunshine each day.
How to Grow Black Beans
Black beans are warm-season vegetables that take about 95 to 105 days to grow. They require warm soil to germinate and enough time between the last spring frost and the first fall frost to produce pods.
Here is how to sprout black beans by starting them from seeds in the early spring.
Wait to sow the seeds outside until the soil temperature is at least 68°F since the seeds germinate best in warm dirt. Sow the seeds an inch deep and three inches apart, with fifteen to eighteen inches between rows.
Water them deeply right after planting, and continue watering as needed to keep the ground moist until the seeds germinate. Black beans germinate quickly, and they begin sprouting in eight to fourteen days.
Caring for Your Plants While Growing Black Beans
While nature is good at providing plants with everything they want to grow, there are times when we need to step in and give them some extra TLC.
Discover how to care for your plants while growing black beans to ensure they are healthy and productive.
If you grow the pole variety, position a trellis or other form of support in the garden soon after planting to allow the vines to twine up as they grow.
Since black beans are a garden inoculant and create their own nitrogen, fertilizer is unnecessary. However, they benefit from a compost tea halfway through the season if your soil is poor.
Black beans have shallow roots, with most of the root system growing in the top two feet of soil. Therefore, deep watering is essential during periods of low rainfall.
To gauge if your plants want water, stick your finger into the garden dirt and water them if the top two inches are dry. Consider spreading straw or mulch over the garden bed to reduce the amount of watering and cut back on weed growth.
Aphids, cutworms, slugs, and bean leaf beetles are common problems with black bean plants. Remove the garden pests by hand as soon as you discover insect activity, and use insecticidal soap as needed.
Other issues to watch for are diseases. White mold and mildew result from poor air circulation, and bacterial blight is a wet weather disease.
Try watering your plants at their base and perform yearly crop rotation to lessen the risks of these problems.
When and How to Harvest Black Beans
You have black beans growing in the garden, and it's finally harvest time. Find ways to tell when beans are ready for picking, how to harvest them from the vines and dry them for storage.
When the summer draws to an end, check your plants each week to determine if the pods are mature.
Black bean pods are ready for harvesting when some of them are brown and dry, while others are still yellow. However, do not wait too long to pick them since a hard frost damages the seeds.
Pick individual pods or remove the entire plant by cutting it off at the soil level. Spread the pods on a screen or hang the plants in a dry, well-ventilated area to dry and mature the seeds.
How to Store Black Beans after Harvesting
Black bean plants typically produce 25 to 36 pods per plant, and each pod has several beans.
A garden of black bean plants provides you with an abundance of beans to enjoy now and later. Here is the best way to store black beans to keep them fresh.
If you have only a couple of black bean plants, it's simple to shell the beans by hand. Otherwise, pour them into a pillowcase and knock them against the ground to shatter the casings.
After shelling, make sure the beans are completely dry and hard to the touch and then place them in an airtight container or glass jar with a lid and store them in a dry area for up to a year.
Using Black Beans to Make Burgers
While most people think of Angus beef when considering making hamburgers, black beans are a healthy alternative and a favorite among vegan chefs. These burgers are flavorful and hearty and a great way to use up garden black beans.
Pour the dried beans into a saucepan of water and simmer them for about an hour until tender.
Add water as needed to cover the black beans with two inches of water as they cook. Remove them from the heat and cool them for five minutes before draining.
While the beans are cooking, heat a half tablespoon of olive oil in another saucepan, add the farro and cook on medium heat while stirring for two minutes.
Add a cup and a half of water, a pinch of salt, and bring it to a boil before reducing the heat and simmering for half an hour.
Pour the remaining olive oil into a skillet and saute the onions until softened. Add the crushed red pepper and garlic and cook for two minutes.
Pour one cup of the beans into a food processor and blend into a chunky puree. Scoop them into a bowl, add the onions, eggs, bread crumbs, basil, pepper, salt, and the rest of the beans and fold all the ingredients together.
Form the mixture into eight patties and refrigerate them for half an hour. Drizzle the vegetable oil into a skillet and cook the burgers on medium heat. Turn them once and cook them until heated through and brown.
Black beans are the perfect addition to your vegetable garden, whether you grow the pole or bush bean variety. They are easy to harvest and store, and their nutrition and versatility make them the ideal kitchen staple.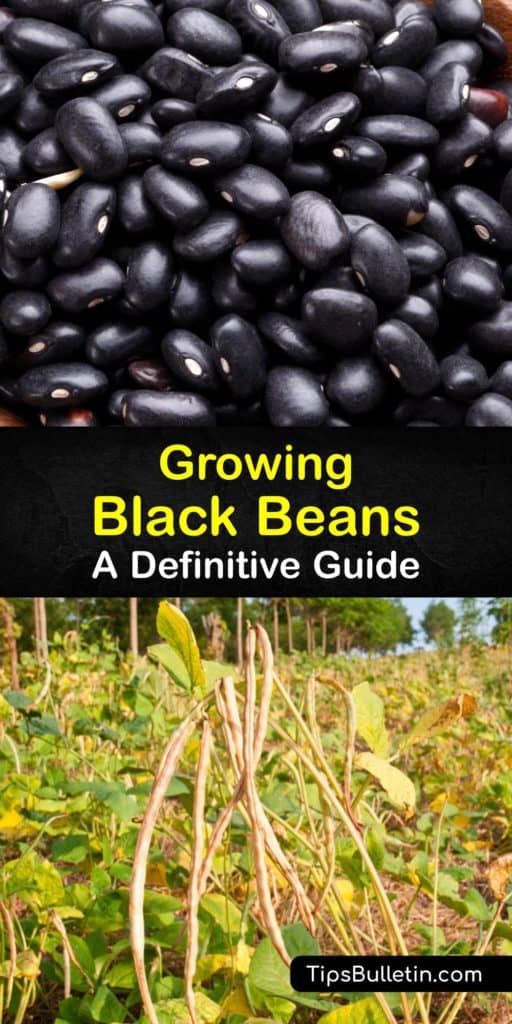 We hope that learning how to grow black beans in your veggie garden keeps your pantry fully stocked with dry beans for use in all of your favorite dishes, and we'd love it if you'd share our black turtle bean growing guide with your family and friends on Pinterest and Facebook.