There is often confusion between legumes and beans, and many people think they are the same, while others consider them completely different. So, what exactly are they, and are they different? We discuss the differences and similarities of legumes vs beans, their nutritional value, and ways to use them in cooking.
We know that beans and legumes are an excellent addition to a healthy diet. They are highly nutritious and rich in dietary fiber, and the USDA recommends including both of them in your daily intake. Are beans and legumes the same, or are they different?
If you ever felt confused about the different varieties of beans, lentils, and legumes when looking up a recipe for a side dish, don't worry. You're not the only one. This is a common dilemma that leaves many people scratching their heads. What is a legume, and isn't it just a bean?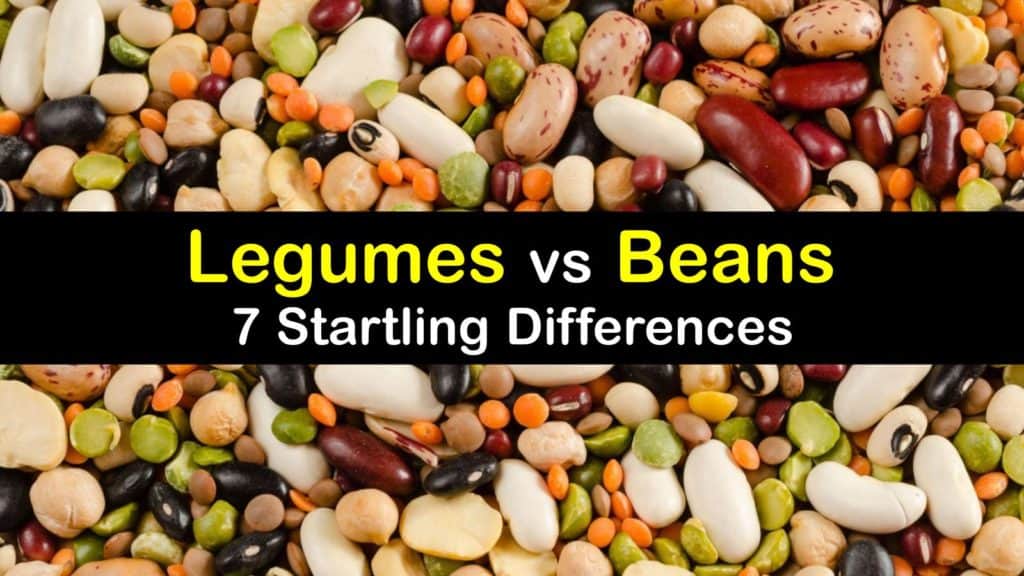 The Nutritional Value, Flavor, and Uses of Legumes and Beans
Are beans and legumes the same? What about garbanzo beans vs chickpeas? You may have heard people explain that legumes aren't quite a bean, but a bean is a legume. We discuss how beans and legumes differ and ways to incorporate them into your diet.
Are Beans and Legumes the Same?
For other types of beans, it's a common mistake to think that beans and legumes are the same things. However, there is a difference when it comes to cooking. Learn exactly what they are and how they differ from each other.
How do actually peanuts grow, along with other legumes? The simplest way to understand the difference between a legume and a bean is to think of beans as the seed of a plant and legumes as plants that grow fruit in pods.
For example, green beans are not actually a bean but rather a legume. Legumes are broken down into subsections that include beans, peas, lentils, and the different varieties of peanuts. Just as it is important for how to know if green beans are bad, you should also learn the signs for other beans, too, so you don't accidentally eat spoiled veggies.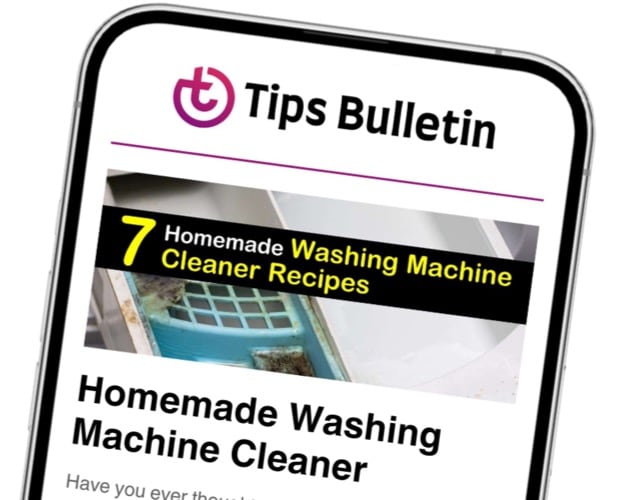 Finally, an email that Transforms Your Home.
Get the latest home and garden tips from our experts, delivered straight to your inbox.
Nutritional Difference between Beans and Legumes
Are all beans and legumes a good source of vitamins, minerals, and fiber? Now that you understand the difference between beans and legumes, discover their nutritional value and which ones benefit you better than others.
Since both beans and legumes come from the same family, they have similar healthy qualities. All beans and legumes contain dietary fiber, have a low glycemic index, and no cholesterol. However, they do have some differences.
Chickpeas and lentils contain folate, magnesium, potassium, and fiber and help reduce blood sugar. What are peanuts as far as health goes? Peanuts are a good source of saturated fat, white beans are high in calcium, and red beans are very high in antioxidants, which help boost your immune system.
Navy beans, pinto beans, split peas, garbanzo beans, cannellini beans, black-eyed peas, butter beans vs lima beans, and soybeans (edamame) are a great source of protein and low in carbohydrates.
Flavor and Texture of Legumes vs Beans
When considering texture and flavor, what is the difference between legumes and beans, and what's the best way to use them in recipes?
We compare the taste of the different types of beans and legumes to help you choose the right ones for your favorites dishes.
Legume and Bean Flavor
Most bean varieties, such as fava, navy, and adzuki, have a mild and nutty flavor that makes them versatile for recipes. Depending on the type, they have thin to thick, smooth skin and a creamy inside after cooking.
They taste delicious in soup, stew, chili, and Mexican dishes. Pinto beans are prepared in a refried bean dish, and white beans make the tastiest hummus.
Some legumes have a completely different flavor than beans. Green beans and sugar snap peas have a mildly sweet taste, while lentils have a green, earthy, and slightly peppery flavor.
Just like beans, many lentils are delicious on their own or in soup. Soybeans are famous for creating tofu, soy milk, and soy flour.
How Many Types of Legumes and Beans are There?
What's the difference between black beans and kidney beans, and are they the same as soybeans? What about pinto vs black beans? Knowing the different types goes a long way to understanding the difference between beans and legumes.
Legumes include all types of peas and beans from the Fabaceae family, and they include chickpeas, beans, peas, peanuts, lentils, and lupins. There are thousands of these plant species, and it's impossible to list them all.
Planting chickpeas or any legumes results in growing in various sizes, colors, and shapes and are dried, canned, cooked, and frozen, and some are split while others are ground into flour.
Which Beans and Legumes are the Healthiest?
Are beans and legumes the same, and which one is the healthiest? While they all provide a variety of health benefits, some beans and legumes contain more nutrition than others.
Chickpeas or garbanzo beans are helpful for reducing blood sugar and lowering insulin levels. They also improve blood cholesterol levels and are beneficial for gut health.
Lentils are ideal for your heart since they reduce bad cholesterol while increasing good cholesterol. Peas are a great source of protein and fiber, while kidney beans help slow sugar absorption in the blood.
Soybeans contain high levels of isoflavones, a type of antioxidant, while black beans have a low glycemic index.
Best Way to Store Legumes and Beans
Learning as much as possible about beans and legumes is an excellent starting point. However, it's just as important to know the best way to store them short and long term to keep them fresh. How to store fresh green beans is a little different than preserving dried legumes or beans.
To store canned beans, keep them in a cool, dark kitchen area such as a pantry or cupboard, and use them before the expiration date.
To store dry beans or legumes, remove them from their original packaging or bag and discard broken pieces or rocks. Pour them into an airtight container, seal them with a lid, and keep them in the same place you store canned goods for up to one year.
How to Make a Legume and Bean Soup in the Slow Cooker
Now that you understand how legumes and beans differ, why not combine the healthy benefits of both in soup? This recipe is easy to prepare and perfect for the slow cooker.
Drain and rinse the northern beans, rinse the lentils, and place them into a five to six-quart slow cooker. Add the broth, onion, carrot, seasonings, and one cup of water and cook on low for seven to eight hours.
Add the chard and lemon juice and cook for an additional 30-minutes, or until the chard is tender. Remove the bay leaf and serve the bowls of soup with Parmesan cheese sprinkled over the top.
There are so many types of legumes and beans, and the health benefits they provide range from lowering blood pressure to decreasing the risk of heart disease. Understanding the differences between them goes a long way to creating tasty recipes.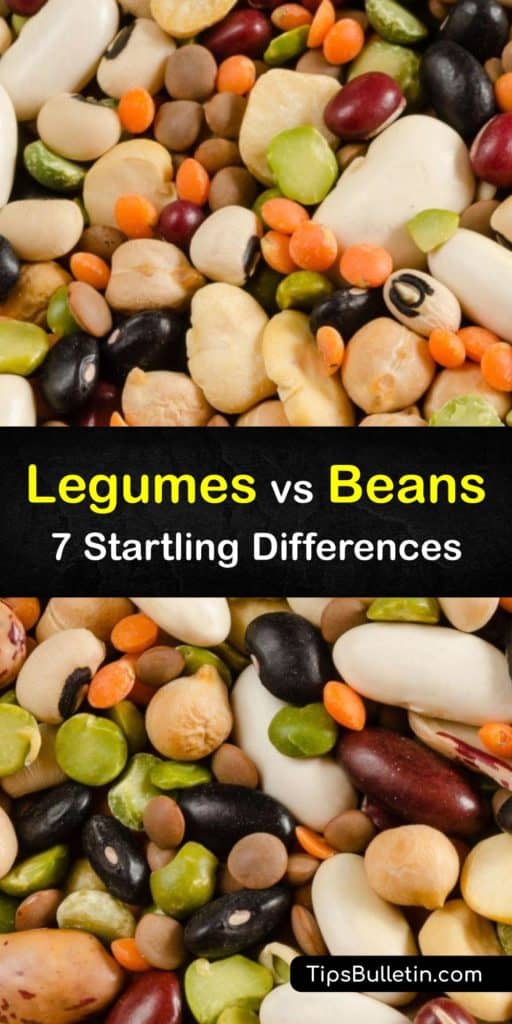 Now that you learned the difference between legumes vs beans and ways to include them in your diet, why not lessen the confusion among your family and friends by sharing our legume and bean guide with them on Pinterest and Facebook?