When someone mentions beans, often the first things to come to mind are baked beans or green beans since these are the most popular. But, did you know that there are many more types of beans, and all of them are excellent choices for growing in the garden?
Learn about the differences between popular beans and how to grow your own at home. Beans are a staple in the kitchen, whether dry beans or canned beans, and they are a necessary ingredient in refried beans, pork n beans, and other famous bean dishes.
They are highly nutritious and contain calcium, protein, fiber, iron, magnesium, potassium, folate, and phosphorus. Best of all, they are low in fat and contain no cholesterol. Their versatility makes them a favorite for Mexican, Caribbean, Asian, Italian, and American cuisine.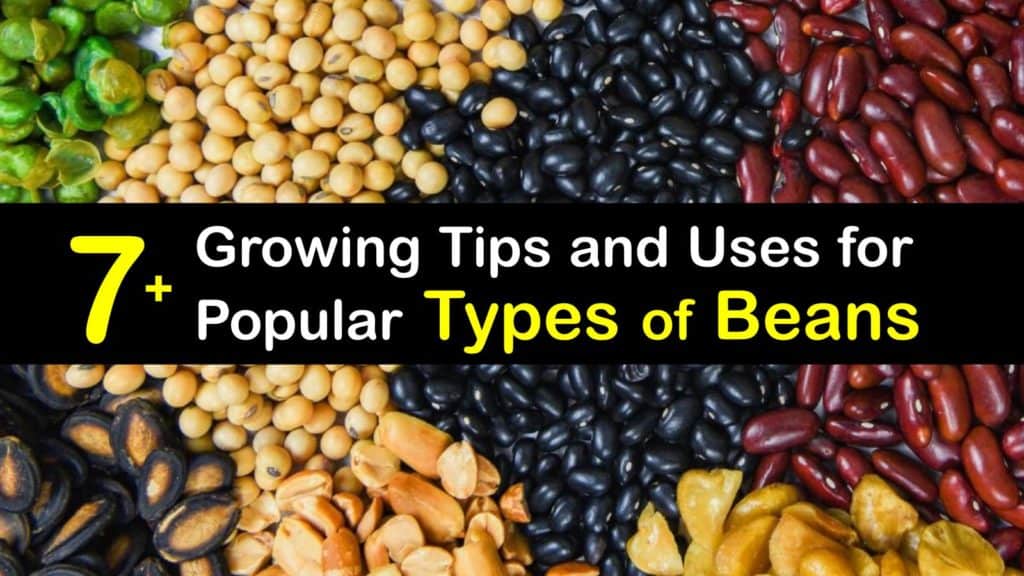 Bean Varieties and How to Grow Them
Did you know that the green beans you use in green bean casserole aren't actually beans? They are legumes, and there are many types of legumes and lentils.
We often confuse legumes for beans, including lima beans, black-eyed peas, fava beans, broad beans, sugar snap peas, edamame, and soybeans.
Beans like adzuki beans or mung beans are the seeds of various plants, and they often have a nutty, mild taste with a creamy texture, depending on the type.
Some beans are white while others are speckled, and then some have a deep red color. What's the difference between them, and which ones are the easiest to grow in the garden?
Explore the appearance and growing habits of bush beans and pole beans, the flavor and texture of popular beans, and how to grow your own beans at home.
What are Bush Beans?
What are beans, and are they the same thing as legumes? This is a common confusion many have since they share some of the same characteristics. However, beans are a large subset of legumes.
There are two main types of bean plants, pole and bush. Learn what bush beans are and their growing habits.
Bush bean plants grow in a compact form and only reach about two feet in height. They do not require support such as a trellis to grow, making them the perfect choice for a small garden space.
They take about 50 to 55 days to produce, and the beans typically come in all at once. These beans need around seven hours of sun daily but tolerate some shade.
They are simpler to grow and maintain than pole beans, so they are ideal for beginner gardeners. Many varieties of pinto beans, navy beans, black beans, and red kidney beans grow on this type of plant.
The Difference Between Bush Beans and Pole Beans
The main difference between pole beans and bush beans is the type of plant they grow on. It's vital to understand these differences if you plan on growing beans in your backyard since one is larger than the other and desires specific growing conditions.
Discover which bean types are pole beans and the plant size range to help you determine if it's right for you.
Unlike bush beans, pole beans grow pretty large. They are climbing vines that reach ten to 15 feet tall and need a structure or trellis to grow up. They are more disease-resistant than bush types and take 55 to 65 days to produce.
They continue to yield beans for a month or two if you keep harvesting them and thrive on six to eight hours of full sun each day. Some examples of pole beans are butter beans, Lazy Housewife beans, and Romano beans.
Growing All Types of Beans
The first step in growing beans, whether you are growing lima beans or mung beans is to determine whether you want pole or bush beans. Once you establish that and pick your favorite bean type, it's time to get planting.
Here is how to grow different kinds of beans, give them proper care, and when they are ready for harvesting.
To give your plants a head start, start the seeds indoors a few weeks before the last frost date. Otherwise, sow them outdoors once the soil temperatures are consistently above 48°F.
Ensure the soil is well-draining with average fertility and amend poor soil with compost or aged manure the fall before planting.
To plant bush beans, sow the seeds one inch deep and two inches apart, with rows 18 inches apart. For pole beans, sow the seeds one inch deep and three inches apart and make sure to position a stake or trellis at planting time.
If you desire a summer-long harvest, stagger the seed sowing two weeks apart for a steady supply of beans.
Water the seeds right after planting and spread a layer of mulch over the garden to retain moisture, halt weed growth, and keep the beans cool.
Water them regularly, so they receive two inches of water each week. If you have poor soil, begin fertilizing the plants after they start blooming and setting pods, but do not use a high-nitrogen fertilizer.
When pulling weeds, be careful not to disturb the bean roots since they have a shallow root system, and pinch off the tops of the pole bean vines when they reach the trellis top.
If you live in a hot area, cover young plants with row covers during the hottest part of the day to stop the blossoms from falling off the plants.
Begin harvesting the beans at the recommended time on the seed packet. Harvest them in the morning by cutting or snapping the beans from the stem carefully. If you grow pole beans, check them daily and pick them as needed to encourage a longer harvest season.
If you discover green beans with brown spots, you have a disease or insect problem. Address it immediately to save your crop.
If you do have an abundance of beans, learn the proper way to store and keep greens fresh. The fridge and freezer are perfect, as are canning and pickling.
Is There More than One Type of Kidney Beans?
When you think about a kidney bean, you probably have a very distinct image that comes to mind. However, there are different varieties of kidney beans, including red, white, and Italian.
Growing kidney beans is easy but you can always buy them. They each vary in color, texture, and size, and understanding them helps you choose the right one for your recipes.
Kidney beans are also called red beans, which leads to confusion with other actual red beans. There are several varieties, including red kidney beans, white Italian kidney beans or Cannellini beans, light and red Speckled kidney beans, Borlotti beans, Yin Yang beans, and Cranberry beans.
They all have the traditional kidney shape with a white interior and mild flavor. They are common in chili dishes and refried beans and taste good in both hot and cold dishes. However, their thick skins require that you soak them for about six hours before cooking.
Different Types of White Beans
A recipe that calls for white beans is confusing since there are actually different types of white bush and pole beans. Learn about the most popular varieties and how their taste differs from other colored beans.
Navy beans are a small white bean with a creamy taste and texture, while white kidney beans are the largest white beans with a slightly nutty flavor and meaty texture.
Great northern beans are medium-sized white beans with a mild taste, and these types are perfect for soaking up seasonings and flavors of dishes you cook them in. All three varieties are excellent for adding to soup and stew.
How Many Types of Pinto Beans are There?
Of all the varieties of beans, pinto beans are one of the more common, especially in Mexican cuisine. Did you know that there is more than one type of this bean? Find out how to identify a pinto bean and some of the different varieties.
Pinto beans were originally cultivated in Central and South America, and there are many varieties, including Buster, Grand Mesa, Kodiak, Sierra, Maverick, and Othello.
Grow pinto beans with orange-pink with rust-colored speckles, which is how they got the name Pinto, which means painted in Spanish. They have a smooth texture and earthy flavor, fitting for stews, soups, dips, and refried beans.
Ways to Use Navy Beans
Navy beans are a top choice for making baked beans, but there are other ways to incorporate them into your diet. Learn about the appearance and flavor of navy beans, which beans are substitutes for them in a pinch, and how to use them in recipes.
Navy beans go by many names, including Haricot, Boston beans, White Pea Beans, and Pearl Haricot beans. They are similar to Great Northern beans with their white skin, mild buttery flavor, and creamy texture, and they are a wonderful addition to dishes if you want them to absorb flavors.
If you do not have navy beans available, use the Great Northern beans, Cannellini beans, or Flageolet beans as a substitute. They taste fabulous in a bean salad, taco soup, slow-baked beans, bean soup, and all types of chili.
Are Chickpeas the Same as Garbanzo Beans?
When considering chickpeas vs garbanzo beans, chickpeas and garbanzo beans are the same, and there are two varieties. These bush beans are the top choice for making hummus, but they have other uses. Learn what these beans look like and how their flavor complements a variety of dishes.
Kabuli is the larger variety of garbanzo beans and is common in the Mediterranean, while the smaller Desi variety is grown mainly in India. They are one of the most versatile beans with their round shape, firm texture, and classic beany taste.
While hummus is the most famous way to prepare them, they are delicious for snacking, as a chickpea salad sandwich and salad topping. Just drizzle them with some olive oil and season them with spices and salt before baking them in the oven.
How to Prepare Two-Bean Minestrone
Minestrone is an Italian soup that uses beans, vegetables, and pasta with a tomato broth. While many types of beans and legumes are good choices for this soup, we like to use white beans, kidney beans, and green beans. This recipe takes only 40 minutes to make and serves six hungry people.
Drizzle olive oil into a deep pot and set it on medium heat. Add the celery, onions, carrots, and zucchini and cook for three to five minutes until tender. Add the garlic, season the veggies with salt and pepper and cook while stirring for 30 seconds.
Stir in the tomatoes, vegetable broth, tomato paste, and Italian seasoning, and bring the soup to a simmer. Pour the kidney beans, white beans, green beans, and pasta into the pot and simmer for ten or 15 minutes until the pasta and veggies are tender.
Add the spinach and cook the soup for three more minutes until the leaves are wilted. Top with parsley and serve immediately.
There is nothing like the nutrition and flavor of beans, whether you love a good hummus or prefer yours in a baked bean dish. In addition, they are a great option for food storage since dried beans last a year or more, and growing your own at home is easier than you think as long as you provide them with the right conditions.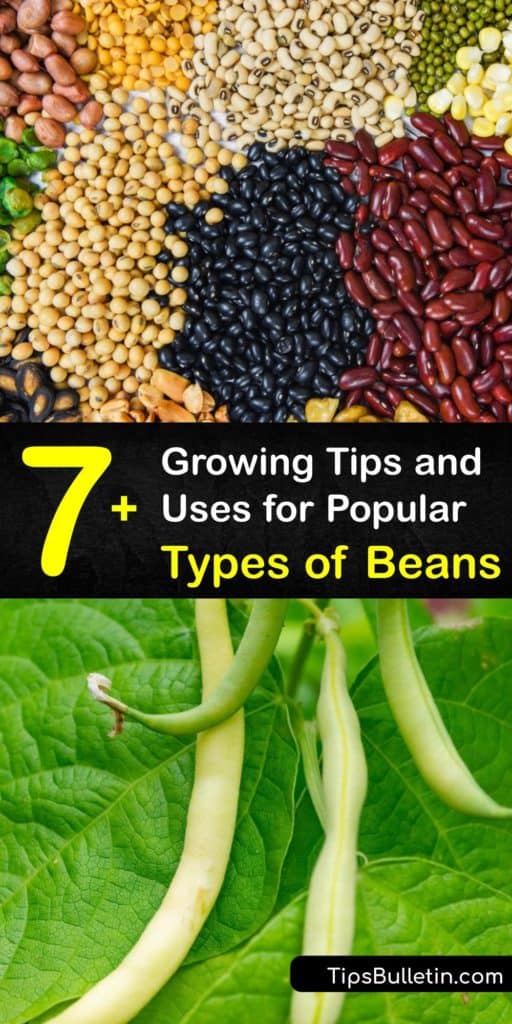 We hope that learning about the different types of beans helps you choose the perfect one to grow in your garden or use in your favorite recipe, and we'd love it if you'd share our bush and pole bean guide with your friends and family on Pinterest and Facebook.