Hot peppers are a must in the kitchen if you love your meals with a kick, and there is nothing better than jalapeno peppers fresh from the garden. Not only are they delicious, but they are also quite simple to grow. Learn how to grow jalapenos from seeds indoors, transplant them outside, and give them the care they need to provide you with a bountiful harvest.
Out of all the hot pepper varieties, jalapenos are one of our favorites. They are similar to the serrano and have just enough heat to make them spicy but not overbearing.
Unlike the ghost pepper and habanero that are nearly painful to eat, jalapenos are perfect for a wide range of pepper recipes from poppers to salsa.
Jalapeno peppers measure 2,500 to 8,000 on the Scoville scale, while cayenne peppers measure up to 50,000. So, jalapenos have just enough heat to add spice to your food.
They are also one of the easiest peppers to grow from seeds. The key is to start them indoors to give them a head start on the growing season before transplanting them to the patio or garden.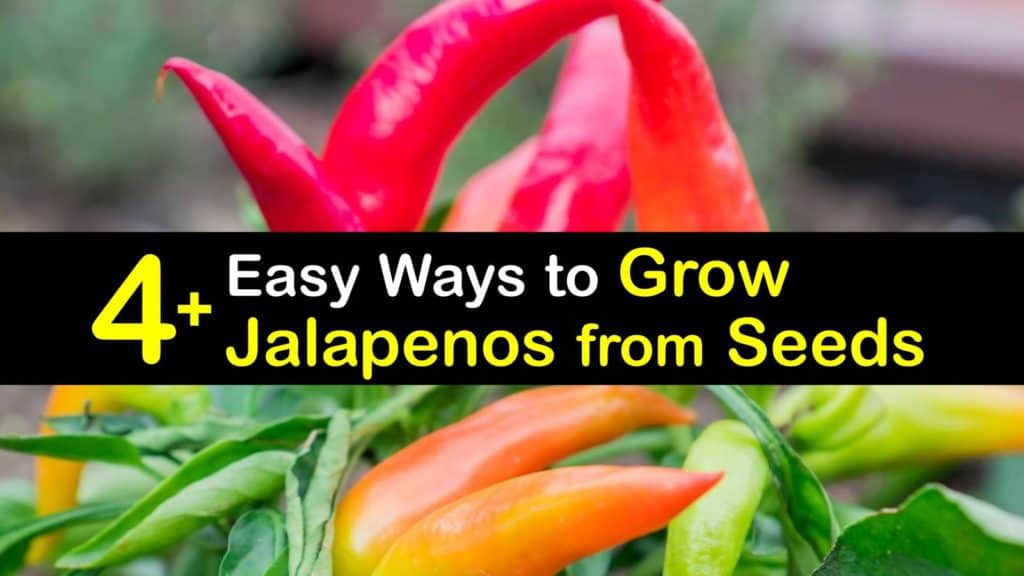 How to Grow Jalapeno Pepper Plants from Seed
Growing your own veggies at home is the best way to enjoy fresh peppers that are free of pesticides and with more flavor than grocery store produce. Here is how to grow peppers from seeds, and care for your new plants for the best pepper crop.
Essential Things to Know before Growing Jalapeno from Seed
There are a few things you need to know before growing jalapeno from seed. Jalapeno pepper plants take some time to grow from seeds, and they require the right air and soil temperature, sunshine, and routine fertilizing to thrive.
Jalapeno Pepper Plants (Capsicum annuum 'Jalapeño')
The first thing to check when you decide to grow jalapeno plants in your garden is your USDA hardiness zone.
Jalapenos grow as an annual throughout the United States but are perennial in zone 11. When is the best time to plant jalapenos? Do not plant your peppers outdoors until after the last frost, when the soil temperature reaches 65°.
These plants love full sun and fertile, acidic, or neutral soil that is well-draining. It's vital to choose the sunniest part of your yard or patio to grow your jalapenos for the best crop and add fertilizer if you have poor soil.
How to Grow Jalapenos from Seeds Indoors
If you live in a northern region, growing jalapenos indoors from seeds gives them a headstart on the growing season. While the germination process seems lengthy, it's actually easier than you think. Not only can you grow jalapenos this way but you can also grow ghost peppers from seed, as well as other varieties.
Begin your seeds indoors about seven weeks before the last frost. Fill a seed starting tray with potting mix and sow the seeds a quarter-inch deep in the soil.
Place them in a warm area where the temperature is between 65 and 80°F, and keep the dirt damp but not wet. Your seeds will begin germinating in two to three weeks.
If you've had problems germinating seeds in the past, consider starting them in a damp paper towel. Set the seeds a half-inch apart on wet paper toweling, place it into a plastic bag, and set it in a warm area.
Keep them damp and check them daily for growth. Once they sprout, plant them carefully in the soil in the starter tray.
Transplanting Jalapeno Seedlings Outside
Growing jalapeno from seed is only the first step. After your plant germinates and is a healthy size, it's time to transplant it into the garden or container to help it grow strong roots and produce fruit.
Jalapeno plants love hot weather, so make sure it's warm outside before you transplant them. They also required hardening off beforehand by taking them outside a couple of hours each day for a week to acclimate to the weather.
To plant them in the garden, dig a hole large enough to accommodate the roots and space them two feet apart. Set each plant in a hole and cover the roots with dirt while packing it down lightly.
If you are container gardening, the best way to grow cayenne peppers and jalapenos is to follow the same procedure but use a raised bed or pot with drainage holes in the bottom.
Water the base of the plants to help them settle and feed them a well-balanced fertilizer. To prevent weeds and retain moisture, spread a layer of mulch over the garden.
Plant Care While Growing Jalapeno Peppers from Seed
After growing jalapeno peppers from seed and transplanting them into the garden, the next step is to give your new plants what they require to thrive.
After you implement the best way to plant jalapenos, the proper plant care, such as watering and fertilizing, nurtures your pepper plants and encourages them to produce healthy fruits.
Jalapeno plants enjoy soil moisture, so keep the soil damp, especially during hot summer days. Ensure your plant grows in an area where it receives at least eight hours of direct sunlight every day.
After the plants develop peppers, switch to high potassium and phosphorus fertilizer to prevent them from getting bushy with few fruits.
Keep an eye on your hot peppers as they grow to stop an insect infestation. If you notice aphids or spider mites, use a natural insecticide or remove them by hand immediately.
Clip away any dead or damaged branches and leaves right away to encourage the plant to put more energy into healthy areas.
How Long do Jalapenos Take to Grow?
Now that you know all about growing jalapeno peppers from seed, you're probably wondering when you get to harvest sweet and spicy peppers. Here are the varying stages of growth and how long it takes for them to mature.
Jalapeno Harvest
The first step in a pepper plant's growth is the germination process. This usually takes one to two weeks, depending on whether you have an heirloom, open-pollinated, or hybrid plant.
After you plant them outside, it takes roughly three to four months after germination before your plants begin fruiting green peppers.
Just like the bell pepper, jalapenos turn color as they mature. They start light in color and then turn dark green. If you allow them to fully mature, they eventually turn bright red.
Growing your own pepper plants at home ensures that you get chillies that are not only fresh but free of chemicals.
While starting them from seed takes a little longer than growing plants from the garden center, doing this saves you money, and you're a part of the entire growing process.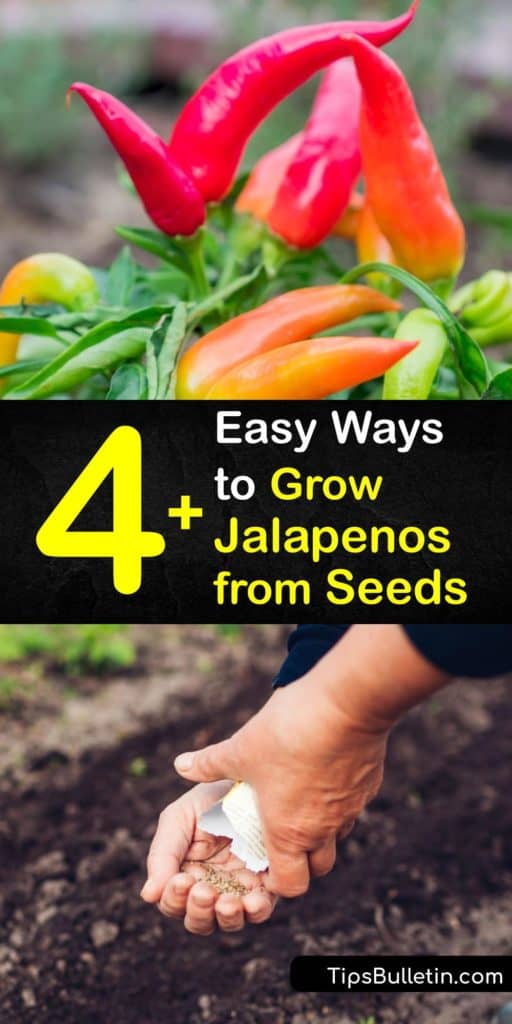 Now that you know how to grow jalapenos from seeds to enjoy the freshest and tastiest chili peppers, why not share our jalapeno pepper growing guide and tips with the garden growers in your life on Facebook and Pinterest?