It's easy to spice things up in the kitchen when you grow your own jalapeno pepper plants in your garden. If you've never grown jalapenos, a ghost pepper, or other types of chili peppers, then there is a pretty good chance that your brain is getting bombarded with questions. Knowing when to plant jalapenos is crucial to the success of your pepper plants.
You may be asking other questions like when are jalapenos in season and how do you care for them, but jalapenos are a lot easier to grow than you probably think.
There are dozens of peppers for people to choose from, including sweet green peppers and hot peppers. A habanero pepper, cayenne pepper, and serrano chili are hot peppers with tons of flavor, while sweet peppers, like bell peppers, are more subtle and mild.
If you've been warming up to the idea of growing jalapeno peppers in your garden, browse this veggie guide containing everything you need to know about the jalapeno growing season and planting jalapenos in your vegetable garden.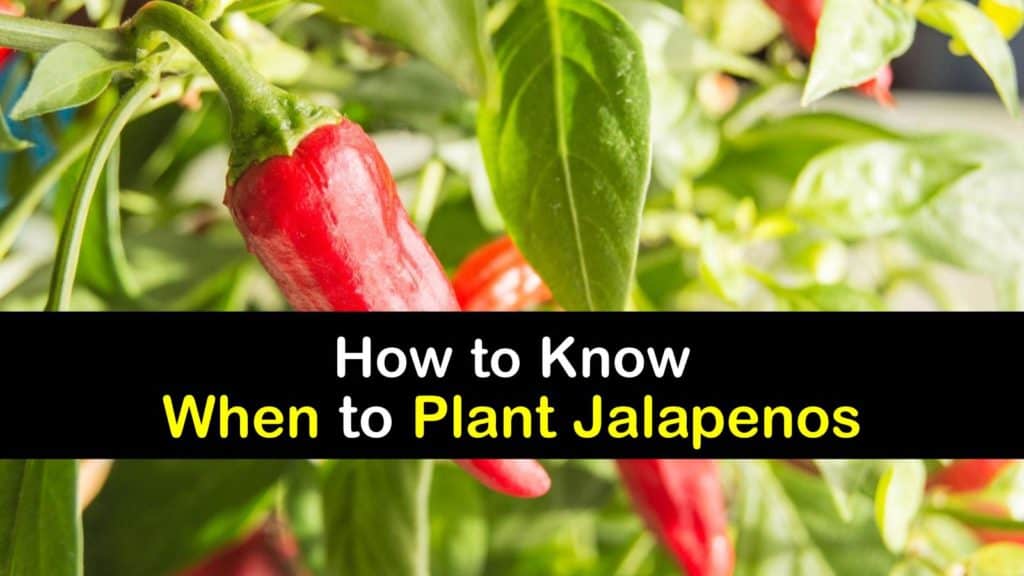 Introduction to Jalapenos
There are so many different kinds of peppers. One favorite, the jalapeno, originated in Mexico and Central America and is now used frequently in Mexican and American cuisines. These veggies are dark green when picked and turn red when fully ripe.
They usually reach two to three inches in length, and there are over 20 different pepper varieties, all with varying levels of heat. The anatomy of jalapeno peppers includes an exocarp, mesocarp, endocarp, placenta, and jalapeno seeds.
The mesocarp is the center of the pepper and provides support for the pepper, while the endocarp is a layer of membrane surrounding the pepper seeds.
Capsaicin glands are located between the placenta and endocarp and are responsible for the heat of the pepper. The seeds often taste spicier than the pepper's flesh because they are closer to the capsaicin glands.
The heat of hot peppers is measured based on the Scoville scale that measures capsicum concentration. On a scale from zero to over 80,000 heat units, jalapenos are on the lower end of the spectrum ranging from 2,500 to 8,000.
Embracing the Jalapeno Growing Season
When taking full advantage of the Jalapeno growing season, you need to understand everything there is to know about these peppers and the things they require to live.
How to grow jalapenos includes everything from soil temperatures to fertilizing them. Read through each of these tips for growing healthy jalapenos that you can turn into something delicious.
When are Jalapenos in Season?
One of the beginning questions to ask yourself as a grower is when are jalapenos in season? The jalapeno growing season is relatively long compared to some other veggies.
Gardeners start growing these peppers in the early spring and harvest them as late as late fall.
When to Plant Jalapenos
Are you growing your peppers from seed, or are you transplanting young plants straight into your beds? These are necessary questions to ask yourself when you plant chili peppers because they have two different start times.
The best time to plant jalapenos from seed indoors is six weeks before the last frost of spring – from January to March. Jalapenos are easy plants to grow inside in a container.
On the other hand, you might purchase your first peppers from garden centers. If this applies to you, transplant your peppers outdoors after the final frost, usually sometime in April.
Growing Jalapenos from Seeds
Knowing when to plant jalapenos is especially important when growing the plants from seeds and starting them inside. To start growing peppers indoors, sow the seeds in a seedling tray filled with potting soil.
Water the seeds and put them in a warm, sunny place until germination occurs – about ten days. Keep the soil temperatures around 80 degrees Fahrenheit for the best results.
When you plant bell peppers indoors, or jalapenos, once the seeds germinate, transplant to individual pots with fresh potting mix and continue to keep the soil moist and warm.
Harden off the plants before transplanting them in your outdoor garden by moving them outside for increased increments during the daytime until the danger of frost is completely gone.
Growing Jalapenos Outside
Jalapeno plants should be six to eight inches tall before you plant them in your garden soil. Space each pepper plant at least two feet apart to allow them to spread and grow.
If the plant needs support, stake them to carry the weight of the soon-to-be-growing peppers. Keep the garden soil warm by adding mulch or other organic matter around the base of the plants.
Caring for Jalapeno Peppers
Growing jalapenos is relatively simple, but the crop yield is going to be far more impressive if you give them a perfect habitat to live in. Peppers do best when planted in loamy and well-draining soil that is rich in organic matter.
The peppers must have full sun, or at least six hours of direct sunlight every day. Keep the garden soil moist without being too wet.
This moisture level is essential during hot spells or drought. Avoid getting water on the fruits so that you don't scorch the peppers.
Harvesting Jalapenos
If you've never grown jalapenos before, you may not know when to harvest peppers. Before picking the peppers from the stems, look for fruits that are three to five inches in length, deep green in color, and firm when you touch them.
Light green peppers aren't ripe enough, and red peppers are at their last stage of ripeness. Picking and eating them before they turn red are most people's preferred way to harvest them, similar to when to harvest serrano peppers and many other varieties.
Another thing to look out for when harvesting jalapenos is corking. Corking is a sign of a mature pepper and leaves small white lines on the skin. These liens are safe to eat and are a desirable trait of a good pepper.
Once you know the peppers are ready to pick, hold the plant with one hand and pull the peppers upward until they snap cleanly from the stem. Once you have your yield, you're ready to turn them into salsa or another tasty recipe.
Jalapeno Pests
While beneficial insects are vital for a healthy garden, some do more damage than good. The two most common types of pests that target jalapeno peppers are aphids and caterpillars.
To repel pests, one of the companion plants for peppers is the marigold. However, if you spot either of these bugs, spray the plants with a light misting of neem oil to keep them away and save your crop.
Making a Tasty Jalapeno Snack
Hot sauce and salsa are some of the most common recipes that people use jalapenos for. When do jalapenos go bad? It's best to use them or preserve them within a few days of picking them off the plant.
There are so many different jalapeno recipes to choose from, but we prefer one that highlights the pepper's sweet and spicy notes. Make this tasty appetizer as a quick passing dish for a party with friends and family.
Start by preheating your kitchen oven to 400 °F. Slice each jalapeno lengthwise, so you have two halves, and use a spoon to scrape out the seeds and inner membranes.
In a mixing bowl, stir in the plain cream cheese, cheddar, garlic powder, and chives. In another bowl, combine the panko and melted butter. Fill each pepper half with some of the cheese mixture and top them all with the buttered bread crumbs.
Put the poppers on a baking pan and bake the peppers for 20 minutes or until the cheese is melty and the crumbs are golden. Let the popper cool for at least five minutes before serving them.
Jalapenos are sweet, spicy, and bold. They are a great additive to various foods and often bring something special to an otherwise dull recipe.
Should jalapenos be refrigerated after harvesting? If you plan to use them within a few days, stick them in the crisper drawer. Otherwise, invest in a long-term storage method like freezing or canning.
If you're a lover of these spicy peppers, try your hand at growing them yourself and turning them into appetizers, sauces, and pickles that you can share with your family throughout the entire year.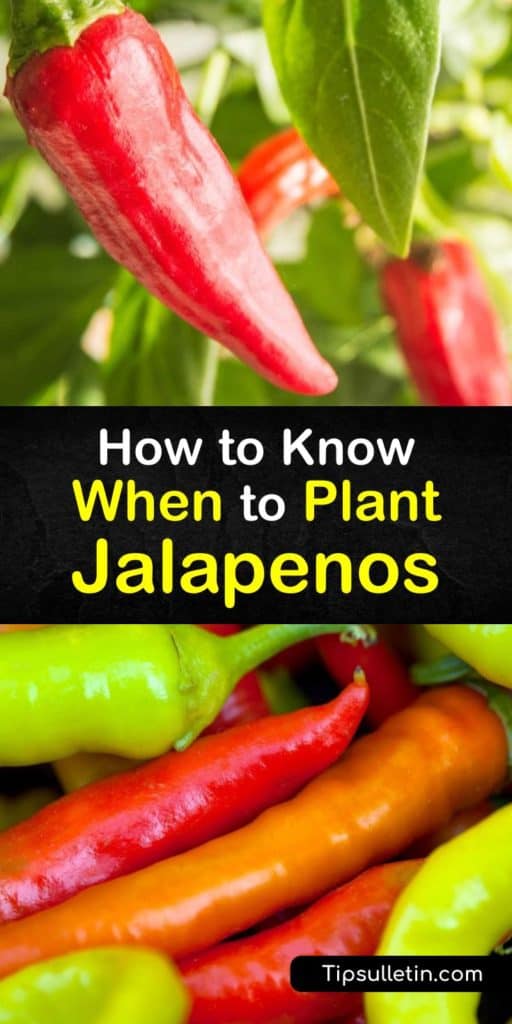 If knowing when to plant jalapenos has helped you bring some heat into the kitchen, share these tips for growing jalapeno peppers on Facebook and Pinterest.