One of the top rodents that homeowners fear is skunks. If you have a skunk problem, you must learn how to keep skunks away from your house so they do not have the opportunity to cause any damage.
Because these animals are nocturnal, many people believe that keeping skunks away from your home is a complicated process that requires careful attention.
However, throughout this article, we offer many simple home remedies to keep skunks away from the house. Learning how to get rid of skunks is a relatively straightforward process when you utilize the most effective tools.
A crucial part of developing a skunk repellent is to understand what has attracted skunks to your house in the first place.
We show you the most common skunk attractants, DIY skunk deterrents, and how to remove the pungent odor of skunk spray from your clothing. If you have a skunk problem, you do not need to put up with these unwanted pests invading your house.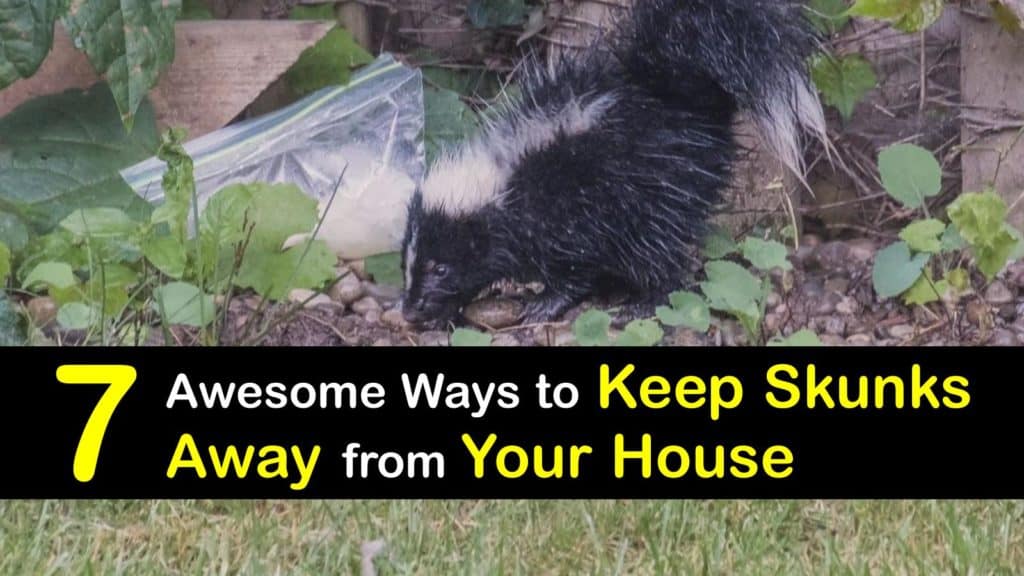 Getting Rid of Skunks in Your Backyard is Simple
Several of the skunk removal remedies we describe repurpose everyday household products to act as a natural skunk repellent. Easy to find products like mothballs, cayenne pepper, and lemon peels are all great for keeping skunks away from your home.
It does not require a call to pest control services to control the wild animals in your backyard. There are several home remedies to keep skunks away from the house that do not require animal control.
Invest in some attractive plants that keep skunks away, like holly and Fritillaria imperialis.
Common Attractants for Skunks
Before learning how to keep skunks away from your house, you need to understand what has attracted these critters to your residence in the first place. There are several famous attractants homeowners are unaware of that draw skunks.
When you eliminate these things, skunks are less likely to continue returning to your house. The two main attractors for skunks are bird feeders and sunflower seeds, as the skunks view these as nutritious food sources.
Other items that attract skunks to your house include an overflowing garbage can, pet food or cat food that is left outside, and piles of wood. Skunks prefer food sources that do not require too much effort to obtain, similar to raccoons.
However, if your yard is rich in insects, larvae, and other grubs, skunks do not mind digging up the lawn to reach them. A natural repellent for skunks is easy to make, but you need to know what the popular attractants are first.
How to Keep Skunks Away from Your House with Mothballs
To prevent skunks and raccoons from overtaking your trash cans to search for food, consider repelling these critters with mothballs.
Skunks prefer to take shelter under your deck or in piles of chopped wood on the side of your house, and mothballs deter them. Skunks hate the pungent odor that mothballs and predator urine give off, so they avoid taking shelter in areas with these scents.
A deck or porch is a commonplace that skunks hide under, so throw a few mothballs under your deck to scare them away. Another incredible home remedy to keep skunks away from the house is to set up chicken wire to block any openings to your deck.
Keeping Skunks Away from Your Home with a Cayenne Pepper Mixture
Because skunks forage for food at night, most people do not have the time, or energy, to continuously monitor their lawn.
An excellent solution to drive skunks away while scavenging for food is making a cayenne pepper repellent. Cayenne pepper is an extremely hot spice, and once skunks taste it, they quickly give up digging for insects in the ground. It also makes a great raccoon repellent spray.
To make this homemade skunk repellent spray, boil your ingredients in a large pot for up to 20 minutes. Let the DIY skunk repellent cool off a little before transferring the contents to a medium-sized spray bottle.
Use the cayenne pepper spray around your garden, near a skunk's den, around your deck, and by your trash cans. Each dosage usually lasts around five days.
Citrus Peels are Natural Home Remedies to Keep Skunks Away from the House
Utilizing the scents given off by citrus is one of the best home remedies to keep skunks away from the house and to keep chipmunks out of garden areas. The smell that citrus peels release is undesirable to skunks, successfully driving them off your lawn to look for food elsewhere.
With a sharp knife, carefully scrape the peels of lemons or orange with a fruit peeler. Scatter the citrus peels around your yard and near your porch.
As the skunks pick up on the citrus odors, they move as far away as possible. Learning how to keep skunks away from your house is straightforward when you understand what odors skunks hate.
Eliminate Skunks with Live Traps and Bait
If you prefer to set up a live trap in your yard to capture the skunks, you must know what bait works best to lure them into your trap. The most effective baits to lure in skunks include sardines, fresh insect larvae, and cat food. Bread covered with peanut butter is an ideal homemade skunk bait that gets the critters every time.
When you educate yourself on the right bait to place in your trap, capturing a skunk is more manageable. Set your live trap up near the common attractants for skunks for the best chance at capturing one of these critters.
As soon as you catch a skunk, call animal control services to remove the animal efficiently. Traps are fantastic for keeping skunks away from your home.
Eliminate Skunk Spray Smell from Your Clothes with Baking Soda
Skunk spray contains a mixture of chemicals that are sulfur-based, which causes the undesirable scent. If a skunk sprays you, baking soda and hydrogen peroxide do a fantastic job eliminating the powerful odor.
To remove the skunk smell from your clothes, combine the baking soda, dish soap, and hydrogen peroxide in a large plastic container. Submerge your affected garments in the solution for at least an hour to remove the powerful skunk musk.
When you place the clothes in the washer, use cold water and let the clothes air dry. This natural laundry detergent works better than bleach to remove the strong skunk smell in clothing.
This remedy is also safe to use to get rid of skunk smell on your dog and is more effective than tomato juice and other home solutions.
If you need to get rid of skunk smell in the house and it seems to linger, spritz this spray throughout. Open the windows and turn on fans to disperse the odor.
Install Motion Lights to Repel Skunks
Perhaps the most effortless technique to drive skunks out of your yard is to install bright lights and sprinklers activated by a motion sensor. Because skunks are accustomed to the dark, their eyes are sensitive to bright lights.
Additionally, sprinklers scare a skunk when they are motion-activated, making them perfect as a natural deterrent.
Install your motion activated lights in your backyard and near any areas where skunks hang out. As the skunks become aware of the bright lights in your yard, they immediately search for their food in alternative areas.
You do not have to put up with a skunk problem in your backyard. There are several DIY home remedies to keep skunks away from the house that are inexpensive while also being extremely useful.
Everyday products like cayenne pepper, mothballs, and citrus peels release strong scents that repel skunks. Additionally, if a skunk sprays you, the active ingredients in baking soda and hydrogen peroxide remove the odor with little effort.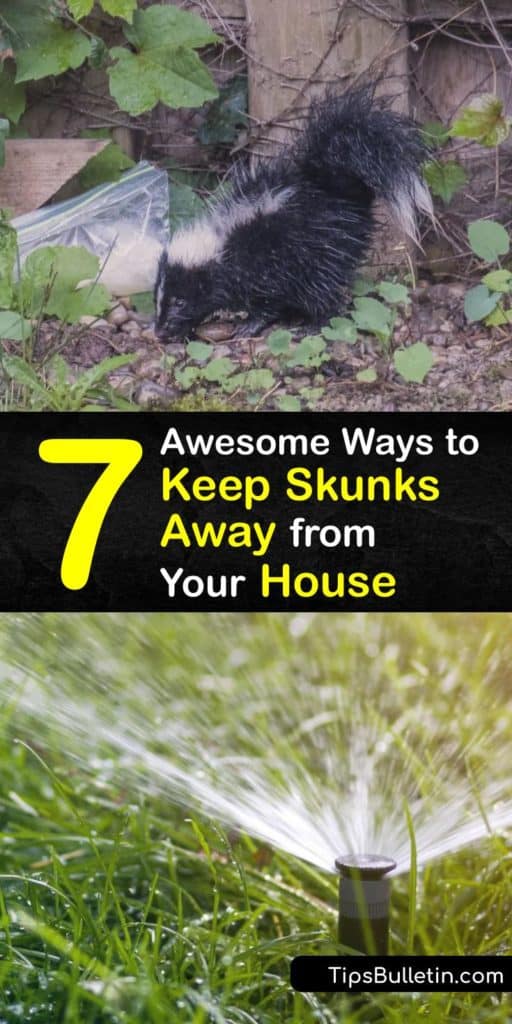 If you discovered how to keep skunks away from your house, share this article with natural skunk repellents on Facebook and Pinterest with your family and neighbors.