Whether you are considering installing hardwood floors inside your home or you have old hardwood floors, you need to learn how to make hardwood floors shine. Hardwood floors add value to your home, but nobody is going to be impressed with dull, hazy floors.
Learning how to add shine to hardwood floors not only helps your home's value but it will also vastly improve your home's current decorating style. Before learning the best way to shine hardwood floors, you need to determine the type of floor finish you are working with. Finish options include a polyacrylic finish, a polyurethane finish, or a paste wax.
For those that don't know what type of finish is on your floors, you can do a few tests to find out. Placing a drop of water on the hardwood floor will help determine if your floors are sealed or not as if the water beads up they are sealed; if it soaks into the wood and spreads out, it is unsealed. To determine if a paste wax was used on your floor, rub fine steel wool on a small section. The steel wool will show a waxy, gray film if paste wax is present.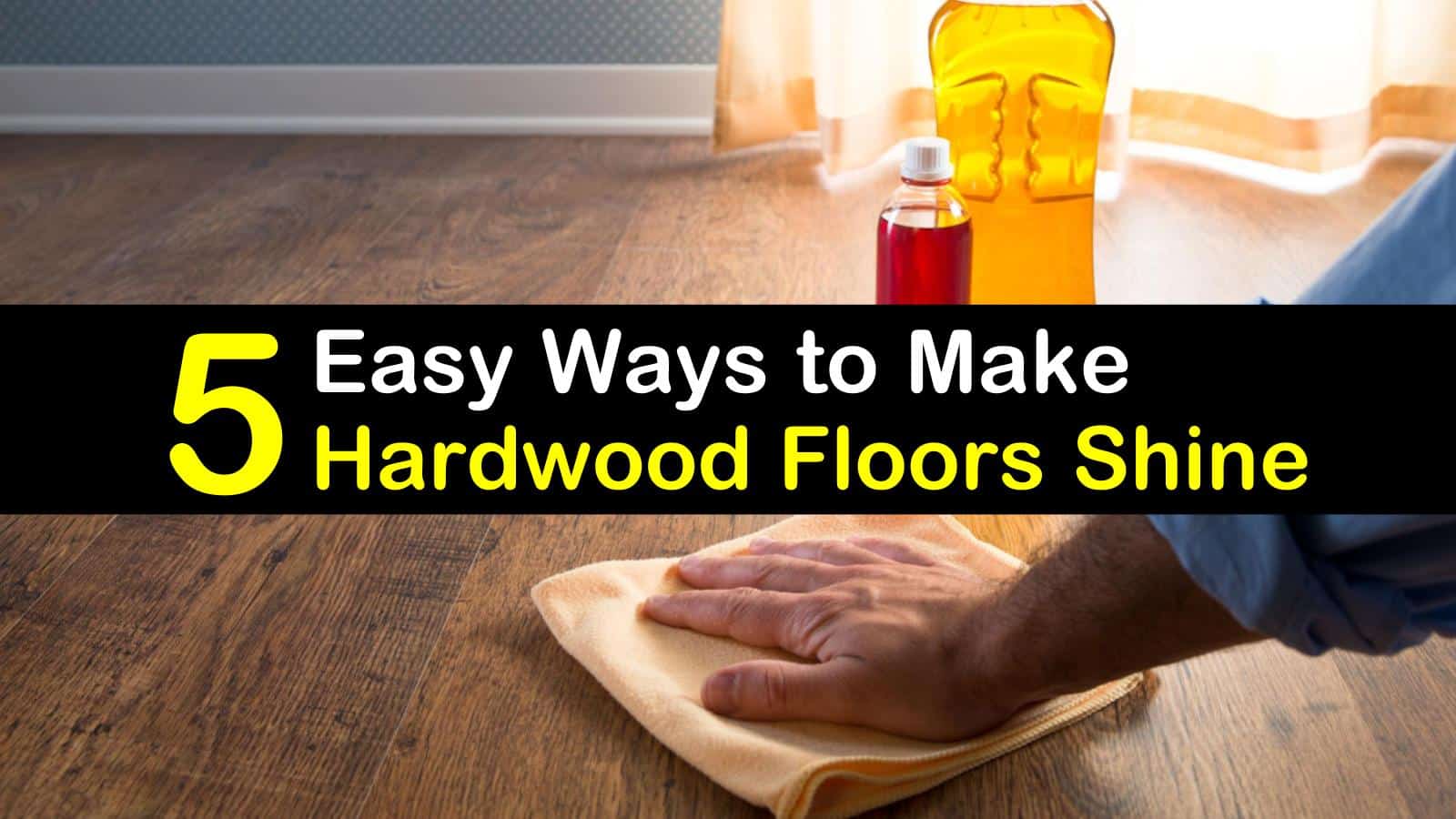 Quick Tips on How to Make Hardwood Floors Shine
Can you mop hardwood floor to make it shine? Of course, you can. Choose one or more of these recipes to make your wooden floors shine once again.
Some of these same solutions are also appropriate to bring bamboo floors to shine, as well as other types of flooring like vinyl and laminate. You probably already have the ingredients in your pantry so you'll save money at the same time.
How to Add Shine to Hardwood Floors with Vinegar
Over time, hardwood flooring begins to look dull, scuffed, and dirty, even with regular floor cleaning. To shine up the surface and replace that beautiful glow, use white vinegar on hardwood floors.
Before using a homemade cleaner or a mop stripper to remove unsightly build-up, remove area rugs from the entryway and pick up all loose objects that may be in your way.
Always sweep and vacuum your hardwood flooring before you attempt to use any cleaners. Sweeping and vacuuming remove all dirt and debris, including the finest particles sweeping alone leaves behind. Pour vinegar and olive oil into the spray bottle and fill remaining space with distilled water.
Lightly mist a small section of your floor with the natural wood cleaner. Use a sponge mop to rub the solution into the wood floor. Start in the corner of the room so you can work your way out.
When mopping, follow the direction of the wood grain as often as you can. Once the floor is dry, buff it with a microfiber cloth or a hardwood floor buffer to restore the shine. Add your favorite essential oil for a nice fragrance boost or additional cleaning power.
Make Hardwood Floors Shine with Vegetable Oil
Water alone is not recommended for most wood or laminate flooring, as it may damage the floors. The best way to get stains off vinyl plank flooring and engineered wood floors is to make a hardwood floor cleaner that cleans and conditions them, especially for areas that see a lot of foot traffic.
After sweeping and vacuuming your floors, use a vinegar and vegetable oil solution to clean and condition them. For filthy floors, use pure vinegar to mop your floors before applying this homemade cleaner and conditioner. Pour undiluted vinegar into a spray bottle, lightly mist a small section of the floor, and scrub with a cloth mop.
Make the DIY hardwood floor cleaner by mixing equal parts vegetable oil and vinegar inside a spray bottle. Starting in the farthest corner, lightly spray your floors with the cleaner and wipe up with a cloth mop.
The best wood floor shiner uses vinegar to remove grime, while the vegetable oil prevents the wood from drying out and allows it to keep its shine. To make them shine, use a soft towel to dry the floor in a circular motion.
Best Way to Shine Hardwood Floors with a Surface Finish
Never polish floors with a penetrating finish; always use wax. Only polish floors with a surface finish after thoroughly cleaning them. To clean the floors, sweep and vacuum to remove all dust and dirt.
Using a wood floor cleaner of one-gallon warm water and ¼ cup of dish soap, mop the floors to remove all grime. Always wring out mop well, so water is not pooling on the floor. Rinse floors clean with a damp mop, rinsing out the pad as necessary. Dry the floor with a soft towel.
To polish the floors, use a flat-surface mop and commercial wood floor polish. Start in the far back corner and squirt a small amount of solution onto the floor in an "S" shape. Use the mop to spread the solution in the same direction as the grain.
Use a back and forth motion to remove all air bubbles before moving onto the next section. Allow the polish to dry before applying a second coat if necessary. If polish splashes onto the baseboards, learn how to clean baseboards to get it off.
Shining up Wood Floors with Commercial Cleaning Products
After you dust mop your floors, grab your Bona Hardwood Floor Cleaner and Bona Hardwood Floor Mop. Use the cleaning solution and microfiber mop to thoroughly clean hardwood floors, working your way out of the room as you are scrubbing them.
Once the floor is clean and dry, use a floor restorer product called Rejuvenate to restore your floors. You can use either the satin or high gloss version, depending on how you want your floors to look.
Apply the product in small sections. Use the mop head to spread the restorer across the floors.
Other Cleaning Tips for Hardwood Floors
The best way to clean old hardwood floors is to use products like oil soap and mineral spirits. These cleaners remove everything from scuff marks to build-up grime that has accumulated over years of neglect.
It's much easier and surprisingly more effective than sanding and refinishing your hardwood floors to restore their luster. Before using either product, however, test a small area to determine if they are safe for use on your floor's finish.
Oil soap is strong enough to use on all areas of your floor, including high traffic areas. To use, mix ¼ cup oil soap with one gallon of hot water in a bucket. Swirl together with your mop. Squeeze out excess water and mop your floors, making sure to rinse mop as needed.
Mineral spirits on a clean rag are safe to use to remove scuff marks and stains on floors with a surface finish, such as varnish, polyurethane, and urethane. Rub the cloth in a circular motion on the marks to restore the wood.
When using mineral spirits on wax floors to remove water stains, rough up the stain with fine steel wool and then apply the mineral spirits using a rag. You will need to reapply floor wax to the area you just cleaned.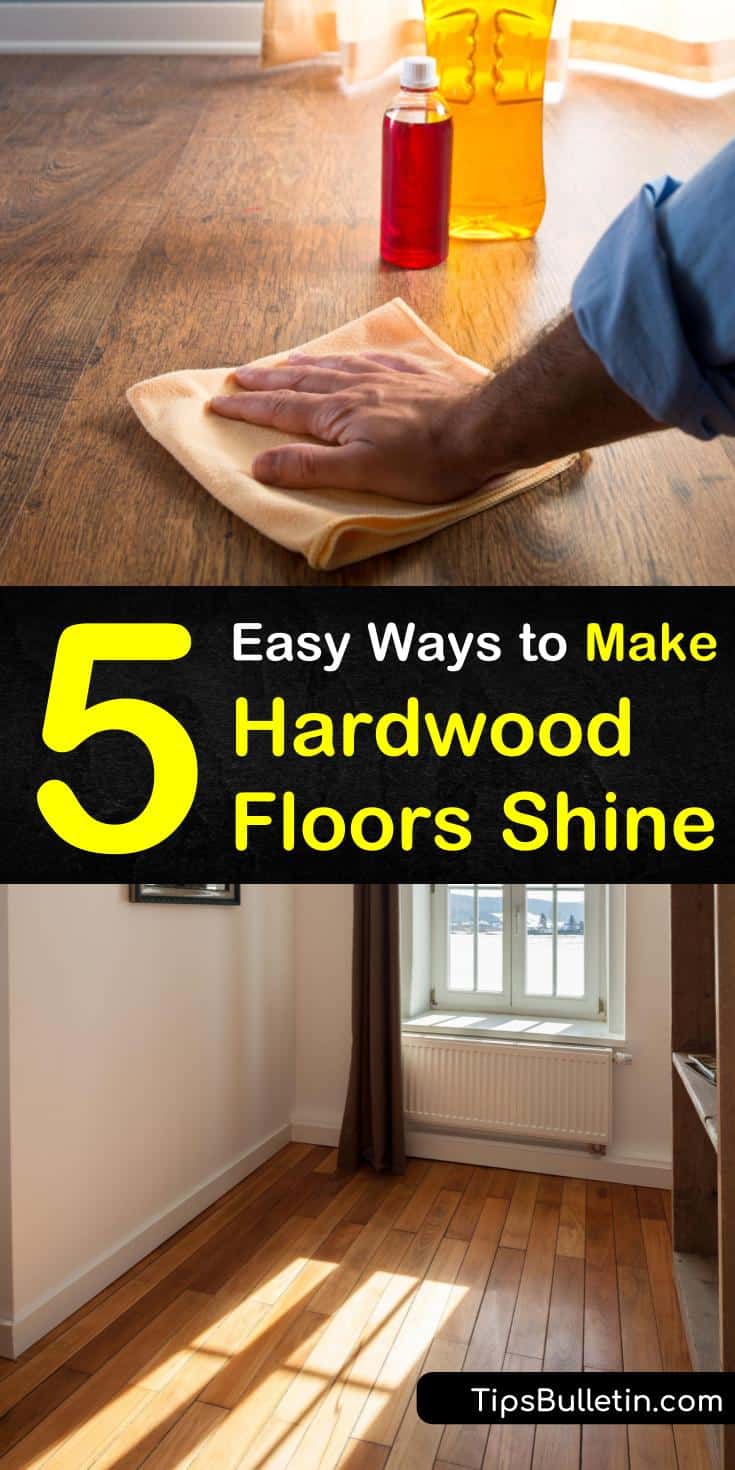 Thank you for reading our ideas on the best way to shine hardwood floors. If you found our tips on how to polish hardwood floors helpful, please share our thoughts on how to make hardwood floors shine with your friends and family on Facebook and Pinterest.