Preservation is vital when it comes to a large crop of carrots since their shelf life is only about five weeks. One of the best ways to preserve most vegetables is by pickling. Learn how to pickle carrots using a variety of canning techniques and recipes.
Carrots are a great source of fiber, potassium, beta carotene, and antioxidants. This weight-loss-friendly snack has many health advantages, such as lowering cholesterol and improving eye health. Preserving carrots by pickling enables you to benefit from their nutrition when they're not in season.
The very first vegetable that comes to mind when thinking about pickles is cucumbers, but any vegetable is a suitable candidate for pickling. It's a great way to utilize an abundant garden harvest and bring tasty and healthy treats to the table all year round.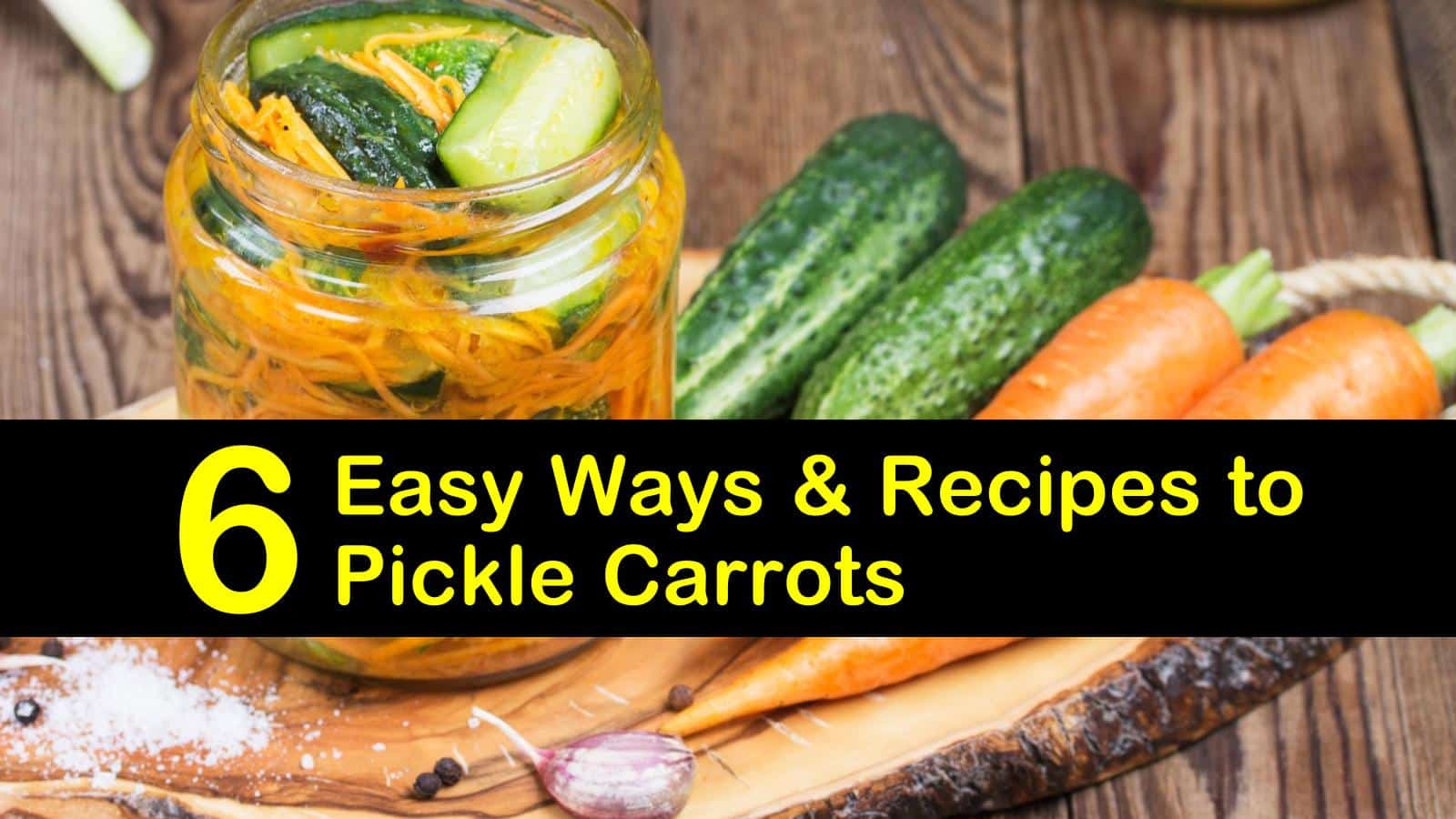 Pickling Carrots
You have many options when determining how to store your abundance of carrots. Freezing whole carrots is one way and pickling is another. There are many ways to pickle carrots for storage, along with an endless list of recipes.
Learn how to pickle carrots using a water bath canner and how to make refrigerator pickled carrots in a matter of minutes. Begin with a basic recipe and give those carrots extra flavor with your favorites spices.
Pickle Carrots the Proper Way
You have a few things to do before browsing through recipes for pickled carrots. Choosing the right carrot for pickling, sanitizing the jars, and setting up the canning equipment means the difference between a good jar of pickled carrots and a bad one.
Carrot Pickling Preparation
When deciding which carrots to use for pickling, make sure you pick ones that are crisp and fresh with a bright orange color. Carrots that are old and limp do not can well. Avoid carrots that have blemishes, mold, or soft spots.
Seven pounds of fresh carrots that are approximately two inches in diameter make eight pint-size jars of pickled carrots. This estimate gives you a good idea of how many canning jars to use when pickling.
Wash the carrots under lukewarm water with your hands or a vegetable brush. Peel and cut the carrots into half-inch thick slices or carrot sticks, rinse again, and set them aside.
Always sanitize your canning jars before use. Place them into the dishwasher or boil them in water for ten minutes. If you're using a canner, prepare it by placing the rack in the bottom of the pot and filling it with water. Place it over low heat so that it is ready when you are.
Basic Pickled Carrots Recipe
This pickled carrots recipe gives you the basics when it comes to pickling. It's a great starting point if you've never pickled carrots before, and you can easily adapt it to your taste. A basic pickling recipe is also the way to pickle canned beets.
For a great way for storing carrots long term, slice the carrots into stick sizes that fit into your jars. Fill a medium saucepan with water and toss in a pinch of salt. Bring it to a boil, add the carrots, and blanch for one minute. Drain and rinse them under cold water for 30 seconds.
Combine all ingredients except for the carrots in a large pot and bring it to a boil. Simmer the brine for two minutes to ensure that the salt and sugar dissolve. Pack the carrots into the jars and ladle the brine over the top, leaving a half-inch of headspace. Use a utensil to push out any air bubbles
Wipe the jar rim, screw on the lids, and place them into a boiling water bath for a processing time of 15 minutes. Remove the pickling jars from the water and allow them to cool before storing.
Quick Pickled Carrots without a Water Bath Cooker
Quick pickled carrots are a tasty treat that stores well in the refrigerator. Canning carrots without pressure cooker is a great way to preserve carrots in the fridge for up to four weeks.
Bring a saucepot of water to boil, add the carrots, and cook them for five minutes to soften. Drain and rinse the carrots with cold water and add them to a bowl of sliced onions. Add all of the other ingredients into a large pot and bring the mixture to a boil.
Turn the heat down and simmer the brine for five minutes. Pour the pickling liquid into the bowl of carrots and onions and allow them to cool to room temperature. Ladle the carrots, onions, and brine into pint jars, secure with lids, and refrigerate the quick pickles for up to one month.
Making Sweet Pickled Carrots
Sweet pickled carrots are delish when it comes to snack-time. They are a simple and sweet treat and do not require many spices. Try adding other veggies such as cauliflower, red onion, or radish to create the ultimate healthy snack.
Pour the water, white vinegar, sugar, salt, and pickling spice into a large pot and bring to a boil. Add the carrots and boil for an additional five minutes to soften them. Remove the pot from the heat and ladle the carrots into a colander. Rinse them for a minute under cold water to stop the cooking process.
Pack the carrots into the jars and ladle the brine over the top, leaving half an inch of headspace in each jar. Screw the lids into place and leave them on the counter until they reach room temperature before refrigerating.
Make Mexican-Style Pickled Carrots
Mexican-style carrots are simple and spicy. Pickle onions, carrots, and peppers, then sprinkle them with red pepper flakes and toss them into tacos or serve them as appetizers with your favorite Mexican entree.
Cut the large carrots, peppers, and onion into quarter-inch slices and set them aside. Pour the remaining ingredients into a large pot and bring the vinegar mixture to a boil, and then stir in the veggies. Reduce heat and simmer for about 15 minutes.
Remove the pan from the heat and allow it to cool to room temperature. Ladle the veggies and brine into Mason jars and secure with lids. Allow the refrigerator pickles and vegetables to chill in the fridge for at least three hours before enjoying them.
Pickling Baby Carrots
Baby carrots are the perfect size not only for snacking but for pickling as well. These crisp and tangy pickled carrots have a mild herb flavor that makes them a great appetizer.
Bring a saucepot of water to boil and add the carrots. Boil them for five minutes until they are slightly tender. Drain and rinse the carrots beneath cold water and pack them into a large jar.
Combine all other ingredients into a bowl and pour the brine over the top of the carrots, leaving a half-inch of headspace. Refrigerate overnight before eating.
Pickling is a great way to lengthen the shelf-life of just about any vegetable, and the fun part about pickling is that you can create different flavors by adding your favorite seasonings. Pickled carrots are crunchy and tangy, and are a healthy snack or welcome addition to Mexican-inspired dishes.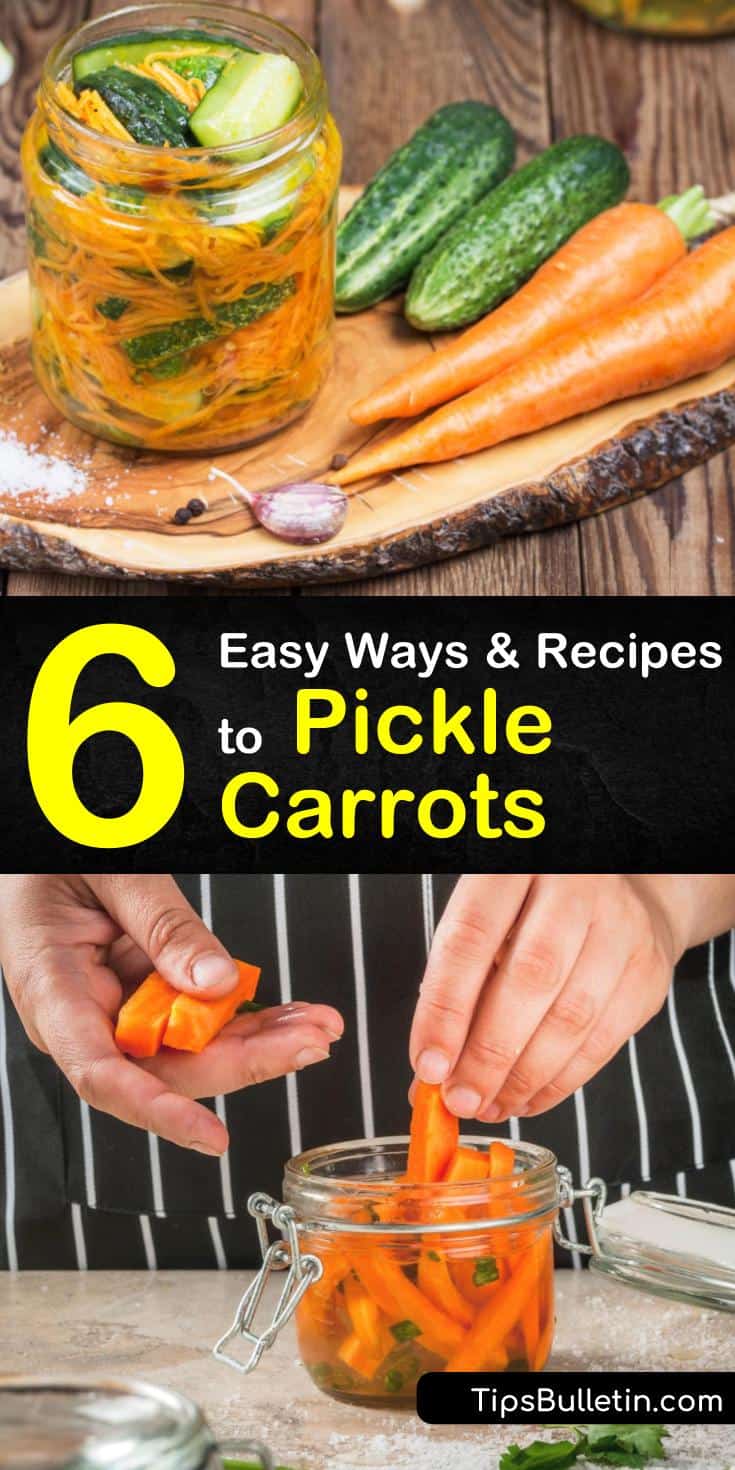 Not only do these colorful veggies bring zest to a boring meal, but they are high in vitamins and provide many health benefits. Now that you learned how to pickle carrots using these techniques, why not share our carrot pickling recipes with your friends and family on Pinterest and Facebook?