One of the best aspects of learning how to pickle beets is many of the recipes allow you to store the pickled beets inside your food pantry for months. How long you can store them will depend on which pickled beets recipe you use, as not all recipes use a water bath canning method, so they are not all designed for long term storage.
Always read the full recipe carefully to determine how to store your pickled beets. Pickled beets are a great item to have in your food pantry as they have so many different uses. Some people enjoy eating pickled beets straight from the jar, which is where several of our quick pickled beets recipes come into play.
Pickled beets are also a great way to add flavor and color to a variety of side dishes, including coleslaw, spinach salads, and cheese trays. No matter how you use beets, you can't beat the taste of homemade pickled beets.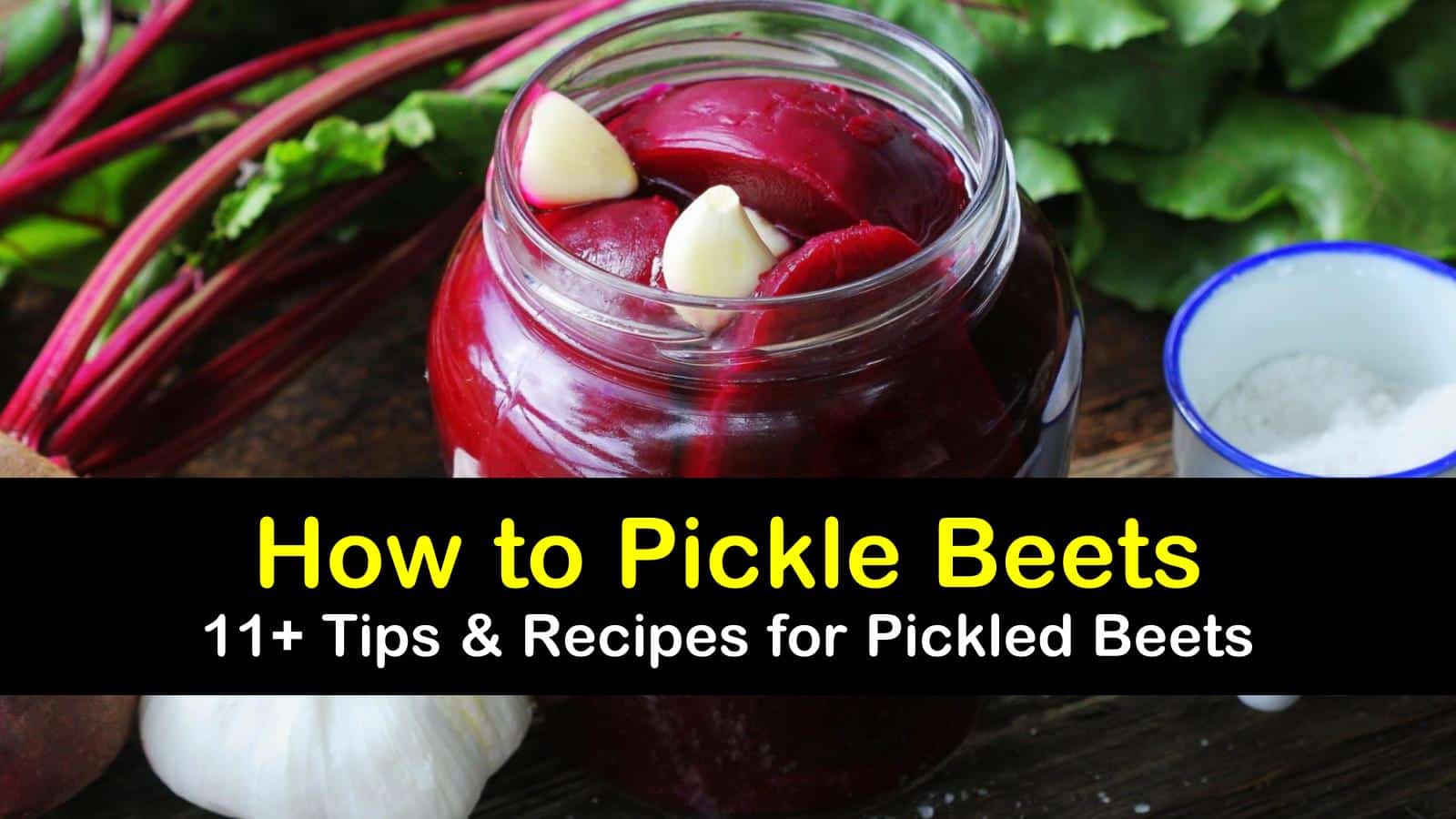 Quick and Easy Ideas and Recipes for Pickling Beets
Whether you grow beets at home or buy them from a farmer's market or grocery store, you need to know what to do with them in the kitchen. No matter which one of the beet varieties is your favorite, knowing how to store them helps your "best buy" or harvest last longer. Beet growing season only lasts so long.
One of the great things about our pickled beets recipes is how versatile the pickling liquid is. When making pickled beets, you can use the same pickling liquid for other vegetables, including onions, carrots, and cucumbers, depending on the season.
There are infinite possibilities not only for storing your veggies but also adding a little zing to your meals. If you still have beets leftover after pickling, storing fresh raw beets in the root cellar works well to keep them longer. Freezing beets is another excellent option for keeping them until you use them.
How to Pickle Beets for Winter
If you want to put your beets up in your food pantry, you need to use one of the canning recipes as the process will preserve the beets and keep out any harmful bacteria. Remember, the processing time for a water bath depends on jar size, so adjust processing time as required.
Wash and remove stems from the small beets. Place fresh beets inside a pot and add enough water to cover them completely. Bring water and beets to boil and cook until fork-tender, about 15 minutes.
Drain the beets, but set aside two cups of beet water. Beets need to cool slightly before peeling. Add peeled beets to Mason jars along with a small number of cloves. You can divide the ¼ cup up evenly between the various jars or add your own amount.
Prepare the pickling solution by bringing beet water, sugar, pickling salt, and vinegar to a rapid boil. Turn off heat and pour brining solution into the jars and seal each jar with a lid. To preserve the jars, use a water bath canning method.
Lower jars into the canner, keeping two inches between each one. Add water to cover at least one inch above the tallest one and bring water back to a rolling boil and then process for about ten minutes.
Quick and Easy Sweet and Sour Pickled Beets Recipe
When making sweet and sour pickled beets, you can use red or golden beets or a combination of the two varieties of beets. The pickling liquid from this recipe is a general one you can use successfully with many other vegetables. For example, this is also a great way to pickle jalapenos, cucumbers, or even carrots. You can adjust the spices according to taste.
Trim beets, but leave about one inch of the stem in place. Use a vegetable brush to scrub the beets and then place inside a medium-sized pot. Cover with water and bring to a full boil. Reduce the heat and cover.
Simmer the beets for 45 minutes or until fork-tender. Drain and rinse beets under cold water. Allow beets to cool slightly and then remove stem and roots. Rub skins to remove peels — slice beets and place inside a large bowl.
In a small pot, bring sugar and vinegar to boil for five minutes. Remove the sugar solution from the heat and gently stir in bay leaves, salt, and peppercorns.
Pour mixture over the beets, remove and discard the bay leaves. Cover the beets and chill in the fridge for several hours before serving. You may notice that this pickled beets recipe is quite similar to several different pickled cucumber recipes. Most pickling recipes use the same type of ingredients.
Easy and Quick Pickled Beets Recipe
When it comes to pickling beets, you can use store-bought beets, but for the best tasting beets, try growing and pickling your own. Nothing beats garden-fresh produce, plus beets are among the easiest vegetables to grow.
Use a brush to scrub the beets clean. Trim off the beet greens down until only one inch of stem remains. Place all beets inside a Dutch oven and cover with water. On your stovetop, bring your water to a boil and then reduce the heat.
Simmer beets for about 30 minutes; cooking time depends on the size of the beets. Remove the beets using a slotted spoon and allow to cool. Peel and slice in 1/4-inch slices, then set aside in a bowl.
Add salt, cloves, allspice, vinegar, and sugar to a small pot and bring to a boil for five minutes. Pour pickling solution over the beets and place them in a covered container. Chill in the fridge for one hour before serving. Pour off pickling solution before serving for the best results.
For a little something different, this also makes a great pickled apples recipe.
Best Recipe for Refrigerated Pickled Beets
With this refrigerated pickled beet recipe, the vinaigrette used is the perfect way to complement the sweetness without overpowering the taste of the beets. For a different flavor, add a little orange, lime, or lemon juice to the dressing. Or, use this recipe to make quick pickled Brusselss sprouts for even more variety.
Remove the beet greens and discard or save for future use. Wash and scrub the beets clean. You can roast or boil the beets. To cook the beets, place in a medium-sized pot and cover with one inch of water and bring to a boil on high.
Reduce heat to low and simmer beets for up to 45 minutes. To roast beets, drizzle beets with olive oil and wrap in aluminum foil. Roast in the oven for 60 minutes at 400°F.
For boiled beets, drain beets and rinse in cold water. For roasted beets, allow to cool for several minutes. Remove the beet peels with your fingers, discard skins, and thinly slice the beets. You may also cut them into quarters.
Whisk together the apple cider vinegar, dry mustard, extra virgin olive oil, and sugar to make the vinaigrette dressing. You can adjust the measurements of ingredients based on your taste. Add salt and pepper, if desired. Mix dressing and beets and allow to sit at room temperature for 30 minutes before serving.
Fast Recipe for Canned Sweet Pickled Beets
When canning pickled beets, there are few rules you need to keep in mind. First, for non-acidic foods, never alter the vinegar to water ratio.
This ratio is in place to eliminate botulism. Second, always follow the exact cooking times given, don't cook your pickling solution longer than stated and don't adjust processing times.
Tie the mixed pickling spice in the cheesecloth bag. Wash the beets and remove their tops, but leave about ½ inch of the stem. Boil beets until fork tender and then remove from heat.
Submerge the cooked beets in ice water to make it easier to remove the skins. Remove the rest of the root by cutting off the top portion of the beet and then slide the skin off.
Cut beets into your preferred sizes; some people prefer chunks to slices, but both will work. In a medium-sized pot, bring the salt, water, vinegar, sugar, and pickling spice to a rolling boil. Cook for ten minutes on low heat, add the beets to the mix, and bring everything back to a boil.
Remove the bag of pickling spice and ladle beets and liquid into pint-sized canning jars. Leave ½ inch of headspace in each one. Remove any excess air bubbles. Pour in additional pickling solution if needed to maintain the correct headspace for each jar.
Use a damp cloth to wipe rims and then seal the jars. Process the pint jars in a water bath for 35 minutes or the correct time based on altitude.
You can use a similar process for making a pickled radish recipe. Yes, you can pickle radishes – and almost any other veggie.
Easy Recipe for Pickled Beets
If this is your first time pickling beets, some of these recipes are a little overwhelming. Most first-timers prefer something easy and straightforward. To make these easy pickled beets, wash and roast two pounds of beets in a 375°F oven until tender.
Before roasting, drizzle the beets with olive oil and season with salt and pepper for a nice flavor. For optimal results, roast the beets in a covered baking dish. Allow the beets to slightly cool before peeling and dicing them.
Place diced beets into a one-quart jar and set aside. Make the pickling solution by combining half a cup of water, half a cup of apple cider vinegar, and four tablespoons of honey.
Stir ingredients together until honey dissolves. Pour mixture over the beets, close the jar and place beets in the fridge overnight.
Cinnamon Pickled Beets
Not all vegetarian recipes are this easy to follow or this tasty. If you need a gluten free side dish that all of your vegan friends will love, look no further than these Cinnamon Pickled Beets.
Drain the beets, reserving the liquid, and place beets inside a bowl. Pour vinegar, sugar, reserved liquid, and cinnamon sticks into a medium pot. Stirring constantly, bring to a boil using medium-high heat and cook until sugar dissolves.
Lower heat to medium-low and simmer for five minutes. Pour over drained beets and stir until beets are evenly coated. Refrigerate for eight hours before serving.
How to Make Canned Spiced Pickled Beets
Most of our recipes for pickling beets require roasting or steaming the beets before pickling. This recipe is a bit different as it requires boiling the beets, but not in boiling water as you would think.
Peel and slice the beets and set them aside. Bring white vinegar, water, sugar, cloves, cinnamon, and salt to a boil in a large pot. Stir until sugar dissolves and then stir in beets.
Reduce heat to low and simmer beets for 20 minutes. Use a slotted spoon to place beets into hot quart-sized canning jars. Pour beet liquid into jars and allow for ¼ inch of headspace. Remove any air bubbles with a knife.
Wipe the rims and seal. Process for 30 minutes or more depending on your altitude. Remove jars and allow to cool. Check each jar for a tight seal.
Simple Vegetarian Pickled Beets
Beets are an excellent summer side dish for all of your favorite grilled meats. With just a little bit of prep work and five essential ingredients, you can have yourself a tasty small snack.
Remove greens and trim beets before placing them in a saucepan of cold water. Bring the beets to a hard boil and then lower heat to medium-low. Allow beets to simmer for up to 55 minutes.
Beets will be fork tender. Drain and allow beets to cool until they are safe to handle. Peel and crush the garlic clove and place in a bowl with the red wine vinegar, olive oil, and salt.
Peel the beets and slice or cube them. Add the beets to the bowl, stir to coat and allow to finish cooling before serving. You can refrigerate the beets for later use or serve them immediately.
Turn your Pickled Beets into Tasty Appetizers
Now that you have all of these pickled beets, what are you going to do with them? Sure, you can eat them straight from the jar, but you can also use them to create some tasty appetizers.
Before making the salad, slice the pear and drain the beets. Place greens inside a bowl and top with goat cheese, walnuts, pears, and beets. Drizzle with your favorite dressing and toss to coat.
Pickled Beet and Cranberry Relish
This savory relish makes a great addition to various meat dishes, especially poultry and beef. You can use pickled beets you have previously canned, or you can use store-bought pickled beets. Beets are already packed with vitamin C, but the cranberries add even more of this immune-boosting vitamin.
Use a two-quart pan to bring water, sugar, and vinegar to boil. Pour in cranberries, using either fresh or frozen, and simmer until cranberries begin to burst. The mixture will start to thicken.
This process takes about 20 minutes. Gently stir in sliced beets and then remove from heat. Serve chilled or at room temperature. The relish will last up to four days in the fridge.
Roasted Pickled Beet Salad
Roasted beets offer a different flavor than steamed beets, but for this recipe, you can also cook your beets in a pressure cooker to save on prep time.
Wash beets and place in a shallow pan. Roast the beets for one hour at 400°F and then allow to cool for 15 minutes. Peel the beets and then slice to your desired thickness.
Make the dressing in a separate bowl by beating together honey, red wine, and balsamic vinegar. Mix beets and red onion in a bowl and drizzle with dressing. Chill in the fridge for one hour and then serve.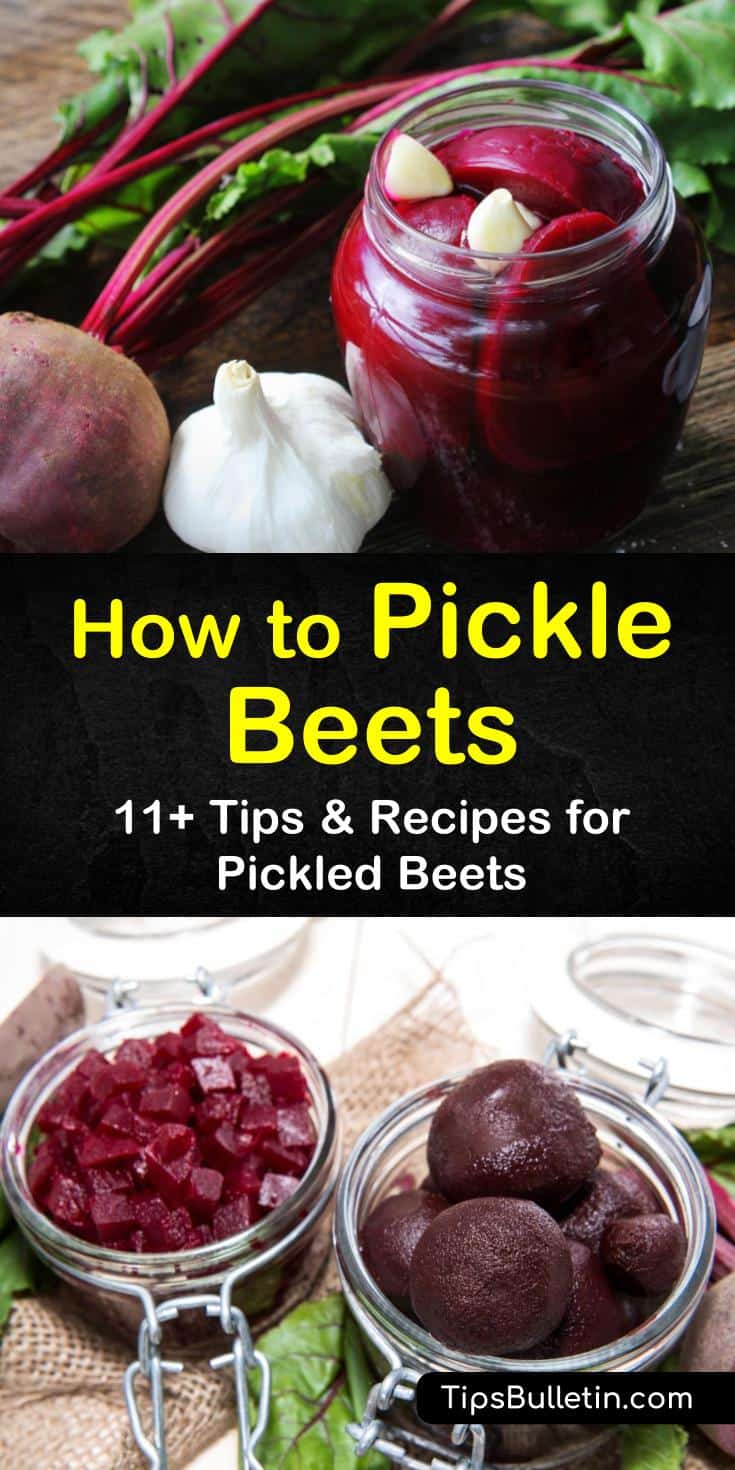 Thank you for reading all of our pickled beets recipe ideas and tips on how to prepare them. If you found any of our easy and quick pickled beets recipes and ideas useful, please share these tips and recipes on Facebook and Pinterest so others can learn how to pickle beets at home, too.