Learn how to plant asparagus in your garden this spring. Not only do asparagus plants produce juicy and tender asparagus spears during the growing season, but they are also one of the first crops that are ready to harvest in the late spring and early summer months.
There are many benefits to asparagus growing, alongside it being an early crop for harvest. Additionally, asparagus plants are packed with healthy nutrients and vitamins that include vitamin C, iron, and a good source of calcium.
In this article, we provide you with some unique ways to grow an asparagus patch. We describe how to plant asparagus from seed, proper routine maintenance for your veggies, and how to harvest your asparagus plants when they are ready.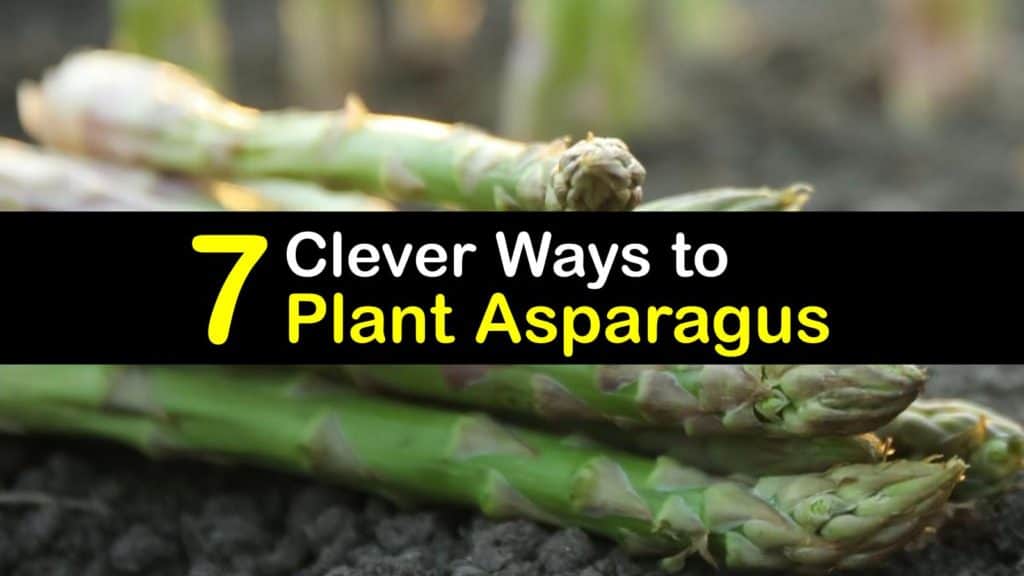 Asparagus Plants Produce Fruit for Many Years
Overall, we want to make planting asparagus on your own as easy as possible. Whether you have just started gardening or have been doing it for years, these tips and tricks are sure to help.
One desirable aspect of maintaining a healthy asparagus bed is that the crop is a perennial vegetable. It does not merely produce fruit in its first year but continues to have fruit ready for harvest well past its third year.
In fact, most asparagus plants consistently produce fruit for harvest for ten to 15 years.
No matter what types of asparagus plants you choose to include in your garden, whether it is Jersey Giant, Jersey Knight, Martha Washington, Mary Washington, or Purple Passion, we give you all the tools required for successful asparagus.
Ideal Asparagus Plant Spacing
Planting an asparagus plant from seed is feasible. However, be aware that you may have to start the seed indoors, so the temperatures are warm enough. When cooler temperatures are present, start your asparagus seeds as an indoor plant.
Sow a single asparagus seed per each pot and make sure the temperatures reach at least 77℉ so the seed sprouts. How deep to plant asparagus seeds? Bury your asparagus seed two to three inches below the soil, so the asparagus roots have ample room to lock into the potting mix.
To ensure the plant has plenty of sunlight, set your pot on a sunny windowsill or any other area in your home that receives plenty of full sun exposure. Planting asparagus from seed does take a little bit longer compared to starting the plant from crowns.
Planting Asparagus from a Crown
A magnificent way to get a jump on new asparagus seeds is to begin planting one-year-old asparagus crowns. A common misconception is that the more mature a crown is, the better it will grow when transplanted to a raised bed.
However, two-year-old asparagus crowns tend to suffer more when transplanting and do not produce fruit as quickly. To make the planting process a little easier, soak your asparagus crowns in compost tea for 20 minutes before sowing them into the soil.
Compost tea assists in the development of strong roots. Then, dig trenches that are one foot wide and six inches deep. How much space do asparagus need to grow? Just like knowing how far apart do you plant tomatoes, proper asparagus crown spacing aids in optimal root development.
Place your asparagus crowns in the trenches one foot apart before topping each crown with two inches of soil.
After two weeks, cover your old crowns with an additional inch of soil to promote a deeper root system. Learning how to plant asparagus from a crown is easy with the correct information.
Where and How to Plant Asparagus
One important part of planting asparagus is to grow the veggie in an ideal location so the plant can thrive. Before initiating an asparagus bed, think about the future health of the plant.
We recommend planting asparagus at ground level on an even surface. Asparagus plants survive when there is partial shade covering the plant, but when asparagus receives plenty of direct sunlight, the plant produces crops rapidly.
Full sun is also important because it promotes disease-resistant plants, meaning your asparagus is more likely to avoid fusarium or asparagus beetles. Asparagus plant spacing is an integral part of producing a bountiful harvest.
Practice mutually beneficial planting practices to reduce the chances of disease and pests. Asparagus companion plants include tomatoes, basil, and dill.
Differences Between Male and Female Plants
There are a variety of asparagus varieties to incorporate into your garden. Before planting asparagus, it helps to understand the differences between the female plants and the male plants.
Asparagus varieties like Jersey Giant or Jersey Knight produce all-male plants. Male asparagus plants are very productive and yield larger and longer spears.
Female asparagus varieties grow smaller spears because they also create a lot of tiny red seeds. Because of the numerous benefits male asparagus varieties bring, grow a male asparagus plant for a better yield.
Adequate Water Levels for Asparagus Plants
Watering your asparagus plants is crucial to ensure the veggie receives plenty of nutrients. Before watering your plant, weed the area. A weed-free surface makes sure all the nutrients only go to the asparagus and not the invading weeds.
If your asparagus plant is forced to compete for nutrients with weeds, they do not grow quickly. Asparagus plants demand one to two inches of water each week. One way to test if your plants need water is to feel the soil.
Soil moisture indicates your asparagus does not have to be watered. A great way to lock in moisture during warm weather is to use mulch. Various elements for effective mulching include grass clippings, wood chips, and leaves.
What Kind of Soil do Asparagus Plants Thrive in?
The best time to plant asparagus is in the early spring after the last frost date. The proper soil and organic fertilizer are necessary so water drains to the roots, and the plant can convert sunlight into organic matter required to grow. Make your own homemade fertilizer for asparagus or purchase a commercial product.
Use sandy loam soil with good drainage, so water does not build up at the root's base. Use adequately balanced fertilizer so oxygen gets to the roots, and the asparagus receives necessary nutrients that the soil does not provide.
Before planting asparagus, work the fertilizer into the ground so it is evenly spread. Asparagus grows most efficiently with equal levels of nitrogen, phosphorus, and potash, such as a 10-10-10 fertilizer.
How to Harvest Asparagus
After educating yourself on how to grow asparagus the right way, it's important to understand how to harvest the veggie, so you do not damage the fronds or other parts of the plant.
During the first two years of growing asparagus, do not gather any asparagus so the plant establishes deep roots. The spears are ready to harvest the following year.
To correctly harvest asparagus, cut the spear with a sharp knife at ground level. Asparagus is ready for harvest when the spears are six to ten inches tall, but before the flowers begin to bud on the spear.
Harvest your asparagus when they are ready and not too early, so the product has the most flavor.
Growing asparagus requires several essential gardening steps, so the plant grows as fast as possible. Asparagus plant spacing, watering, and the right kind of soil and fertilizer are integral parts of developing delicious asparagus spears.
After the first two years of growing asparagus, the plant produces a yield for up to 15 years, making this veggie an excellent addition to your garden.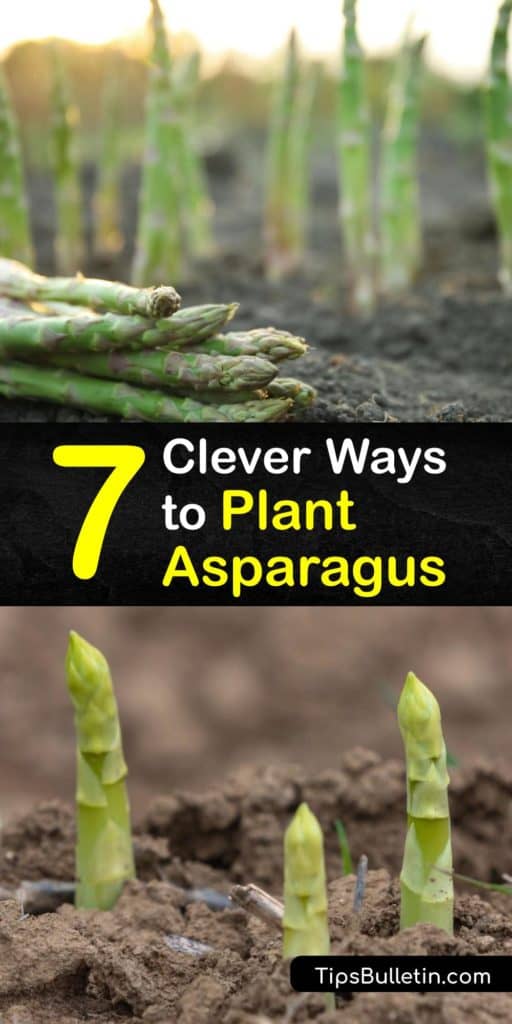 If you learned how to plant asparagus, share this article with tricks for planting asparagus with your friends and neighbors on Pinterest or Facebook.