Red, juicy, and bursting with flavor, tomatoes are a tasty summer staple for your veggie garden. From tomato plant spacing to treating fungal diseases, learning how to plant tomato plants is simple with this step-by-step guide.
Beginner gardeners find themselves gravitating toward tomatoes when they first start growing vegetables because they are some of the easiest to plant, transplant, care for, and harvest.
If you're interested in discovering how to plant tomatoes, the best place to start is research. Running to your local garden center and transplanting tomatoes right immediately in the ground might seem self-explanatory.
Still, you need a lot of information before you bury a plant in the dirt and hope that it grows.
The cheapest and easiest strategy for planting tomatoes is planting tomato seedlings indoors until they are transplanted outside. From then on, enjoying fresh veggies for dinner becomes a waiting game.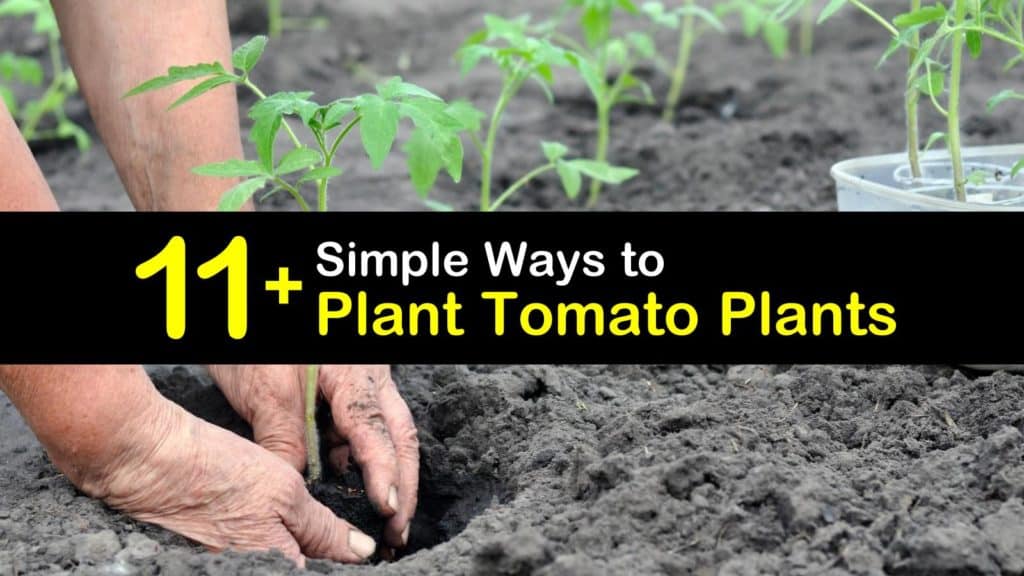 All About Tomatoes
Before you start learning how to plant tomato plants, provide yourself with some background information, so you can make the best choice for you and your lifestyle. According to the Cornell Cooperative Extension, tomatoes have two types of growth habits.
The determinate growth habit is common for Roma, San Marzano, and some beefsteak tomatoes.
These plants grow until they reach a specific height, typically around four or five feet tall, and then stop growing, so they put all of their energy into producing the fruits. All of the tomatoes grow at the same time, and then their growing season stops.
The growth habit of indeterminate tomatoes is slightly different. These tomato varieties keep growing, producing new flowers, and producing more fruits throughout the entire growing season.
They tend to reach much taller heights and get very heavy. They require staking or tomato cages to help support their structure. Cherry tomatoes, heirloom tomatoes, and some beefsteak tomatoes are common types of tomatoes that have this growth pattern.
How to Plant Tomato Plants
If you don't know how to plant tomatoes already, you probably have no idea where to start. Growing heirloom tomatoes is the same as for hybrids.
Buying tomato transplants is fine, but more satisfaction comes from planting tomatoes from seeds, putting in labor, and watching them grow and thrive from start to finish.
If you plant tomato seeds indoors, you also control the environment to get all your young plants started strong.
The Best Way to Plant Tomatoes from Seedlings
Any master gardener suggests starting your tomato seedlings indoors about six to eight weeks before the last frost date of spring. Only two weeks after the last frost, you can begin transplanting them outside.
Start your tomato seedlings by finding a large container and drilling holes in the bottom. Old cardboard egg cartons are an excellent choice if you can't find one.
Fill the box with a seed-starting potting mix. Use your finger or a pencil to create trenches through the soil about a quarter of an inch deep. Sow the seeds on the grooves' bottom while spacing them about a half-inch apart from one another.
You may wonder, "Can you grow tomatoes indoors instead of the garden?" Of course, you can. Ensure they get the proper sunlight, fertilizer, and water they need to thrive.
Planting Seeds in Containers
Pinch the soil's raised edges together so the furrows fill with dirt, and the seeds are buried a quarter of an inch deep. Water the seedlings to make the soil moist. Label each section of seeds if you're planting tomatoes of different varieties.
Place your containers in a warm place that reaches 75°F to 80°F and gets full sun. The easiest way to maintain this heat and sunlight requirement is by using grow lights.
This step is especially critical after the tomato plants germinate and their main stem rises above the soil level.
Timeline of Seedlings
After about a week, tiny leaves start to appear on the plant. After two weeks, the seedlings are still small, but the leaves begin producing a vibrant green color. This green coloring is an indicator that the tomato plant receives plenty of light to thrive.
When one month passes, bigger leaves start to appear, which indicates that they are ready to transplant into large, individual pots. Moving them to larger pots ensures they have lots of space for their root system to spread.
Transplanting Seedlings to Individual Pots
To transplant seedlings to new pots, grab the plant's base with one hand and use an old spoon or fork to scoop out the root ball from below. If the root ball clumps together, gently rub the bottom of the ball to loosen it.
Transplant each plant in its own individual container with a four-inch diameter and filled with potting mix. Poke a hole in the soil so that the dirt level comes up to the bottom leaves.
Cover the hole with the potting mix and water the dirt so it is moist. Keep the plants around 70°F until they are ready to be planted in the outdoor garden.
When are Seedlings Ready for Transplanting?
The best way to grow cherry tomatoes and other varieties of tomato plants is to put the seedlings outside at the right time. They are ready for transplanting once the weather has warmed consistently to around 55°F. In the last week before transplanting, move your containers outside in the sun for a few hours each day.
Gradually increase the amount of time outside until you're ready to plant them in the garden. This process helps reduce the chance of transplant shock, so they can take root in their new environment quickly.
Tomato Plant Spacing
Tomato plant spacing is an essential part of a healthy tomato plant. How far to space tomato plants from each other ensures a nice harvest. Each tomato transplant must be at least two feet apart for small, bushy plants. Larger plants require more room and must be spaced three to four feet apart from one another.
If you have several rows of tomatoes, those should be four feet apart as well. This tomato plant spacing guarantees that the plants have room to spread both above and beneath the soil. Crowded plants also may not get enough nutrients and won't produce the best tomatoes.
How to Plant Tomatoes Outdoors
About two weeks before you begin transplanting, till your soil so it is ready to fertilize. Mix in garden fertilizer, manure, or compost, so the garden soil is rich in nutrients.
Apply two to three pounds per 100 square feet of garden space. Use a metal rake to sculpt the ground into a low mound. Place the stakes or tomato cages in a set location to avoid damaging the roots after planting them.
Preparing Your Garden
Seedlings that are three or four inches tall are ready for planting outside. Dig a hole in your garden soil that is several inches deeper than the depth that the tomato plants are already inside of.
Carefully lift the tomato plant from its container and use your hands to loosen the roots to encourage them to take to their new home. Place the plant into the hole so that the bottom leaves and stems are just at ground level.
This buried stem improves drought tolerance, wind resistance, and root establishment of tomato plants. Fill the hole with the excess soil and gently pack it around the main stem with your hands. Give the plants their first watering so that all the roots receive water.
It's also easy to put your tomatoes in containers outdoors. Growing tomatoes in five gallon buckets is a popular practice.
How to Care for a Tomato Plant
Knowing how to plant tomato plants is one thing but knowing how to care for a tomato plant is entirely different. Keep an eye on all your fruits and veggies to make sure they look healthy, and all their needs are met.
Water the transplanted tomatoes generously during the first three or four days. Throughout the remainder of the growing season, tomatoes require about two inches of water every week during the summer.
Make sure to water them deeply for sturdy root systems. The best time to water these plants is in the early morning, so they have plenty of moisture through the afternoon heat. Prune the dead leaves on the plant throughout the entire season.
Mulching and Fertilizing Tomatoes
Mulch around the bottom of the plants about five weeks after they are transplanted to control weeds and help them retain root moisture.
A two to four-inch layer of mulch is perfect. If you have a drought problem, placing flat rocks near the plant prevents the soil's moisture from evaporating. Begin fertilizing the plants with a starter fertilizer to get the roots growing.
After that, adding compost every two weeks to the ground ensures the tomatoes have lots of nutrients to produce big, healthy veggies. Pull any weeds you notice every time you water your garden, so you stay on top of them, and they don't overtake the area.
Tomato Pests and Diseases
Like all other plants, tomatoes are susceptible to pests, diseases, and fungi. Scan your tomato plants whenever you're near them to identify and prevent tomato pests and diseases before it's too late.
Aphids, beetles, and whiteflies are some of the most common pests for tomatoes but are easy to get rid of with a steady stream of water or insecticide. The most common issues with tomato plants are blossom end rot and fusarium wilt.
Blossom end rot takes place when there is a calcium imbalance in the plant. The fruits get large, water-soaked spots and eventually rot, but it is preventable with sprays like Rot-Stop.
Fusarium wilt is a fungal disease that causes wilting, browning, and chlorosis. The best way to prevent this is by making sure your soil has plenty of drainage and by removing infected plant tissue when you spot it.
As mentioned before, the sooner you spot a problem, the higher chance you have to save your tomatoes.
How to Harvest Tomatoes
Learning how to plant tomatoes in a container or the garden is fun, but the harvest is what everyone looks forward to. Leave your tomato fruits on the vine for as long as possible. Once ripe, place them in a paper bag and store them in a cool, dry place until you're ready to eat or preserve them.
Tomatoes that are ready for picking are firm and bright red. Always harvest some seeds throughout the year, so you can repeat the cycle the following growing season.
It's hard to imagine going an entire summer without snacking on big, juicy tomatoes. From sauces to sandwiches, tomatoes are one of the most versatile veggies there is.
Growing your own produce at home is better for your health, saves you money, and easier than having to make a trip to the store every time you need some. Get in touch with your green thumb and see how easy growing tomatoes can be.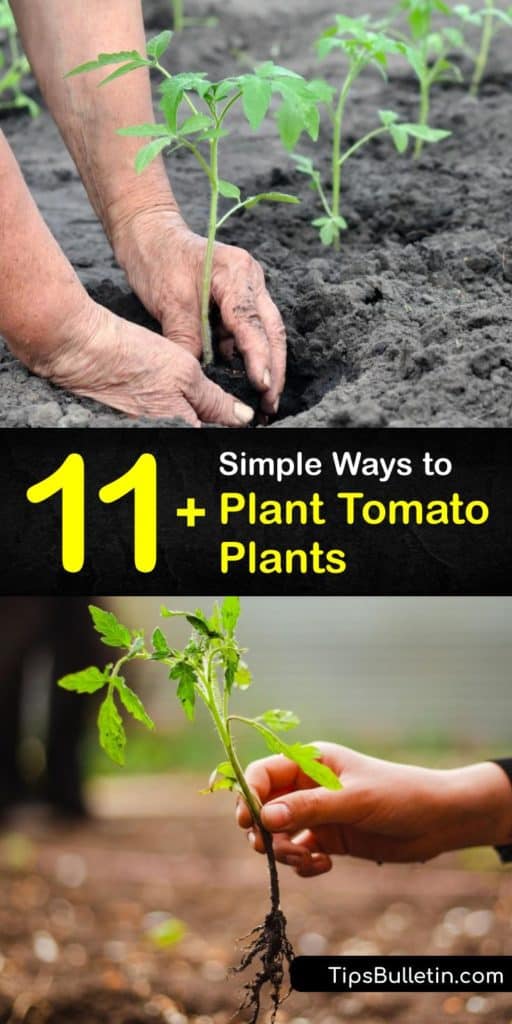 If learning how to plant tomato plants has filled your kitchen with bright veggies for the remainder of the year, share this guide for growing tomatoes on Facebook and Pinterest.