You don't have to belong to a brass band to know the importance of keeping your brass from tarnishing. Learning how to polish brass is essential when preserving priceless family heirlooms, beloved decorations, and even some of our most crucial household features.
This copper and zinc alloy looks almost gold-like when polished and is a durable material used in most products exposed to increased friction and the potential for weathering. Because of this, it's essential to clean and polish your brass fixtures regularly.
Brass appears throughout the household for two significant purposes: aesthetic use and practical use. As a decorative metal, brass often appears in doorknobs, light fixtures, or decorative plates.
For function, we use brass in things like plumbing, locks, or gears, all items that require strong resistance to corrosion over time. While brass is a highly-durable metal, it doesn't hurt to keep it looking its best and will increase its longevity in your household.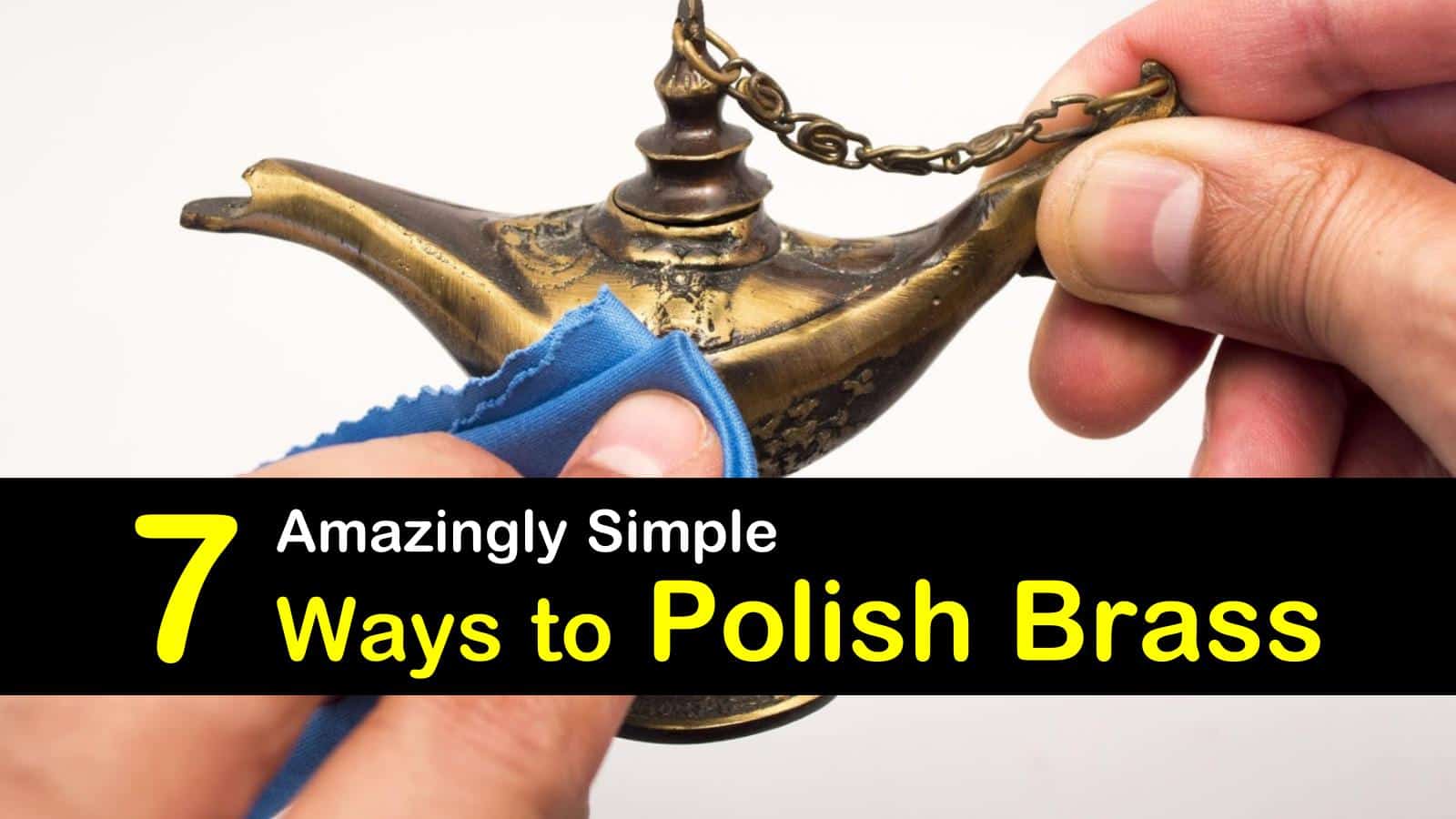 Phenomenal Solutions for Polishing Brass
To learn how to shine brass and prevent it from tarnishing, follow these helpful tips! Many of the recipes are also appropriate for cleaning copper pots and other copper items to get them shining once again. Try one recipe or try them all to see which one works best for your needs.
How to Shine Brass When Using Dish Soap
Sometimes when it comes to cleaning, the best solutions can also be the easiest ones. If you are trying to clean brass fixtures or other items, sometimes some good old-fashioned dish soap and hot water is all you need to get the job done.
This is a fantastic option for brass with premade patina and brass-plated items. These items require a more delicate touch, since using abrasive, acidic cleaners can remove the layers over time.
Squirt a few drops of dish soap into a sink or bowl with hot water, and use a damp cloth to clean over the surface of the brass. For brass objects with small crevices, use a soft toothbrush to get in between the cracks and remove any gunk or grime. Afterward, rinse off the soapy water and dry the object with a clean cloth.
Keep Brass From Tarnishing by Using Linseed Oil
After cleaning off your brass items, you may want to add an extra layer of protection to keep it from tarnishing. Linseed oil or other mineral oils are perfect for adding that extra touch of shine to your brass. With linseed oil, you also get the added benefit of a smooth, wax-like finish that will prevent your brass from tarnishing in the first place.
Linseed oil works as a drying oil, which means it forms a hard layer on the surface of the item its coating after prolonged exposure to oxygen. Many varnishes and wood finishing use linseed oil for this very reason.
This process does wonders for your brass by forming a type of shell that protects it from exterior weathering. Evenly apply a thin layer of linseed oil using a soft cloth.
Set the brass somewhere safe and out of reach to dry. You'll have a nice, shiny coating to keep your bronze looking beautiful longer.
Use White Vinegar for a Homemade Brass Polish
As one of the most common cleaning solutions out there, vinegar is an excellent way to polish your brass items. Vinegar is used to clean several different precious metals and is also a type of pewter polish. Use the following brass cleaning recipe for a flawless finish on your brass.
Dissolve the salt in a small bowl with vinegar before adding the flour. Use equal parts flour and vinegar to create a thick paste. Add extra flour until you reach the desired consistency.
Dip the bristles of a soft toothbrush in the mixture and clean the brass item. Chip away any tarnished brass and rinse the object clean. As always, dry the brass afterward to prevent water spots from forming.
There may be times when you want your brass to look tarnished instead of polishing it so that it is bright and gleaming. You can use the above recipe minus the flour for darkening brass pieces as well as cleaning them. Apply vinegar and salt to the brass you want to age and let it sit for a while. Rinse clean and your brass looks antique.
How to Polish Brass Using a Commercial Cleaner
While a commercial cleaner may not be your first choice, there are several excellent options to choose from on the market. Many of these cleaning products work on other metals as well, such as Bar Keepers Friend, which is also great for cleaning stainless steel products.
There isn't too much difference involved when it comes to using a commercial cleaner compared to using a homemade recipe, other than the fact that the soap comes ready-made for you. This advantage saves you time when cleaning brass and is often just as effective.
When using any commercial cleaner, follow the manufacturer's instructions on the back for the best results. Always rinse the cleaner from the brass item afterward and remember to dry thoroughly to keep brass from tarnishing later.
Try Ketchup When Polishing Old Brass
Surprisingly, ketchup is a perfect solution to polish brass, even brass that has developed several years' worth of tarnish. Ketchup, or even tomato juice, works in the same way as vinegar. Both contain acetic acid and are great for removing oxidized layers of tarnish.
There are two different ways you can clean brass or even clean copper using when using ketchup. The first option is to use a soft, dry cloth for dipping in ketchup.
Scrub the brass using the ketchup on the soft towel, carefully removing any layers of tarnish. Rinse the ketchup off the brass or copper using warm water and drying it with a clean cloth.
For the second option, you can soak smaller brass items in a bowl of ketchup, leaving them there for approximately 20 minutes before rinsing it off afterward. For larger items, replace the ketchup with tomato juice instead to save time and money. You'll be amazed and pleased with the shiny results.
Combine Lemons and Table Salt as Natural Cleansers
Using lemon juice and table salt creates the perfect tag team for tackling varnished brass, as well as to polish metal of other types, too. The citric acid in lemon juice breaks down the tarnish in most metals, and even acts as a natural silver cleaner.
The salt, on the other hand, is a natural abrasive that is delicate enough to use on metals like brass and won't damage the surface. As a bonus, everyone has salt at home so it's cheap and accessible.
Add two tablespoons of salt to a small bowl, one about the width of your halved lemon. Dip your lemon half into the salt, fresh cut side facing down and the rind facing up. The best part about using this solution is that your lemon also doubles as a makeshift scrub.
Rub the lemon and salt over the surface of the brass until the tarnish begins to wear away. Use a toothbrush to get into any hard-to-reach areas or small crevices. Rinse of the brass item, then dry thoroughly.
Use Baking Soda as a Natural Brass Cleaner
Another excellent DIY brass polish is baking soda and lemon. While baking soda works well on its own to clean and polish brass, adding lemon juice gives it that extra kick! Similar to how lemons and salt work, the fruit brings the tarnish removing acid to the mix, while baking soda acts as a gentle abrasive that won't scratch your brass.
Squeeze half a lemon into a small container or dish. Add the baking soda and wait until it stops bubbling before you blend the two ingredients. Once you have mixed the baking soda with the lemon juice, it should form a creamy paste.
Using a soft cloth, rub the paste over the brass piece until all the tarnish comes off. Rinse the brass item, and reapply as necessary. Use a microfiber cloth to buff the brass after you have finished removing all the tarnish.
How do I make sure if what I'm cleaning is really brass?
This may seem like a silly question, but brass can get exceptionally dirty at times. If it's been years since you've stopped to clean your brass, then it may have developed a thick, dark coating over it. This almost-black coating can make it difficult to discern whether the object in your hands is brass or a different metal like iron or nickel.
If you bought an item at a yard sale, or even if you aren't sure whether the object is plated to look like brass, then this simple trick will help. First, find a magnet and press it against the surface of your object. If it sticks, it's not brass.
Magnets are attracted to nickel, iron, and cobalt. Put a magnet near any other metal, and it won't stick. Now that you've eliminated three metals, you're probably thinking about the many other metals it could be, too.
However, most metals like copper, pewter, and bronze, which are similar to copper, can also be cleaned using the same methods mentioned above. So clean, polish, and shine away!
What can I use to clean lacquered brass that won't remove the finish?
If you have lacquered brass, you don't want to risk removing the lacquer by using harsh chemicals, acidic cleaners, or highly abrasive materials. As a rule, rough scrub brushes like steel wool should never be used to clean brass, to begin with, no matter if the item is solid brass, brass-plated, or lacquered.
Instead, to save the lacquered finish, do the same thing you did with the brass-plated objects and use no more than soap and water to clean your item. If the tarnish on the piece has moved beyond the help of soapy water, then you may need to use an acidic cleaner like lemon juice or vinegar. Since this will also likely damage the lacquer, reapply the finish after all tarnishing has been removed.
Your brass fixtures and decor add a gleaming sense of style to your home. This gold-like metal looks even more elegant when it is properly polished and shining. Use these fantastic tips to keep them that way by putting in just a little extra time and elbow grease to keep them clean.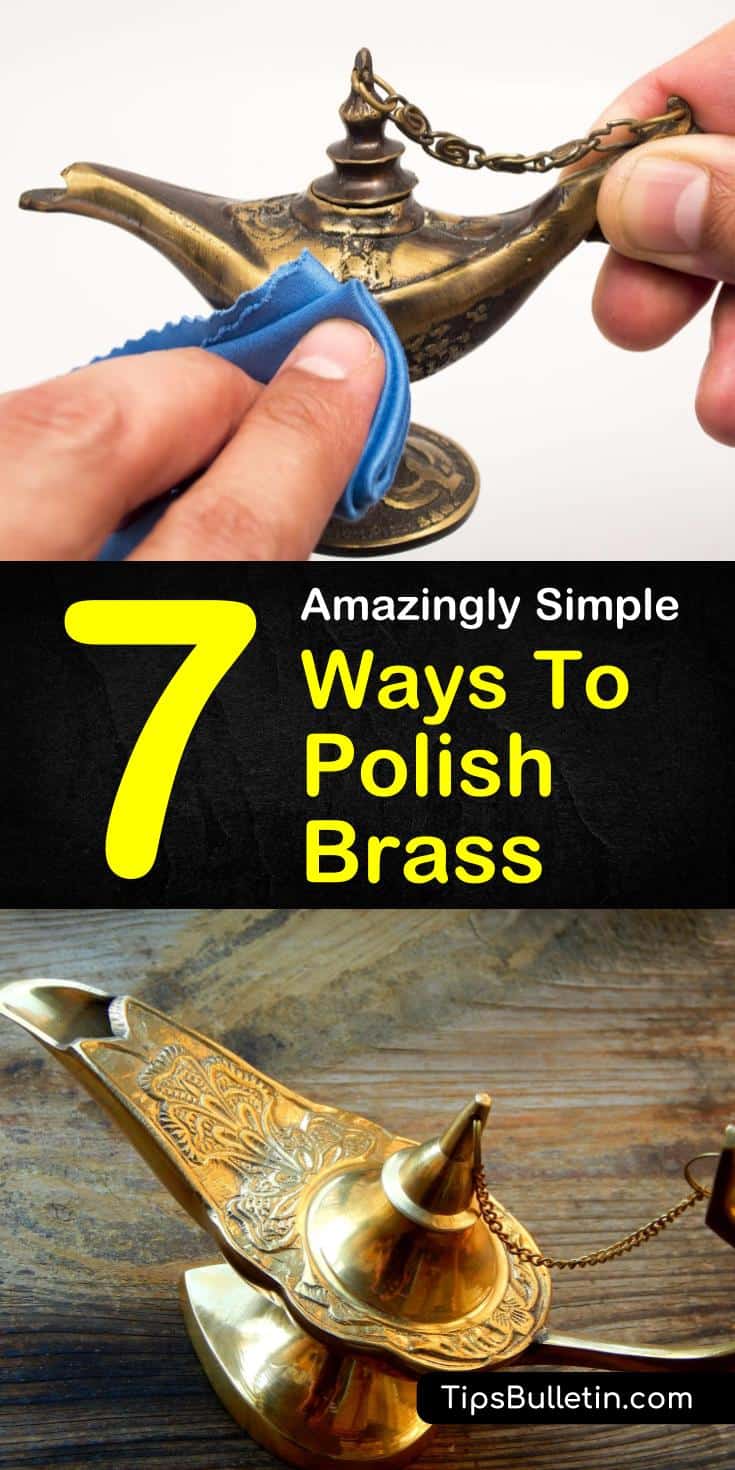 Hopefully, you found our brass shining tips useful and are ready to share these ideas with the world. If so, remember to let others know how to polish brass on Facebook and Pinterest.