Mushrooms are full of earthy, umami flavors and add texture and depth to a meal. Although these fungi aren't technically vegetables, they still get preserved in similar ways. If you want to know how to preserve mushrooms, some methods make it easy to store them and keep their delicious flavor and texture.
Although there are many ways to preserve mushrooms, try them all out to figure which technique you like best. Using the refrigerator will only preserve fresh mushrooms for about ten days.
Of course, the maximum freshness also relies on the date of purchase and condition you buy them in. When purchasing morels, chanterelles, portabellas, or another type of mushrooms, look for bodies free of water and brown spots.
Fresh mushrooms also have minimal odor. Once you bring mushrooms home, store them in a paper bag in your crisper drawer.
After that, finding the best way to preserve mushrooms takes a little time but saves you from pounds of wasted produce in the future. Once you read this article, you'll be preserving mushrooms like a real chef.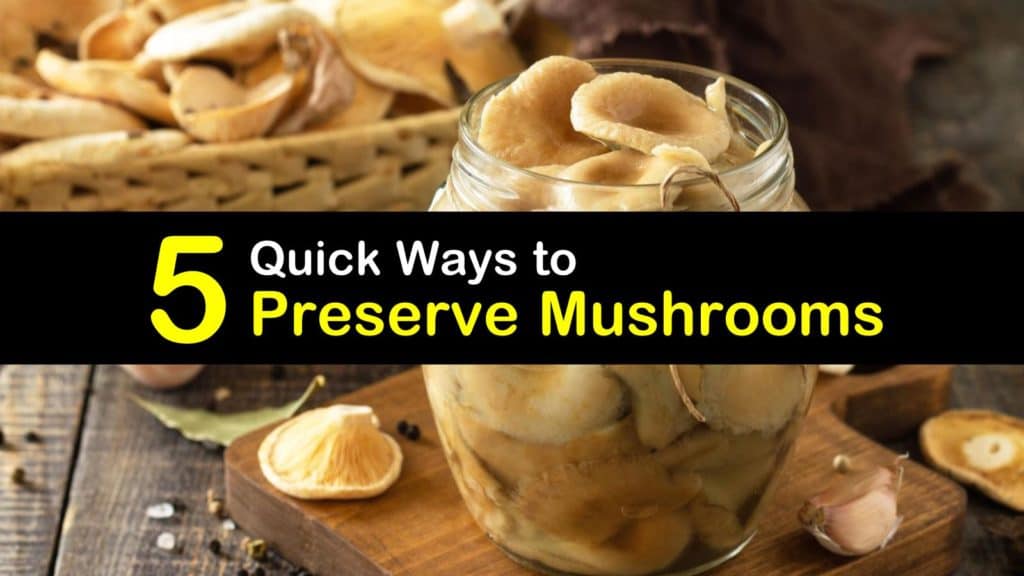 What are Mushrooms?
Mushrooms aren't plants or vegetables. They are a fungus, and we eat the fruit of that fungus that contains the spores, which are like seeds. The mushroom body is microscopic and often spread out over a large area.
Wild mushrooms survive by breaking down dead plants and animals on the ground. They build their cell walls from chitin, which also makes up the outer shells of insects.
Although they have similar properties to animals, they don't have a stomach and absorb the nutrients from their food through their cell walls.
We're thankful for these unique organisms because they are a healthy food source for humans. They are low in calories but higher in protein and folate and help fight against cancer.
You may even want to grow mushrooms at home. The process is simple with a kit or using a special growing medium. This way, you will have mushrooms whenever you want them.
How to Preserve Mushrooms
When looking through this list of ways to preserve mushrooms and how to keep mushrooms fresh, don't close yourself off to only one option. How long mushrooms good for depends on your storage methods.
You'd be surprised how some of these preservation tactics maintain quality while adding bold flavors and simplicity to our lives. Even some of the more laborious processes aren't as difficult as they may seem.
The Easiest Ways to Preserve Mushrooms
Freezing sautéed mushrooms is one of the most common ways to preserve mushrooms. Can you freeze mushrooms without cooking them first? Yes.
For this method, run cold water over the mushrooms in a colander and remove the dirt by massaging them one at a time.
Pat the rinsed mushrooms dry with a paper towel and slice the hard bottoms of the stem off of each one. Fill a large glass bowl with fresh, cold water and a squeeze of lemon juice and soak the mushrooms in the lemon water for five minutes to help retain their color.
This process is similar to blanching vegetables. Use a steamer pot to steam the mushrooms for five minutes or sauté them in a pan until tender all the way through.
Allow the fungi to cool to room temperature and transfer the steamed mushrooms onto a baking sheet in a single layer to the freezer. Once frozen, put all mushrooms in a plastic bag or freezer bags and store them in your freezer for six months or up to a year.
Drizzle some olive oil or vegetable oil into a nonstick pan and heat it over medium-high heat. Wash and slice one of your favorite mushroom types add them to the hot pan.
Add salt and pepper to the mushrooms to taste and start sautéing them for eight to ten minutes so that all the water evaporates and they are tender all the way through. Add as much chopped garlic as desired and cook for another minute until fragrant.
Pickling Mushrooms
Pickling is a fun way to preserve all your produce. This method doesn't take long and is customizable based on the flavors you feel like adding to the pickling liquid.
If you haven't had pickled mushrooms before, try them out, and don't be afraid to experiment with the recipe.
Thoroughly wash the mushrooms, place them in a large pot, and cover them with water. Add about half a cup of the vinegar to the water and bring it to a boil. Keep the mushrooms in the boiling water for about 15 minutes. Drain the liquid and set the pot aside.
Get another pot and add the water, sugar, salt, bay leaves, six tablespoons of vinegar, and peppercorns to it. Bring the pot to a boil and remove it from the heat.
Divide the garlic among Mason jars, add the cooked mushrooms on top, then pour the liquid over the mushrooms. Place the lid on your jars and store them in the fridge for up to three weeks.
Preserving Mushrooms in the Dehydrator
Dehydrating mushrooms is an efficient way to keep them around your house and quickly rehydrate them in soups and other watery dishes. All that's left for you to do is throw them into a pot with water to cook and enjoy them. You can also preserve garlic and many other fruits, veggies, and herbs this way.
To dehydrate mushrooms, preheat your dehydrator to 110°F. Wash and slice the mushrooms you plan to use and place them on the dehydrator trays. Dehydrate them for three hours before checking them.
They should feel crispy and snap if you try bending them. Keep them in for another hour at a time until you receive the desired texture. Remove them from the machine and let them cool before storing them in an airtight container for up to one year.
Add Mushrooms to a Casserole
Casseroles are family-friendly dishes that are easy to prep and freeze ahead of time. On nights where you don't feel like cooking, you simply throw them in the oven to bake and have a hearty meal on the table.
Some of our favorite casseroles with mushrooms are tuna noodle casserole, creamy chicken and mushroom casserole, and green bean casserole.
Make Mushroom Seasoning
This suggestion may seem a little unorthodox, but turning mushrooms into a powder is easy to do and allows you to sprinkle it on foods for extra umami flavor. The best way to store mushrooms to keep them fresh involves putting three cups of dried mushrooms in a blender with one teaspoon of salt.
Blend the mushrooms for 30 seconds until you have a fine powder. Put the powder in an airtight container and store it for two months. Add the powder to soups, stews, broths, marinades, and dips.
Mushrooms are some of our favorite ingredients because they add so much character to a dish. They are easy to handle and versatile for those who don't know what to do with them.
Although they aren't plants, they are just as nutritious and healthy for us and pair well with tons of other foods. Mushrooms might not be at the top of your radar, but once you've tried all these ways to preserve mushrooms, you'll never take them for granted again.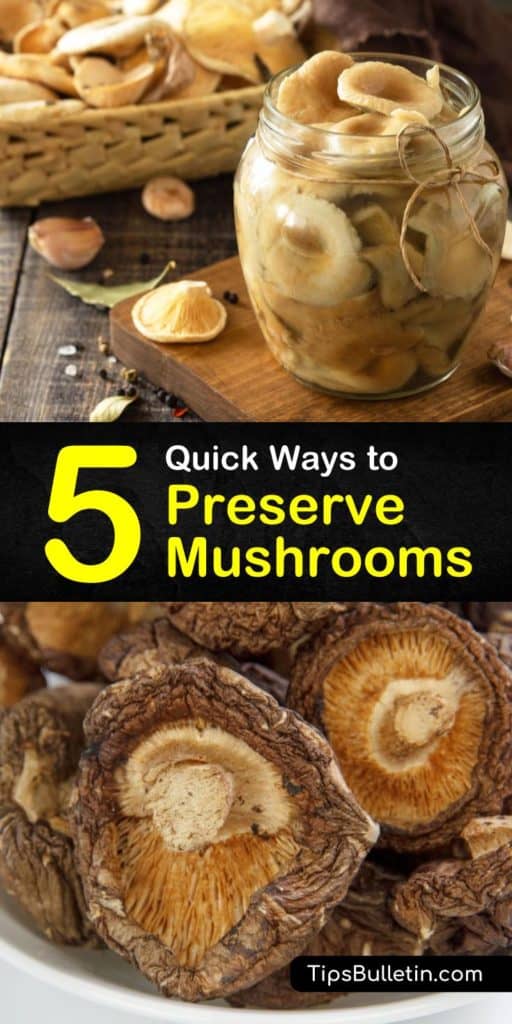 If learning how to preserve mushrooms has taken your cooking up a notch, share these mushroom preservations tips on Facebook and Pinterest.