You open the window in the spring to let in some fresh air, only to realize that you've also let in extra dust. Not only that, but somehow household dust seems to appear out of nowhere even when the windows aren't open. We show you how to prevent dust from building up in your home and ways to keep the dust bunnies at bay.
Dust particles build up on carpeting, furniture, baseboards, window coverings, and bed linens. And, dust is not merely floating bits of harmless dirt.
It contains allergens such as dust mites, pollen, and pet dander and these tiny particles wreak havoc on allergy sufferers.
Dust doesn't only make its way into your home through an open window or door. It travels through your air conditioning and heating unit, filling the air with tiny bits of debris.
While it's not possible to have your home completely dust-free unless you live in a vacuum, there are ways to lessen the amount of dust that accumulates.
Ways to Remove and Prevent Dust in Your Home
Cleaning away dust probably seems like an endless job to repeat day after day. However, there are simple ways to remove dust from air and household surfaces and prevent it from taking over your home.
How to Prevent Dust at Home by Keeping It Outdoors
One of the best ways to stop dust from accumulating on your furniture is to keep as much of it outdoors as possible. Here is how to prevent dust at home by stopping it from entering in the first place.
Dust Prevention
The first thing to do to limit dust is to place a floor mat inside and outside each exterior door and implement a no-shoe policy indoors. Approximately 80% of the dust that enters your home comes in on the bottom of your shoes.
Keep the windows closed, especially on breezy days and in the spring when pollen is in the air. Shake off your area rugs and doormat outdoors each day to remove excess dust and debris.
Preventing Dust Build Up by Vacuuming and Sweeping
Preventing dust build up and preventing dust mites that come with the dust seems like a never-ending job, but there are ways to make the task a little bit easier. Vacuuming and sweeping the proper way helps stop the dust from stirring up into the air and landing on your furniture.
Create a weekly routine for sweeping and vacuuming your floors to remove dust, lint, and bits of fluff. Try to use a vacuum cleaner with a HEPA filter and clean the carpeting of each room.
When sweeping, consider using a dry mop rather than a broom to prevent the dust from kicking up into the air. It's also a great idea to vacuum your mattress every couple of months to remove dust mites.
How to Prevent Dust with an Air Purifier
The best way to prevent dust from floating in the air you breathe is to install an air purifier. These handy units filter floating particles, and there are a variety of models to choose from.
Most air purifiers contain a filter that traps large particles of dust and pollutants while the fan is running.
Choose a purifier that uses a high-efficiency particulate air filter and place one in each room of your home or in a central location to remove dust from the air throughout the day.
How to Prevent Dust Build Up with Dryer Sheets
Believe it or not, but dryer sheets collect dust better than a microfiber cloth or rag, and the residue they leave behind even repels the tiny particles and pet hair. Here is how to prevent dust at home by using fabric softener sheets.
Put a few drops of water on a new or used sheet of fabric softener. Rub the damp sheet over baseboards, cabinetry, crown molding, door and window frames, windowsills, ceiling fans, and any other home surface. Use a new dryer sheet as soon as you notice the old one is dusty.
Using Air Filters to Prevent Dust
You probably notice an increase in dust when you begin using your furnace in the winter or run the air conditioner in the summer. One of the easiest ways of preventing dust build up throughout your entire home is to install air filters.
Check your air conditioning and furnace filters each month throughout the year and replace them as needed.
Avoid using cheap or fiberglass filters that do not remove dust efficiently. Choose HEPA filters with pleats to capture the most dust, lint, and pollen from the air.
Preventing Dust by Furniture Polishing
While prevention is key when it comes to dust, there are times when your furniture requires cleaning to remove fine particles. Making your own dust prevention spray is an inexpensive way to clean your home naturally.
To make this vinegar based DIY dust mite spray, combine distilled water, white vinegar, coconut oil, and citrus essential oil such as orange or lemon in a glass spray bottle.
Make sure to use glass for this DIY dust spray since essential oils break down plastics. If you can't stand the smell of vinegar, it's okay to add less, but this ingredient works well for cleaning.
Preventing Dust in Your Home with Proper Pet Grooming
Dust doesn't only enter your home in the afternoon breeze. It also travels through the house on your pets.
If you have a cat or dog, it's a good idea to groom them regularly to stop pet hair from building up on furniture and pet dander from collecting around your home.
If possible, take your pet outdoors each day and use a comb or brush to groom them to help remove loose fur, dander, and dust that otherwise ends up on your furniture.
If you cannot take them outside, the bathroom is a good location for pet grooming. Don't forget to bathe your dog with some gentle pet shampoo about once every month.
Get pet hair off of a blanket or other surface with a rubber glove. The glove attracts fur, making it easier to remove.
Easy Ways to Prevent Dust on Difficult Surfaces
While it's fairly easy to wipe a flat surface, such as a coffee table, with a damp cloth to remove dust, there are areas of your home that are a bit trickier to clean. Here is how to clean tricky areas using a few simple items.
To clean your blinds, slip your hand inside an old, clean sock. Use your hand to grasp each slat and slide it from one side to the other. Clean each section with this method until they are all dust-free.
Use a static duster to clean knick-knacks and other small items. These dusters are similar to a feather duster, but they have a static charge that collects dust.
Use a lint roller as you would clean lint from your clothes to remove dust from lamp shades, curtains, throw pillows, and other surfaces.
How to Use Newspapers for Dust Prevention
A quick swipe of a duster or rag is often all that's required to clean the dust off of most furniture. But, not all surfaces are easy to reach and clean while performing everyday dust removal. Here is how to collect dust on those hard-to-reach areas of the house.
Place sheets of old newspapers on difficult areas, such as the top of a bookcase, refrigerator, and kitchen cabinets.
Once a month, remove the paper carefully by folding it inward and replace it with a fresh, clean sheet. If you don't have access to newspapers, consider recycling brown paper bags.
Decluttering Your Home to Prevent Dust
One of the best things to do to halt the build up of dust around the house is to remove excess clutter. Cleaning and organizing your indoor spaces gives dust fewer areas to collect.
Home Decluttering
Avoid having too many blankets and throws on your furniture since these are dust magnets. Try to limit knick-knacks around your home or store them in a glass display case to prevent dust build-up.
Store books, magazines, and other everyday items in a cabinet or drawer and keep dirty clothes in a hamper with a lid.
Caring for Your Bedding to Prevent Dust
Furniture is not the only dust attractor in a house. Your bedding is a magnet for tiny air particles, and a bed full of dust mites is not a welcome experience, especially if you have allergies.
Pillowcases, sheets, and bed comforters collect dust and dead skin cells, attracting dust mites. Therefore, it's vital to wash these items in the washing machine once a week.
If your items are machine washable, clean them with a hot water cycle using your favorite laundry detergent and dry them with high heat.
How to Get Rid of Dust by Using a Dehumidifier
Even though you work diligently to keep your home free of dust, there is still a chance it has dust mites. These microscopic bugs thrive in humid conditions, and lowering your home's humidity makes the conditions less desirable for them.
Try to make your home inhospitable to dust mites by lowering your home's humidity to 50% or less. Running the air conditioner is a great way to get rid of dust at home, but what if you don't have one or prefer not to run it daily?
Another way to lower a room's humidity is to use a dehumidifier. These units draw in warm air and release cooler, drier air while retaining the condensation.
If you've ever watched dust floating through rays of sunshine coming through a window, then you're aware of just how much dust is in the air.
These particles coat the surface of your furniture, and you breathe them in throughout the day. Fortunately, there are ways to prevent dust from building up in your home using a few simple methods.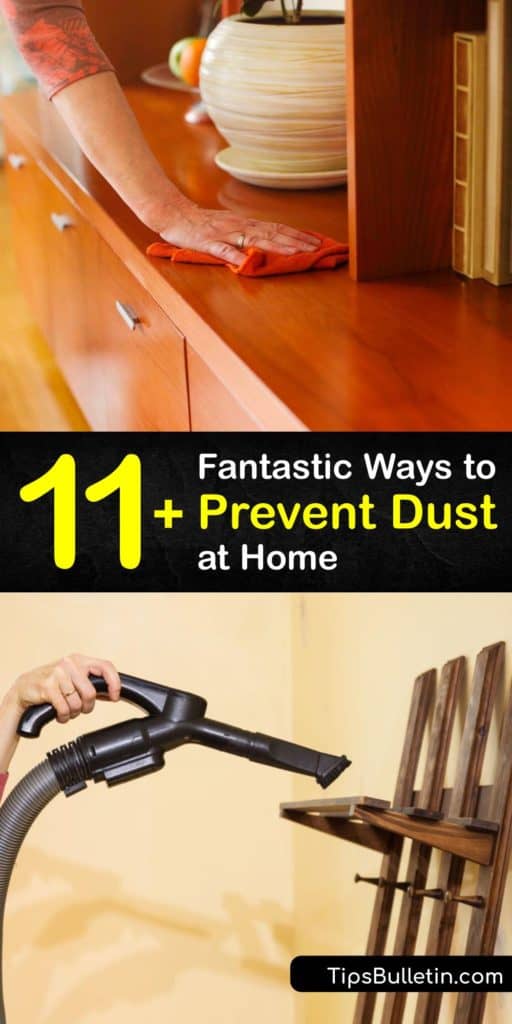 Knowing how to prevent dust is the difference between daily sneezing fits and breathing fresh air, so why not share our dust prevention and cleaning tips with your social circle on Facebook and Pinterest to help them keep their home dust-free?