There's nothing wrong with coloring outside the lines as long as you know the best way to clean up afterward. It's time to tackle those rogue dry-erase marker streaks surrounding the whiteboard and restore your walls to their former glory. Discover how to remove dry erase marker from a wall with our clever tips and tricks.
The dry-erase marker, called a whiteboard marker, is famous for its erasable ink. These handy colored pens get their magic from combining resins and pigments for uniform colors, solvents that help dissolve the other ingredients, and release agents that allow easy wiping off a whiteboard surface.
The release agents found in the dry and wet erase marker varieties are critical for success. For example, permanent marker ink lacks release agents, making removing pen ink off walls more difficult. Fortunately, we assembled some excellent ways to help you maneuver, manage, and mend marker stains on painted walls.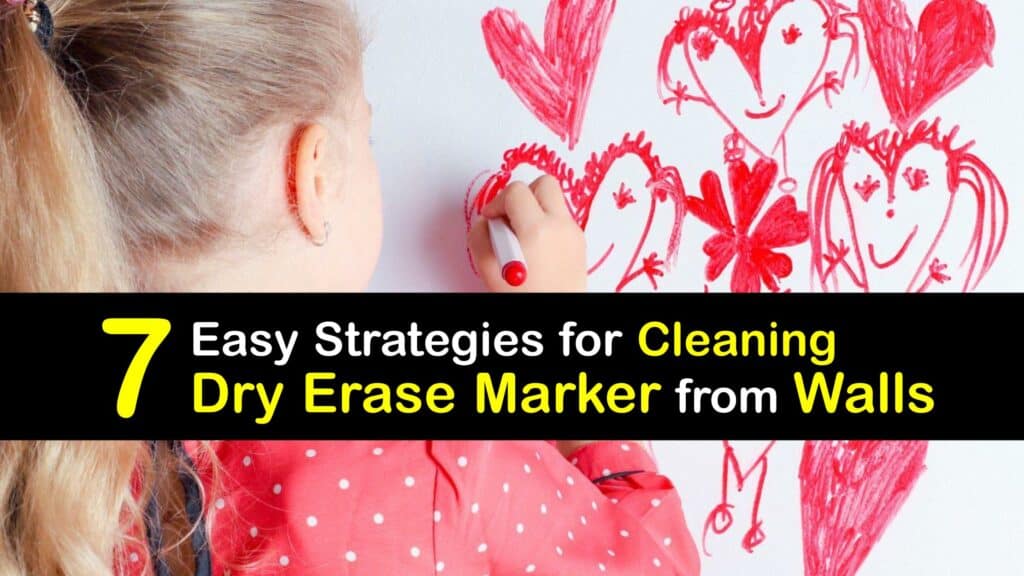 Learning How to Clean Dry Erase Marker off My Walls
Your painted walls don't deserve to become a dry erase surface. Those streaks and stripes have got to go. Thankfully, dealing with a dry-erase marker mishap is easier than you think with our can-do tutorials.
Discover how to remove dry erase marker from a wall with accessible and inexpensive ingredients. This dry-erase marker manual has recipes and ideas for cleaning a wall with a homemade spray and eliminating dry erase marker stains from paint. Many of these tutorials include things you likely have around your home already.
How I Remove Dry Erase Marker From a Wall
A dry erase marker stain isn't quite as scary as the dreaded Sharpie marks; there is hope for easy cleanup. Many simple items in your home effectively get marker off walls without removing paint or causing any damage to the drywall.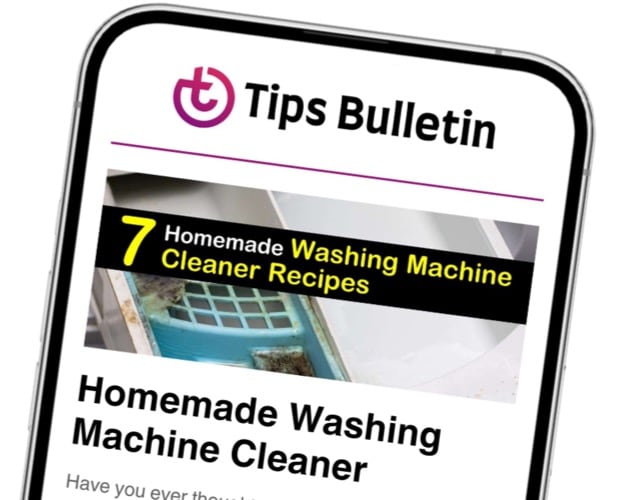 Finally, an email that Transforms Your Home.
Get the latest home and garden tips from our experts, delivered straight to your inbox.
Removing dry erase marker from walls should always be done with caution. Ensuring the toothpaste doesn't strip the paint is essential. Before covering a large wall area in white toothpaste, test a small, discreet section first.
Apply a small dab of white toothpaste, about the size of a pea, to the dry-erase mark. Use white toothpaste because other colors contain dyes that may stain your painted wall. Scrub the toothpaste with a soft toothbrush, and use a clean cloth to wipe the excess.
How I Use Hand Sanitizer for Dry Erase Stains
Did you know it's possible to remove pencil marks on walls with a dab of disinfectant? We've used alcohol as an effective antiseptic since the 1300s, and we've been using hand sanitizers since the 1960s. Most people currently have a bottle of hand sanitizer somewhere.
Many popular hand sanitizer brands contain isopropyl alcohol and ethanol, which dissolve marker stains for easy absorption. These alcohol-based cleaners are great at getting Sharpie off glass or mirrors. Dab hand sanitizer on a clean white cloth and blot the ink stain away.
Removing Dry Erase Marker from My Walls
You'll likely find a bottle of rubbing alcohol in your medicine cabinet. Rubbing alcohol is a great multipurpose tool to keep around the house, as it not only disinfects cuts but it's also great for getting dry erase marker off walls. This is a valuable skill, especially if you have "young artists" in your home.
Pour a half cup of rubbing alcohol into a small bowl and dip a cotton ball to moisten it. Test the rubbing alcohol on a small 1-inch by 1-inch paint square before going all in. Use light circles to lift the white board marker off the paint. Remove any excess with a clean cloth, and follow up with a warm water wipe-down.
If you don't have any rubbing alcohol at home, vinegar is a popular substitution for this cleaning solution. Vinegar cleans Sharpie stains and dry erase marker ink off painted walls.
Trying a Magic Eraser to Remove Dry Erase Marker
Home remedies are fantastic and inexpensive, but sometimes the best way to get dry erase marker off walls is with a specialized product. If you're struggling with permanent ink, whiteboard marker, or another stubborn stain, try a Mr. Clean Magic Eraser for your home cleaning needs.
Cleaning dry erase marker off a painted wall is easy when you have a Mr Clean Magic Eraser in your corner. Put those powerful micro scrubbers to work against your toughest permanent marker stain or dry eraser marker mishap.
Wet the sponge with water and work the marker lines away. Always follow the manufacturer's directions, and use only on surfaces recommended by Mr. Clean Magic Erasers.
Using a Spritz of Hairspray for Dry Erase Marker on My Walls
If you prefer to avoid using an abrasive cleaner like baking soda on freshly painted walls, why not learn how to clean dry erase marker off walls with a spritz of oil-free hairspray? That's right; your everyday hairspray helps against whiteboard marker stains on the wall.
All you need is a bit of oil-free hairspray and a clean, white cloth. Spritz a bit of hairspray onto the rag and gently wipe the marker stains away. Wipe the wall with a drop of dish soap and a damp sponge to eliminate lingering dry-erase residue. Always test a small area of the paint to ensure no removal.
Using Acetone-Free Nail Polish Remover for Dry Erase Marker
Most nail polish remover varieties contain a powerful solvent called acetone. While acetone is effective at breaking down nail polish, it's not great for your skin. Non-acetone nail polish remover was invented by those seeking a gentler alternative; it's inexpensive and readily available at your local supermarket.
Discover how to clean dry erase marker off walls with nail polish remover. Grab a paper towel or cotton ball, soak the end with your remover, and gently wipe the marker streaks off the wall. Keep an eye out for paint transfer, and rinse with warm water to remove any lingering smell or residue.
Priming and Painting for Leftover Dry Erase Stains
Occasionally, completely removing dry erase marker from walls isn't possible. The best we can do for our walls and sanity is to prime, paint, and move on. If you've exhausted your options and the marker streaks remain, it's time to source an inexpensive latex primer and some touch-up paint.
Wipe the walls with a damp cloth before you prime; you don't want to trap grime in the paint finish. Use the primer to do a light coat over the marker stain and allow it to dry. Touch everything up with matching wall paint, or use this as an excuse to choose something completely new; that's the beauty of inspiration.
We hope these tips for how to remove dry erase marker from a wall are helpful and handy around the home. Many products in your cupboards double as effective stain-busters, and now you know where to look when the whiteboard marker strikes.
When using everyday household items like white toothpaste, hand sanitizer, hairspray, or rubbing alcohol, always conduct a small test in a discreet place to ensure your painted wall stays painted during the cleaning process.
Try a drop or two of whiteboard cleaner and a soft rag for polished or natural wood surfaces. Don't be afraid to consult the professionals for those expensive one-of-a-kind pieces. We wish you the best in your struggles to keep your markers on the dry erase board where they belong. For every other time, you've got our tutorials to guide you.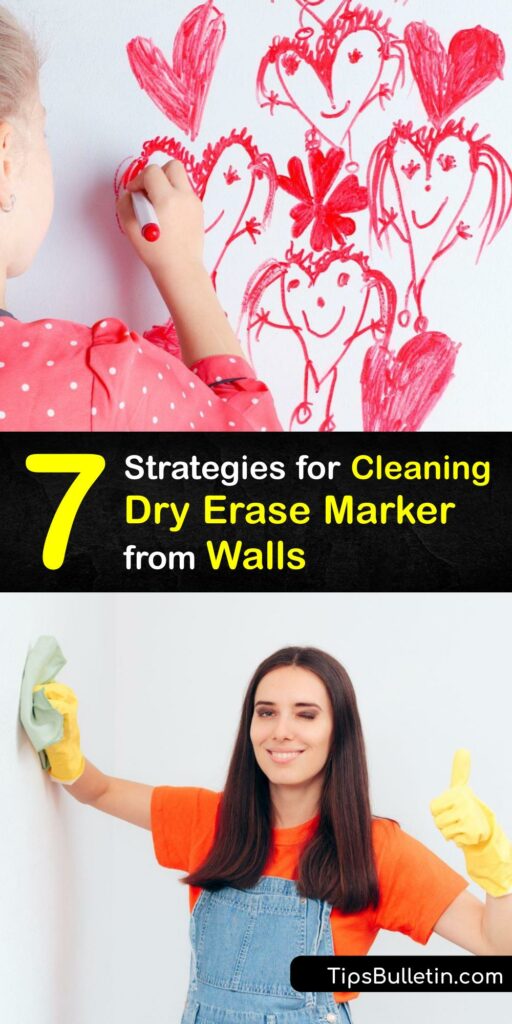 If you enjoyed our helpful hints for how to remove dry erase marker from a wall, please share this article with your friends on Pinterest and Facebook who like collecting cleaning tips.