Gorilla Glue is a lifesaver, repairing everything from metal, wood, and stone to glass, ceramic, and foam. However, this adhesive bonds to just about anything, including your fingers and other unintended surfaces. Learn how to remove Gorilla Glue safely and effectively to ensure your hands, clothes, and other items are glue-free.
It's easy to get carried away while doing home improvement projects or working on a favorite hobby. Unfortunately, it's often during these times when accidental spills happen and spilled super glue or Gorilla Glue leads to panic since it's only a matter of seconds before the glue dries with a seemingly permanent bond.
Unlike Elmer's glue that is water-based and easy to clean up after a spill, Gorilla Glue is a cyanoacrylate, waterproof adhesive with a polyurethane base, and typical cleaning methods do not work to remove it. While this type of glue stain seems impossible to remove, there are ways to get Gorilla Glue off if you use the proper remover and technique.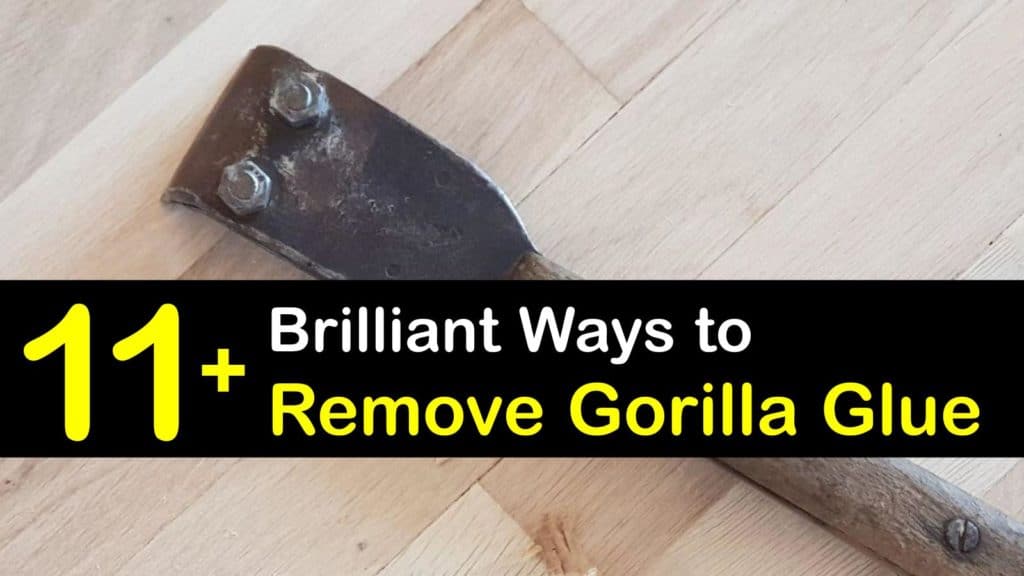 Simple Ways to Remove Gorilla Glue
We've all experienced that moment of dread after spilling Gorilla Glue since this adhesive is intended for permanent bonding. Find out how to remove Gorilla glue from skin, fabrics, and hard surfaces using simple solutions.
Making an All-Purpose Homemade Gorilla Glue Remover
If you accidentally spill a tiny amount of glue on the countertop or other surface, sometimes all you need is a mild cleanser. Here is how to make a basic homemade Gorilla Glue remover for cleaning up glue stains.
If you spill Gorilla Glue on a wood or plastic surface, do not wipe it with a dry cloth since this causes the stain to spread and smear, making the mess bigger. Instead, to get rid of Gorilla Glue on plastic, dab the excess glue away from the surface.
Pour warm water into a container and add several drops of liquid dish soap. Dunk a clean cloth or rag into the soapy water and clean the glue stain by wiping it from the outside in.
Continue until the residue is gone, and dry it with a paper towel. If the glue is still present, consider using a stronger glue removal method.
Ways to Get Rid of Gorilla Glue on Hands
Your hands are the most common place to get stuck with super glue residue, which often causes panic, especially if you get your fingers stuck together. Here are some pain-free ways to get rid of Gorilla Glue on skin.
Start by removing as much glue from your hands as possible with a dry cloth if the adhesive is still wet. Do not pick at dried glue since this may tear your skin. Apply cooking oil to a paper towel and gently rub it on your hand.
If your fingers are stuck together, roll a pencil between them. Start from the outside of the stuck area and work your way in. Apply gentle pressure while moving the pencil against the bonded area.
After you unstick your fingers, apply an acetone fingernail polish remover to a cotton ball, rub it over the sticky area, and finish by rubbing a moisturizer on your skin to remove the last pieces of dried glue.
How to Remove Gorilla Glue from Glass
Glass surfaces are the easiest to remove glue from since they are not porous. However, it quickly scratches if you use the wrong technique. Here is the easiest way of getting Gorilla Glue off glass without damaging the shiny surface.
Apply an acetone fingernail polish remover or mineral spirits to a cotton swab or cloth and press it onto the glue spot on the glass.
Let it sit for 15 minutes to an hour, checking every ten minutes. Gently scrub the adhesive off the glass with your fingernails and wipe it away with a paper towel.
Removing Gorilla Glue from Metal
The key to removing glue from metal is to act quickly since the more time it has to dry, the more challenging it is to clean. However, this surface type is durable, and using a scraper and heat effectively removes hardened glue.
Pour acetone or a fingernail polish remover that contains acetone onto a cloth and apply it to the glue spot on the metal. This is an easy way to dissolve Gorilla Glue from metal surfaces.
Let it rest for a bit to loosen the bond, and then use fine-grit sandpaper, pumice stone, or a scraping tool to scrub away the softened glue. A scraper is also the best way to remove glue from concrete.
If the metal surface is painted, try using heat instead of acetone. Heat the metal with a hairdryer, iron, or steam cleaner to melt the glue, and use a scraper to gently peel it away.
Getting Gorilla Glue off Fabrics
Next to skin, clothes are common areas for glue stains. Fortunately, there are some ways to get rid of Gorilla Glue on fabrics and clothing or to clean dried Super glue residue if you choose not to have them dry cleaned.
Let the glue dry completely on the fabric before removing it since working with wet glue causes it to spread and seep into the material. Use your fingers to gently pry the glue up from the surface, taking care not to tear the cloth.
If the item is light-colored, apply lemon juice or fingernail polish remover to a cotton ball and press it on the material to soften the glue for quicker removal. Wash and dry the item as usual after the bond is gone.
Ways to Get Gorilla Glue off Wood
Wood furniture and floors are naturally beautiful, but stains quickly ruin their appearance, especially if you spill something like glue on them. While cleaning Gorilla Glue off wood takes some patience, it is possible if you use the correct procedure.
The best way to clean up Gorilla Glue spill on wood is to remove as much of it as possible before it dries to ensure the adhesive doesn't soak into the grain.
Do not use acetone, fingernail polish remover, or paint thinner to remove dried Gorilla Glue from wood. To remove dried glue, use a razor blade or putty knife to scrape up the hardened glob and finish with fine-grit sandpaper to smooth the surface.
Using Vinegar to Clean up Gorilla Glue
Vinegar is an acidic liquid with many purposes around the home, whether you are cleaning kitchen cabinets with vinegar to remove grease stains or disinfecting your washing machine.
It's also inexpensive and safe to clean Gorilla Glue residue from a variety of household surfaces.
Soak cotton with white vinegar and press it to the affected area for several minutes to loosen the adhesive's bond. Use your fingernail to scrape the glue from the surface.
If you do not have any vinegar, isopropyl or rubbing alcohol is a good substitute. However, test it on an inconspicuous area first and wipe it clean with soapy water after removing the glue.
Try this solution as a homemade carpet adhesive remover if you only have a small area to deal with, too. You may be surprised by the results.
How to Use Hydrogen Peroxide to Remove Gorilla Glue
Hydrogen peroxide is another household item that has many purposes. It is a mild antiseptic, oxidizer, and bleaching agent and a safe liquid to clean up dried Gorilla Glue residue from your skin.
Pour some hydrogen peroxide onto a soft cloth and rub it on the affected area of your skin to dissolve the glue. If any adhesive remains, repeat the steps with a fresh cloth and clean the area with hand soap and warm water.
Ways to Remove Gorilla Glue Residue
You work hard to remove a large glob of super glue off a hard surface, only to discover that the area still has a sticky residue.
While the stain is not visible, the stickiness attracts dust, dirt, and lint over time. Here is how to clean away Gorilla Glue residue for a smooth finish.
If the leftover glue residue is on a durable surface, aluminum dish scrubbers and SOS pads will remove the stickiness.
Lather the pads with dish soap and warm water and scrub the area to remove residue. Repeat until the surface is smooth and rinse with clean water.
Using Goo Gone to Get Rid of Gorilla Glue
Goo Gone is a popular commercial product useful for removing glue, stickers, and other adhesives from many materials. While this method is not safe for getting the bond off the skin, it effectively cleans other surfaces.
Spray the Goo Gone on the glue spot and let it sit for about three minutes to loosen the bond. Use the edge of a putty knife to pry the softened glue from the surface. Reapply the cleaner, wipe it with a paper towel to remove residue, and clean the area with soapy water.
How to Use Lemon Oil to Clean Small Gorilla Glue Stains
If you're looking for a natural way to remove Gorilla Glue, lemon oil is an excellent solution for removing minor stains. The oils soften the glue, while lemons' natural acidity helps break up the adhesives bond.
Apply a small drop of lemon oil to the glue spot and let it sit for five minutes. If applying it to your skin, dilute the oil with coconut oil before proceeding. Use a soft cloth to rub away the loosened glue and clean the area with soap and water.
Preventing Gorilla Glue Accidents
After going through the effort to make a homemade Gorilla Glue remover to clean up spills, it's a great idea to take steps to prevent an accident from happening again. Here are some useful tips for using super glue safely around the home.
The best way to stop Gorilla super glue from getting on your hands is to wear protective gloves while using it. Another way to protect your hands while working with Gorilla Glue is to make glue gloves.
Apply a thin layer of water-soluble school glue or wood glue to your hands and let it dry. Peel or wash the glue away after working.
To protect a table, countertop, or floor, spread a drop cloth over the surface before working with the glue. Finally, keep a work apron handy and wear it over your clothing whenever doing projects.
While Gorilla Glue is a handy tool to have around the house, and some projects are impossible to complete without it, it's also challenging to work with if you aren't careful.
Fortunately, there are simple ways to remove this adhesive if you accidentally get it on unintended surfaces.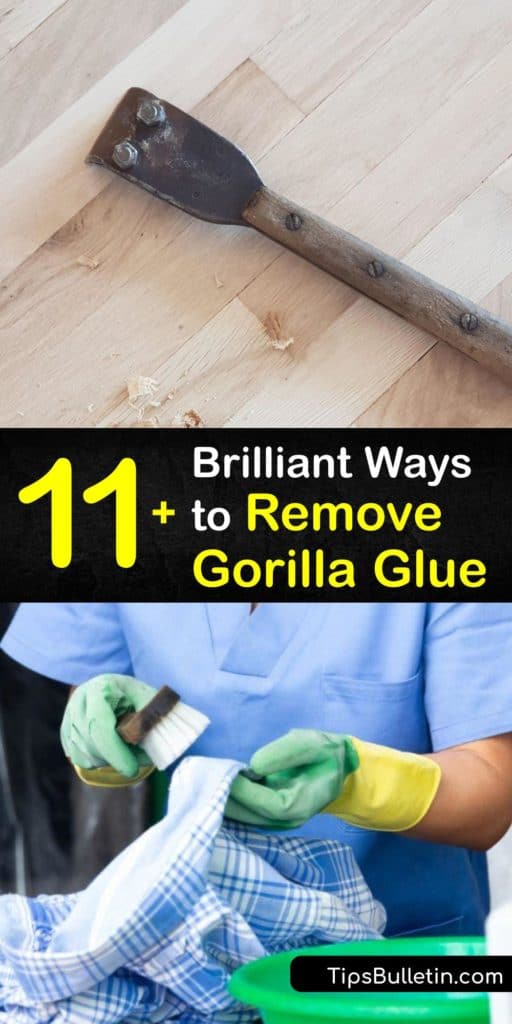 We hope that learning how to remove Gorilla Glue keeps your projects clean and stress-free, and we'd love it if you'd share our Gorilla Glue removal solutions and techniques with your DIY friends and family on Pinterest and Facebook.