Your car is one of the least likely places you'd expect to see mold growth, but under the right conditions, those pesky mold spores will flourish. Especially when the weather gets colder, or if you store your car in a cool location, a few patches of mold quickly transition into an infestation if not taken care of immediately. Knowing how to remove mold from the car interior effectively will promptly eliminate any problems before they get too far out of hand.
In many cases, all mold needs to start growing are a few pieces of discarded trash or a small pile of wet clothes to create the perfect growing conditions. Removing mold smell from a car is equally as important, especially since you don't want to take any chances of breathing in mold spores or allowing them to circulate to other parts of the car.
Not only will understanding the basics of how to clean mold off of leather seats and keep your vehicle's interior clean, but it will also provide you and your family with a safe, healthy environment when driving.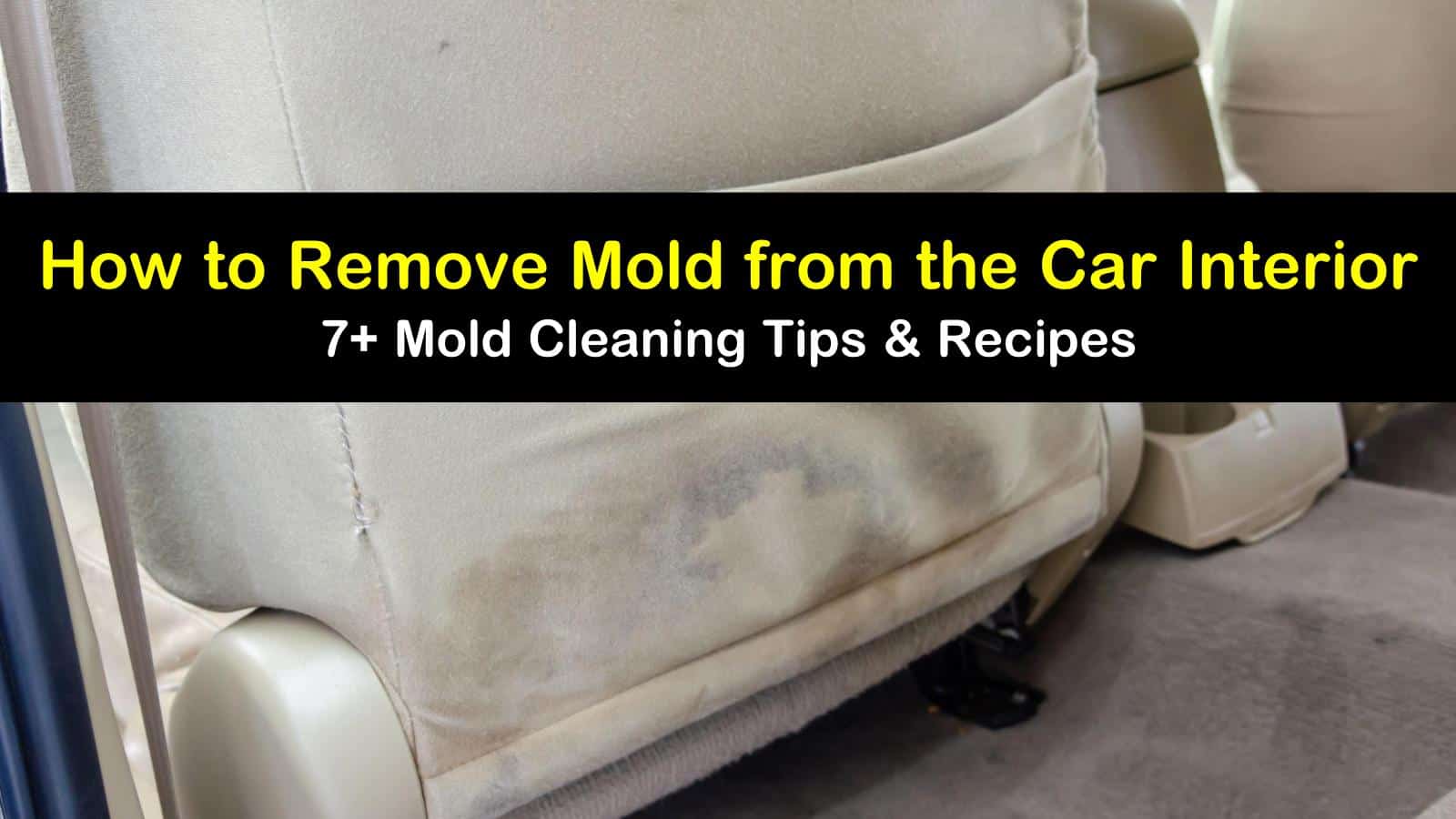 Simple Ideas to Clean Mold Out of a Car
Before you get started, there are a few supplies you need to have ready to obliterate mold growth from your car's interior. Depending on the method you choose, you may not need to use all the supplies listed below.
However, for a more effective clean, and to ensure you've removed as much mold as possible, mix and match these strategies and supplies.
When it comes to using a HEPA vacuum versus a regular vacuum cleaner, it comes down to preference and availability. HEPA vacuums collect tiny particles like dust and allergens that ordinary vacuum cleaners often miss. So, while HEPA vacuums are ideal for cleaning mold, especially if you have allergies in general, a vacuum cleaner does just fine for minor cases.
Vacuum Your Car's Interior First
The first line of defense to have when removing mold from your car is vacuuming. This not only removes loose mold particles, but it also sucks up any dirt and grime from the surfaces in your vehicle.
More dirt means spreading that nasty water around, making it much more difficult for you to treat moldy areas.When vacuuming, get deep down into the crevices of each car seat and underneath them, as well.
You may also want to use a wet-dry vacuum machine, which works exceptionally well when you have damp areas or spills in the car, contributing to mold growth. This type of vacuum also comes in handy when you want to vacuum over spots of the vehicle which have been treated with a cleaning solution to prevent moisture from building within the cushions.
Removing Mold Smell from a Car with Baking Soda
One great way to get rid of mold is by sprinkling baking soda over the fabric. Baking soda is an excellent way to kill mildew and mold and also acts as a fantastic air freshener. When using this method, combine it with other mold-eliminating cleaners like vinegar or lemon juice, or you can apply the baking soda by itself.
Start by sprinkling baking soda over the affected area to get a mildew smell out of the car. Allow the baking soda to absorb any moisture and mold for approximately 20 minutes.
Finish by vacuuming up the powdery residue. Even if other areas don't have a problem with mold, this is a great way to deodorize the entire car when cleaning.
Remove Mold from the Car Interior with Vinegar
No matter how much mold you have, vinegar is an excellent solution to make your own mildew remover. Not only is it an excellent stain remover, but it's also a powerful disinfectant that kills black mold. This solution works great for cleaning every surface of the car's interior, from seat belts to upholstery to the dashboard.
When using this DIY car cleaner, use equal parts water and vinegar, and add them to a large spray bottle. Depending on how large a surface area you are covering, you can always increase the amounts.
Spray the moldy surface, then allow the vinegar to soak for around five minutes. Afterward, scrub the area clean using a soft toothbrush, then wipe it down with a dry cloth.
Don't forget to check all areas of the car for mold or other stains. Clean car seat straps, armrests, and even the headliner with this solution to get rid of mold or even coffee stains.
Vinegar will also work to clean other messes on your car seats. Use it when removing glue from car seats or other sticky substances. The acidic content of the vinegar will easily eat through the adhesive.
Use Lemon Juice as Vinegar Substitute
If you're not a fan of that vinegar smell, the next best thing available is a vinegar substitute like lemon juice. Not only does lemon juice smell great, but the citric acid in the ingredient is also a great way to eliminate mold. For particularly tricky patches, you may want to try a lemony paste made with salt to scrub the mold away.
Using the scrub, smear a little bit of it over the moldy area. Whenever scrubbing or dealing with mold directly, it's always best to keep a face mask over your mouth and nose to prevent breathing any of the spores, especially when in confined spaces. Blot up the moisture left behind by the juice, then vacuum up whatever solid particles remain.
Let Your Car Air Out to Reduce Mold Growth
One of the best ways to reduce the amount of mold in your car is to prevent it from generating in the first place. If you've already treated your car for mold growth, or are worried it might begin to show signs of mildew, airing your car out is a great way to prevent mold spores from flourishing.
While letting your car air out may seem like a solution too simple to work, it's a great way to improve air circulation. Proper ventilation is critical to preventing mold from growing in the first place and is as easy as letting the fresh air flow in through the windows or the sunroof now and then.
Another great way to improve air circulation and lower high humidity levels in your car is by using a dehumidifier. These dehumidifiers reduce the amount of condensation in vehicles, especially as the result of shifting temperatures.
Think of all those times you started up your car in the morning, only to be met with impossibly foggy windows. A dehumidifier helps with that problem, while also regulating moisture levels inside the vehicle.
Combat Mold Growth with Sunlight
Similar to airing out your car, finding a nice sunny spot to clean your car is a great way to prepare it for washing. Allowing your car to dry out in the heat for about 15 minutes before cleaning deodorizes it, and exposes the mold to ultraviolet rays from the sun.
Because mold spores are unable to photosynthesize the UV rays from the sun, placing them out in direct sunlight is an excellent way to reduce their potency.
When cleaning your car with whatever solution you prefer, allowing it to dry out in the sun also increases its effectiveness at eradicating mold for good. This method works best when used with other techniques and shouldn't be relied on as the only mold removal remedy, however.
Clean Mold Out of a Car with Borax
For another fantastic way to remove mold and dirt, Borax works on several levels. As an ultra-absorbent compound, Borax soaks up excess moisture and eliminates those perfect cold and wet conditions mold loves. It also retains a high pH level, which kills mold quickly and reduces that mildewy car smell.
The best way to clean using Borax is by dipping a soft bristle brush into the solution, then using it to scrub the area. Once the mixture has had plenty of time to dampen the car fabric, let the Borax soak into the material for approximately 30 minutes. Rinse it with warm water, then blot dry.
Cleaning Mold Off of Leather Interiors
Learning how to get mold off leather seats and interiors may sound like a difficult task to undertake, but it only requires a few simple ingredients. In most cases, a proper brushing or vacuuming of the leather removes the mold from the leather's smooth surface. However, follow it up with these simple ingredients.
To clean the leather surface, start by dampening a clean cloth with soapy water. You can use saddle soap or a gentle detergent with no additives. However, saddle soap is preferred.
After you've cleaned the surface, if there are still traces of mold, you can use a little drop or two of rubbing alcohol on a cotton ball to clean the leather. Dry it off immediately after using, then apply a leather conditioner to restore moisture and prevent cracking.
Some Extra Advice for Removing Mold from the Car Interior
Now that you know how to clean mold from your car interior, you may still have questions about preventative measures and identifying the warning signs of mold in the first place. These last few pieces of advice will help clear up any remaining questions you still have about mold removal.
Signs of Mold to Look for
There are a few visible signs to look out for when it comes to determining whether you have a mold problem. The first is visible mold growth, such as dark spots that may indicate black mold. Other sensory indicators include smell, which often resembles spoiled milk or mildew.
However, not all signs that mold is present in your vehicle require evidence you can see or smell. In some cases, you may notice an increase in allergic reactions or respiratory conditions that worsen when you enter the car. Whether mold or not, a jump in these issues means it's time for a good car wash and scrubbing.
What Can I Do to Prevent Mold Growth in My Car?
Preventing mold growth is as easy as removing soiled or wet clothes from your car and making sure you throw away garbage and food immediately. These items are some of the leading causes of mold growth in vehicles and are entirely avoidable. Vacuuming regularly also keeps leftover crumbs from creating a big problem later.
Using detachable parts such as floor mats, seat covers, and even steering wheel covers are another great way to reduce the amount of mold in the car. Not only do these protect most surfaces in your car, but their ability to detach and be thrown in the washer also makes cleaning up spills even easier.
Now that you're equipped with some of the best car cleaning methods for removing mold, these different products and formulas provide you with enough variety to clean both cloth and hard surfaces. With these helpful tips, you'll feel like you have a brand new car all over again!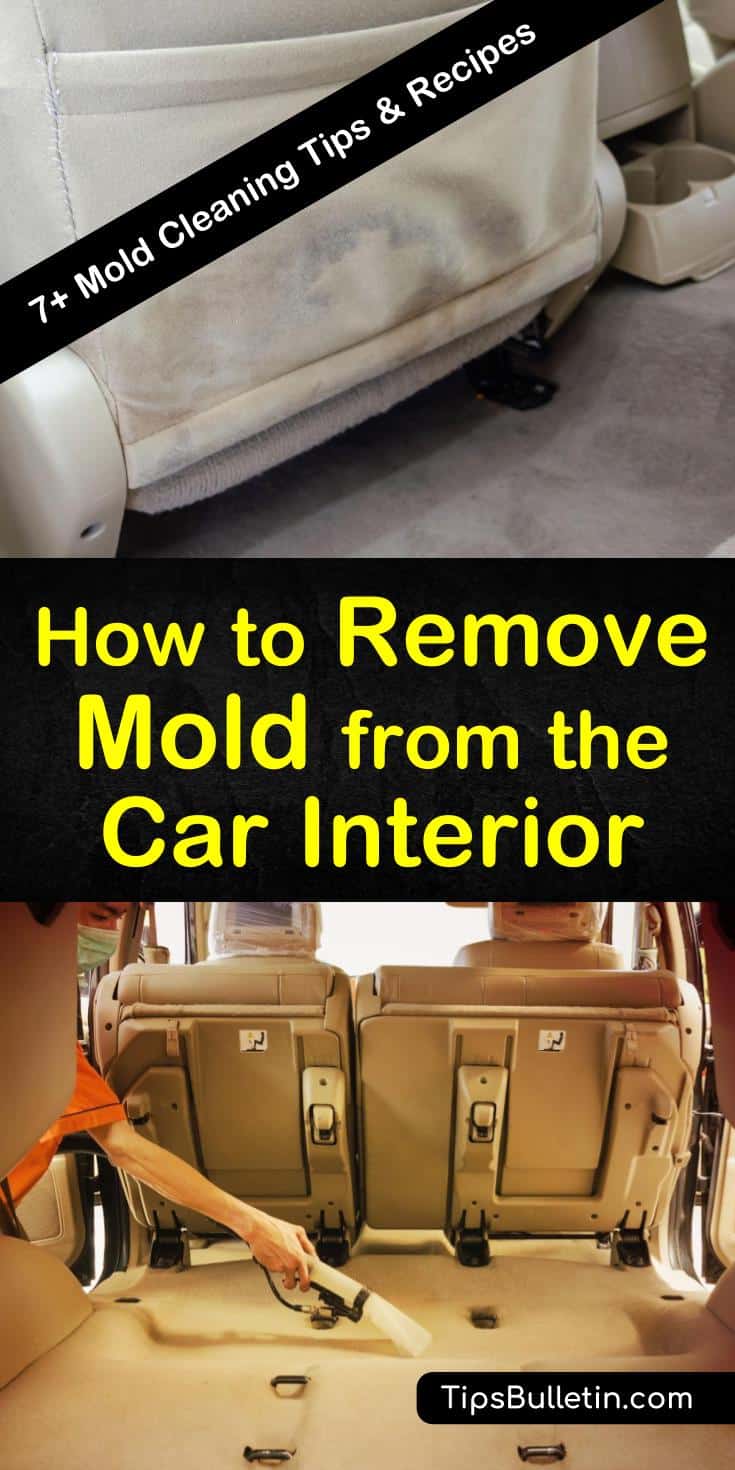 We hope you've enjoyed reading all about these easy car cleaning tips for removing mold smell from a car. If you found these mold erasing recipes and tips helpful, then please remember to share how to remove mold from the car interior with everyone you know on Facebook and Pinterest.