Found throughout the home, mold and mildew not only smell bad but can cause significant health problems for people with asthma and allergies. Several products are available to help you get rid of mold and mildew, but these toxic cleaners often contain harsh chemicals and a host of other hazardous ingredients. Luckily, there are several homemade mildew remover recipes you can make using ingredients you have on hand.
With spring on its way, people can't wait to throw open windows and doors, but that also means it's time for some serious spring cleaning. Our homemade cleaning recipes will help you in ridding your home of mold and mildew but know it's going to take time.
Natural cleaning products work to keep mold and mildew at bay but require effort on your part. Most of our homemade cleaner recipes contain active ingredients that work to prevent mold and mildew, but even when using the best cleaning options available mold and mildew still happen. All you can do is work to remove it as you find it.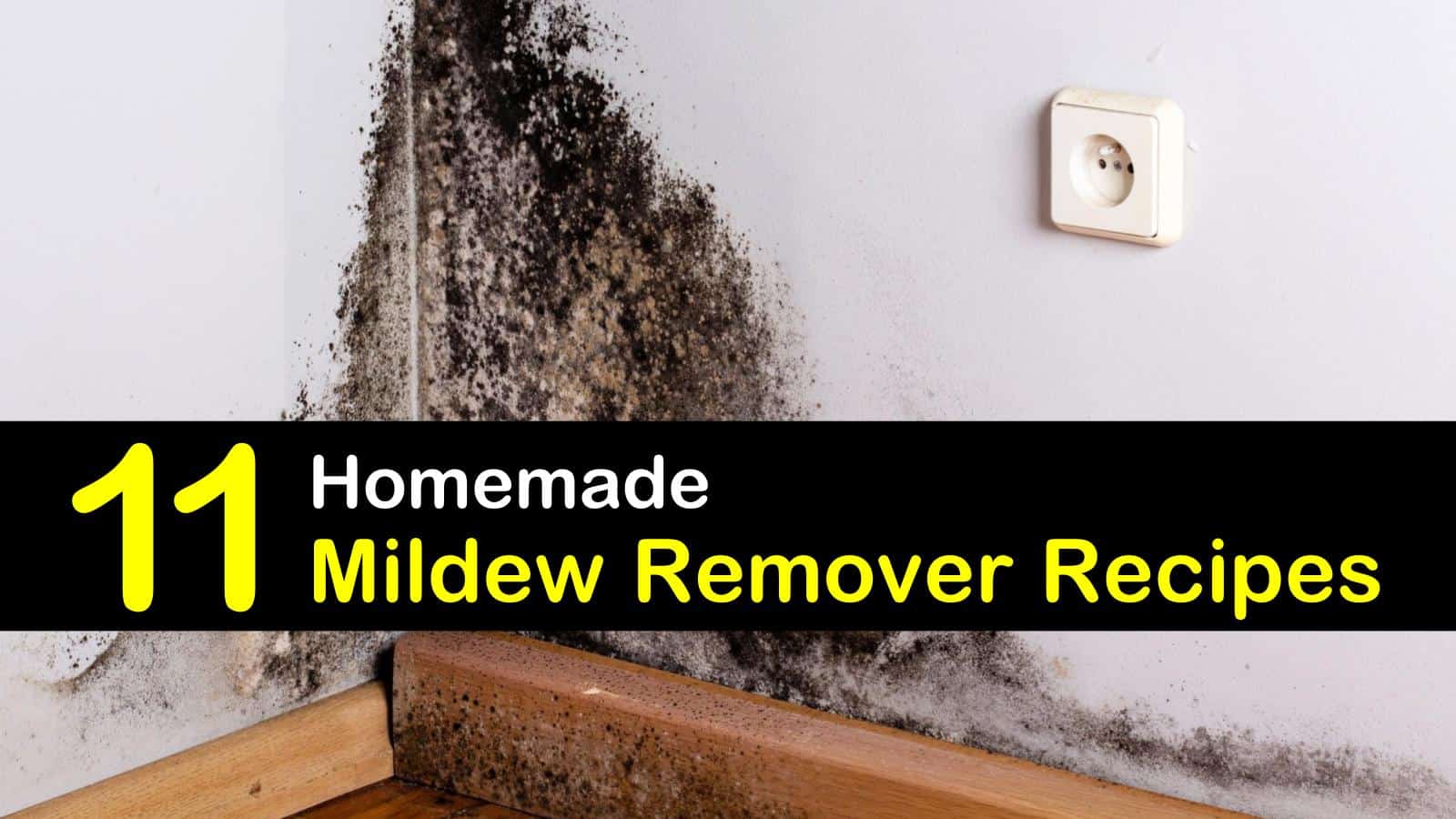 Easy-to-Make DIY Mildew Removers
Homemade Mildew Cleaner for Hard Surfaces
How to clean mildew depends on the type of surface that has the problem. Not all homemade mildew killer recipes are safe to use on every surface. This recipe is perfect for any hard surface that you find around the kitchen and bathroom. It is not suitable for porous materials like grout.
Mix everything in a glass bowl and pour it into a spray bottle. Spray onto mildew that may be lurking in the tub, on the counter, or toilet, and allow to sit for 30 minutes.
Scrub the area with a cleaning rag, old toothbrush, or a sponge. Rinse with fresh water and dry with a clean towel to prevent watermarks or streaks.
Bathroom Cleaner and Mildew Remover
One of the easiest to make, this recipe allows you to use a simple bathroom cleaner to remove mildew. As some homemade cleaners can damage some surfaces in your home, always do a spot test before using.
Pour vinegar and water in a spray bottle and shake to mix. For an aromatic cleaner, add your choice of essential oils. A few drops will be fine.
Spray cleaner on mildew and wipe with a wet sponge. Scrub with a brush to remove mildew stains. Although this is an excellent recipe to get mold out of carpet and other materials, always check first on an out of the way spot to ensure there will be no damage.
Vinyl Siding Mildew Remover
Despite how resilient vinyl siding is, it does require regular cleaning and maintenance. Mold and mildew are prone to shady and moist areas of your siding, but a homemade mold cleaner for siding makes short work of the problem.
Mix up the cleaning solution in a pump sprayer and spray directly onto the siding. Scrub gently with a soft scrub brush and rinse with cool water. Rust stains may require other household cleaners.
Natural Mildew Remover
Mold and mildew like the dampest areas of your house. Merely wiping it away with an all-purpose cleaner is not enough; you need a homemade mold killer with strong ingredients.
Combine ingredients in a sprayer and spritz the solution directly onto the mold and mildew. Let the cleaner sit for ten minutes and wipe away with a clean cloth. Use this solution for how to clean mold off wood, concrete, and other surfaces where mold and mildew appear.
Homemade Mold Cleaner
No one wants to find mold in the shower. Make this homemade mold killer by mixing two cups of hot water with one cup of hydrogen peroxide in a plastic spray bottle.
Spray cleaning solution inside the shower stall directly on the mold/mildew and allow to sit for one hour. Rinse the natural mold cleaner with water and let dry. Shake excess water from your shower curtain to speed up the drying process.
Straight Vinegar
When learning about how to kill mold and mildew, you might have heard of using vinegar. Straight vinegar can kill 82% of the mildew spores found inside the home. It's not 100%, but it's better than using toxic cleaners.
Pour white vinegar into a spray bottle, apply to mildew, and allow to sit for several minutes. Rinse with water and dry with a clean cloth. You can also use vinegar to remove mildew smell from clothes by adding 1/2 to a cup of vinegar to the load you are washing.
Vinegar is ideal for getting rid of mold in top loading washing machine or front loaders, as well. Add vinegar to an empty machine and run a cycle on the hottest water setting to kill mold and leave your washing machine fresh and clean for the next load of laundry.
Homemade Mold Killer
This bleach solution needs to remain active to be effective in killing mold, so make sure the area stays wet.
In a spray bottle mix ingredients to create this natural cleaning product. Spray the cleaner directly on the tile or wall and allow to sit for up to 30 minutes. Wipe stains with a cloth and rinse well with clean water.
Natural Mold Cleaner with Tea Tree Oil
Use two teaspoons tea tree essential oil combined with 2 cups of water inside a spray bottle. Spray the areas affected by the mildew and let dry. Do not wipe or scrub, as tea tree oil has antibacterial properties to kill the spores.
The 3 Ingredient Mildew Remover
Cleaning mildew from grout sounds harder than it is. Our three ingredient mildew remover can be used when cleaning mildew from grout and other hard surfaces around the house.
Stir vinegar and baking soda in a small glass bowl. Add tea tree oil. As a paste, this is a great stain removal option. Apply directly to affected areas and allow to sit for several hours. Scrub paste away with an old toothbrush.
Mildew and Mold Remover for Decks
Your deck is subjected to the elements, which means you are going to come across mold and mildew on occasion. Clean your deck regularly to control the mold and mildew growth that occurs.
The best deck mildew remover is not chlorine bleach, despite what you might have heard. Instead, you want to create your own cleaner using a gallon of water with a 1/3 cup laundry detergent. If mold stains are present, use an oxygen bleach followed by a deck brightener solution.
Odor-Free DIY Mold and Mildew Remover
If you want an odor-free DIY mildew killer, try a citrus seed extract mixed with water to clean mold and mildew. Inside a spray bottle mix, 20 drops citrus seed extract with two cups of water. Lemon or orange essential oils work particularly well. Spray directly onto mold and mildew and do not rinse.
Recipe for Homemade Mildew Remover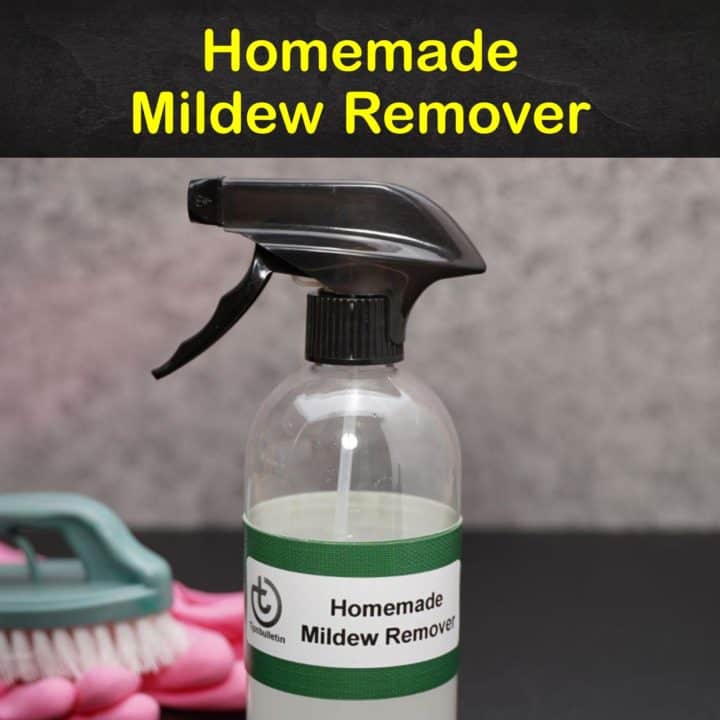 Homemade Mildew Remover
Get rid of mildew using simple ingredients!
Materials
24 ounces water
4 ounces liquid bleach
2 tbsp Borax
Fresh water
Tools
Gloves
32-ounce sprayer
Scrubber
Towels or rags
Instructions
Don the gloves and ventilate the room.
Pour the water, bleach, and Borax into the sprayer bottle.
Shake gently to mix.
Spritz mildew stains.
Let the cleaner sit for about half an hour.
Rub the mildew with the scrubber.
Wipe the surface with clean water to eliminate cleaning residue.
Dry with a towel.
Notes
Always use care when using bleach.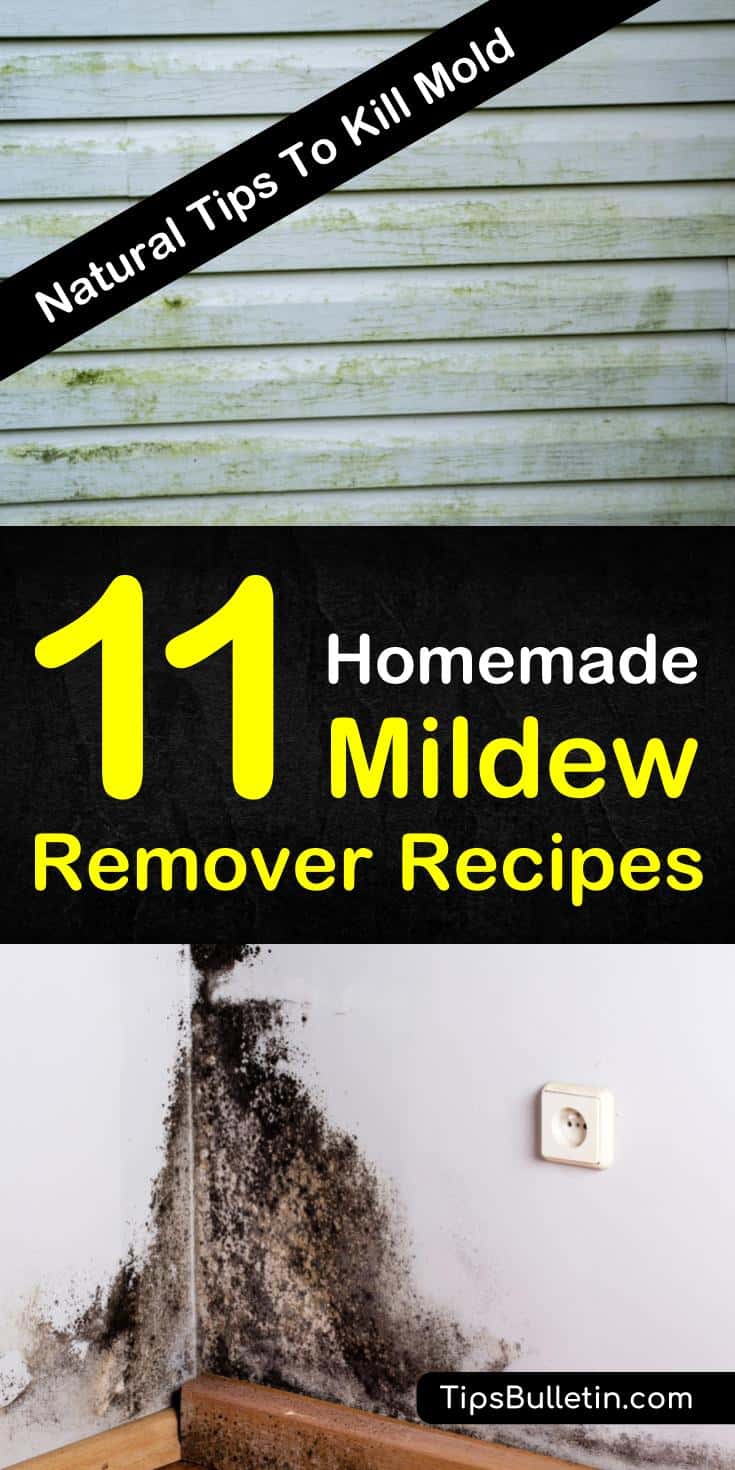 Thank you for reading through our tips and recipes on homemade mildew removers. If you found any of these homemade mildew remover tips or recipes useful, please take a minute to share how to get rid of mildew with others on Facebook and Pinterest.