Cast iron skillets are phenomenal pieces of cookware, highly durable with a non-stick surface perfect for making cornbread or frying steak. However, if your cast iron cookware isn't seasoned or cleaned correctly, and even after regular use and wear, rusting is a common side effect. Luckily, there are plenty of tips to show you how to remove rust from cast iron and to keep your favorite piece of cookware lasting longer.
No matter the level of damage done to your rusty skillet, you don't have to feel as if all hope is lost. The problem is generally fixable with a little bit of oil and a light abrasive.
The following tricks will walk you through the different levels of rusting, starting from what to do with light scatters of rust spots, all the way up to how to tackle severe rusting. In addition to these hacks for how to clean rust from cast iron, we will also discuss some steps you can take for cast iron rust prevention.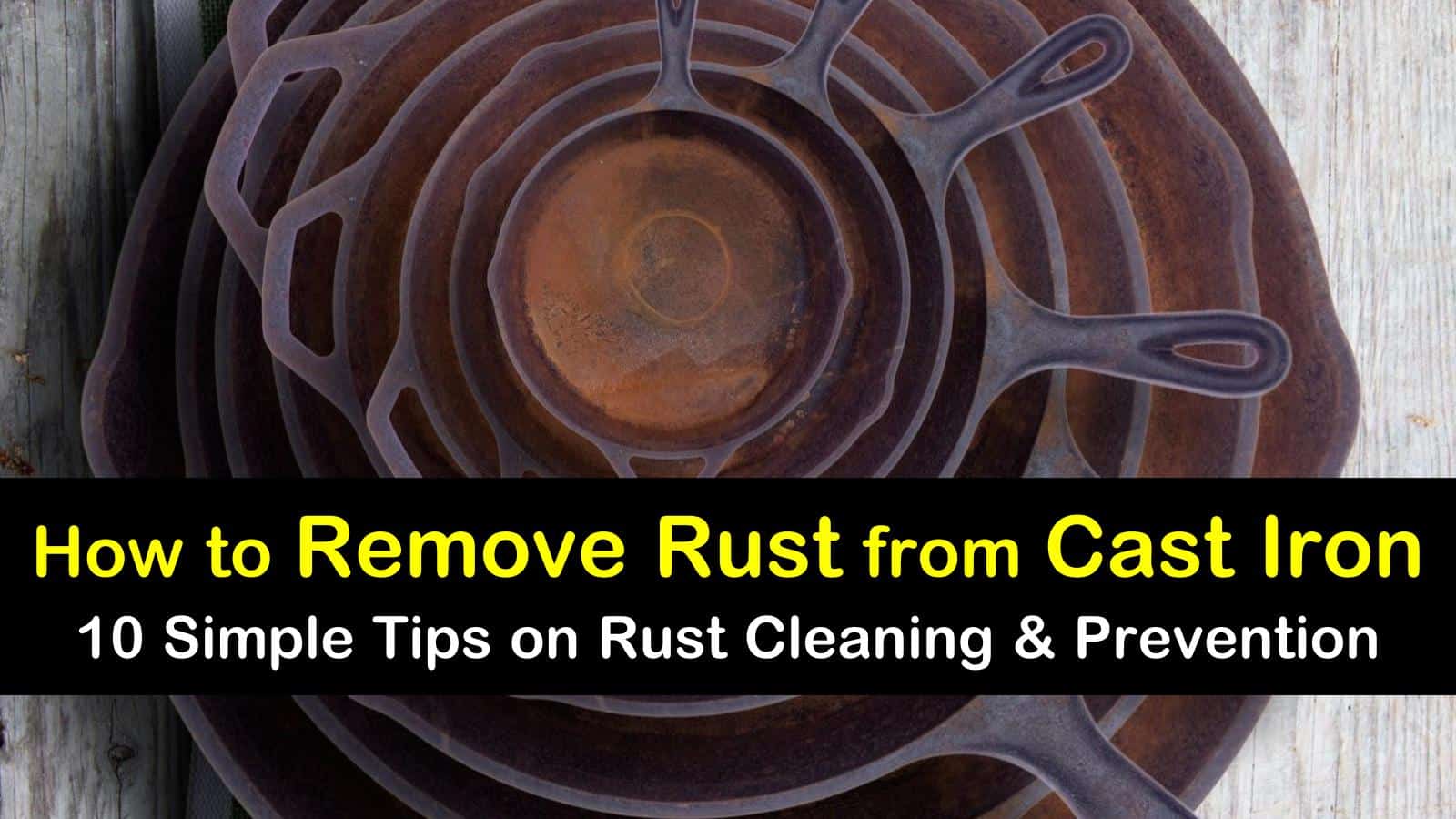 Best Practices for Removing Rust from Cast Iron
If your rust problem hasn't grown too far out of control, sometimes a little heat and some oil will do the trick. For minor rust spots, add a few drops of oil to the surface of the pan, then set it on the stovetop at low heat. Let the pan heat up without getting too hot to handle, since you will need to clean it when the pan is still warm.
With a couple of adaptations, some of these solutions also work for the best way to clean a cast iron grill to get it ready for your next barbeque session. Take care of your cast iron waffle iron, too. Add some oil to the surface and heat it up as the best way to clean a waffle iron. This will usually take care of your rust problem.
Remove Minor Traces of Rust with Oil and Heat
Next, use a paper towel and gently scrub the rust spots until they flake away. Dry any excess oil using a soft cloth, then heat it on the stove again to remove any remaining moisture. Completely drying it is especially important, since neglecting to do so will only add to your rust problems.
How to Remove Rust from Cast Iron using Dish Soap
While some of you might cringe at the thought of using soap or steel wool to clean a rusty skillet, sometimes it's the only way to get the job done. At this stage of the cleaning process, you aren't worried about preserving that shiny coat of seasoning on your pan, so scrubbing the pan with a rough scrubber won't hurt the skillet.
Cast iron is incredibly durable and can take some hard scrubbing if needed. Start by using a couple of drops of dish soap and just a little bit hot water. Remember, you want to avoid using too much water. Scrub the surface of the cast iron pan or dutch oven until all of the rust has been sanded off.
Rinse away all of that nasty grime and soapy water without soaking the pan. Once all the soapsuds have disappeared, use a dry cloth to remove soapy residue or leftover rust flakes. Place the pan on the stovetop to remove remaining water droplets.
Use a Sea Salt and Potato Scrubbing Combo
If the rust runs deeper than a quick scrub with dish soap and steel wool can fix, you can take the next step and use sea salt and a potato. I know. Using a potato actually works as a homemade rust cleaner.
Coarse sea salt acts as a natural abrasive, while the potato uses a natural chemical known as oxalic acid to breakdown rust and dissolve it. Together, they form a scrub.
How to clean rust from cast iron using this method begins by adding a layer of sea salt over the entire skillet. Slice the potato in half, then press the open surface against the pan.
Use the potato the same way you would a scrub brush to rub in the salt, using circular motions to scrape away rust patches. Once the salt has turned an orangey-brown color, rinse out the salt, dry the pan on the stove, and repeat the process as many times as necessary.
You can also use this technique to clean a rusted BBQ grill if the grates have accumulated a little rust after being outside for extended periods.
Add a Layer of Oil for Extra Working Power
When regular elbow grease isn't enough, sometimes adding a thin layer of canola or vegetable oil to the pan helps loosen up those rust spots. While the pan is still warm from drying during the first trial, add oil and coat the bottom with salt.
Scrub the rust spots the same way you did with the salt and potato, only this time use scouring pads or an old dishcloth to do the job. The oil and heat from the pan allow the salt to get deeper into those rust spots and remove even more from the surface. Rinse off and dry when finished.
This method is also just the thing for cleaning a burnt pan. If you have burned-on gunk on your pan after cooking, add a little oil and salt to scrub away the mess. It works like a charm.
How to Clean Rust from Cast Iron Using Vinegar
Vinegar is another fantastic solution, whether used alone or with a mild abrasive like baking soda. Typically used as a natural oven cleaner, white vinegar picks up where scrubbing with other products leave off. First, layer the bottom with enough baking soda to cover the surface.
Add vinegar to the pan in small increments until the baking soda stops bubbling. Let the mixture set in the pan for approximately 10-30 minutes. After the time has passed, begin scrubbing with a dishcloth.
If you still see noticeable rust stains after rinsing off the solution, coat the pan with pure vinegar. It's also one of the best ways to clean rust stains off aluminum pans. For difficult rust spots, let the vinegar settle over the surface of the cast iron overnight, or at least from 6 to 8 hours. After soaking with vinegar, rinse the pan and dry.
Use a Self-Cleaning Oven for Heavy-Duty Rust Cleaning
When all else fails, it's time to call in reinforcements. In extreme cases, using the self-cleaning function on your oven will burn off the rust coating your cast iron pan. Because the self-cleaning feature can reach temperatures of up to 900°F, don't do this with a small or thin piece of cookware.
Place the rusty cast iron skillet on the bottom rack of your oven and begin the process. Do not lay down aluminum foil like you would when you season a cast iron pan, as it will melt into the bottom of the oven.
Once the pan has survived the self-cleaning process, scrape off the charred rust from the surface of your skillet using a wire brush. Gently clean your cast iron pan after this process, either using mild dish soap or a few drops of vinegar. Rinse it thoroughly with warm water when done cleaning, then dry on the stove.
Removing Rust from Your Cast Iron Stove
Sometimes cookware is not the only cast iron object you need to clean. In some households, you need to know how to remove rust from cast iron stoves or how to remove rust from bathtub, as well. Many of the same products still apply, but you may need to shift tactics a little.
To get rust off a cast iron stove or tub, use a little bit of vinegar and something to scrub away the rust. Depending on how much rust there is on the stove, use either steel wool for smaller spots or a wire scraper for leverage when cleaning larger areas.
Wipe away any loose particles with a damp cloth, then heat the stove to dry the surface. Wipe the bathtub dry to prevent more rust from forming.
How to Remove Rust from Cast Iron Gates
When we talk about keeping an excessive amount of water off your cast iron products, we already know this is not the case with a raw cast iron fence. Fences and gates suffer all kinds of elements: extreme heat, snow, and, yes, rain. So while keeping your cast iron gate from rusting may seem like an effort in futility, it is still imperative to scrape away the rust as it forms.
While a wire scraper may work on a small rusty iron gate, it will get tiring when scrubbing along the entire fence. Instead, a small rotary hand tool goes a long way.
Some homeowners will even use a power sander on larger areas, but this will not allow you to maneuver around those small, tight crevices in the same way as a hand tool. After removing all the rust, paint it with a layer of outdoor sealant to protect it from rusting again.
Keep It Dry: The Number One Tip for Cast Iron Rust Prevention
The leading cause behind rust stains comes from too much water. If the owner of the cast iron cookware is unaware of the damage caused by excess moisture, it may be second nature for him or her to scrub off food by soaking the pan with soap and water, or by tossing the skillet into the dishwasher. Both options will cause rust damage without the owner knowing it.
When cleaning your cast iron skillet, all that is needed is a little bit of hot water on a dampened cloth. Wipe down the skillet and remove any food particles, then thoroughly dry on the stove. Failing to dry the skillet using the stovetop is another mistake cast iron cooks often make, instead of letting the pan air dry. This also allows moisture to settle in the pan and eventually cause rust.
If you have patio furniture made from cast iron, it's important to regularly maintain these items, as well. Cleaning outdoor furniture made from cast iron can be done in much the same way that you clean a cast iron skillet.
When the iron gets wet, dry it thoroughly. Apply a light coating of oil to protect the surface from rust and keep your cast iron furniture looking shiny and clean.
Prevent Rust by Seasoning Regularly
Another option for cast iron rust prevention is to season cast iron cookware often. Re-season the skillet or Dutch oven after every three or four uses. Letting the pan go too far in between seasonings will cause it to lose that non-stick coating and expose the iron to harsh elements that will damage its surface.
You can also use vegetable oil during and after cooking to prevent rust. Even though the seasoning on cast iron resolves the need to use oil while cooking, adding just a little bit will keep the seasoning from wearing down and reinforce the coating.
You can also wipe a drop or two over the surface of the pan after you have finished drying it. This will add to that layer of seasoning and prevent rusting.
When your cast iron cookware looks like it has finally bit the dust, assess the situation before calling it quits for good. Even those old cast iron skillets you find at yard sales may not be past the point of salvaging. Try these helpful tips before saying goodbye to your favorite cookware.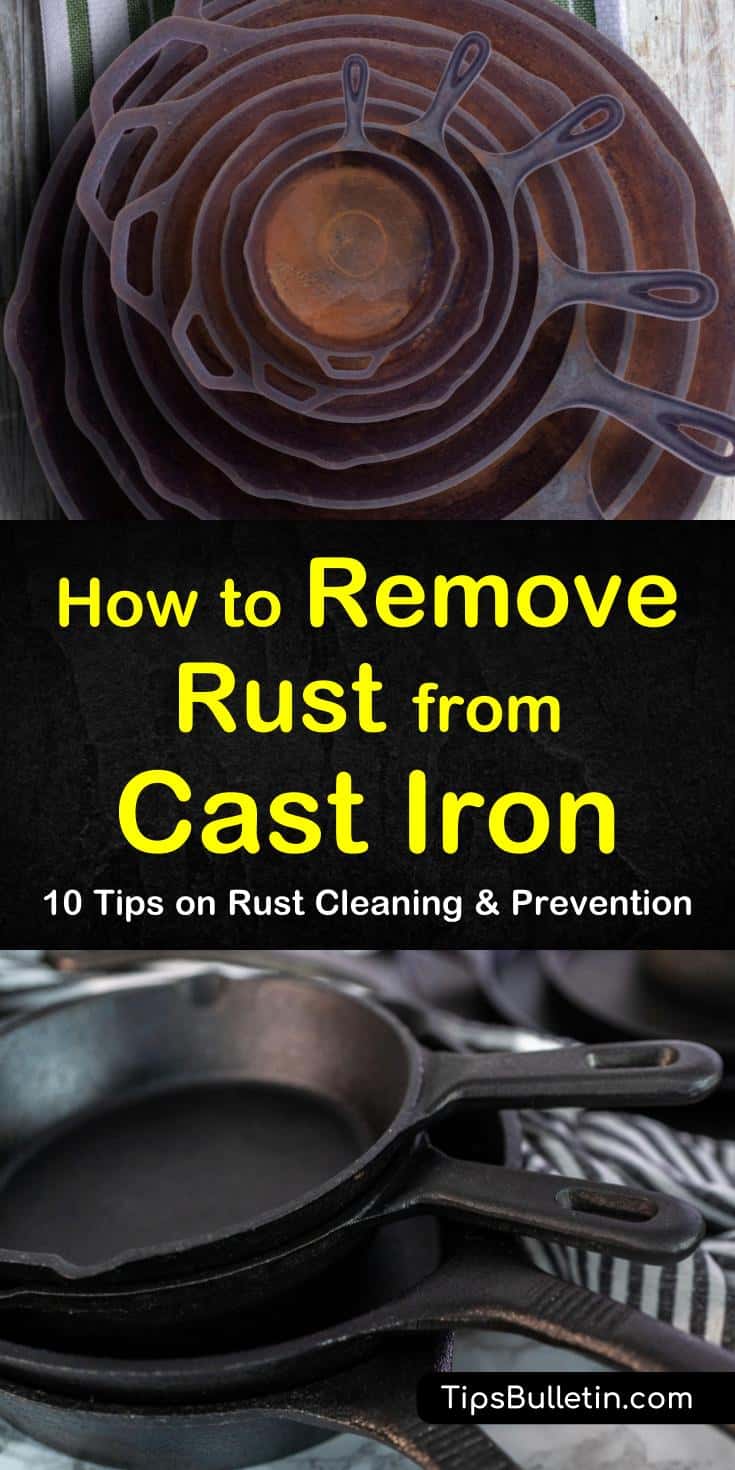 Hopefully, you loved these tips for cleaning your rusty skillet as much as you love your cast iron cookware. If so, please share how to remove rust from cast iron with friends and family on Pinterest and Facebook.