Changing our home's kitchen and bathroom countertops to granite brings it an updated look that adds to its desirability and value. Granite countertops are a durable choice, but that doesn't protect them from stains. It's essential to educate yourself about how to remove stains from granite so that you ensure they get properly taken care of, and you get the most extended life out of them.
Granite countertops aren't a new phenomenon, so creating new ways to remove stains from granite isn't necessary. Once you figure out how to get stains out of granite once, you remember it every time after that.
Most solutions for cleaning stone countertops involve only a few household ingredients. There are thousands of stone colors and patterns to choose from.
Black granite tends to hide discoloration better than other colors, but it also depends on the types of stains. Between oil stains, water stains, and mildew, removing stains from granite countertops takes a little bit of arm muscle.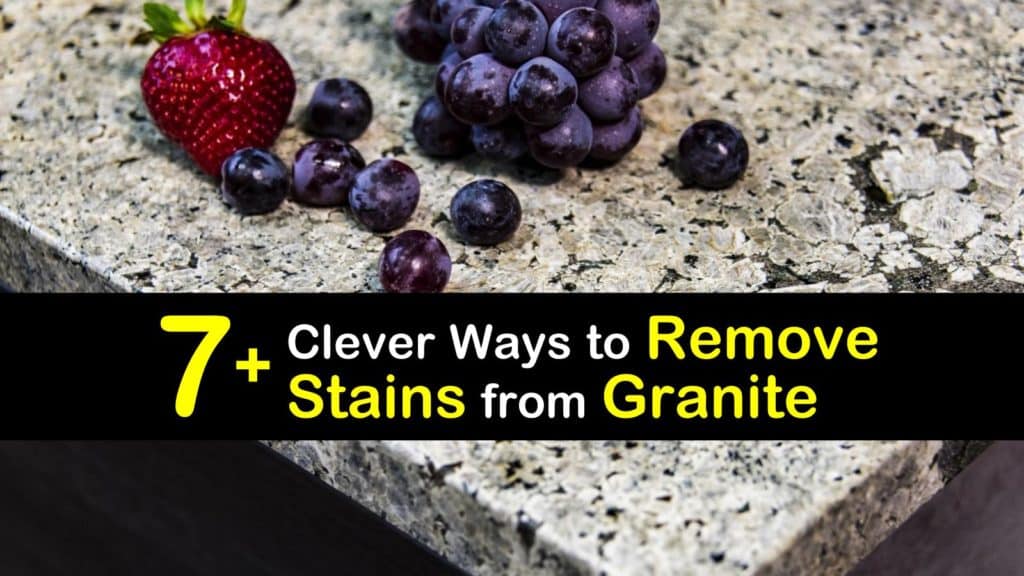 About Granite
Granite is a natural stone found deep in the Earth's crust. It is either coarse or medium-grained and usually contains quartz and feldspar. Granite is the most common of all plutonic rocks found in the crust and formed when magma cools.
Historically, granite was used mainly for tombstones. After some time, homeowners discovered how well this rock worked for kitchen countertops.
They're now stronger than other surfaces, like marble countertops, which has given people all the more reason to install them.
How to Remove Stains from Granite
We hope that you did your research about the rock itself before searching how to get stains out of granite. If not, don't worry. We've got you covered.
One of the hardest stones for purchase is granite. It is resistant to bacteria, heat, and scratches, but that doesn't mean it's indestructible.
Although granite does a better job at repelling stains that other surfaces, keeping cooking oil or water on it for too long without drying all the way will leak into the small crevices of your stone.
Try not to use ingredients with high acid or alcohol levels on your new countertops. Acids cause the stone to etch, leaving dull marks all over the surface.
Before you experiment with a new granite cleaner recipe, test a small area to ensure that granite cleaner is safe.
Ways to Remove Stains from Granite
Getting rid of a water stain on granite is one of the most common predicaments you'll find yourself in.
Sometimes we miss a spot, and as the water sits, the granite stain becomes more noticeable. Finding the right step for treating granite countertops may take a few tries, but there is sure to be one product that works best for you.
How to Get Stains out of Granite Safely
The safest solution for cleaning stone surfaces involves dish detergent and water. Finding mild dish soap, like Castile, or other gentle dishwashing soaps guarantees that you don't cause further discoloration.
Fill a spray bottle with the warm water and mix in a few drops of the mild soap until suds form. Spray the solution over the organic stains as a natural water spot remover. Wet a clean cloth under running hot water and squeeze out the excess.
If your faucet has hard water, try warming up bottled water in the microwave for a few seconds. With your damp cloth, scrub the stained area or use it over the entire surface.
Use a clean microfiber cloth to buff away the remaining wet spots and remove all moisture for a spot-free finish.
Using Peroxide to Clean Granite
Hydrogen peroxide is a miracle worker for removing oil stains from granite. This hefty liquid is infamous for its stain-fighting properties on most surfaces.
Peroxide also prevents the growth of mildew and other unwelcome bacteria. Pour a small amount of peroxide on the targeted areas of your new granite.
Allow the peroxide to sit for up to 15 minutes before dabbing it with a clean rag until the stain lifts. Run over the area with an absorbent paper towel to remove remaining wet spots.
How to Make a Poultice
A poultice paste works exceptionally well for stain removal on a granite top and is much safer than most cleaning products.
Using baking soda as the base creates mild alkalinity that dissolves dirt and grime with ease. This stain remover also acts as an odor cleanser and eliminates gross smells.
Combine equal parts water and baking soda to form a paste. Adjust each ingredient's amount if you plan to clean the entire countertop instead of one stained area.
To clean water spots on granite that may cause discoloration, spread the paste over the desired spot and cover it with plastic wrap. After sitting for 24 hours, use a plastic scraper to remove the stiff paste. Dampen a sponge or rag with water and wipe away the remnants.
How to Make a Peroxide Poultice
Another poultice to try is one made with peroxide. This paste is much stronger than the previous one, so remember to test a small, inconspicuous area before putting this all over the counters.
Always wear rubber gloves when handling strong chemicals like bleach or ammonia. Once your gloves are on, mix the ingredients and spread it over the stained area.
Cover the fresh putty with plastic wrap and allow it to sit overnight. Begin scrubbing the paste with a rubber scraper and use a wet cloth to wipe away the remaining spots of cleaner.
Cleaning Granite with Rubbing Alcohol
Even though our granite tops often look clean, they sometimes require a disinfectant to remove lingering germs. Isopropyl alcohol is the best ingredient for this and makes cleaning granite countertops a breeze.
Mix 50 percent water with 50 percent rubbing alcohol into a spray bottle. Add a few drops of essential oil for a more pleasant smell. Spray the liquid over the entire surface and then wipe until dry with a microfiber towel.
Apply alcohol directly to glue stains to clean super glue off sealed granite. Let it sit and gently scrape off the pieces with your fingernail.
How to Use Flour to Clean Granite
If you don't have baking soda or rubbing alcohol lying around, flour is the perfect consistency for making a paste, and it soaks up the stains, leaving your counters looking brand new.
Use a large bowl to blend the flour and soap. Slowly add water while stirring until it forms a thick paste. Apply a layer to your preferred area to tackle water stains on marble or granite and cover it with plastic wrap to sit overnight.
Use a dampened sponge or cloth to wipe away the flour cleaner and buff the tops dry with a microfiber towel, clean cloth, or paper towels.
Preventing Stains with Stone Care
Even if you know how to remove stains from granite better than anyone else, taking proper care of your stone surfaces is what helps prevent damage, to begin with.
Because stones are porous, adding a sealant inhibits liquids from penetrating the rock and damaging it for life. Reseal your granite countertops every six months.
Using Oil as a Sealer
One of the most natural ingredients that work as a granite sealer is tung oil. Be forewarned that not all oils are safe for stones and aren't safe for most surfaces.
Tung oil is one of the few oils that won't damage the stone. This oil comes from a tree in China and makes countertops extra shiny.
Combine equal parts water and oil in a plastic bowl. Metal bowls may cause a reaction with the oil, so avoid them.
Remove dust from the surfaces with a clean cloth, then soak a cloth in the oil and water until wet. Ring out the excess liquid and buff the sealant into the countertops. Allow the counters to dry before adding another coat.
Store-Bought Granite Products
There is no shame in using store-bought granite cleaners if that's what works best for you.
Local hardware stores are likely to have options of marble cleaners, stain removers, and sealants for you to choose from. If you're unable to find them at the store, shopping online is easy and sometimes cheaper.
Finishing with a Polish
After you've successfully removed the stains and applied a sealer, all that's left to do is give your granite one last polish for an extra sparkly look.
Although this step isn't necessary, it helps clean granite countertops that look the same from the day they were installed. Purchasing polishing wax and sponges is affordable and gentle and takes a short amount of time.
People will fawn over how good your kitchen looks and make you feel like the kitchen is the cleanest room in the house.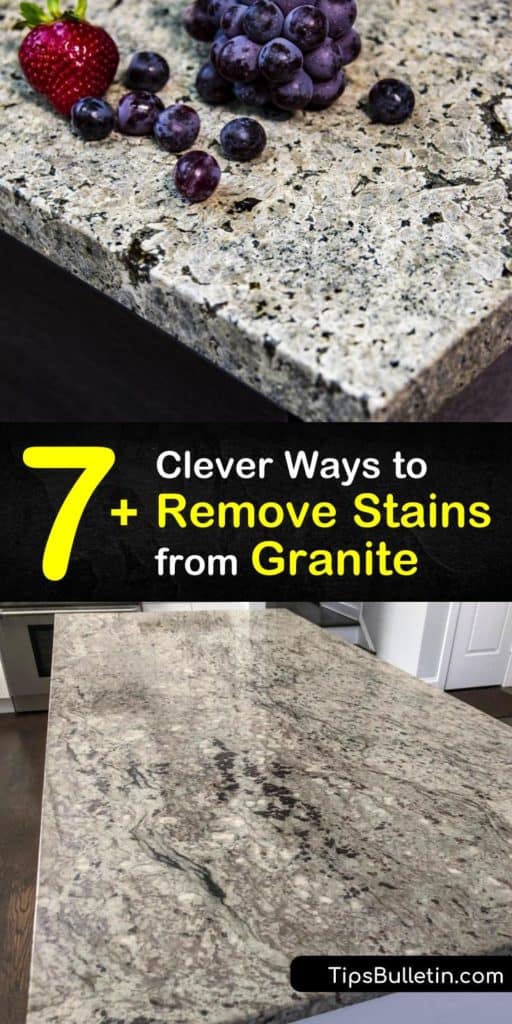 If this cleaning article helped teach you how to remove stains from granite, share these DIY granite cleaners on Facebook and Pinterest.