During small home improvement projects that demand super glue, some spills occur. If your kitchen countertops are granite, certain cleaning products damage the surface. You must learn how to remove super glue from granite with the proper solvents to prevent any scratches or discoloration of your granite.
Fortunately, a special trip to the hardware store is unnecessary to clean up super glue. Easy-to-find compounds effectively remove super glue stains on your granite. To get super glue off granite, common household solvents like nail polish remover, dish soap, and rubbing alcohol are excellent at breaking through glue bonds.
Super glue contains an adhesive that is much stronger than regular glue or tape. To loosen the adhesive hold of super glue, learn what solutions efficiently break through and loosen the super glue.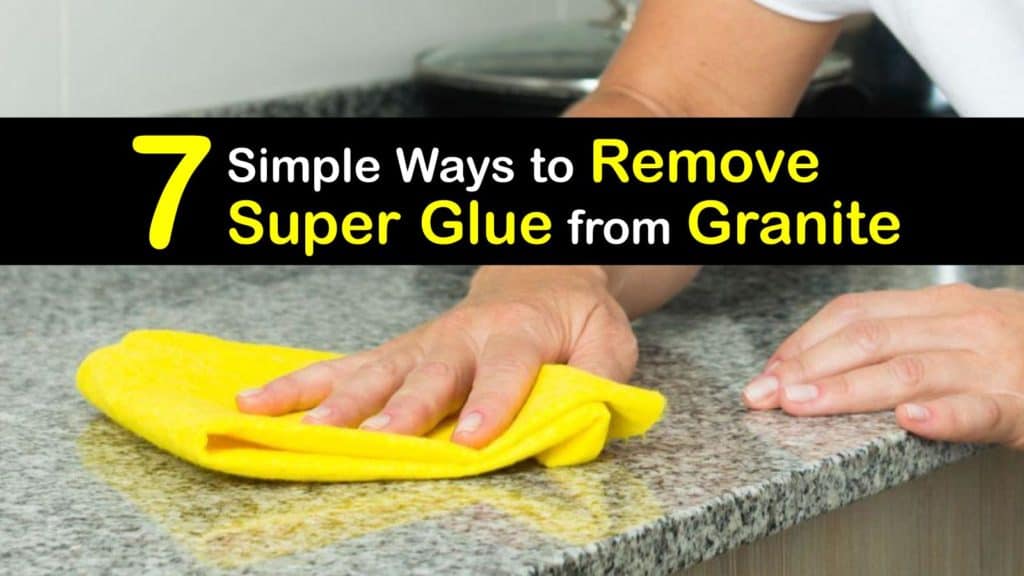 The Importance of Sealant on Granite Countertops
This article teaches you how to clean super glue off sealed granite without hurting your countertops. Additionally, we describe how to manage your granite countertops and keep them clean with the right cleaners.
A sealant is a critical factor if you have granite countertops in your kitchen or bathroom. Without a sealant, everyday spills have a higher chance of staining the granite.
Although sealing your granite is an investment, it prevents the granite from getting blemished. A good rule of thumb for granite countertops is to reseal them every two to four years.
If it becomes challenging to wipe up liquids or water does not bead up anymore, it is an indicator to reseal your granite countertops.
How to Remove Super Glue from Granite with Nail Polish Remover
For minor super glue stains on granite, utilize the powerful adhesive-loosening ingredients in nail polish remover. Make sure there is acetone in the nail polish remover you use to remove adhesive before treating a super glue stain on your granite countertop.
Soak a cotton ball or two in nail polish remover and rub the affected area in a circular motion. As you rub the glue stain, the adhesive loosens and wipes up with a paper towel.
After the acetone breaks down the sticky residue, use a damp paper towel to wipe away the excess. Disinfect the granite counter with a standard cleaning agent. When you use acetone, getting super glue off granite is simple.
Get Super Glue off Granite with Dish Soap
For tough super glue stains, dish soap is the answer. Dish soap is built to cut through grease, grime, and dirt quickly. Another advantage of using dish soap to treat a glue stain on granite is that it will not discolor granite.
For this natural granite countertop cleaner, pour the dish soap at the base of your mixing bowl before adding the warm water and a spoon to stir the dish soap mixture. Soak a cloth in the soapy water, lay it over the glue stain, and let it sit for 30 minutes.
Scrub the affected area with a paper towel until the stain loosens. With dish soap, making a DIY granite countertops cleaner is quick.
Clean Super Glue off Sealed Granite with Rubbing Alcohol
Rubbing alcohol is ideal for treating super glue stains on your backsplash or countertop or even taking super glue off your fingers. Rubbing alcohol destroys super glue adhesive and only takes a few moments to start working.
Rubbing alcohol is also used to clean granite tile floors and natural stone countertops because it acts as a disinfectant. It is also what gets super glue off plastic surfaces, as well.
To remove super glue with rubbing alcohol, soak a cotton swab or cotton ball in the liquid. Continue scrubbing the excess glue with the cotton swab until the adhesive frees.
Use a damp cloth to clean the excess rubbing alcohol and adhesive residue. If the rubbing alcohol stays on granite too long, it may tarnish the counter.
How to Scrape Excess Super Glue off Granite
No matter what method you choose to dissolve Gorilla Glue off sealed granite, there may be a bit of excess adhesive that remains on the surface.
Instead of repeating the super glue removing steps, learn what tools scrape off super glue residue without damaging or scratching granite. Items like sandpaper or a razor blade may accidentally scratch the granite while cleaning the remaining glue.
A plastic putty knife is a great tool to scrape off glue residue. If you have to loosen super glue, soak the affected area with a damp cloth soaked in hot water.
After five minutes, gently press a plastic putty knife along the glue stain. When the adhesive bonds break, a plastic putty knife swiftly lifts the remaining glue.
Products to Avoid When Cleaning Granite
There are a few common household cleaning agents to avoid using on granite surfaces. White vinegar, although effective as a bathroom cleaner, damages granite.
The acids in the vinegar destroy granite sealants and alter the color of your granite, forcing you to reseal the counter.
Other popular solvents that may hurt granite include bleach, lacquer thinner, and Windex. Bleach is a potent disinfectant but cuts through granite and permanently stains the counter.
Never use abrasive scouring pads when cleaning your granite, as they scratch the material.
How to Maintain Clean Granite Countertops
As soon as you accidentally pour something on granite surfaces, wipe it up with a paper towel or microfiber cloth. Compared to marble countertops, granite does not soak up as many oils and liquids.
Even though granite is less susceptible to stains than other materials, clean messes right away as a preventative measure.
For everyday spills, use a damp cloth soaked in warm water for cleaning. The longer liquids sit on granite, the higher the chances are of a stain. Understanding how to remove super glue from granite countertop is crucial to keeping your counters in the best condition.
How to Make an Everyday Granite Cleaner
Making a DIY granite cleaner is much simpler than you may realize. An everyday cleaner must efficiently clean up messes, disinfect the counter free of germs, and protect your granite at the same time.
Kitchen countertops are prone to bacteria and germ build up because of how often they are used. Eliminate as many germs as possible to avoid sickness.
Carefully pour each of your ingredients into a glass spray bottle. Swish the liquid before using it, so your DIY cleaner has a uniform consistency.
After spraying the solution on your granite surfaces, wipe with a microfiber cloth. A microfiber cloth is gentle on granite and prevents potential scratches. Try this remedy for hard water stains on granite, too.
Super glue stains do not have to ruin your day or your granite countertops and floors.
Because super glue has a much stronger adhesive grip than regular glue or tape, learn the best agents to use. Granite with a sealant acts as a protective layer like plastic wrap protects food.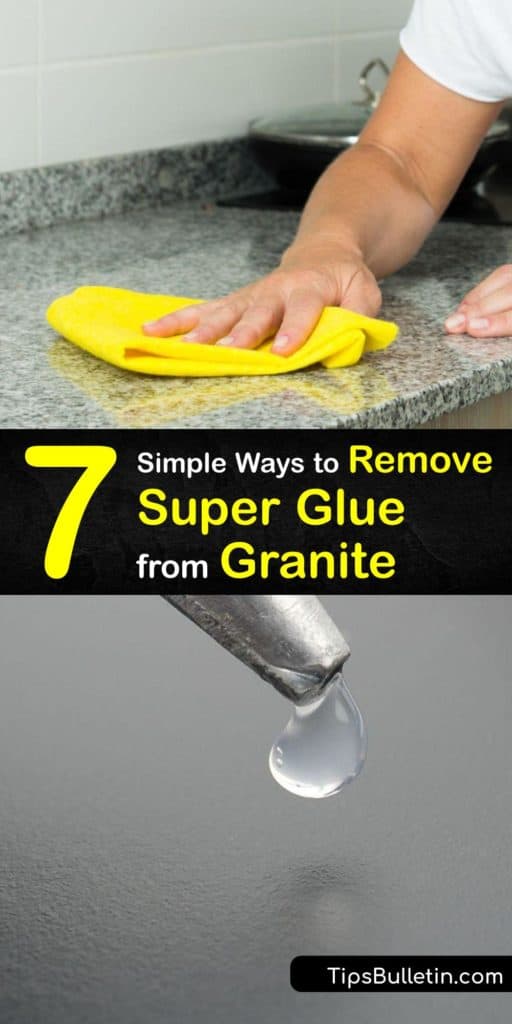 If you learned how to remove super glue from granite, share these tricks to get super glue off granite with your neighbors and friends on Pinterest and Facebook.