One minute you're working on a simple home improvement project or decorative craft for your wall, and the next minute, you have super glue all over your skin. Super glue is helpful when it sticks to the items you put it on, but when it sticks to your skin, that's a different story. Now, you have to figure out how to remove super glue from skin.
The great thing is that super glue, known as a cyanoacrylate, won't harm you. While it might take a few home remedies to clean super glue from skin, it eventually comes off. Until then, it could cause some slight irritation, mentally and physically.
Chances are, you'll pick at the pieces, driving yourself crazy. A quick check online results in dozens of home remedies for removing super glue, but how do you know what works? We went through all the tricks and found the best ones so you won't waste time on useless tips.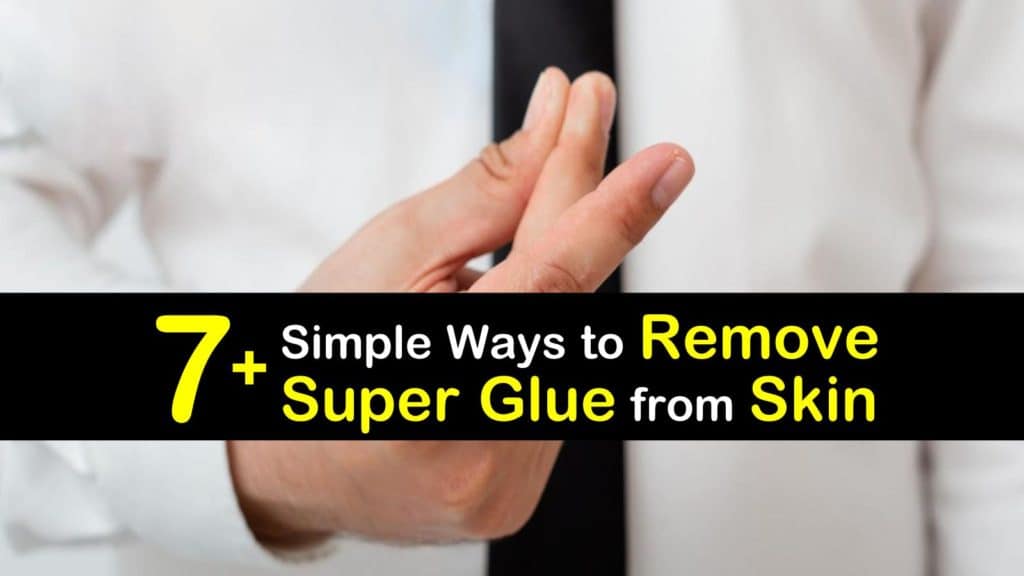 Easy Ways to Get Super Glue off Skin
Undoubtedly, after getting glue all over your hands, you want to find the best way to get Gorilla Glue off your skin. You're in luck; you can find many home remedies for removing super glue.
Since it's a common issue, people try everything to get super glue off fingers. Check out some of the popular tips for how to remove super glue off skin.
Soak Your Hands in Warm Water
If the super glue isn't dry, soaking your hands in warm, soapy water helps remove Krazy glue. Put warm water in the sink or bucket – not hot – water and soap.
Laundry detergent or dish soap works fine. Soak your hands for five to ten minutes. At this point, the glue will be soft and peel off easily.
You can also use mild soap and water as super glue remover from glasses. It's gentle enough not to scratch the lenses.
The Best Way to Get Super Glue off Your Skin is Acetone
Gluing fingers together is never fun, and what takes super glue off skin the easiest is acetone or nail polish remover. Acetone cleans super glue from skin in no time since it's a DIY adhesive remover for skin.
Nail polish removers are a strong solvent that dissolves super glue. If you have sensitive skin, experts recommend not using acetone; it could cause a rash or irritation. People with eczema or dry skin should also avoid nail polish remover.
Using acetone is easy, but never use it on injured or broken skin. It's not safe for internal use. Otherwise, the steps to remove super glue with nail polish remover are easy.
Try acetone to get glue off plastic surfaces, as well. It usually does the trick.
How to Get Super Glue off Skin with Acetone
Pour nail polish remover into a bowl and let your hands soak for one minute at a time, checking the bond often. If it's a small spot of dried glue, soak a cotton ball or cotton swab in acetone and let it set on the area for one to two minutes.
Apply lotion or a skin moisturizer afterward because acetone dries out skin. While not as popular, rubbing alcohol is a substitute if acetone isn't readily available.
Rubbing alcohol is a better choice if you glued skin to plastic because it won't destroy the plastic. However, some say it doesn't work as well.
Use Butter and Oils for How to Remove Super Glue from Skin
This home remedy doesn't make sense at first but works for many people. If your fingers are stuck, using butter or oils, such as coconut oil or olive oil, separates stuck fingers.
Soak your hands in warm soapy water, and rub oil or butter on the super glue. Keep adding more and massaging the area until it's gone.
Using olive oil or butter might take longer, but if you don't want to risk damaging your skin, it's a safe alternative. If you're health-conscious and only keep margarine in the house, that works as well.
Make a Coconut Oil and Baking Soda Paste
If straight oils didn't work, one secret trick is to use coconut oil and baking soda mixed, creating a paste. Combine the same amount of coconut oil and baking soda, then apply it to your skin.
Let the paste soak for 10-15 minutes before rubbing with a soft toothbrush. If you don't have coconut oil, olive oil or avocado oil works the same.
The idea is to create a paste with baking soda; the kind of oil used isn't important. Baking soda also takes hair dye off skin. Wash your hands with dish soap to remove the oil residue.
Get Super Glue off Skin with a Pumice Stone
If you want to get super glue off skin without nail polish remover, scrubbing it off with a pumice stone works as well. Most people use a pumice stone to remove calluses and dead skin, but it also removes dried glue.
Before using this method, soak the area with warm soapy water to loosen the skin and reduce the risk of damaging your skin. Rub the stone in a circular motion until the glued area is gone.
If you don't have a pumice stone at home, an emery board or sandpaper works as well. Use high grit sandpaper, such as 320, which is less likely to damage your skin while sanding.
Sandpaper is effective on wooden surfaces as well. If the super glue is on a wooden table or other wood surfaces, use fine-grit sandpaper to grind it away carefully.
Give Lemon Juice a Try
A lot of people prefer to remove super glue from skin without acetone. If that sounds like you, try lemon juice instead; it uses acid in a different form.
Put lemon juice in a container and soak the area for five to ten minutes. Then, take a soft toothbrush or cotton swab and rub it over the super glued area to loosen the glue. Wash your hands and use lotion to moisturize the skin afterward.
Lemon juice also works if you end up with super glue on surfaces. Unlike nail polish remover, lemon juice won't damage surfaces unless it's a dark surface. Don't use lemon juice on fabric because it acts as a bleaching agent.
Make a Salt Paste
Another remedy to get super glue off of skin is a salt paste. Salt is abrasive so that it scrubs away the super glue.
Put the salt in your hands or over the glued area. Add a bit of water and rub together until it turns into a paste. Scrub the glued area for 30-60 seconds and rinse it off slightly. Keep rubbing until all the salt is gone, and at that point, the glue should be gone as well.
Try a Soak in Mineral Spirits
Another common home remedy to get super glue off skin is mineral spirits, which acts as a solvent to dissolve the super glue on your skin. Like many other tricks, using mineral spirits to remove super glue requires soaking the glued area for up to 15 minutes.
Once softened, use a dry dishcloth or soft toothbrush to rub over the super glue. It should come off with ease if soaked long enough.
Rub with Petroleum Jelly
The idea behind using petroleum jelly is similar to using butter and oil. It helps loosen the bond of the super glue. Before using the jelly, wash your hands with warm soapy water.
Apply the petroleum jelly liberally over the glued spot, and then use a nail file or emery board to scrub the affected area. Keep rubbing for a minute or however long it takes to get the glue off. Repeat until it's gone, and wash your hands.
Don't Forget using Glue Removers
Check the local craft store for glue removers. It's a quick, simple solution that won't damage the skin. This trick is recommended when you accidentally glue your skin to plastic. Acetone eats plastic, so glue remover works best.
Even if several hours pass, glue removers work well. The added cost of purchasing a bottle might not be affordable for all, and if you don't have a craft store nearby, this method might not be an option.
Try Goo Gone for Countertops
If you ended up with super glue on the countertops, one safe removal option is Goo Gone. It's available at most stores in the cleaning supply aisle. Apply Goo Gone liberally to clean super glue out of Corian countertop and rub with a washcloth or toothbrush.
The good thing is that there are multiple ways to figure out how to remove super glue from skin. While not appropriate for sensitive skin, most people consider nail polish remover the best way to get super glue off your skin. That comes with the risk of irritation.
If you need to get super glue off skin without nail polish remover, using oil, such as olive oil or coconut oil, tops the list as well.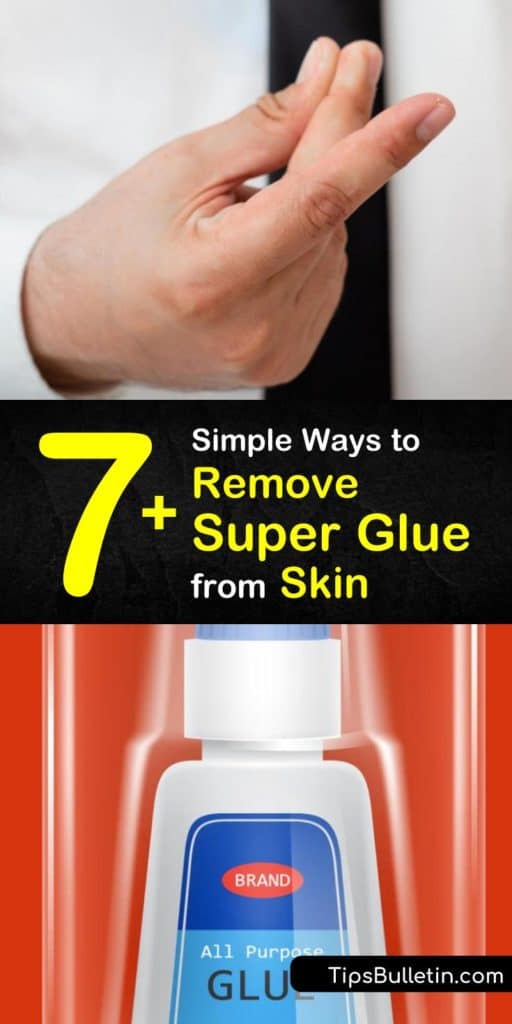 If you found these tricks on how to remove super glue from skin helpful, share these super glue removing tips on Facebook or Pinterest.