Bread and bakery items are some of the most commonly bought grocery products in most households. If you didn't know already, there are proper techniques for how to store bread that give it longer shelf life.
Stale bread tastes nowhere near as good as freshly baked bread. For this reason, it is critical to know where to store bread and what techniques are useful in keeping bread fresh. We provide you with smart tips and tricks for storing bread and teach you how to keep bread fresh.
Additionally, this article shows you a variety of bread recipes perfect for using up an extra loaf of bread. These delicious bread recipes transform a whole loaf of nearly expired bread into a tasty meal.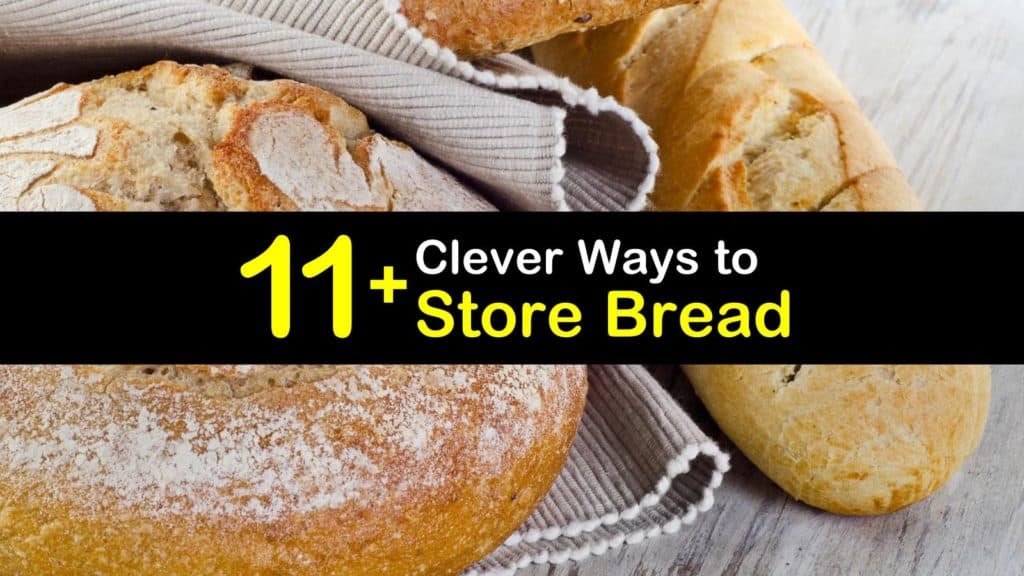 There are a Variety of Ways to Store Bread
The best way to store bread or the best way to store milk or any other product depends on your personal preference, what supplies you have, and how fast the food spoils without preservation.
Thankfully, there are numerous techniques for how to store bread to prevent it from becoming stale and crusty.
Whether you prefer to store bread in the fridge, freezer, or bread box, we show you the correct way to extend your fresh bread's overall shelf life.
Storing Bread in the Freezer
One effective way to preserve a whole loaf or a sliced loaf of bread is to freeze it. When you freeze bread, the molecules move slower, which causes microbes to remain dormant. Does bread go bad? Unfortunately, yes. However, freezing bread prevents the growth of new microorganisms that cause mold and staleness.
To preserve fresh bread or a loaf you bought from the store, wrap the bread tightly in a freezer bag before placing it in the freezer. When you are ready to defrost your loaf of bread, set it in the fridge to prevent sogginess.
The Best Way to Store Bread using Paper Bags
The best way to store bread if you are planning on eating it within a couple of days is to use a paper bag. Knowing how to store bread using paper bags is simple and uses a commonly found material.
Store fresh bread in paper bags, which you can find at grocery stores. Keeping homemade bread fresh this way works well if you do not have time to buy other items that keep bread fresh.
Place your bread in a paper bag and keep it on your counter at room temperature. We recommend a paper bag over plastic—the plastic bag speeds up mold and bacteria growth.
How to Store Bread using Bread Boxes
The best way to store bread while also adding to your kitchen's style is with a bread box. Whether it's a store-bought loaf or homemade bread, these specially designed boxes help keep bread fresh.
The boxes feature tiny holes, which allow air to circulate while preventing mold. If your home is more moist and humid than usual, we recommend storing bread in an airtight container to block excessive amounts of water from absorbing into your bread.
Knowing the Ideal Location to Store Bread
Knowing where to store bread is essential to prolong the life of the product. The preservatives in bread produce mold and bacteria when stored near any area that emits heat.
It is best if you don't keep your bread near a dishwasher or on the top shelf of your refrigerator. Storing bread in a cool, dry place is the ideal location to preserve your bread.
A pantry is an excellent place to store your bread. However, if you live in a humid area, we recommend storing your bread on your refrigerator's middle shelf.
Adding an Extra Slice of Bread to Absorb Moisture
There are several ways of storing bread. If you are storing sliced bread, adding an extra slice of bread in your bread box or bag helps absorb moisture. Place the extra slice of bread on top of your loaf to absorb excess water.
This method for how to store bread helps prolong the shelf life of your sliced bread you're storing in a bread box.
Utilizing Bread Bags to Keep Bread Fresh
Understanding how to store bread with bread bags is an easy and eco-friendly way of storing bread. Bread bags are reusable, machine washable, and work in the freezer.
Place your loaf of bread in the bread bag and store it in the freezer or pantry. Bread bags do not tear as easily as paper bags. Additionally, bread bags are made of breathable materials that keep bread fresh.
Amazing DIY Bread Recipes
Some people believe that following a bread recipe is complicated. However, we offer you six unique ways to use an extra loaf of bread you may have leftover and transform it into a delicious meal.
Baguette Garlic Bread Recipe
Garlic bread is a popular side with many different meals. Baguettes are the perfect bread for this recipe because they are crispy and easily absorb the ingredients.
Preheat the oven to 350℉ and place the baguette on a baking sheet lined with aluminum foil. Cut the baguette on its side, similar to a hot dog bun.
Mix the butter and garlic powder until it forms a paste-like material. On the baguette's cut side, spread the butter evenly on both halves before baking for 15 minutes. This bread recipe is sure to add an extra tasty element to any meal.
Baking Homemade Sourdough Bread
Although baking homemade sourdough bread is time-consuming, the exceptional taste makes up for the long wait.
Whisk the ingredients in a large bowl until everything absorbs into the bread flour. Cover the bowl with a sheet of plastic wrap, sit for one hour, and then work the dough into a ball.
Next, cover the bowl with plastic wrap and set it next to a warm spot, like a toaster. The bread is ready when it has expanded to double its size, which takes 3 to 12 hours.
Shape the bread dough into a large ball or two smaller ball-shaped circles before letting it rise a second time. Place the dough in an oven for an hour to let it rise again. Finally, bake the bread at 400℉ for 20-40 minutes until the bread is golden brown.
Using a Baguette to Make Homemade Croutons
Baguettes are an excellent artisan bread to use for homemade breadcrumbs or croutons.
Preheat your oven to 350℉. As the oven is heating, mix the ingredients in a large bowl. Cut the baguette on the side and place the halves on a baking sheet.
Spread the seasoning on the bread and bake for 15 minutes. Finally, cut up the bread into small pieces and enjoy!
Delicious French Toast Recipe
If you're looking to use up an extra loaf of bread, making French toast is a tasty way to utilize it.
Start by mixing all the ingredients other than the bread in a bowl. Heat a skillet or griddle to medium heat. Cover each side of a slice with the mixture in the bowl and place it on the griddle until it is golden brown on both sides.
French Toast with Strawberries
If you're looking to bake a creative version of French toast, adding strawberries and forming them into a bake is a great way to use a loaf of bread.
Mix your strawberries with the sugar and combine the sugar, cream cheese, and vanilla extract in a separate bowl until smooth. Place half the bread at the bottom of a baking dish and layer the cream cheese mixture over it.
Layer the strawberries on top. Whisk the eggs and cream together to pour over the top. After the pan sits in the refrigerator overnight, preheat your oven to 350℉ and bake uncovered for 45 minutes.
Using Sourdough to Create a Meatball Casserole
This sourdough bread recipe is a creative way to whip up a quick and delicious dinner.
Microwave the meatballs for six minutes while brushing olive oil on one side of each slice of bread. Bake the bread at 350℉ until the slices are golden brown. Spread the garlic on the bread before ripping the bread slices into bite-sized pieces.
Place the bread in a baking pan and add a mixture of pasta sauce, cheeses, and meatballs on top of the bread. Bake at 350℉ for 15-18 minutes until all the cheeses melt.
If you have leftover bread that is a little stale or has gotten moldy, composting bread rather than throwing it away is an option if you have a compost pile or bin. It's considered a green material.
Storing bread can be done in a variety of ways. Paper bags, bread boxes, and bread bags are all utilized to prolong your freshly baked bread's shelf life.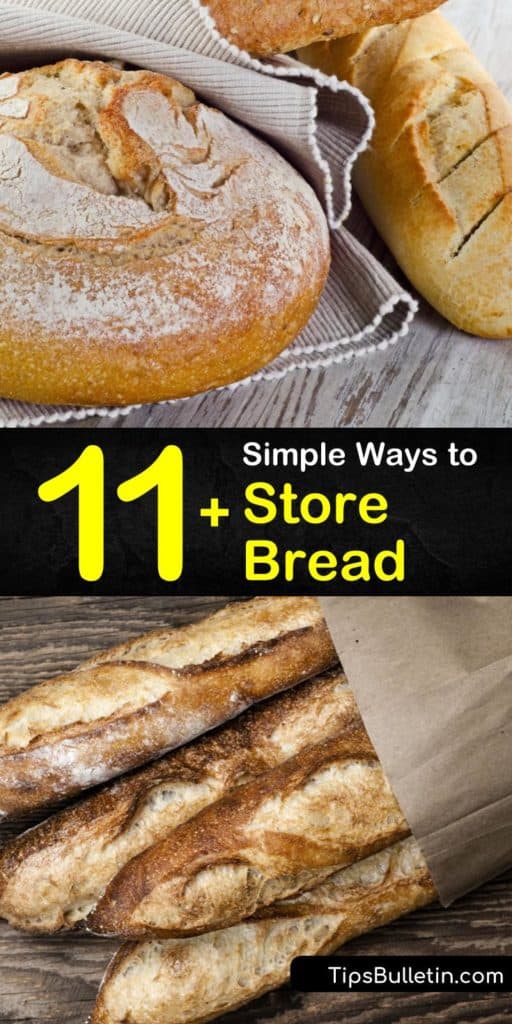 If this article gave you helpful tips and lessons for how to store bread, please share these tricks about storing bread with your family on Pinterest and Facebook.