While you may think that your local home improvement store is the go-to place for fertilizer, everyday items around your home work wonders to feed outdoor and indoor plants. Believe it or not, the leftover coffee grounds in your coffee maker are an excellent choice for feeding plants. Learn how to use coffee grounds as fertilizer for your houseplant or vegetable garden and stop throwing away perfectly useful leftovers.
With all the chemicals added to our food these days, organic gardening is becoming more popular than ever. It may surprise you to find that your kitchen has precisely what your plant needs to flourish, whether you're growing tomato plants, hydrangeas, or blueberry bushes.
There are many ways to fertilize garden soil to promote healthy plant growth, from compost material and leftover banana peels to eggshells and spent coffee grounds. So, before you toss those leftovers into the trash, consider using them to feed your potted plants and veggies.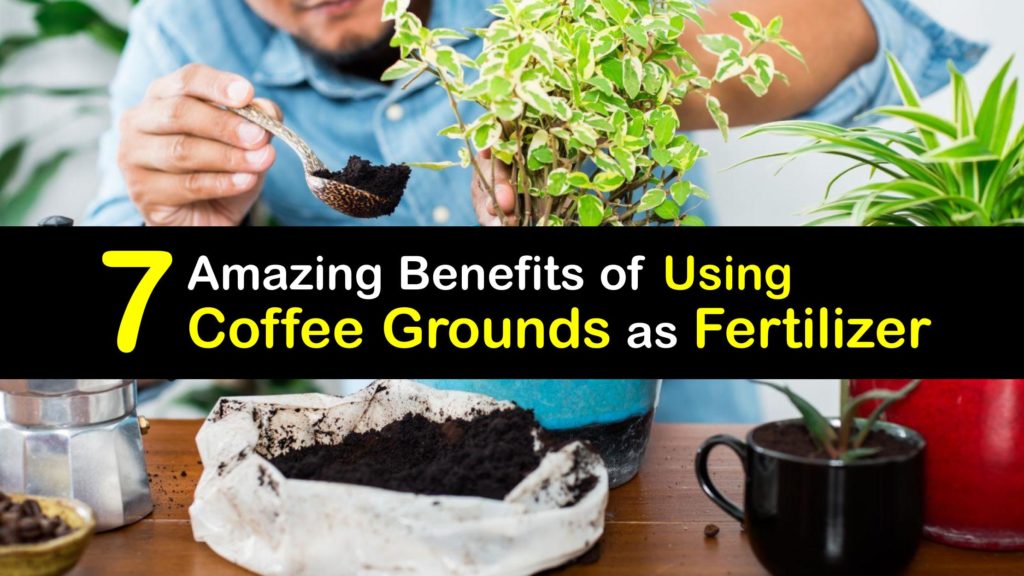 Using Coffee Grounds to Fertilize Plants
If you're a coffee-lover, you probably have coffee every day. Why not put all those leftover grounds to good use? Discover how coffee grounds help plants and different ways to use old coffee grounds and fresh grounds as fertilizer.
In addition to coffee grounds, there are many kitchen leftovers that are good for the garden. Enjoy the benefits of rice water, pasta water, banana peels, and more, as they contain nutrients that plants love.
Is it Safe to Use Coffee Grounds to Fertilize Plants?
We all know that plants thrive from mulch, grass clippings, dried leaves, and other organic matter, but is it safe to use coffee grounds to fertilize plants? Find out which plants enjoy a good drink of coffee now and then and which ones to avoid feeding fresh grounds.
Coffee grounds are safe to feed most plants. The key is to understand your plants and soil pH to determine which type of natural fertilizer to use.
For example, fresh coffee beans are acidic and perfect for feeding acid loving plants, like azaleas, nasturtiums, hydrangeas, rhododendrons, and blueberries. Old coffee grounds have a neutral pH and are suitable for feeding plants that do not require acidic soil.
What are the Benefits of Feeding Plants with Coffee Grounds?
Plants have a lot to contend with as they grow, and coffee helps solve many of these problems. Explore the reasons to use coffee grounds to fertilize plants, from adding nutrients to the soil to deterring pests.
Coffee grounds add nitrogen to the dirt and compost, promoting lush leaf growth. Additionally, it acts as organic material, improving soil drainage and aerating the ground, allowing the plant roots to absorb moisture and nutrients. It improves the overall condition of the dirt and its ability to retain water, which means your plants require less watering.
Slugs, snails, and other common pests cannot stand the smell and taste of coffee and avoid areas where you apply coffee fertilizer. Cats also hate the smell of the grounds and look for more suitable places to take care of their business. On the other hand, coffee grounds increase the worm population vital to plant root health.
Using Coffee Grounds as Organic Fertilizer Mulch
Mulching is a common practice for preventing weed growth. Using coffee grounds as organic fertilizer in mulch is an excellent way to give your plants what they require while keeping weeds at bay.
Mix coffee grounds with your mulch of choice, whether shredded leaves, wood mulch, or grass clippings, and spread it at the base of your plants. The coffee mulch slowly adds nutrients to the soil, prevents moisture from evaporating, keeps the ground cool during the hot summer, and retains heat during the winter. It also stops weeds from spreading and prevents weed seeds from germinating,
How to Use Coffee Grounds as Fertilizer in the Soil
Coffee grounds contain a decent amount of nitrogen, essential for plant health. Use spent grounds as a slow-release fertilizer for your plants to give them this necessary nutrient. Note that indoor plants like coffee grounds just as much as your outdoor ones.
Coffee Grounds Nitrogen Fertilizer
Coffee grounds have nitrogen with small amounts of potassium, phosphorus, and micronutrients. Work coffee grounds into the soil with your hands before planting, and it slowly releases these nutrients. The coffee breaks down gradually, encouraging root and plant growth.
Another great waste product for your plants is the shells from your eggs. Eggshells help houseplants grow as well as those in the garden. They also deter slugs.
Using Diluted Coffee as a Liquid Plant Fertilizer
Using coffee grounds as organic fertilizer promotes plant photosynthesis while keeping harmful insects away. Prepare a liquid fertilizer with diluted coffee as a foliar spray or soil drench.
Pour five gallons of water into a watering can and add two cups of old coffee grounds. Swish the liquid around and let it steep overnight. To feed the soil after you make your own DIY fertilizer, pour the liquid into the ground around the plants. If you prefer to treat the plant's foliage, strain the liquid into a spray bottle and apply it to the plant leaves and stems.
Composting Coffee Grounds for Plant Food
Another way to use leftover coffee beans and grounds as fertilizer is to add them to the compost pile. There are advantages to composting organic material, and it's easy to make coffee ground compost.
When composting coffee grounds, keep in mind that the grounds are a green compost material, and they need to be balanced with brown compost material. A good mix of green and brown materials ensures that the compost pile heats up.
Food scraps, manure, freshly pulled weeds, and grass clippings are examples of green materials, and dry leaves, sawdust, straw, newspaper, coffee filters, and corn stalks are all brown composting materials. When you put coffee grounds in the compost bin, consider layering equal amounts of coffee grounds, fresh grass clippings, and leaves in the compost bin for best results.
How to Make a Homemade Fertilizer with Coffee Grounds
Coffee grounds aren't the only items in your home that benefits plants. Cinnamon helps fight mildew while driving away pests, and it's even better when you combine it with coffee. This instant coffee fertilizer is easy to prepare and gives your plant the boost it needs to thrive.
Pour the club soda into a container or pitcher and add the unwashed coffee grounds and cinnamon. Stir the ingredients and pour the liquid fertilizer into the potting soil of your houseplant or the bed of your outdoor plants.
The coffee provides the plant with nitrogen, while the cinnamon deters harmful insects – ants hate coffee grounds. Club soda contains oxygen, carbon, hydrogen, sodium, phosphorus, and potassium sulfur, essential for plant production.
Coffee grounds are the ideal food for plants, especially acid-loving plants. Add the grounds directly to the soil or compost heap, or make liquid coffee ground plant food and watch your indoor and outdoor plants flourish.
Now that you know how to use coffee grounds as fertilizer to promote plant growth, why not share our coffee ground fertilization tips with your family and friends on Pinterest and Facebook?