We all know that most leafy greens are one of the healthiest vegetables that we can eat. Even if you aren't Popeye and strictly living off leafy vegetables, a couple of plants are considered superfoods compared to the rest. When comparing kale vs spinach, it's not always easy to tell which one is genuinely better for you.
They don't look quite the same, but is it safe to assume that there isn't much difference between kale and spinach in their nutritional value?
Green vegetables like chard, collard greens, and other dark green veggies aren't all the same, but these green vegetables are some of the healthiest options.
They offer different benefits to our bodies individually. While many people substitute spinach for kale, it's essential to take a deeper look into why these nutritional powerhouses are so good for us.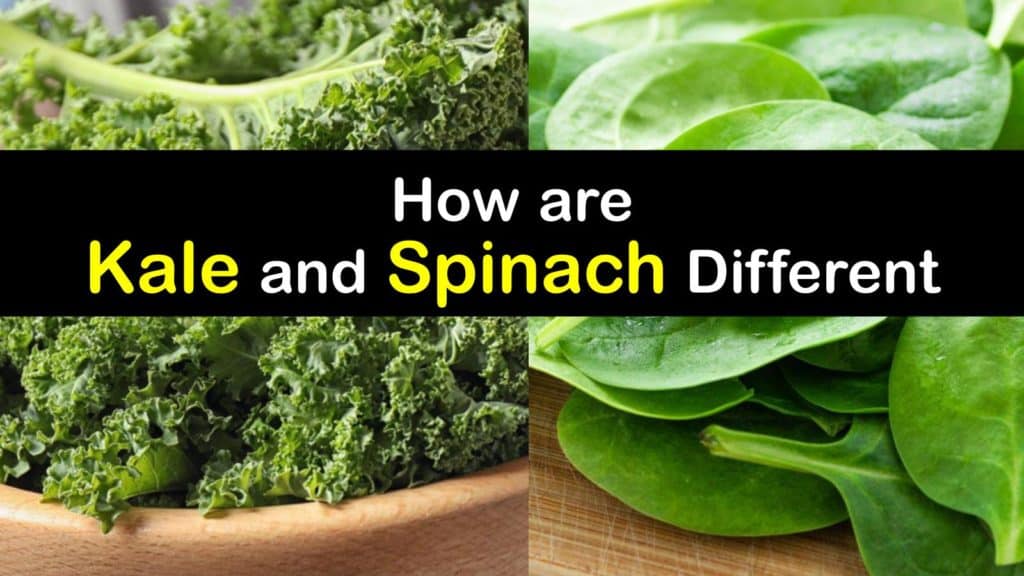 The Difference between Kale and Spinach
It's a little obvious that these two green veggies are somewhat similar, like arugula vs spinach, but are there any significant differences? Let's compare kale vs spinach by examining their nutritional makeup and the advantages each one offers. Note that kale is a great substitute for collard greens, too.
What is Kale?
Before you agree to substitute spinach for kale, or vice versa, gain a better understanding of what each plant is.
Kale is a popular type of leafy green that belongs to the brassica family. This family includes many cruciferous vegetables such as Brussels sprouts, cabbage, collards, and more. It's easy to learn the way to grow kale from seeds, just as it is spinach.
The different types of kale are extremely rich in vitamin K. It also contains vitamins A, C, and B6. On top of that, it contains folate, thiamin, iron, manganese, calcium, phosphorus, and potassium.
Kale is known for its dark green color and curly leaves and is full of antioxidants called carotenoids and flavonoids.
The two main carotenoid types are beta-carotene and lutein. There are over 45 flavonoids in kale, which are crucial as an anti-inflammatory and for fighting certain cancers.
What is Spinach?
Spinach is yet another leafy green from the Amaranthaceae family. Other members of this family include beets and lettuce. The different varieties of spinach originate in central and western Africa.
The edible leaves are best served fresh, frozen, canned, or dehydrated. While it is primarily rich in iron, it contains vitamin C, K, E, and B6. It is also a great source of magnesium, manganese, potassium, folate, riboflavin, and calcium.
The antioxidants present are mainly carotenoids with fewer flavonoids than kale. One benefit to this leafy green is the presence of omega-3s and fatty acids to protect the lining of our digestive tracts.
When you compare baby spinach vs spinach, they are basically the same. Baby spinach is the younger of the leaves, while large spinach leaves have been on the plant longer.
Is raw kale or spinach better? We aren't quite ready to make that distinction yet.
Kale vs Spinach
It's not always easy to compare kale vs. spinach because there are many similarities. The most obvious is that they are two leafy, edible plants.
Both have a high nutritional value and anti-cancer properties. The health benefits are similar. Still, there are a few slight differences to observe.
There is only a minor difference between kale and spinach when you look at their entire nutritional makeup.
A single cup of kale and spinach both have about seven calories and one gram of carbohydrates. Raw spinach is much higher in vitamin A and K, yet kale has more riboflavin and calcium.
Spinach is exceptionally high in oxalate, a compound that prevents your body from absorbing too much calcium. This compound could create kidney stones if eaten in excess.
Boiling spinach reduces the oxalate by 87 percent. Always speak to a registered dietitian if you are concerned about oxalate levels or have any health issues.
Kale contains goitrin that interferes with people's thyroid function. Therefore, too much kale could impact your metabolism.
Is one of these leafy greens really healthier than the other? Not really. Both are low in cholesterol and help regulate heart disease, blood pressure, bone health, blood clotting, the cardiovascular system, and the immune system.
Is it Possible to Substitute Spinach for Kale?
Because they are so similar, substituting these greens for one another is a great idea. Be careful if you have any health issues, though. The high amounts of certain innate compounds could affect any existing health problems.
Spinach is delicious any way you prepare it. Whether raw, sauteed, steamed, or blanched, this food tastes good regardless. If cooking spinach leaves, don't forget to drain some of the excess moisture to keep your dish from getting too watery or soggy.
Heat your oil in a skillet over medium-high heat. Add the spinach to the hot oil and allow it to cook for two minutes until wilted. Remove the cooked spinach from the heat and transfer it to a cutting board. Chop it up and set it aside.
Return the hot pan to medium-high heat and melt the butter inside. Stir in the onion and cook until lightly browned. Slowly whisk in the cold milk and continue to whisk until boiling and thickened.
Whisk in the small amounts of salt, pepper, nutmeg, and paprika. Reduce the burner's heat and cook for another five minutes before stirring in the chopped spinach. Taste to determine if it needs more salt and pepper before serving right away.
Cooking with Kale
Raw kale has a slightly bitter taste compared to raw spinach. Although excellent when uncooked, our favorite way to prepare it is to bake it into crunchy chips to get that tasty, salty crunch without the unhealthy fats.
Of course, there are many other ways to use kale. Throw it in smoothies or cook it down and serve it as a side dish. If you like the taste of kale better than spinach, swap it out for spinach in the previous recipe.
Heat your oven to 275°F. Wash and dry the head of kale. Remove the thick ribs from the kale leaves and cut the leaves into one-inch pieces. Lay the leaf pieces on a baking sheet before tossing them with olive oil.
Sprinkle the pieces with sea salt. Bake the leaves for 20 minutes, flipping them halfway through until the chips are crispy. Allow them to cool completely before serving. Store the remaining chips in an airtight bag at room temperature.
Is there a difference between kale and spinach? While the distinctions are minor, there are several dissimilarities between these leafy greens. If you have no health restrictions, they are both great options if you're looking to add a few more superfoods to your diet.
Kale is a little more bitter, but overall they are so similar that many people substitute them out for each other all the time.
Since both of these crops are closely related, try growing them in your garden beds this summer. After you've had them both homegrown, let us know which one of these veggies you prefer.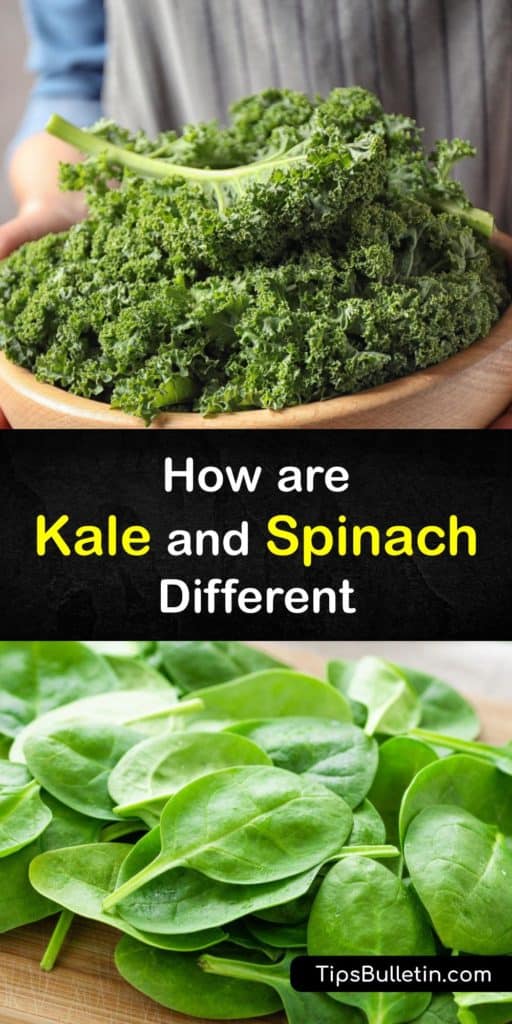 If this article comparing kale vs spinach has shown you the subtle differences between the two, share this guide for telling the difference between kale and spinach on Facebook and Pinterest.