One of the greatest things about long blooming perennials is they provide you with affordable color in your gardens regardless of its size. Perennials are a favorite among gardeners because of the sheer number of choices they offer, including flower colors and leaf textures, among others.
They are available in various sizes with some of your long-time favorites even offering dwarf varieties for smaller spaces. These plants also provide a range of bloom times, which allows you to carefully plan out your garden to ensure you get maximum color all season long.
One of the best aspects of perennials is that, unlike annuals, the colors they provide your garden only grow better as the years pass. When starting perennial gardens give your blooming perennial flowers a solid start by choosing the best location, which includes considering lighting and soil requirements.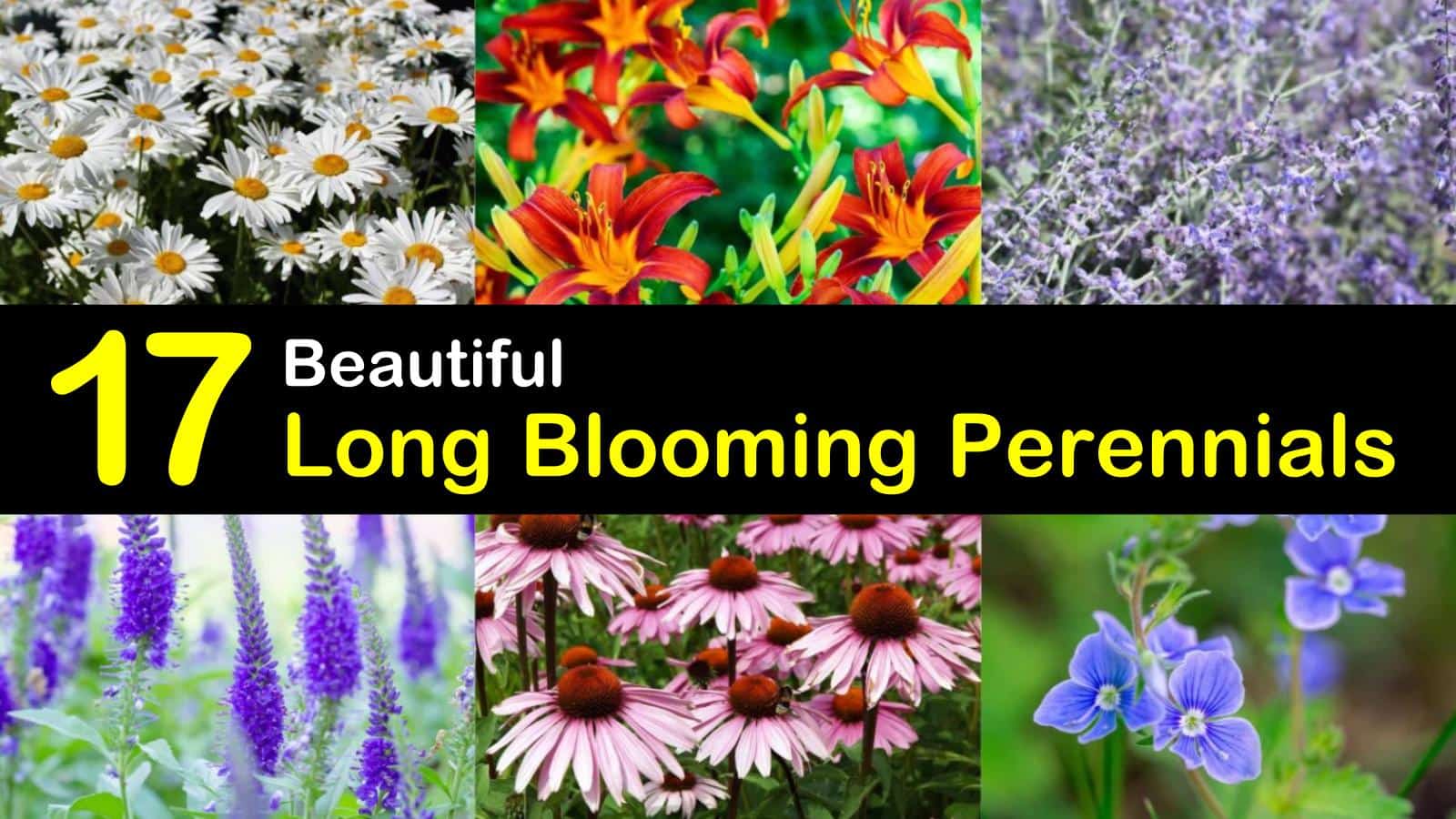 When and How to Plant Blooming Perennial Flowers
The best planting times for perennials are in the spring or fall based on the plant you have selected. When selecting perennials, choose plants that work within your hardiness zone, as well as plants that will meet the lighting requirements of the space you are using. Knowing the blooming times for the perennials allows you to pick plants that bloom at various times to ensure your garden has color all season long.
How you plant perennials depends on if you purchase bare-root ones or container-grown ones. If you are planting bare-root perennials, you will receive the roots packed inside peat moss or something like it. Before planting, soak the roots in water and then plant in the ground.
For container-grown perennials, dig a hole as deep as the container, but broader. Loosen the plant and soil inside the container, remove from pot, and then place inside the hole. Fill the hole with soil, making sure to pack it down and water well.
Care Tips for Long Blooming Perennials
An essential part of perennial plant care is watering. Each plant has its specific water requirements, but there are some general things to keep in mind. When watering perennials, make sure you are doing deep water, especially during the first year or two.
If planting in the fall months, water regularly until the first frost appears, ensure the soil is not too wet or too dry and avoid getting excess water on the foliage as that can easily lead to disease.
Add mulch to the base of your plants to help retain moisture and keep weeds at a minimum. Cut off spent flowers as they appear, this helps encourage more blooming on some species but in general, keeps the plant looking nice.
Colorful, Long Blooming Perennials for your Garden
There are so many different types of perennials that bloom all summer that you can choose from that the hardest part is narrowing your selection. Plant a variety for your enjoyment and the different wildlife near you.
Create a perrenial herb garden or a beautiful flowering area that attracts bees, birds, and butterflies. The only limits you have are the size of the space and your budget.
Black-Eyed Susan (Rudbeckia hirta)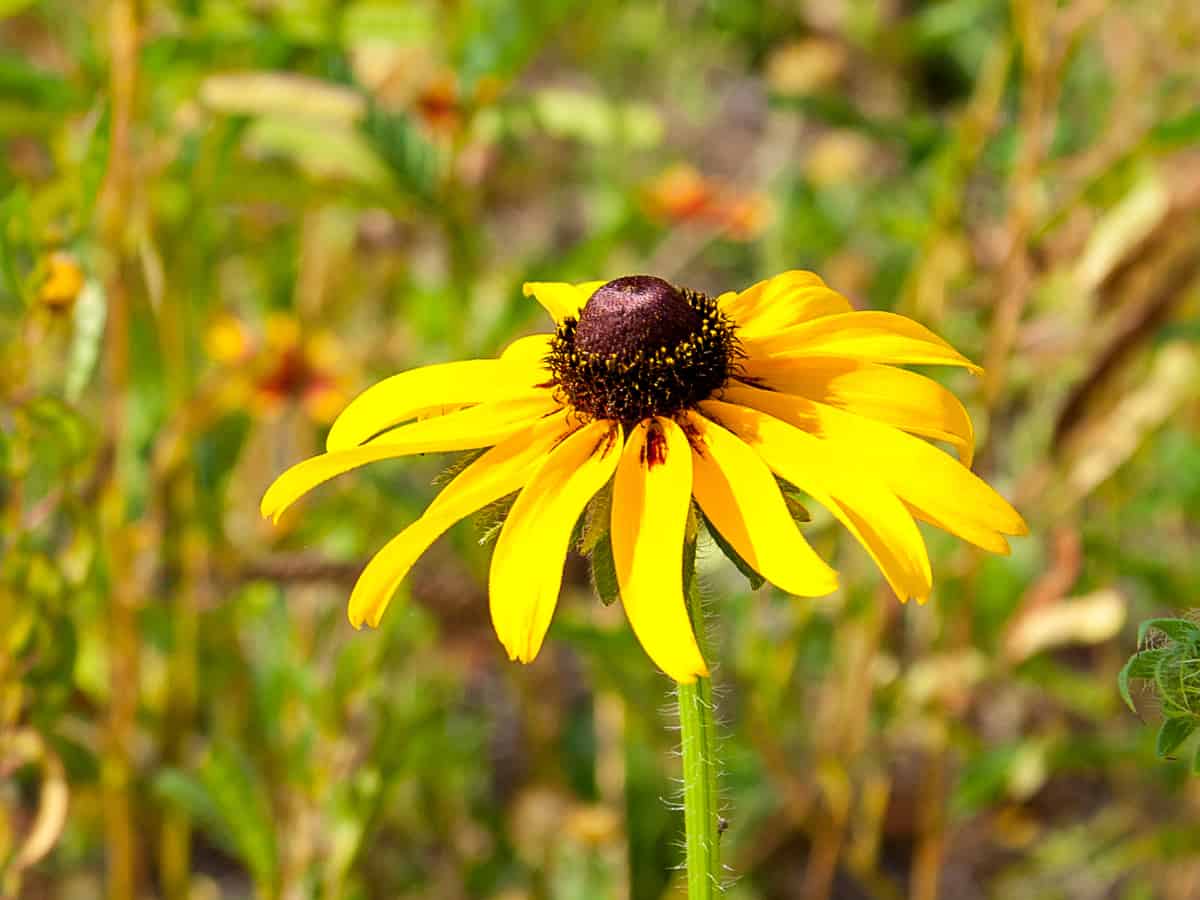 Often overlooked, many people view the Black-Eyed Susan as a common plant, but it is also one of the most popular long blooming perennial choices. Black-Eyed Susan provides your landscaped yard with warm and cheerful color all summer long.
Black-Eyed Susans are easy care perennials, making it the best choice for those who don't want to spend hours in their garden tending to plants.
As part of the sunflower family, the Black-Eyed Susan gets its name from the brown-purple center of the yellow-gold flower. These flowers reach heights of up to three feet tall.
The flower produces nectar that attracts bees, butterflies, and various other insects. The Black-Eyed Susan is also one of the plants with seeds for feeding birds like goldfinches after the flower dies. Bloom time for these perennials is June to October.
Russian Sage (Perovskia atriplicifolia) – Long Flowering Perennials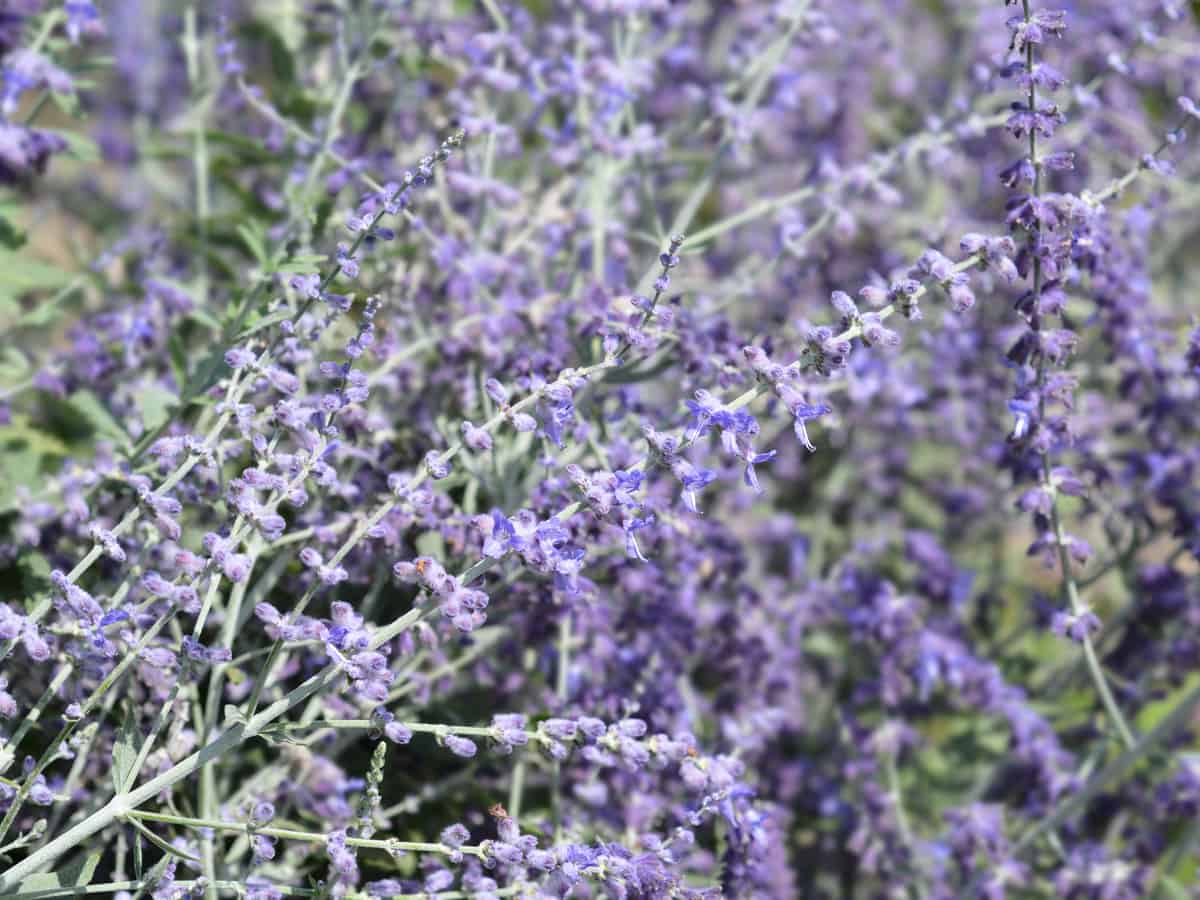 If you want a long blooming perennial that is showy and tall, check out Russian Sage. What makes Russian Sage such an exciting choice is, despite its tallness, the plant offers small lavender-purple flowers. The blossoms might be on the small side, but there are a number of them that cover the stems.
These easy to grow plants from seeds have flowers that pair with silvery-gray foliage and provide a rather pleasant scent. Bloom time for these spiky clusters of flowers ranges from late spring to early fall. Russian Sage makes an excellent ground cover, and when in bloom, the flowers almost entirely cover the leaves.
The perennial does well in USDA Zones 5-10. Avoid growing in part shade as that creates a sprawling plant and fewer blooms. Russian Sage requires well-draining and fertile soil in full sun for optimal growth.
Rozanne Cranesbill (Geranium rozanne)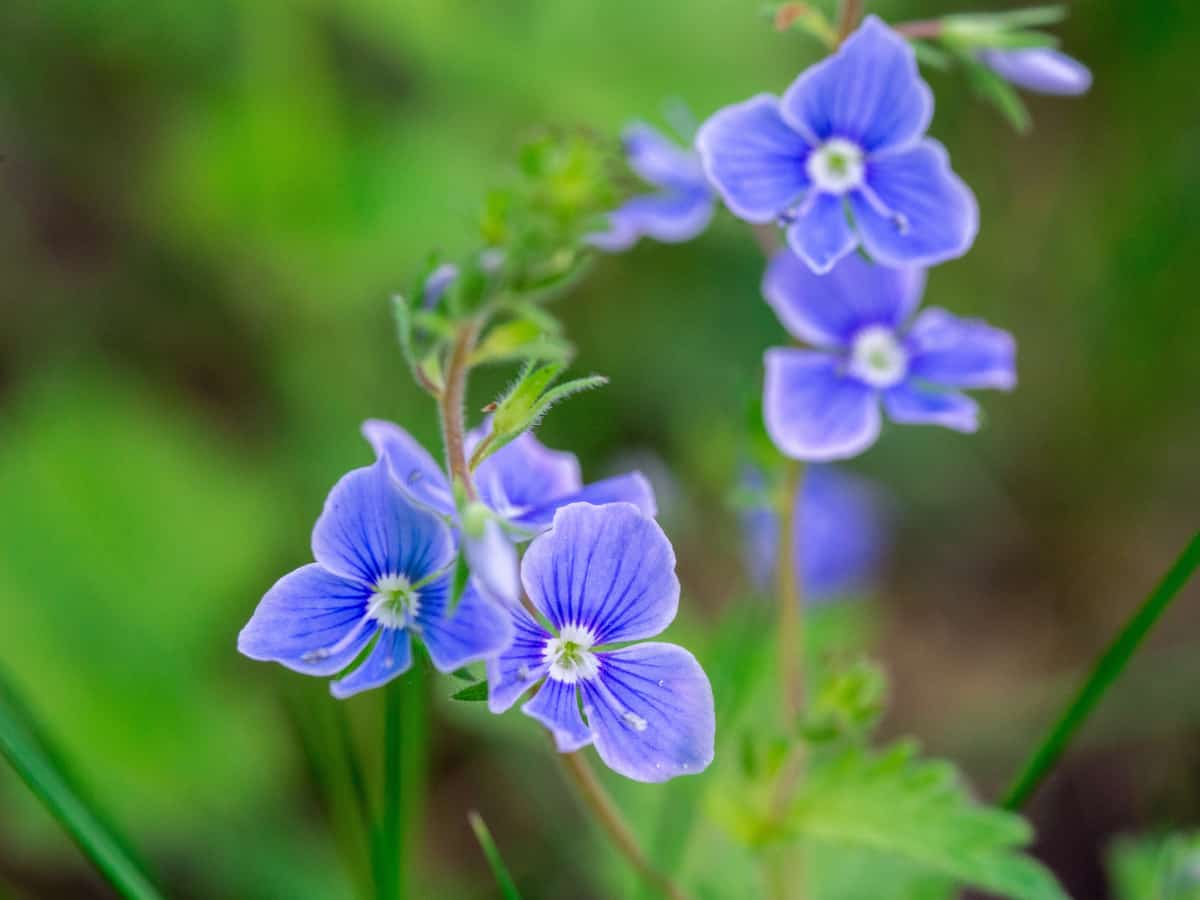 If you are looking for long flowering perennials that can double as a ground cover, consider the Rozanne Cranesbill. The dwarf variety features small violet flowers that begin blooming in the early spring and last until the late summer.
Once done blooming, the plant itself is considered an evergreen in most areas, with foliage that is deep green and marbled with chartreuse.
Rozanne requires partial to full sun with some partial shade in the hotter climates. The plant is hardy enough to survive in temperatures down to 0°F and grows quite well in zones 4-10.
Water deeply once a week, as the plant requires moist, but well-draining soil. Rozanne can reach up to 20 inches tall with a 24-inch spread.
Long Flowering Perennials – Autumn Joy (Hylotelephium herbstsfreude)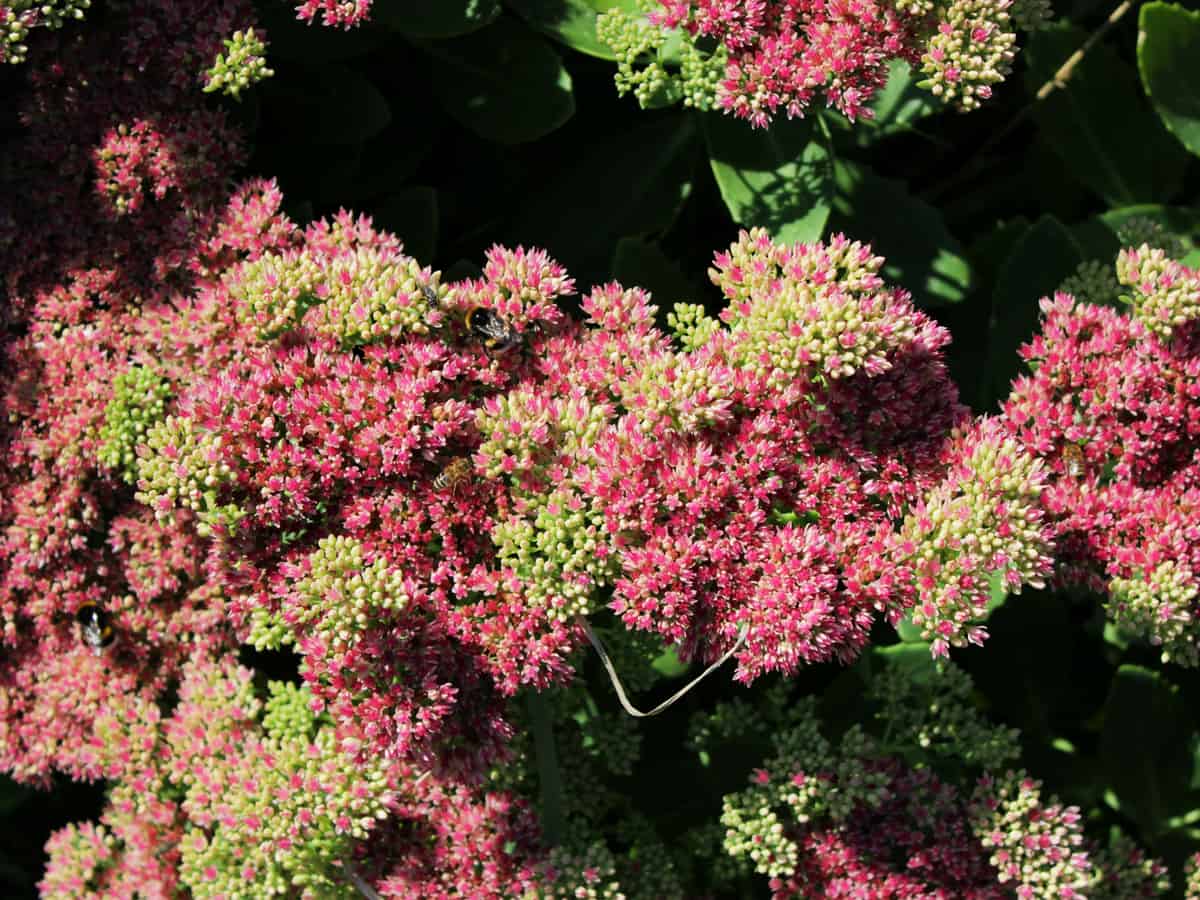 Autumn Joy is a hybrid plant that was created by crossing sedum with an ice plant. As a sedum plant, Autumn Joy does well in dry conditions, as well as gravelly or sandy soils but does require a sunny location. The plant will do well in the most challenging areas as long as you plant in well-draining soil.
Water sparingly, as more than one inch of water in two weeks may kill it. The Autumn Joy is so easy to grow and care for that it has been found growing in the wild naturally.
Autumn Joy stands out from other sedums as it grows more upright than other varieties, plus the succulent leaves are reminiscent of a jade plant rather than a sedum. In the early fall, pink flowers bloom in flat clusters that turn a reddish color that will then turn into bronze and rusty red.
Purple Coneflower (Echinacea purpurea)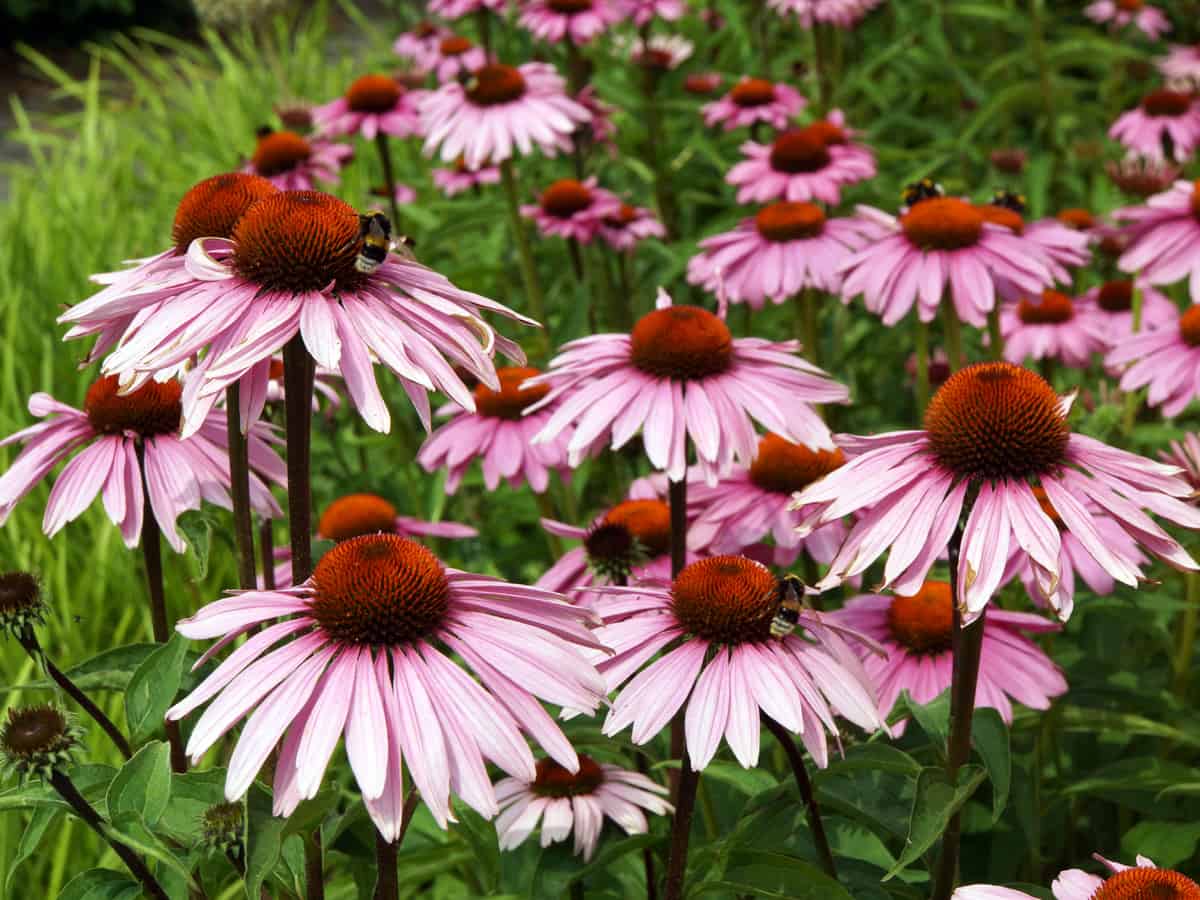 A herbaceous perennial, the Purple Coneflower is native to the southeastern part of the United States and is commonly found in open woods, meadows, and prairies. The plant generally grows up to four feet tall and offers daisy-like purple flowers that have a five-inch diameter.
The flowers bloom throughout the entire summer; you will see them begin to appear in June and color will die off in August.
The flowers sit on top of stiff stems that feature coarse, hairy-like dark green leaves. The Purple Coneflower requires full sun to thrive and needs well-draining soil that is kept dry to slightly moist.
The Purple Coneflower is an adaptable perennial, as it is heat and drought tolerant. The plant will adapt to various humidity levels and poor soil. To improve the appearance of the plant, cut dead flower heads off the plant.
Garden Phlox (Phlox paniculata) – Blooming Perennial Flowers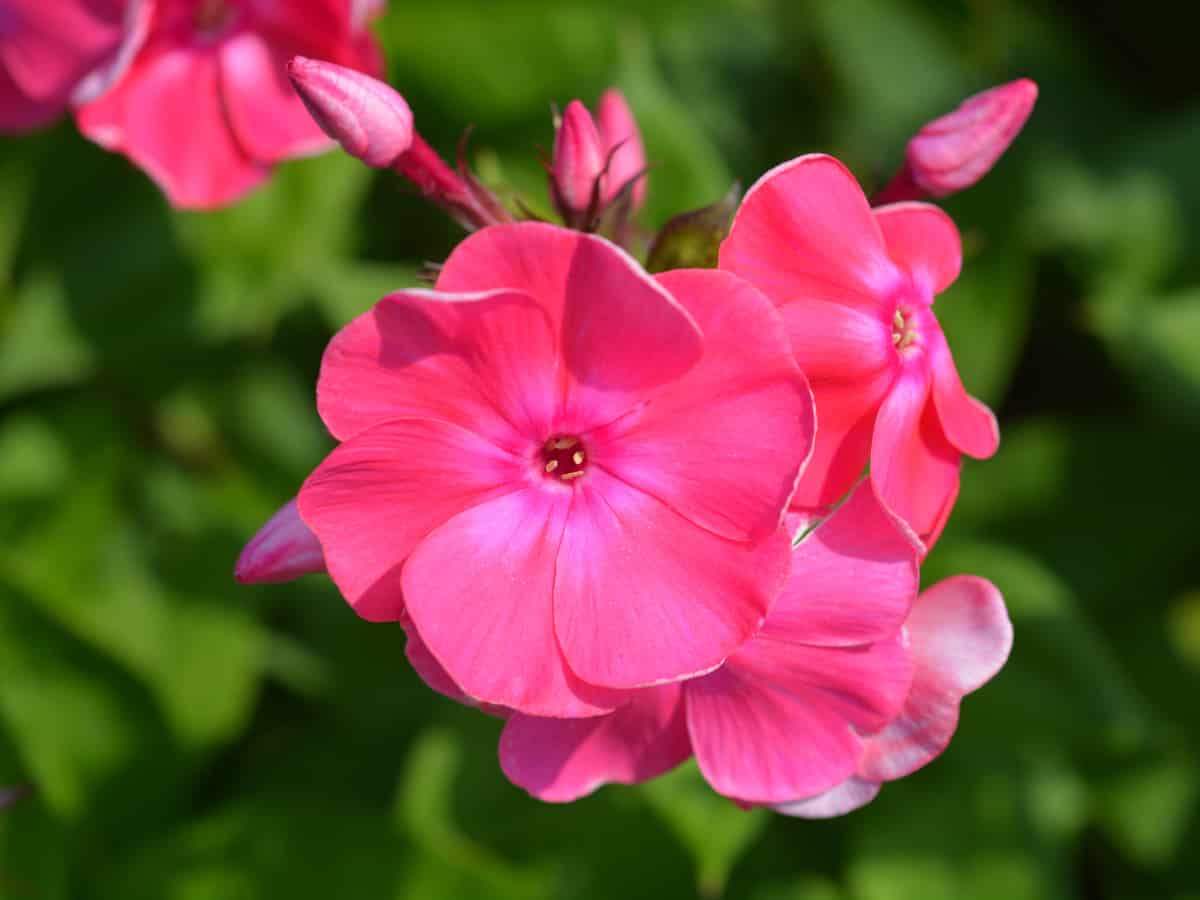 Garden Phlox is enjoyed for its slender appearance and how easy it is to care for. The biggest reason Garden Phlox is such a popular choice though is its extended blooming time, which provides color in the gardens from early summer to the beginning of fall.
Garden Phlox begins blooming in June and doesn't stop blooming until the end of September. You will find blooms in just about every color you can imagine; even those rare shades of blue.
The plant is native to several parts of the central and eastern United States and thrives in zones 4-8. The slender appearance of Garden Phlox is due to the plant reaching heights of up to five feet tall.
Despite its tall height, the plant rarely requires staking. Garden Phlox enjoys full sun, but will still grow well when exposed to some shade. Soil for optimal growth should on the alkaline side, so add some compost before planting.
Moonbeam Tickseed (Coreopsis moonbeam)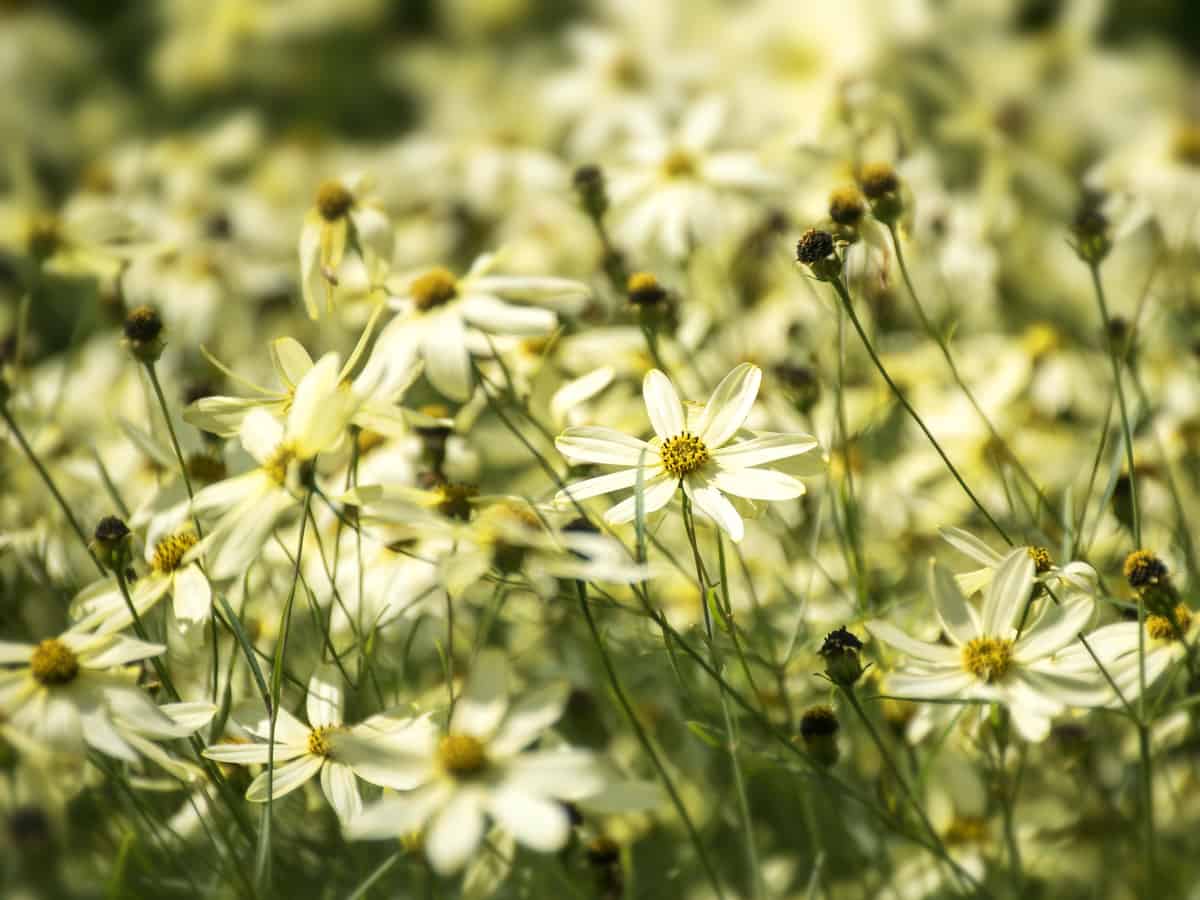 If you want a showy perennial for your borders or your flower beds, consider Moonbeam Tickseed. The creamy yellow flowers of this perennial pair with green foliage and both can withstand the high heat and humidity of summer.
Blooms begin appearing in the spring and add color to your flower beds, hanging baskets, etc. until the end of summer. Deadheading is recommended to encourage new growth and to prevent self-seeding.
Moonbeam Tickseed thrives in some of the worst soil conditions you will see, including rocky and sandy soils. The secret to this plant surviving ion these poor soil conditions is well-draining soil.
The plant can handle moderate drought once it has become established. Water regularly during the first year, but then you can cut back and only increase watering during scorching weather. If planted in a container, Moonbeam Tickseed requires more water.
Long Blooming Perennials – Shasta Daisy (Leucanthemum x superbum)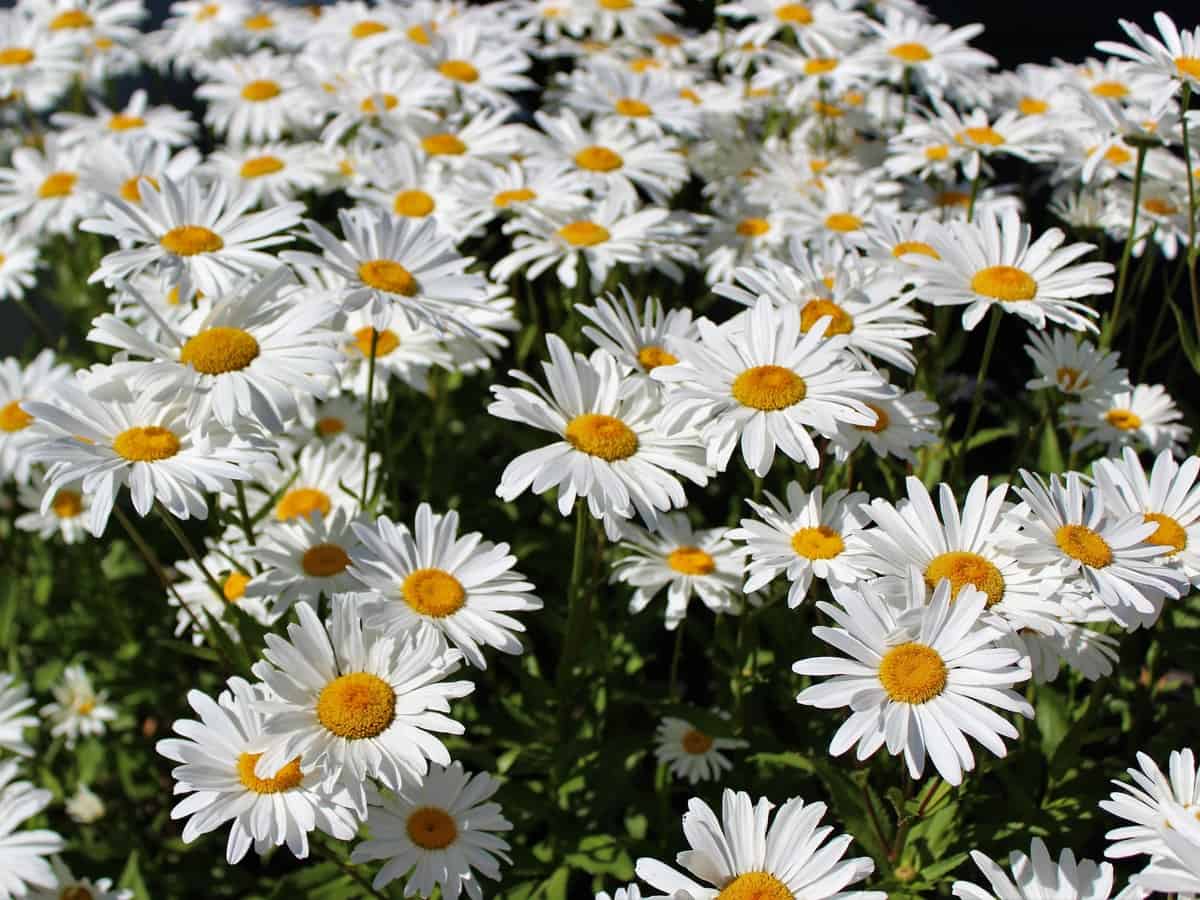 The daisy-like flowers of the Shasta Daisy look similar to roadside daisies. Shasta Daisy's white flowers are more substantial and bloom in clumps that reach up to three feet tall and two feet wide.
The white petals surround a yellow floret and sit on top of leaves that are dark green with a glossy appearance. Bloom time runs from spring or early summer to early fall.
When planting Shasta Daisies, select a location that receives full sun, as the more sun, the better the blooms will look. You want moist, but well-draining and moderately fertile soil.
If soil is too fertile, you will end up with a lot of leaves and very few blooms. Use natural aphid spray with vinegar to keep aphids from attacking your plant.
Blanket Flower (Gaillardia)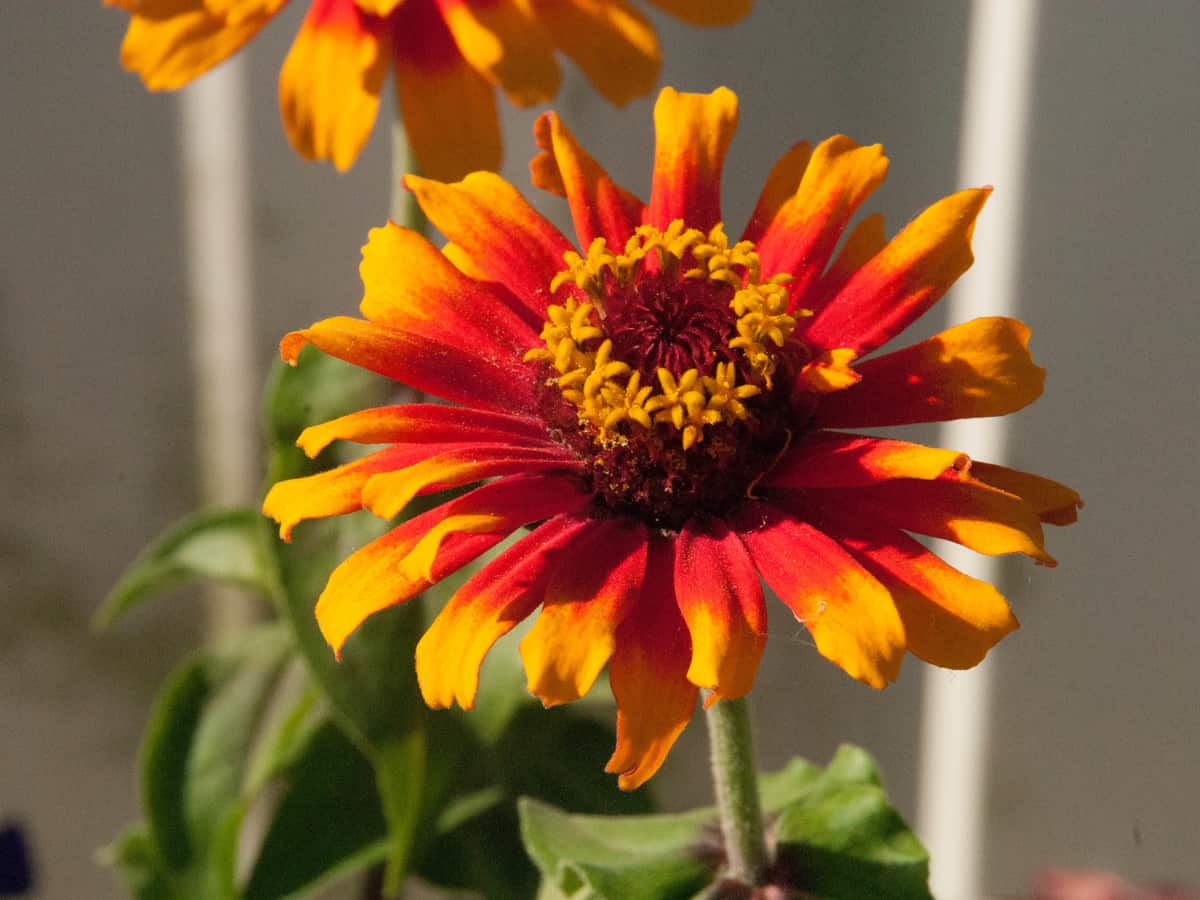 If you are searching for the perfect long blooming perennial to add to your rock garden, the Blanket Flower is an excellent choice. The Blanket Flower requires very little care. Many people claim if you try to tend to it, you end up with a leggy sprawling plant rather than beautiful blooms.
It is not recommended to fertilize the plant, as it thrives in the worst soil conditions possible and doesn't even require regular watering. Minimal rainfall during the summer is enough to keep the plant alive and well.
With the Blanket Flower, expect to see colorful blooms in a variety of shades of red, orange, and yellow throughout the summer and into the fall.
Some petals are frilled while others offer a tubular shape. The nectar produced from the flowers attracts butterflies. When selecting the planting location, look for one that provides full sun.
Daylilies (Hemerocallis) – Flowering Perennial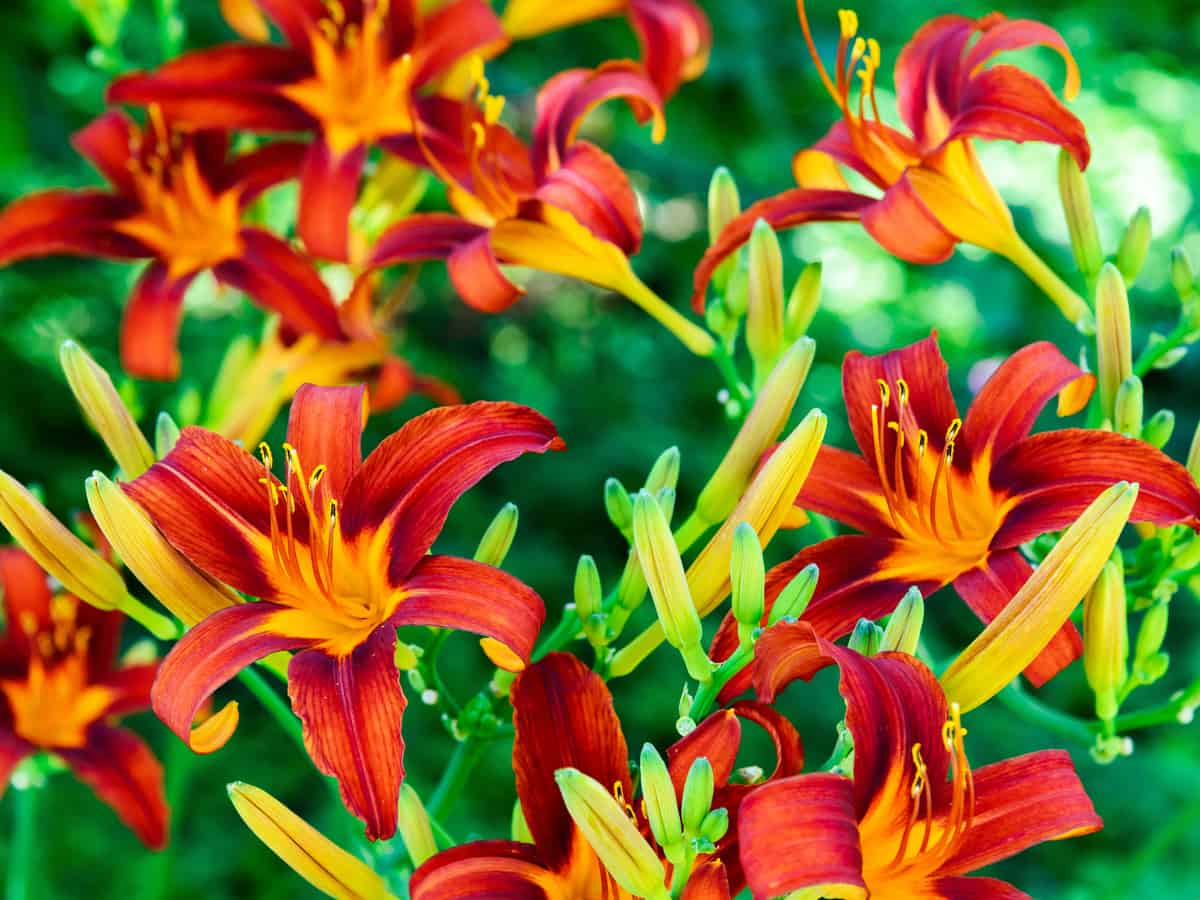 You may have heard the Daylily is considered the "perfect" perennial and we have to agree. The Daylily offers a handful of qualities that make it stand out among other long blooming perennials, making it an excellent addition to most garden beds. Some varieties are also edible, too!
The drought tolerant plant is available in a variety of colors and sizes and is immune to stress from the heat. These two qualities allow it to grow in just about every zone in the United States.
The name Daylily comes from the fact each bloom only lasts for a single day, but the same stalk will bloom a second flower the very next day. Some species even bloom at night rather than during the day.
Pick your variety based on when you plan to enjoy your garden the most. Blooming periods for Daylilies are shorter than other long blooming perennials, but many types of long-blooming daylilies offer blooms for up to five weeks at a time.
Bleeding Heart (Dicentra spectabilis)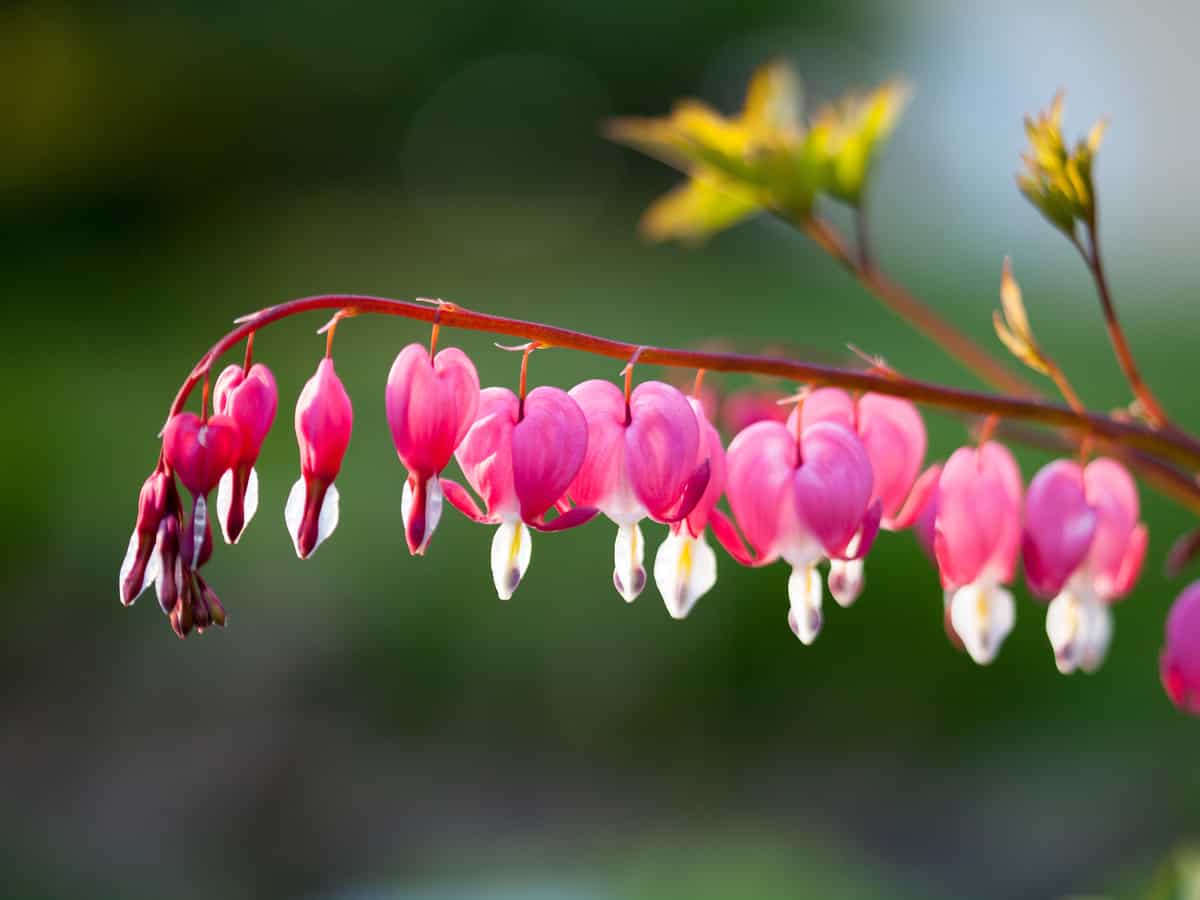 Bleeding Heart gets its name thanks to the unique heart-shaped flowers that hang down off the arching stems of the plant. Flowers on the Bleeding Heart plant begin appearing in the early spring in pink and white blooms or just white blooms.
In the spring, as the dormant plant begins to wake up, you will first notice the blue-green foliage, and then buds will start to appear soon after. Caring for the Bleeding heart perennial requires regular water as the soil needs to be moist at all times. The plant does best in full shade to partial shade in organic soil.
As summer begins to make its appearance, the heat will cause the plant to die off. To improve the appearance of the plant you may cut back any yellow or brown foliage as it appears and you can cut all the way back to the ground as needed.
Longer Blooming Perennial – Hellebore (Helleborus)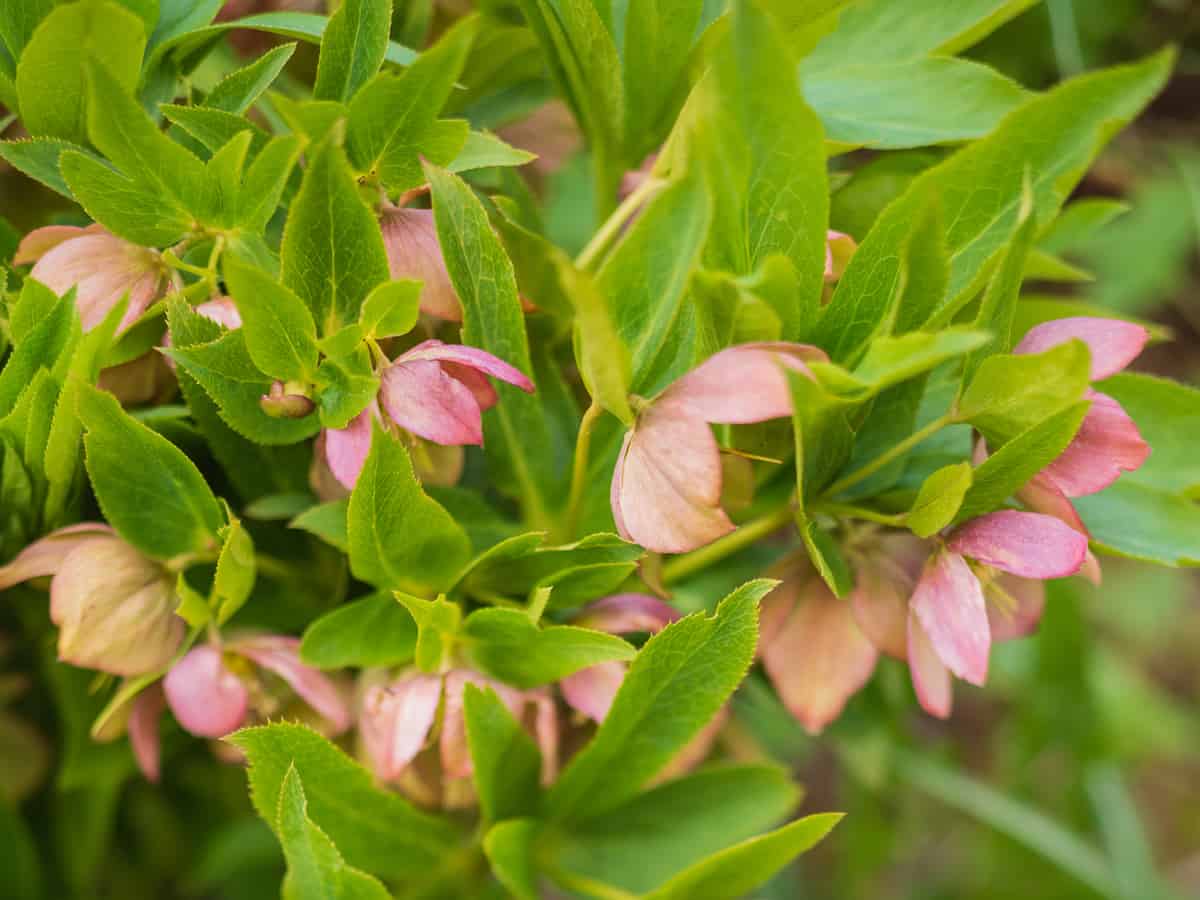 Aside from the distinctive blooms, what makes the Hellebore such a great addition to your perennial gardens are their leathery leaves with serrated edges. The flowers of the Hellebore begin to appear in early spring and are found in a variety of colors, including cream, purple, pink, green, spotted, and white flowers.
These colorful blooms last from six to eight weeks and look best when planted in groups or as a border plant. The foliage of the Hellebore is deer resistant and stays green year-round in most climates.
The Hellebore plant will tolerate a variety of soil conditions and can thrive in full sun and partial shade. As the plant is prone to various pests, you may want to look into a homemade grub worm killer to help keep pests at bay.
Coral Bells (Heuchera)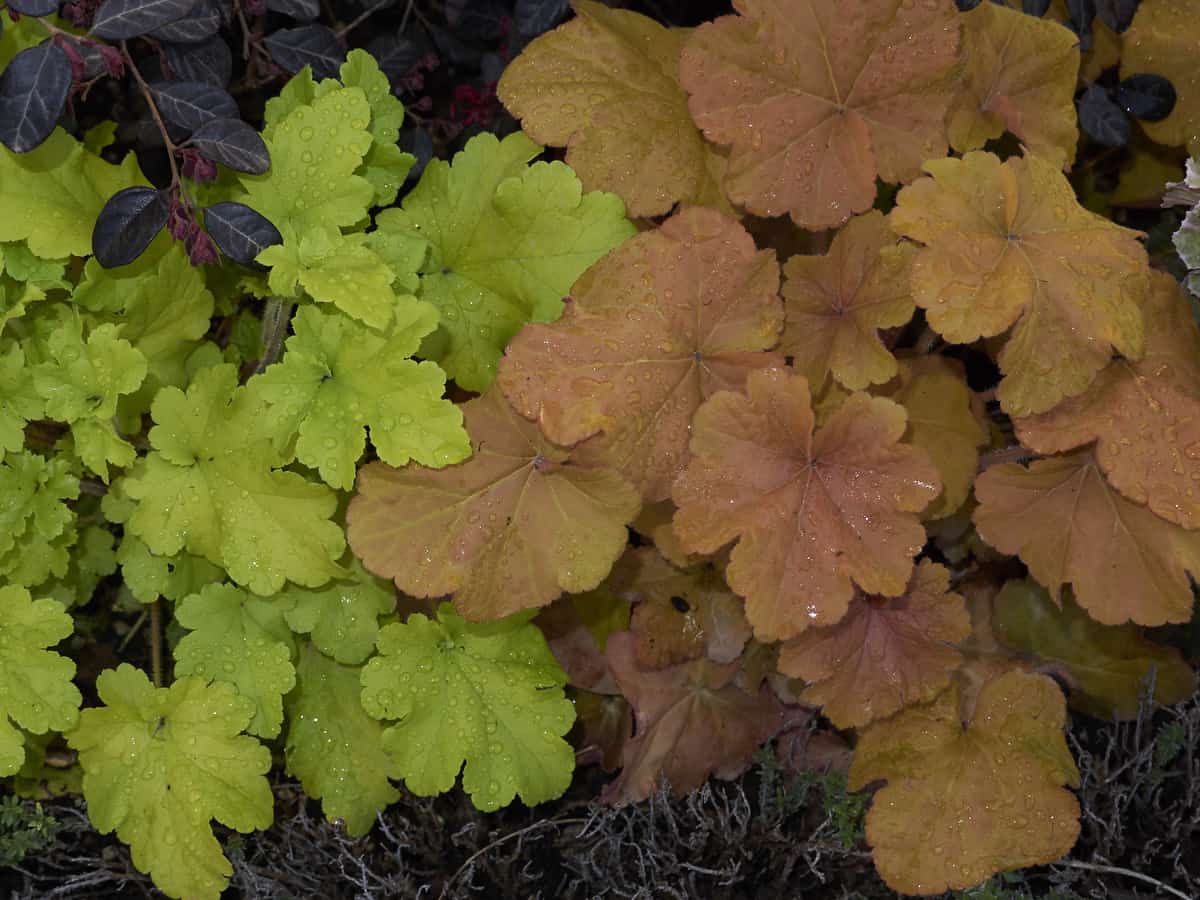 What makes Coral Bells such an excellent addition to any garden is their attractive foliage. Several varieties offer deep purple or burgundy foliage. You can also find a red, lime green, dark green, and gray-green leaves among many other colors.
The leaves are paired with tiny flowers that grow on long, thin stalks. The flowers are not flashy or bright like other perennial flowers, but they add something to the plant. It is the absence of an overpowering flower that allows the Coral Bells foliage to stand out.
These plants work well to fill in spaces where you have a hard time getting other plants to grow, and they tend to do well in dry and hot conditions. These low maintenance perennial plants require very little water, and they do well with any lighting.
They prefer partial shade, but results aren't affected by plants exposed to full sun. Experiment with planting different color Coral Bells and you'll be pleased with the result.
Lavender (Lavandula angustifolia) – Flowering Perennials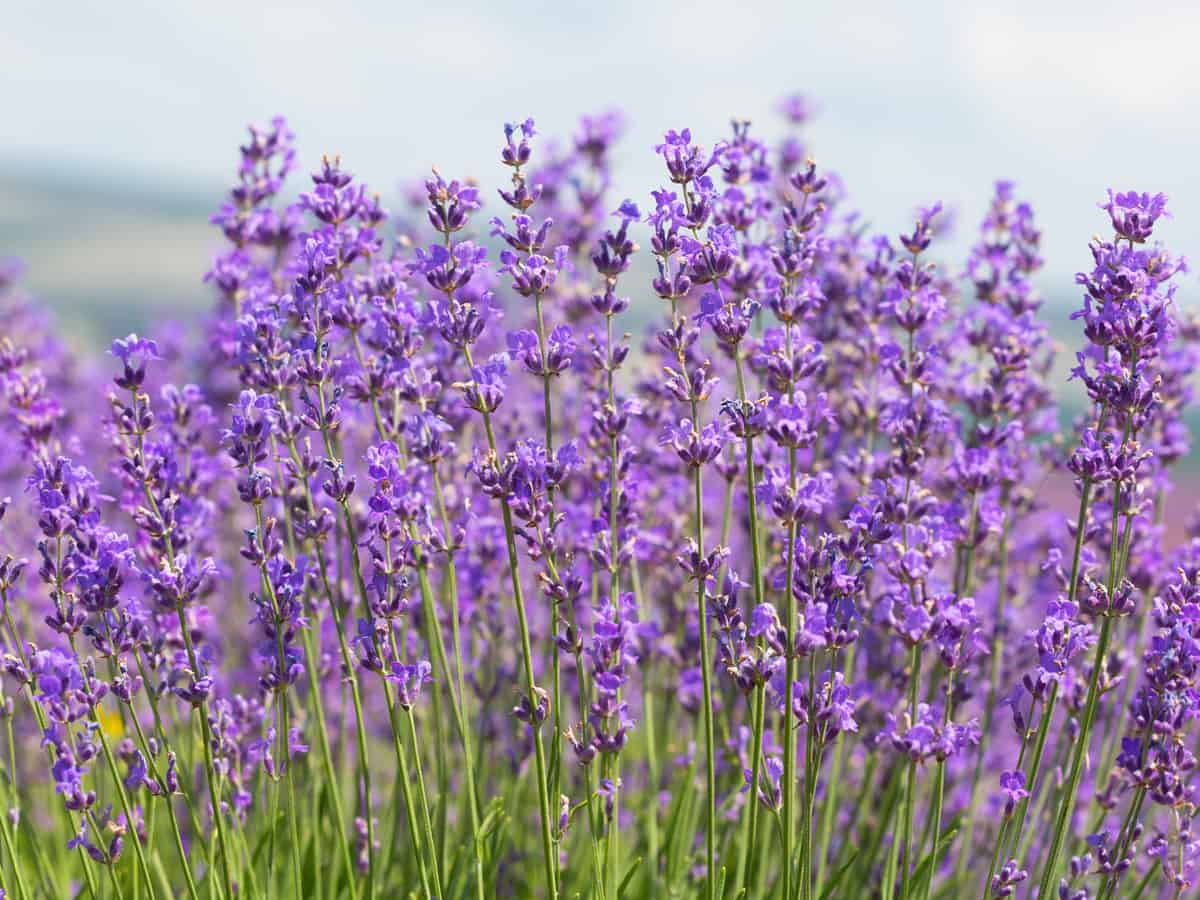 Lavender is an excellent choice for perennial lovers as it is easy to grow, but it is also one of those plants that keep flies away. The fragrance from the plant comes from the blooms and foliage.
Its overpowering scent works as a natural insect and pest repellent but is a sweet and pleasant fragrance to many of us. If you want to get rid of unwanted bugs, grow mosquito repellent perennials like lavender.
These perennials with leaves that smell pleasant, as well as the flowers, does well in hot and sunny climates, as long as it's in well-draining soil. It can take about three years for your lavender plant to become fully established. During those three years, you can still cut flowers from the plant for personal use.
Dried lavender serves many different purposes, such as an ingredient for tea or for making sachets. The purple to blue flowers begin appearing in late spring and will last until well into the summer months; in some areas, the foliage is considered evergreen.
Butterfly Bush (Buddleia davidii)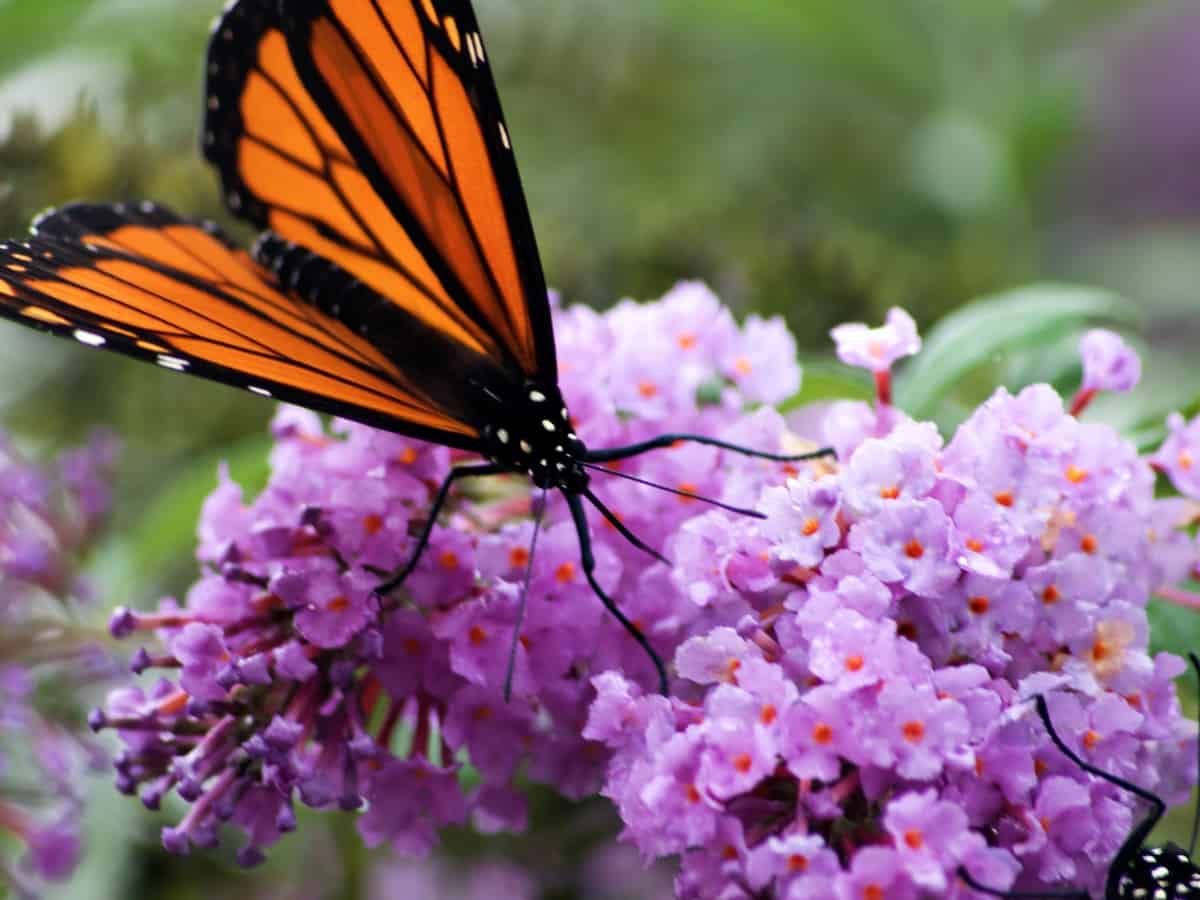 Gardeners who love perennials enjoy the Butterfly Bush as it is quite well known for a few reasons. One of the main attractions of this plant is the stunning flower spikes it produces. Flowers are available in many colors including pink and blue flowers, as well as a multi-colored version.
All Butterfly bushes attract butterflies to your garden, but the red flowers also attract hummingbirds. An easy to care for perennial, some of these plants can grow up to twelve feet tall, while others stay at a much smaller size. Very little care is required for these plants, and they seem to thrive in the harshest environments.
The Butterfly Bush is naturally resistant to various ailments that affect other plants, such as drought, stress, and insects. You can even find seedless varieties today, which you can plant without worrying about them becoming invasive.
Long Blooming Perennials – Speedwell (Veronica)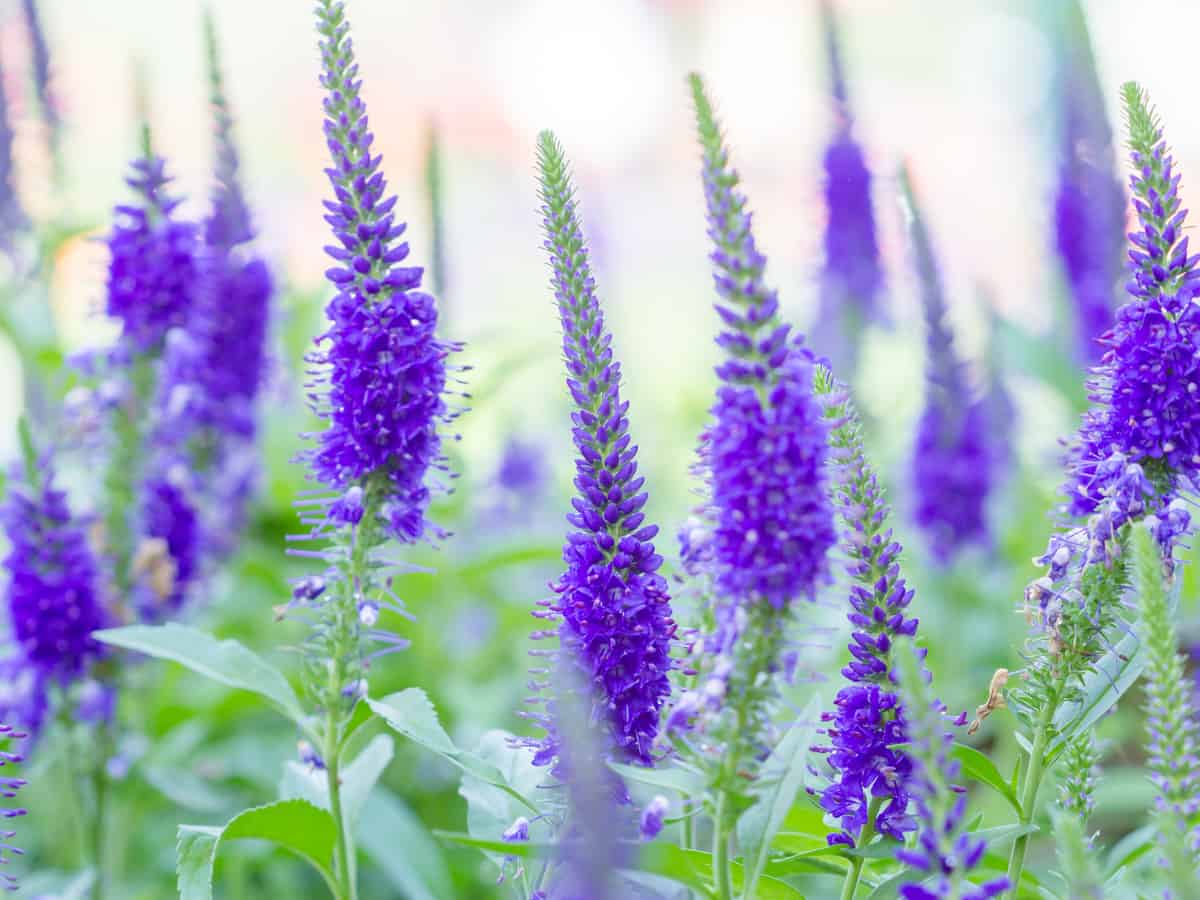 Do you need a perennial that will bloom all summer long? If so, look no further than the showy spiky plant known as Speedwell. The flowers are featured on green stalks that grow up to thirty-six inches tall; the height makes it an excellent choice for the middle row of most gardens.
The stems arise from mounds of foliage with lance-shaped leaves topped with star-shaped flowers. Speedwell, like several other perennials, requires very little care and thrives in rock gardens, along borders or foundations, or in a sunny location.
Deer and rabbits are not interested in them, but they do attract butterflies and bees, so they are not your best choice to get rid of gnats outside. Use average well-draining soil in a sunny location when planting Speedwell.
Red Hot Poker (Kniphofia)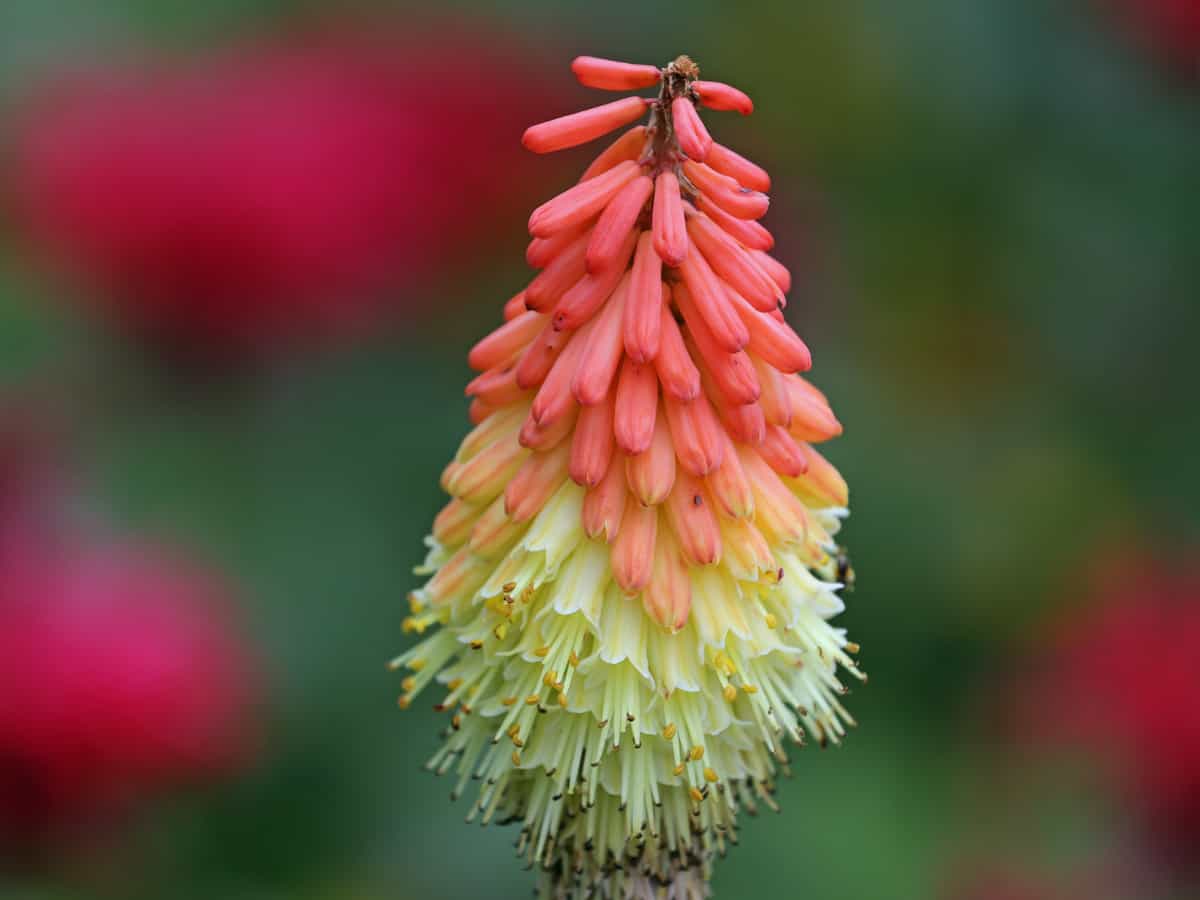 Red Hot Poker plants have several common names, including Tritoma and Torch Lily. Despite these common names, they are not lilies nor are they members of the Lily family.
With the Red Hot Poker plants offer clumping grassy looking foliage that reaches up to two feet tall, the stalks of the plant allow the plant to reach even higher.
Blooms in a variety of colors begin at the bottom of the stem and slowly work their way up to the top. For optimal growth, the Red Hot Poker plant requires full sun and well-draining soil.
In addition to adding some beauty to your yard, why not try growing some perennial vegetable plants like onions and garlic, as well? You'll enjoy not having to replant them each year.
These plants are on the tougher side, but soggy soil is the one thing that will quickly kill them off. Red Hot Poker plants are an excellent choice for edging, but also work as specimen plants for expansive rock gardens due to their resistance to drought.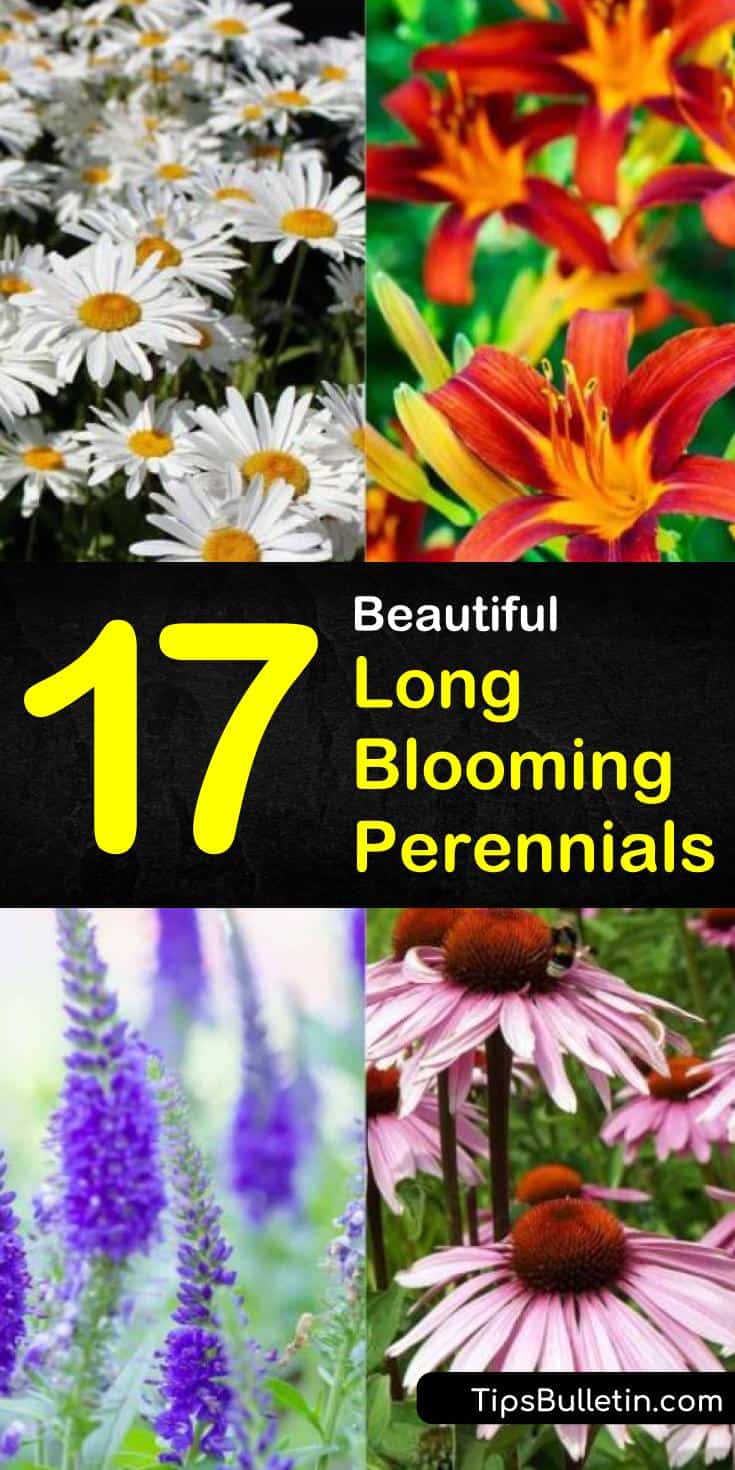 Thank you for reading our post about some of the best blooming perennial flowers. If you have found our information about long flowering perennials beneficial, please take a minute to share our best ideas for long blooming perennials with others on Facebook and Pinterest.