Millipede infestation is abundant in North America, prompting homeowners to seek the best ways to stop millipedes and millipede control tips. They're commonly seen in yards or around the house, particularly near windows, crawl space, basements, or other moist areas.
The word millipede is directly translated as a thousand feet, but this nuisance pest doesn't have that many legs. The number of legs varies from 34 to 400. Millipedes prefer to travel indoors after wet weather and leave a strange stench. These moisture-loving bugs enjoy humid environments and are commonly found in dark places and damp spaces.
Learn helpful millipede prevention tips for your home. Create a customized millipede treatment plan and a home protection plan to prevent millipedes, the centipede, the yellow jacket, and any other insect pest from invading your house.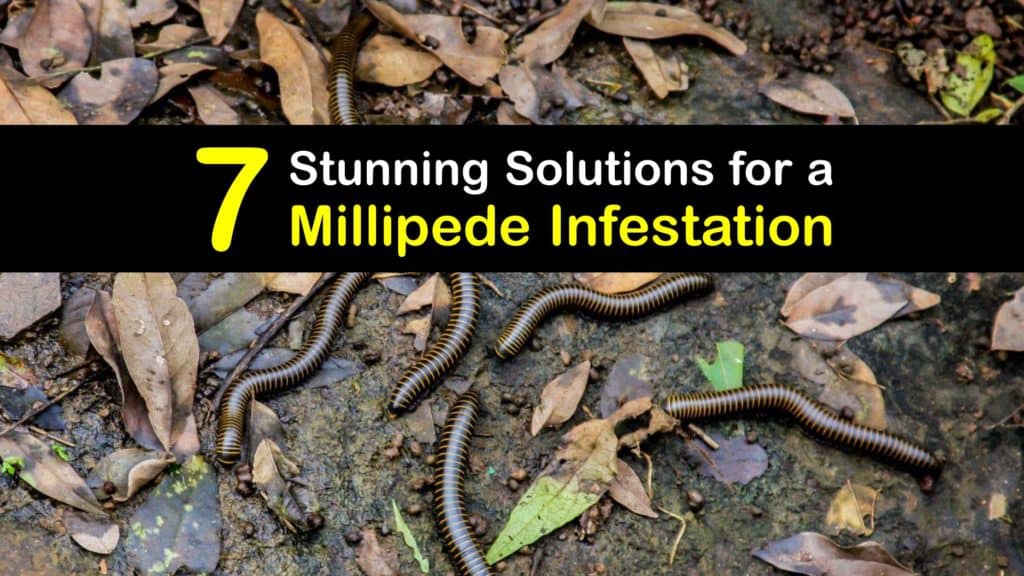 Clever Millipede Control Tips for Your Home
Millipedes have a segmented body with a recurrent pattern, have a lot of legs, and get quite long. Millipedes come in various colors and sizes, ranging from 1″ to 14″ in length. The majority of millipedes seen in people's houses are black or tan in hue. The legs are separated into seven sections and are mostly identical.
Some people with a millipede infestation mistake them for worms, house centipedes, or caterpillars.
The head is spherical, with a flat bottom and their antennae are small – they munch with their large mandibles. Millipedes have two sets of legs on almost all body segments, whereas centipedes have one pair. Millipedes may resemble monsters from a horror movie, yet they pose no threat. Because they kill other pests in the house, some people believe they are helpful.
Some millipedes manufacture cyanide to guard against predators, and others emit bioluminescence; you might see certain millipedes shining.
Millipedes have little effect on healthy plants, eating decaying debris or dead plants like fallen leaves or other yard waste. Millipedes eat young seedlings, posing a concern if they enter greenhouses.
They enjoy humid hiding places with plant material and leaf litter. One of the first ways to stop millipedes is to examine your home for these favorable conditions and eradicate them. With a few millipede control tips, say goodbye to millipedes.
Insecticidal Soap for Millipede Infestation
It's not hard to determine what kills millipedes. To kill millipedes, prepare an insecticidal soap solution. This method is effective and does not require the use of harmful pesticides. From your local garden store, select an insecticidal soap suitable for the purpose. Dish soap is often recommended for home treatments, although, unlike insecticidal soap, it may not kill the insect.
To make a simple DIY millipede spray, fill a spray canister with soap and water. As a test, spray a small area with the mixture. Check the next day to ensure there is no discoloration of the material and no damage. Spray the solution in any areas where bugs might gather. Because any untreated regions could lead to re-infestation, it's vital to give comprehensive coverage.
You may wonder, "Will bleach kill millipedes?" Yes, bleach will kill millipedes and it kills centipedes instantly but it's really not necessary. There are a variety of millipede control tips that don't involve such drastic measures.
Millipede Control Tips – Try Tube Traps
Tube traps are a safe and effective millipede elimination method. Millipede traps help save time by working passively to combat your millipede infestation.
Any hardware store should have vinyl tubing – purchase the necessary size tubing to fit the bottle. Slide the ripe fruit bait into the bottom of the bottle. Insert the vinyl tubing into the bottle about two inches deep. Ensure the pipe is snug against the entrance and secure it with tape.
The tube protruding into the bottle should not contact the bottle's edges. The millipede must creep through the line to reach the fruit. The millipede cannot escape once it passes through the tube and into the bottle. Make a number of these tube traps and place them strategically around your home.
Natural Ways to Stop Millipedes – Diatomaceous Earth
Diatomaceous earth is a smart option for performing non-toxic millipede control. It has a talc-like feel, is off-white-colored, and is made up of finely powdered remains of fossilized sea phytoplankton. The millipedes' exoskeletons are lacerated, causing them to dehydrate and die when they contact it.
Diatomaceous earth is found in garden-type stores and is safe for use around pets and children when used according to directions. It's essential to store diatomaceous earth in airtight containers after use, as its dust may be harmful if inhaled long-term.
Reduce Houseplants for Millipede Control
Reducing the number of potted plants inside the house is one of the best millipede control tips for a millipede infestation and a great way to keep centipedes away. Living plants, mulch, and potting soil attract pests, despite being appealing.
Any dead leaves or plant matter provide good hiding places for pests, and the moisture from watering your plants offers an excellent habitat for millipedes. Consider relocating your plants outdoors to reduce the amount of organic matter to tackle a millipede infestation.
Helpful Millipede Prevention Tips – Yard Management
To assist in curing a millipede infestation, reduce available organic materials such as soil, mulch, fallen leaves, and other organic materials. Millipedes make their homes in damp locations with plant material such as leaf litter, grass clippings, or compost piles.
One of the easiest ways to stop millipedes is by clearing your yard of plant debris and keeping it away from the house.
Inspect your home for broken or damaged seals, particularly around windows and doors, for potential millipede entry places. Seal possible access points to keep insects out. Even if millipedes have already infested your home, it's vital to seal the room after treatment to avoid re-infestation or the introduction of more.
Try Targeted Treatments with Sticky Traps
A sticky trap, often called a glue trap, is an easy way to get rid of a millipede infestation. Sticky traps are cardboard strips with a strong adhesive and can be purchased at most home stores. Place the glue traps in regions where millipedes are frequently seen. Do not tread on the traps since they stick to your clothes, shoes, and skin.
Neem Oil for Pest Control
Neem oil is an example of ways to stop millipedes naturally since millipedes may swiftly take over your property. Fortunately, neem oil is a well-known natural insecticide to help you eliminate these pests.
The substances in this oil disrupt the insect's hormonal systems, and the millipede's capacity to consume, procreate, and lay eggs is harmed.
After adequately mixing the components in a spray canister, spray any surfaces where you have a millipede problem.
If you're treating a millipede infestation and find lots of dead millipedes or powder covered pests, it's an excellent indicator that the millipede control tips you've enacted are working. Consider consulting millipede exterminators if you've tried several ways to stop millipedes and still see millipede activity.
From South Carolina to California, many professional services offer free inspection and are ready to help, with expertise in other areas like bed bug control too. Like other pest control, achieving control of your millipede infestation might take time.
Choose the best millipede control tips based on your supplies and the time you have, and try multiple ways to stop millipedes to resolve your issue as quickly and efficiently as possible.
If you loved this article on millipede infestation, please share these valuable millipede control tips with your family and treasured friends on Pinterest and Facebook.