No carpet is 100% spill-proof or stain proof. But, with care and proper cleaning techniques, you can add years to the life of your carpet. You can do that by cleaning it once or twice per week and not just when it is heavily soiled.
There are many ways of carpet cleaning since carpets vary by fiber and composition. Although there are many FDA approved carpet cleaning solutions that you can buy in grocery and cleaning stores, you can also use natural household products.
We will teach you how to use basic household ingredients as a natural carpet cleaner. If you are new to DIY cleaning recipes or just looking for a different cleaning recipe, you are in the right place.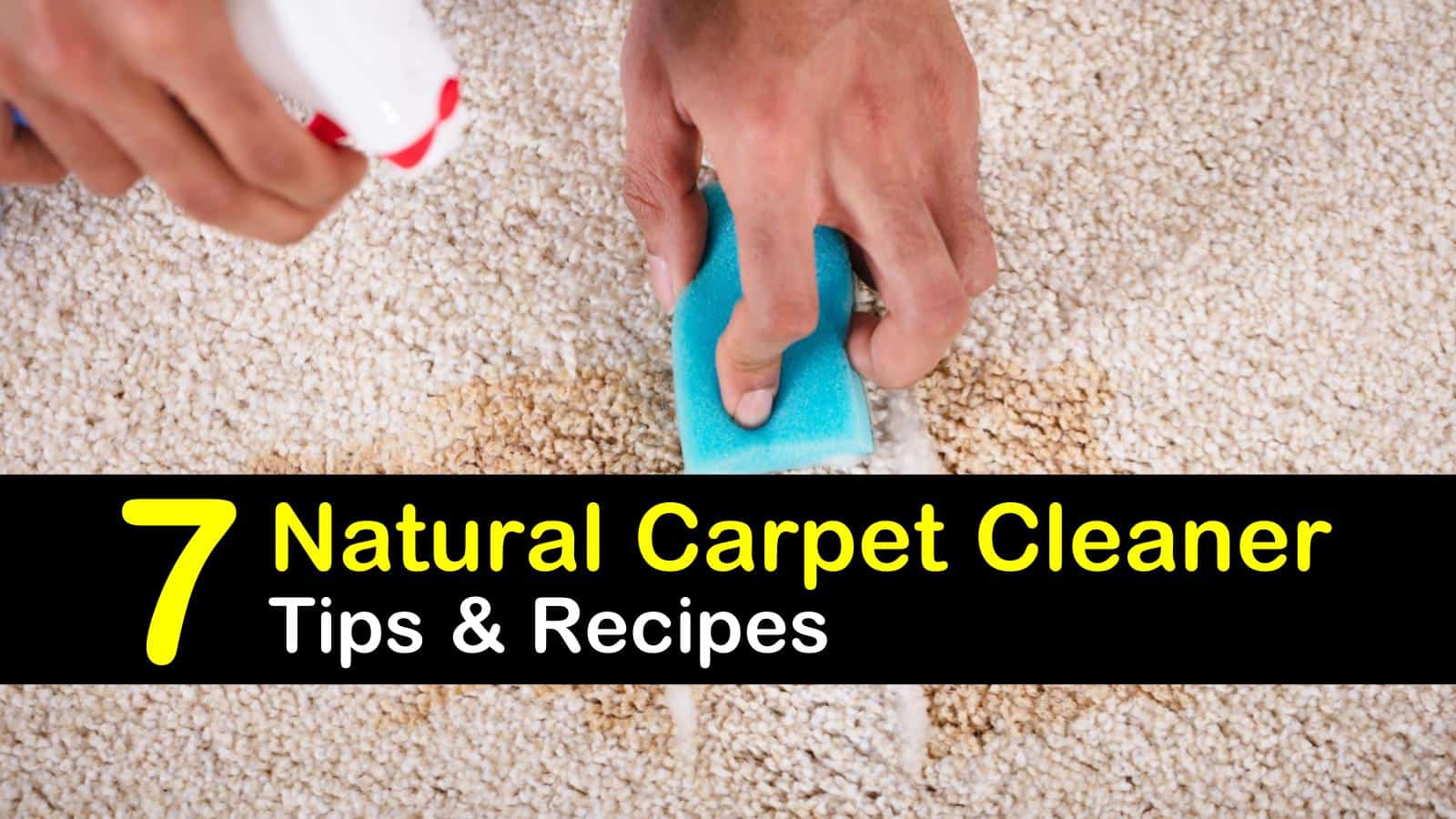 Tips to Make Your Own Carpet Cleaner
Here are some simple cleaning recipes that you can use to make homemade carpet cleaning products. They are practical and easy to prepare; you won't even need a professional carpet cleaning service.
However, if your carpet seems to be beyond repair and you want to replace it, pulling up the carpet offers its own set of problems. You must remove carpet glue from wooden floors or concrete when lifting off the carpet. There are several natural remedies you can use to get rid of the glue without harming your floors.
Homemade Carpet Cleaning Spray
Any carpet can quickly look dirty and stained. Without scheduled vacuuming or cleaning, prolonged dirt, and stains on the carpet cause discolorations and spots. To avoid this, always remove spills immediately and clean the surface with a cleaning spray.
If you don't have a carpet cleaning machine, you can still remove the dirt manually. The best way to clean carpet by hand is to make a DIY cleaner that can remove dirt, trapped moisture, and various spillages or stains.
Pour the white vinegar, warm water, essential oil, and table salt into the spray bottle for removing coffee stains from car carpet or that beautiful rug in the dining room. Put the lid back on and shake well.
Spray the mixture on the carpet whenever necessary. Before each use, be sure to shake the solution to mix well. Allow the mixture to dry before vacuuming.
This mixture is also one of the ways to stop carpet beetles from becoming an infestation. Cleaning the carpet as well as vacuuming effectively kills and eliminates bugs and their larvae.
This mixture may also be beneficial to remove excess carpet glue from the floor.
DIY Synthetic Carpet Cleaning Recipe
Synthetic carpets, also known as human-made carpet fibers, are pretty standard in many living rooms. Synthetic carpet makes up the majority of the carpet industry because of its strength, affordability, and durability. Although it is easy to clean, it can still harbor tough stains.
To remove ground in dirt from carpet and eliminate stains, mix equal parts water and vinegar in a large bucket until well combined. Using a clean, lint-free rag, wipe up the stains using the solution. Let it sit for a few minutes.
Repeat, dipping the old rag into the solution and re-applying it on the stains until the dirt and stains are gone.
Homemade Carpet Spot Cleaner
While you could certainly buy cleaning concentrates from stores to remove stubborn spots, it is still possible to do it on your own.
Easily remove annoying spills on your carpet by making your own homemade carpet spot cleaner with everyday household products rather than resorting to potentially harmful chemicals that are unhealthy and unsafe for the environment. Once you have correctly prepared a spot cleaning solution, the actual cleaning is faster.
Mix hot water, white vinegar, hydrogen peroxide, and Castile soap in a pail and stir. Dip a cloth into the mixture but be careful, especially if it is still hot.
Blot the spots and let the solution sit on the stains. Dry with another clean rag. However, don't brush and scrub too hard or outside the stains to prevent smudging.
Homemade Carpet Freshener
Stain removers remove blemishes and stains on the carpet. However, they may also leave undesirable odors that get stuck on the carpet fibers. To soak up odors and keep the carpet smelling fresh, you can make a homemade carpet freshener.
Combine baking soda and the essential oils in the jar. Put the lid back and shake well to mix all the contents. Remove the cover and replace it with a paper.
Use an elastic band to keep the paper in place and make sure it is tight so it won't fall off. With a pin, skewer, or any sharp object, poke holes into the paper. Once done, shake the mixture onto your carpets. Let it sit in the carpet for one to two hours before vacuuming it clean.
Natural Carpet Cleaning Solution for Pet Vomit and Hairball Stains
Pets, like cats and dogs, add so much joy to many homeowners' lives. But, the fun they bring also comes with frustration due to odorous urine or poop to hairball and vomit stains.
Fortunately, you can deal with pet stains from carpet using simple ingredients to make a DIY stain remover. Homemade carpet cleaners are safe to use and are usually cheaper than store-bought cleaners.
Wet one of the cloths to wipe the hairball or vomit from the carpet. Sprinkle generous amounts of baking soda unto the stain and let it sit for about an hour so it will absorb all the stain's moisture. Mix equal parts of warm water and white vinegar in a clean spray bottle.
Spritz the mixture of vinegar and water on the stain. You will notice fizzing. Once the fizzing slows down, scoop and clean up the baking soda with a rag. Continue spraying lightly on the stain and blotting it clean with a clean rag. Do this repeatedly until the stain is gone, but, be careful not to over-saturate the affected area.
If you have been unfortunate enough to have a slime spill on your carpet or rug from your children or grandkids, you need to know how to get slime out of carpet – in a hurry. Follow this recipe for getting rid of that nasty slime stain.
DIY Cleaning Solution for Steam Cleaning
There will always be stains that are difficult to remove. Even after blotting and soaking the stains with carpet cleaning solutions for a couple of minutes, some stubborn spots remain. There is a simple trick that you can use in cleaning carpets with persistent stains.
For a simple way to steam clean carpet yourself without having to rent a steamer, mix the dishwashing liquid, water, and vinegar in the bucket. Soak the cloth and wring it out until damp, not too wet and not too dry. Place it over the stain.
Get the iron and place it over the area to warm it for a few seconds. Lift the cloth to check if the stain is still there. The stain should transfer over to the cleaning cloth. Re-iron over other stains but move to the clean part of the cloth until all the stains are gone.
Obviously, this solution is more suited for a smaller area of stains rather than doing the entire carpet. To clean a whole room, it's better and easier to use a steam cleaner. You can rent one from most grocery or home improvement stores.
Natural Carpet Cleaning Solution for Cleaning Machines
There are many commercial carpet cleaning solutions in hardware and grocery stores. However, as potent as they are, they leave a chemical residue, as well as fumes and unwanted toxins. To avoid these adverse effects, we searched and found one of the best carpet cleaning solutions for machines that is chemical-free and safe for your family and friends.
Prepare the hot water, but make sure it is not boiling. Add the white vinegar, hydrogen peroxide, dish soap, and essential oil. Stir gently but don't allow the dish soap to foam.
Pour your natural carpet cleaner for machine into the container of your cleaning unit. Clean the carpet according to the carpet cleaning machine directions. This simple solution is one of the best home remedies for getting rid of carpet beetles as well as carpet cleaning.
Natural Carpet Cleaners versus Commercial Carpet Cleaners
Prompt and immediate attention to any stains, smudges, and spills is paramount to prevent stain penetration in the fibers of the carpet. Having readily available ingredients such as vinegar and baking soda that you can use as a natural carpet cleaning solution avoids potential discoloration and unsightly markings.
Commercially made carpet cleaners like bleach and mildew removers may be useful, but they contain chemicals that can permanently dissolve carpet fibers and discolor the surface. DIY carpet cleaning solutions are non-toxic and are safe for use in the household because there are no harsh chemicals that can harm your kids, pets, and family.
Recipe for Natural Carpet Cleaner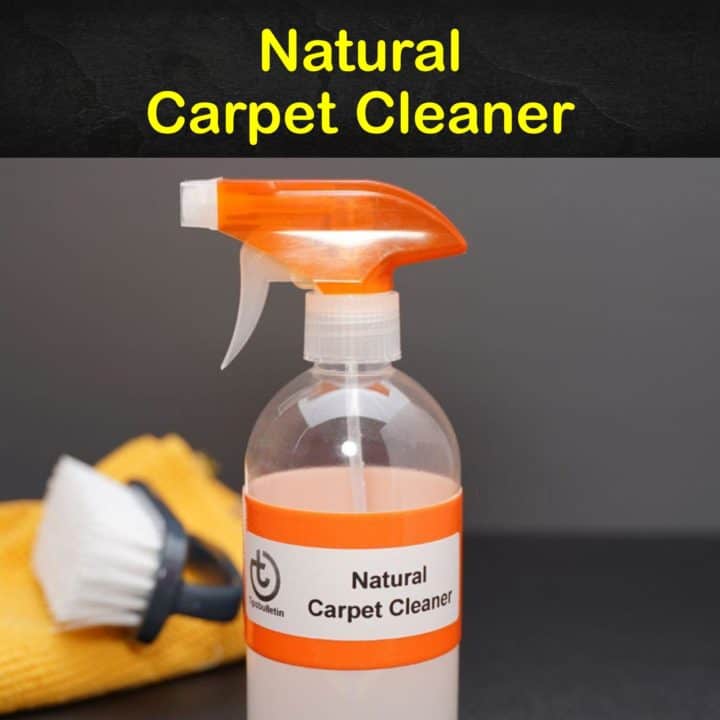 Natural Carpet Cleaner
Kitchen staples make an excellent carpet cleaning solution.
Materials
16 ounces warm tap water
8 ounces vinegar
2 tsp table salt
Tools
Teaspoon
32-ounce sprayer
Measuring cup
Cleaning brush
Instructions
Add the water, vinegar, and salt to the bottle.
Shake very well to ensure the salt dissolves.
Spritz carpet stains and brush in to get deep into the fibers.
Let it sit for up to a half hour.
When dry, vacuum the area.
Notes
Add a few drops of your favorite essential oil if desired.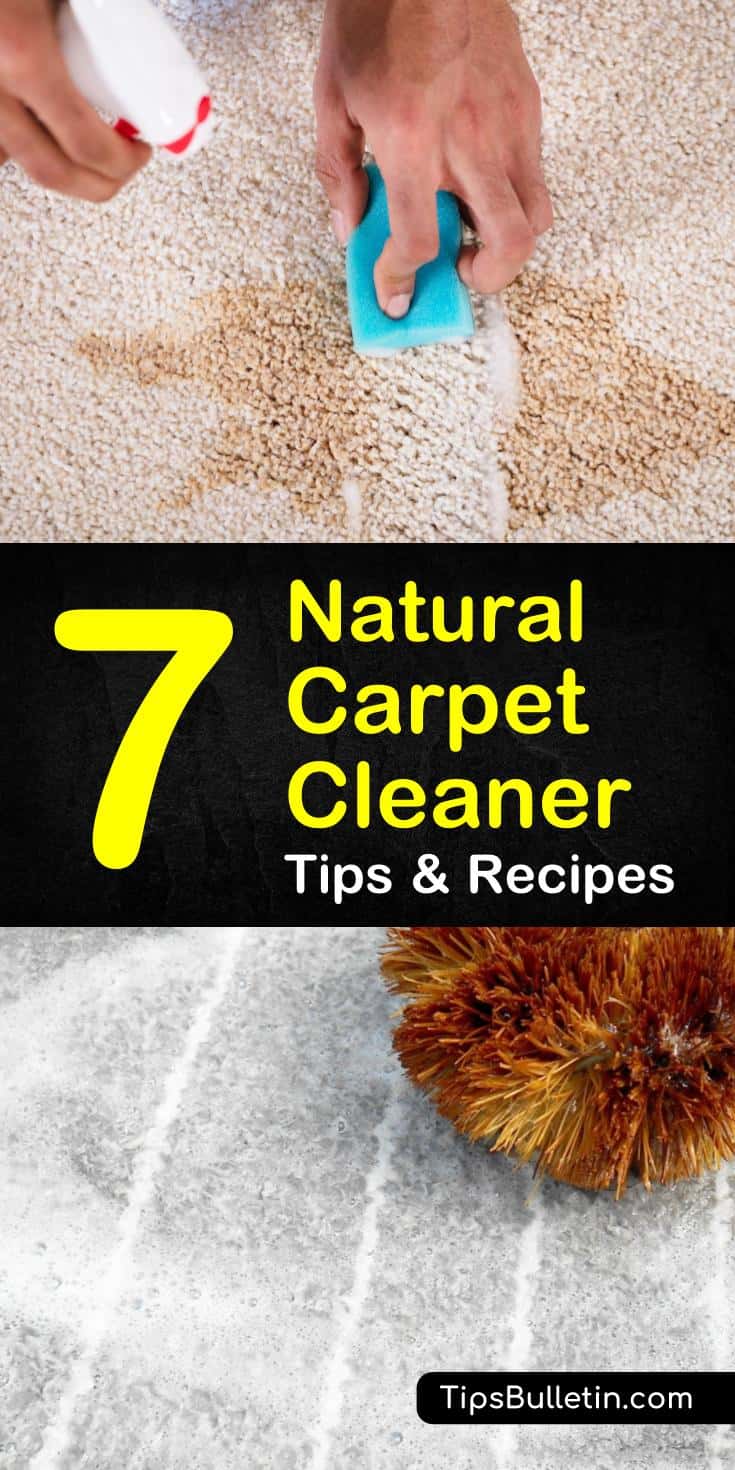 We hope you found our carpet cleaning tricks helpful. Share these natural carpet cleaner recipes on Facebook and Pinterest. Now that you know how to make DIY carpet cleaners, you will be able to take quick action and clean up carpet messes with ease.