Adding ornamental grass to your landscape provides beauty, texture, movement, and sometimes even sound. Despite the name ornamental grasses, not all cultivators offer long, narrow, green blades of grass. There is a wide array of foliage choices, ranging from green and blue to a deep red, burgundy, and many other shades in between.
With all of the different species available to choose from, deciding on the best ones to use when designing a drought-tolerant landscape is nearly impossible. Luckily, not all ornamental grasses can grow in all USDA Hardiness Zones, which narrows the choices.
Whether or not they grow in a well-behaved clump or quickly spreads across the beds is another significant factor that gardeners use to narrow down the options.
No matter how you decide to narrow it down, the one thing to always consider is what purpose you want the ornamental grasses to serve in your landscape.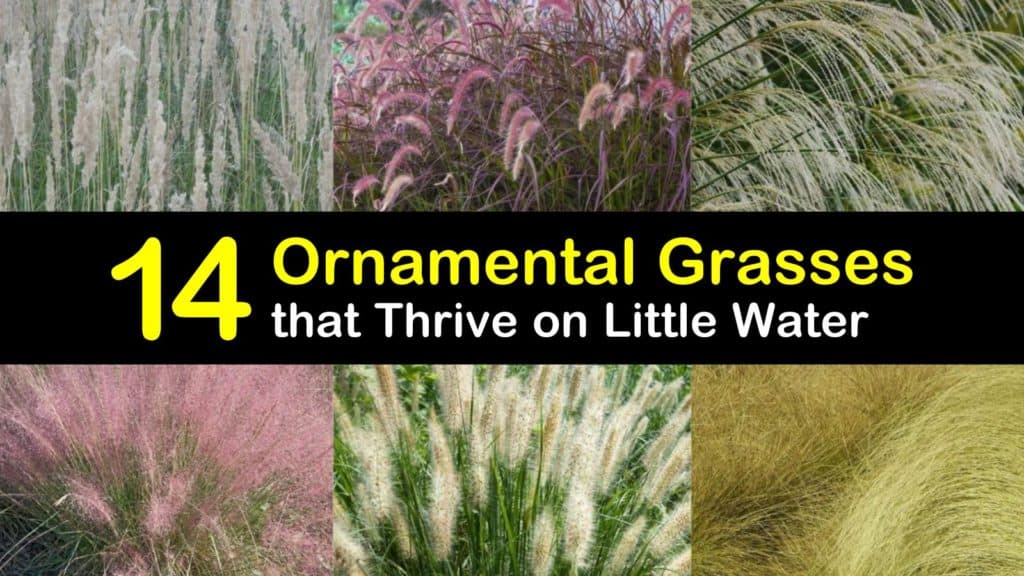 Considerations when Adding Ornamental Grasses
Before deciding what ornamental grasses work best in your yard, determine what your priority is. Will you use it as a focal point for your landscape? Are you trying to add some interest during the cold, winter months? Or, are you after something with height?
Knowing what your main focus is for your grasses helps narrow down the choices considerably. It's interesting to note that all grasses flower, and like other plants, their blooming time varies.
To determine when they bloom, research whether they are cool season grasses or warm-season ones. Cool-season grasses begin growing in the spring and bloom shortly after summer starts.
Warm-season grasses start showing signs of new growth late in the spring and flower later in the summer, with many choices continuing to bloom into the fall.
Growth habits are the final factor when choosing the best ornamental grasses for a landscaped yard. Most home gardeners prefer clump-forming ones as they are well-behaved and don't spread throughout the garden.
Grasses that spread through rhizomes work well as ground covers but are not good choices for focal points.
It's also necessary to determine whether you want to grow annual or perennial grass or a combination of the two. Annual grasses only last a single growing season.
What are perennial grasses? These grasses either continue growing throughout the winter months or they die during the cold season and come back the next year.
Whatever grass you plant, ensure that you choose non-invasive ornamental grasses. Invasive species can quickly take over a space – and your yard – and suffocate other vegetation.
After you plant your chosen grasses, it may take a little time for them to spread out. Take care of killing weeds naturally without killing grass that you plant on purpose. Pulling them up by hand is extremely effective, as long as you grab the entire root.
Ornamental Grasses that Thrive on Little Water
Once you figure out all of the above information, it is a simple matter of deciding which ornamental grasses work for your landscape based on your style and growing conditions.
Note that there are some varieties of the grasses listed here that are relatives but tend to take over the yard. Ensure that you know which one is which and if you accidentally plant a cultivar that grows aggressively, that you undertake invasive grass control measures.
For high humidity areas, opt for warm-season cultivators, as they handle the humidity, heat, and dry spells well.
Drought-Friendly Ornamental Grasses – Silvergrass (Miscanthus)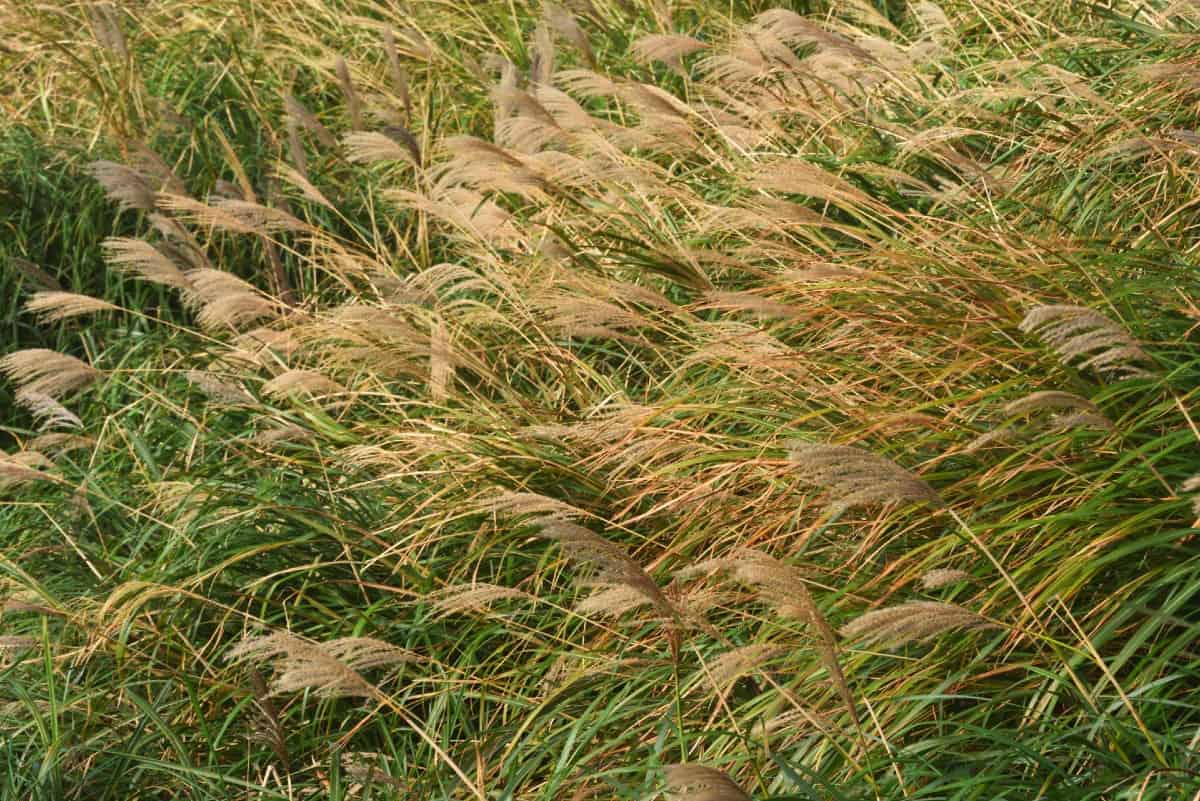 Silvergrass works adequately as ground covers in drought-tolerant landscapes or uses it to spruce up an otherwise barren garden bed. Silvergrass, which also goes by Maiden Grass, fills beds with its vase-shaped soft foliage.
Unlike some types, Silvergrass looks great in or out of bloom. If you are planting a smaller area, select a dwarf variety, as the full-size cultivators grow quite large.
When in bloom, silvery seed heads sit on top of the delicate foliage. Plant your Silvergrass in locations with partial to full sun.
Purple Fountain Grass (Pennisetum setaceum)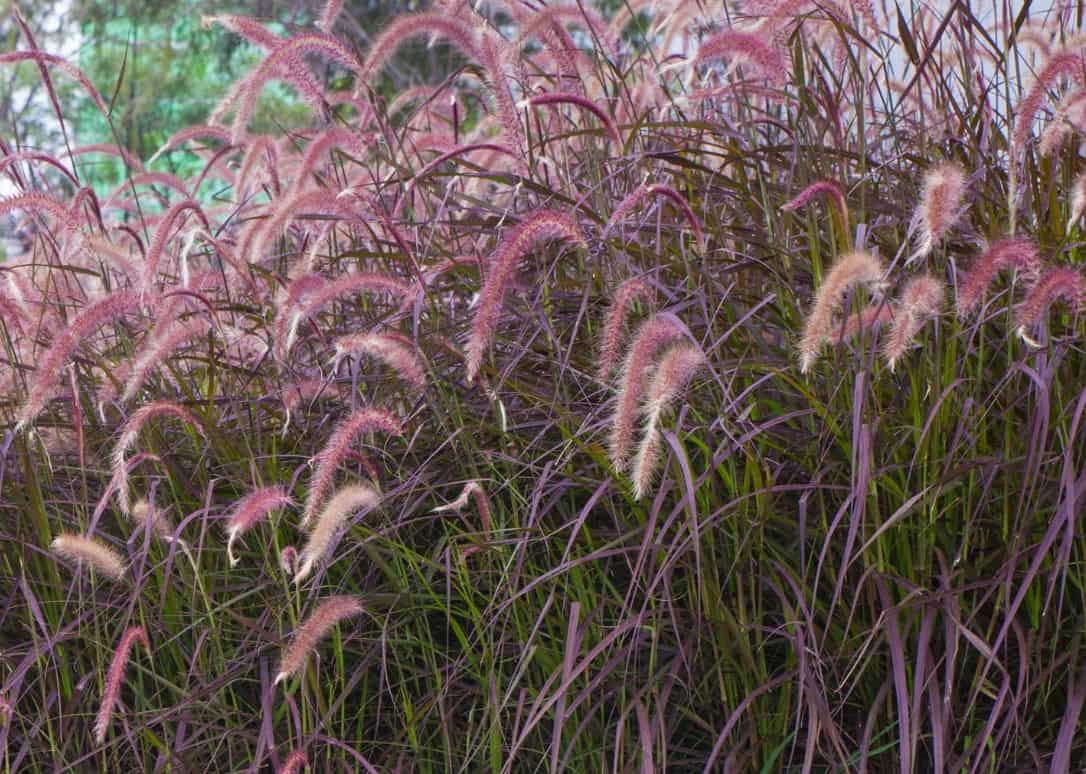 What makes Purple Fountain Grass stand out among other types of grasses is the purple blooms and foliage. The fuzzy and soft purplish flowers give way to purple seedheads.
Pair the blossoms with the purple to burgundy foliage to make a statement in any garden. This grass is not for cold climates, as it doesn't survive freezing temperatures.
Plant this grass in zones nine or higher. If growing in colder climates, treat it as an annual rather than a perennial. Choose a planting location with full sun and well-draining soil for optimal growth.
Japanese Forest Grass (Hakonechloa)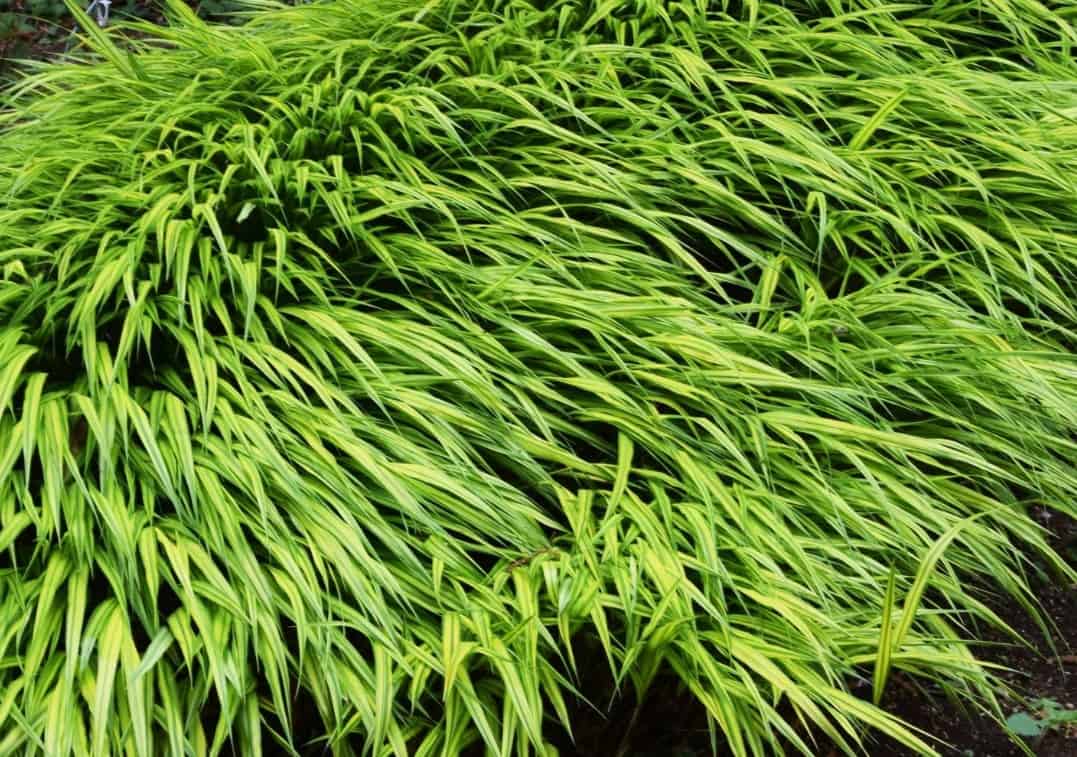 Japanese Forest Grass is a popular choice for gardens since it is a slow-growing, attractive, and non-invasive grass. The arching, flat blades of grass come in different hues, with most choices being variegated with white or yellow stripes.
The cultivator Aureola offers green and yellow leaves, while Albo Striata features green blades with white stripes. Plant these grasses in hardiness zones five through nine.
They do survive in zone four, though, as long as you mulch and protect them. Always choose a planting location with low levels of light to prevent the fading of foliage and to help keep the well-draining soil moist.
Chinese Fountain Grass (Pennisetum alopecuroides) – Ornamental Grasses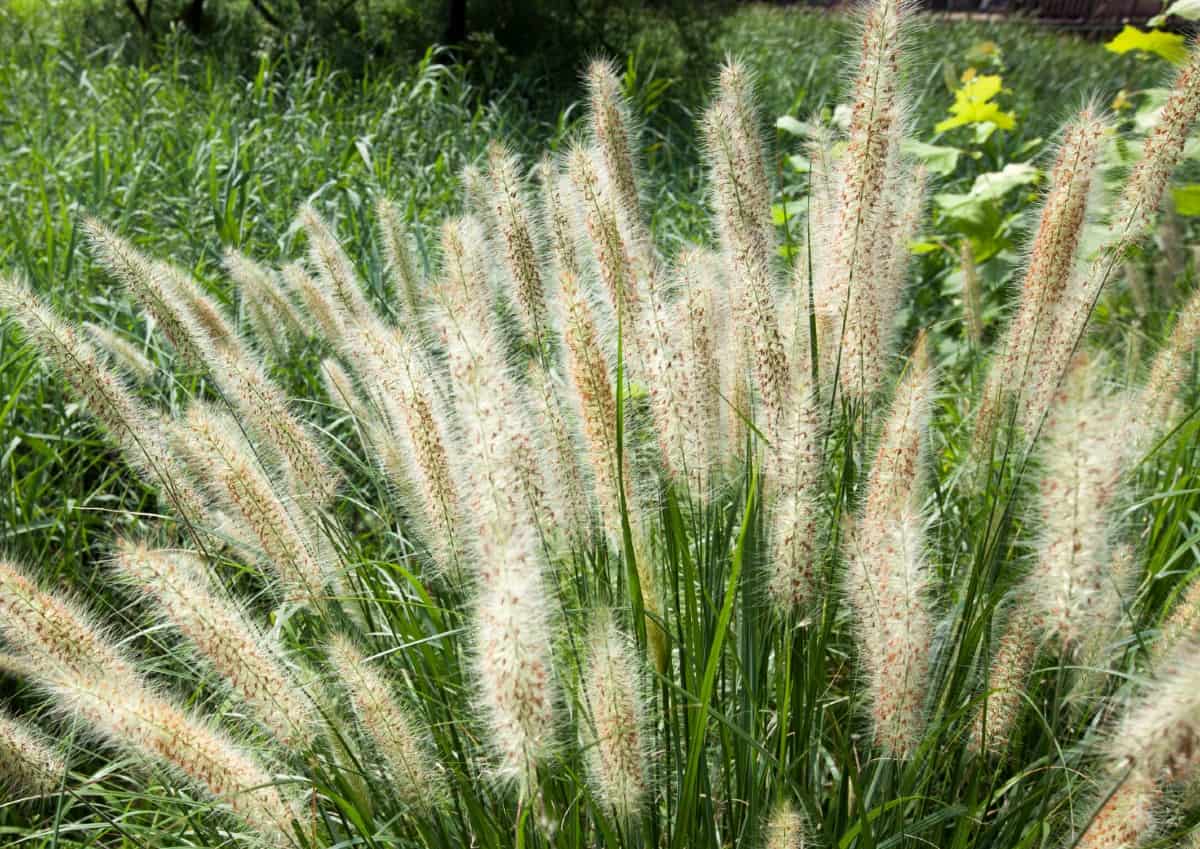 After a low-maintenance grass with beautiful foliage? Look no further than Chinese Fountain Grass. The foliage cascades down from the rounded mound and gently rustles when the wind blows by.
A cold-hardy option, Chinese Fountain Grass grows up to three feet tall with green foliage that turns to beige or yellow in autumn.
Flowering on Chinese Fountain Grass begins in the early summer but can happen as late as fall. The flowers that appear are soft and fluffy looking and range from a red/purple to a copper/tan and resemble bottlebrushes or foxtails on arching stems.
Pampas Grass (Cortaderia selloana)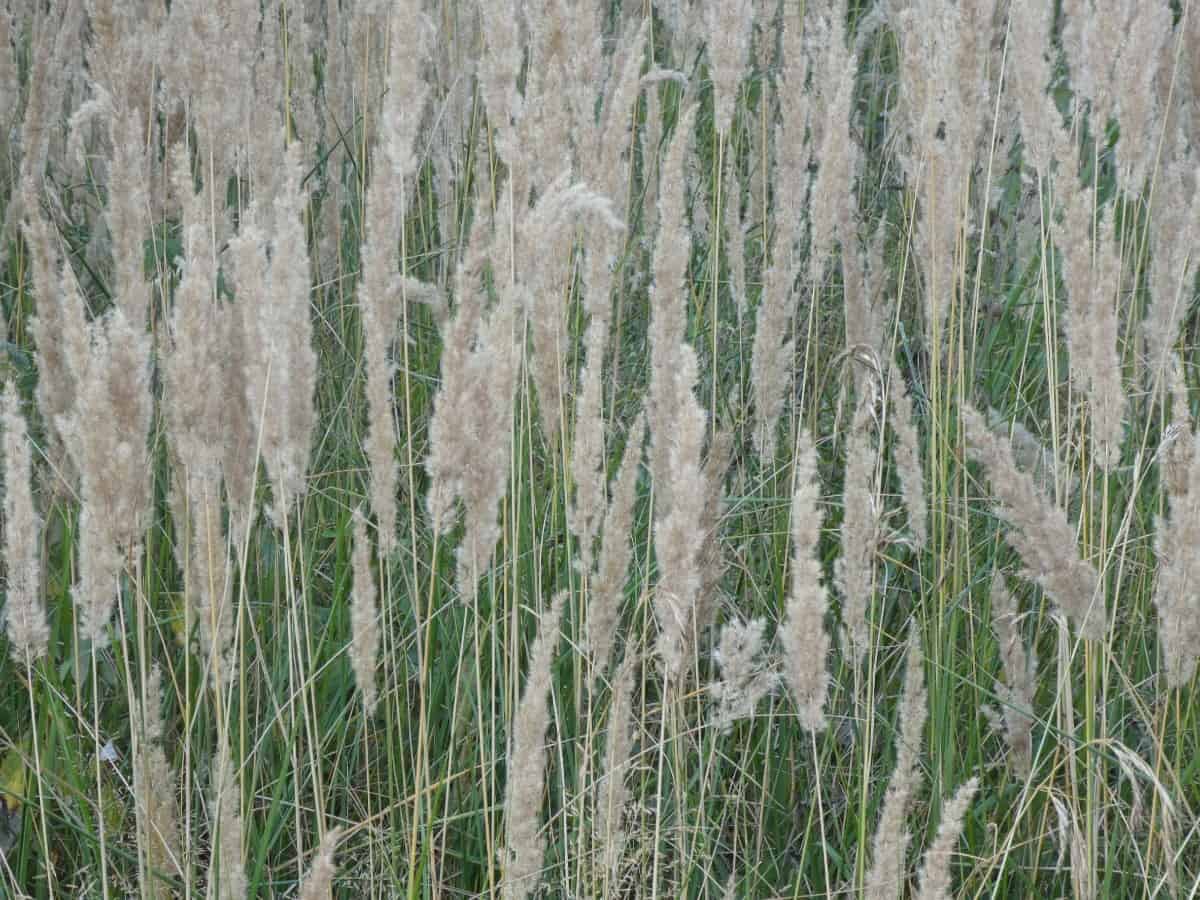 If you are after a showy ornamental grass, consider the eye-catching Pampas Grass. The narrow foliage is green with razor-like margins. Above these arching leaves are huge plumes that appear from late summer until the middle of winter.
The plumes range in hues from silvery white to a dusty pink with a soft, silky feel. This grass is one of the more robust specimens and is evergreen in zones nine and higher.
It generally reaches up to ten feet tall with an eight-foot spread. The plant grows best in full sun but tolerates light shade. Plant it in well-draining soil that is on the dry to slightly moist side.
Muhly Grass (Muhlenbergia)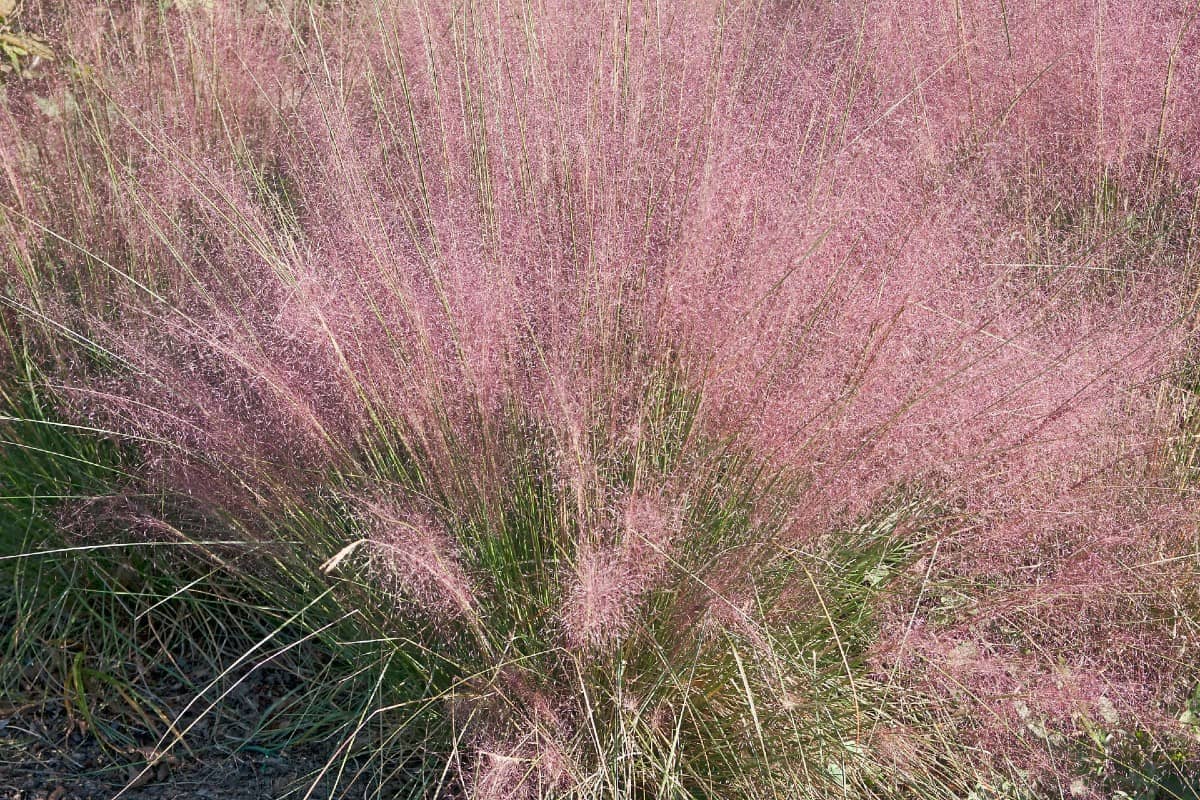 A hardy ornamental grass that is simple to grow, Muhly Grass provides a bit of flair. Typically grown in clumps, Muhly reaches up to four feet tall and is known for its purple and pink inflorescences that seem to float above its body.
The sharp-edged foliage grows up to three feet wide. Muhly Grass thrives in different soil conditions, just as long as it's well-draining.
This grass requires very little water to succeed, even doing well as grasses for the desert, and does not do well in soggy soil. To help keep the ground on the dry side, plant this beauty in the brightest and sunniest locations.
Drought-Tolerant Ornamental Grasses – Little Bluestem (Schizachyrium scoparium)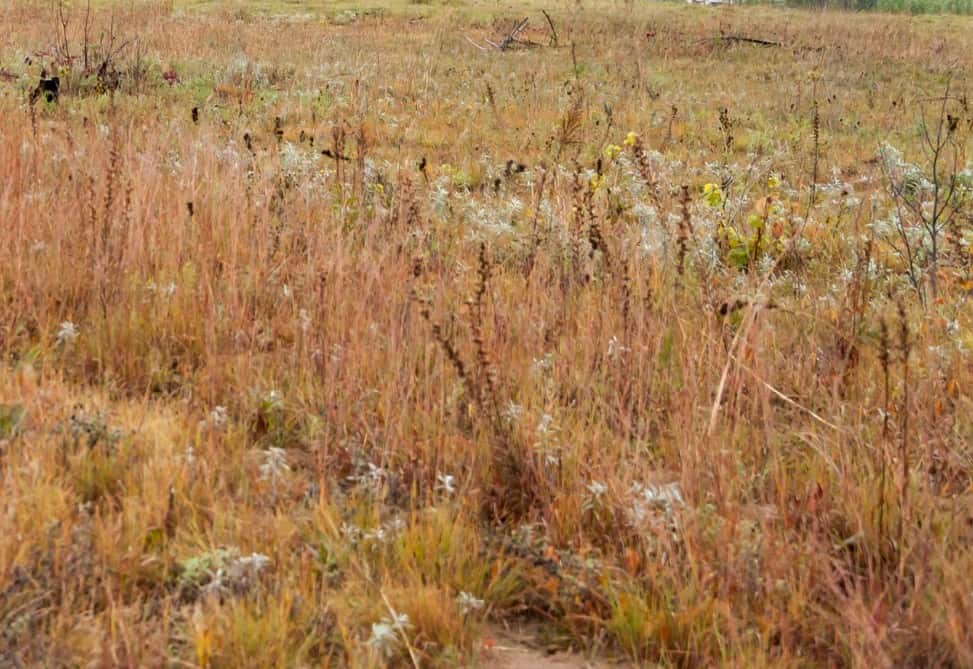 An ornamental bunchgrass, Little Bluestem produces finely textured foliage that appears in dense mounds. The mounds reach up to 24 inches tall, while the blue to green stems reach heights of up to three feet.
Little Bluestem is one of the grasses with fall color. The stems are a shade of mahogany topped with shiny white seeds, and in native areas, the color remains all winter.
As a grass that requires very little water, select a planting location that allows for dry soil, so somewhere well-drained. Full sun works best for this grass, but it adapts to part shade. It reseeds easily, so it's not for small areas.
Blue Fescue (Festuca glauca)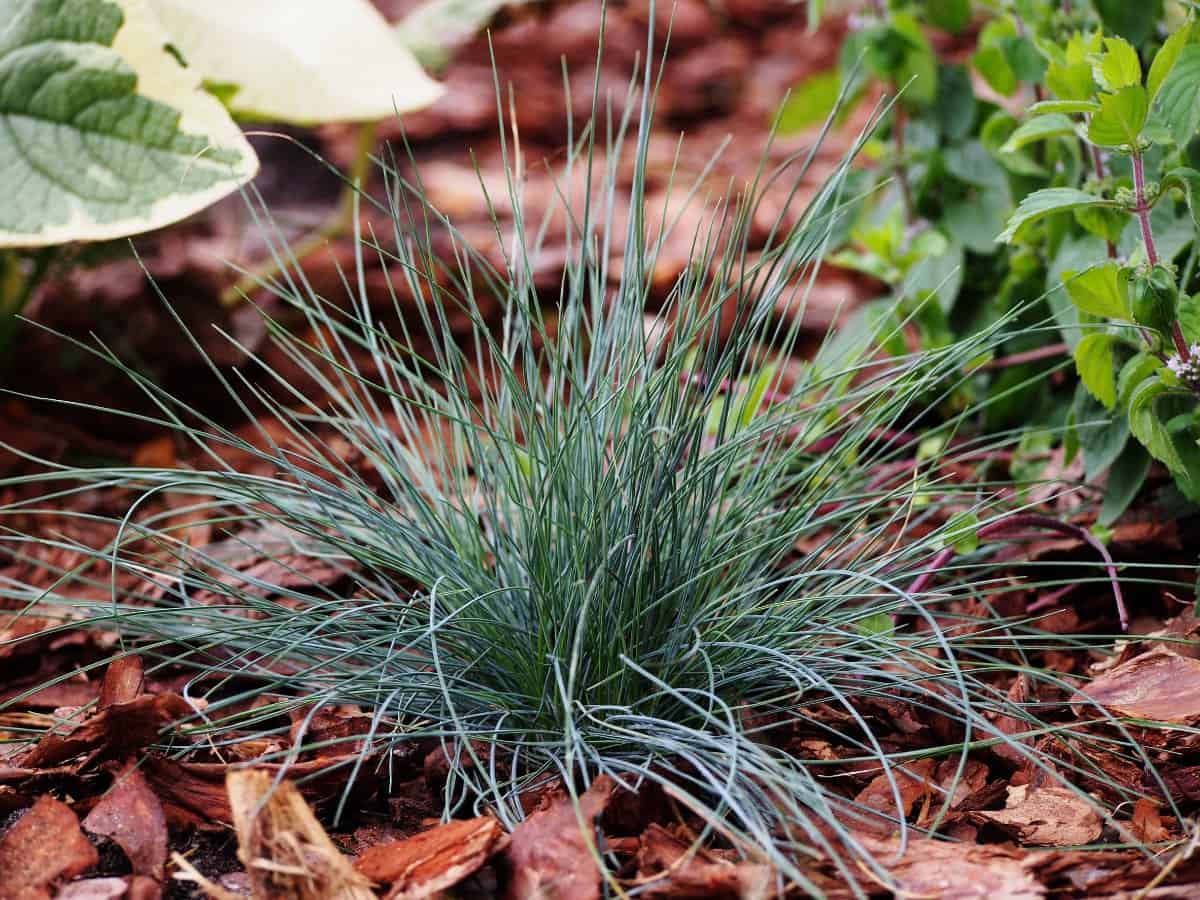 Sometimes known as Elijah Blue, Blue Fescue is a dwarf ornamental grass known for its silver-blue foliage. The beautiful, delicate foliage resembles needles and grows out of a round mound.
Flower plumes also rise from the mound during the summer. Flowers on Blue Fescue begin as the same silver-blue hue as the foliage, but once mature, turn a light tan.
The mound reaches up to 12 inches tall with a similar width, but the flowers grow much higher. Most gardeners prefer to cut the flowers off as they develop for a neater looking appearance.
Add fescue to your vegetable garden to serve as ground cover around other plants. It may serve as the best natural fertilizer for eggplant and other veggies and fruits. Some soil amendment may be necessary.
Karl Foerster Feather Reed Grass (Calamagrostis x acutiflora 'Karl Foerster')
Use Karl Foerster Feather Reed Grass to create a breathtaking vertical statement in your flower beds. The feathery, reddish-brown stalks turn a lovely golden shade in the fall.
The Karl Foerster cultivator begins blooming three weeks earlier in the spring than other feather reed grasses. The Karl Foerster cultivator does best in wet soils, but it can withstand the driest conditions. Plant it in full sun.
Water regularly and in extreme heat, water more often. Fast-growing herbaceous ornamental grass blades reach up to two feet tall with the flowers reaching six feet.
Blue Oat Grass (Helictotrichon sempervirens) – Easy Care Ornamental Grasses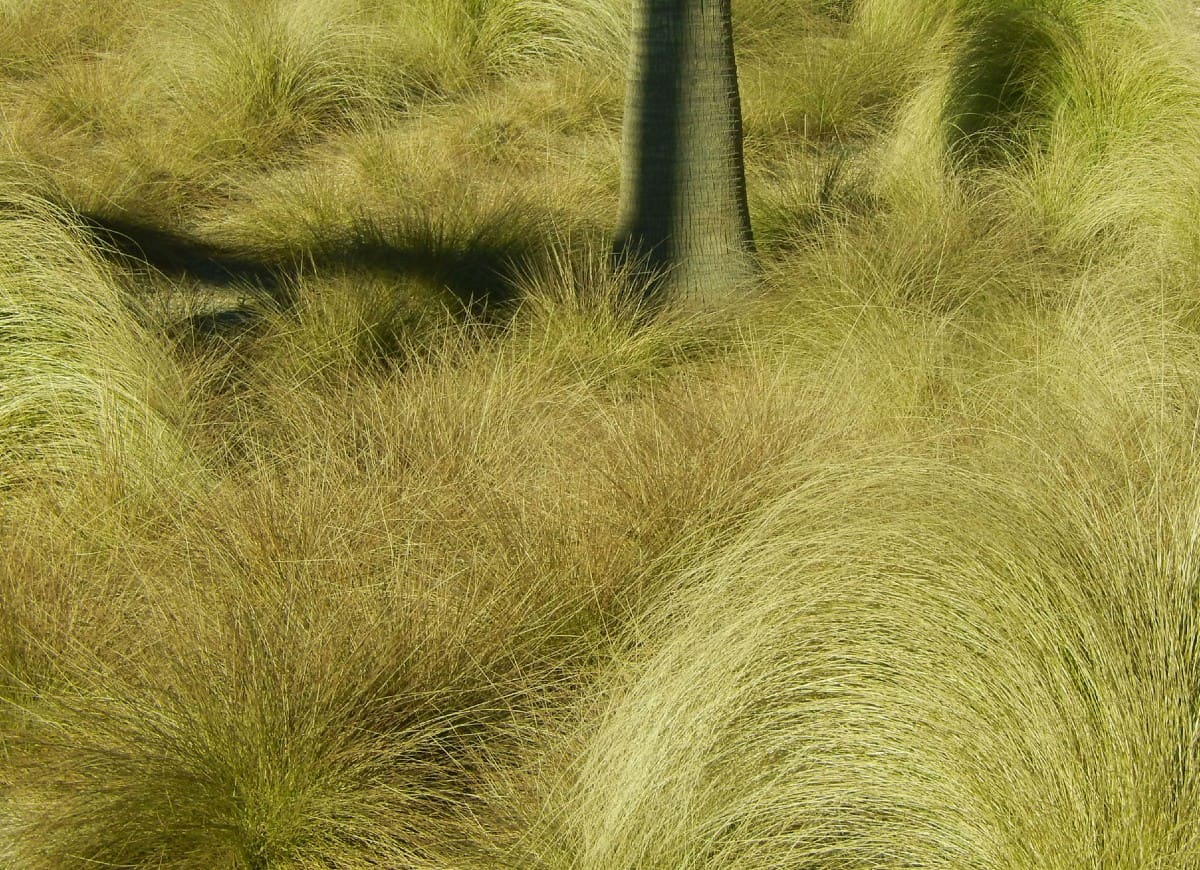 Although a showy ornamental grass, Blue Oat is well-behaved with rounded clumps of arching steel blue narrow blades. The blades bear a strong resemblance to Blue Fescue blades, but they are quite bigger and are considered a semi-evergreen.
Two feet tall spikelets appear in the early to mid-summer in a straw color. Although a cool-season grass, Blue Oat Grass provides year-round interest.
It holds up well to salt spray and dry spells and is resistant to both deer and rabbits. The fountain style clump reaches heights of three feet and prefers full sun in dry soil with excellent drainage.
Japanese Silver Grass (Miscanthus sinensis)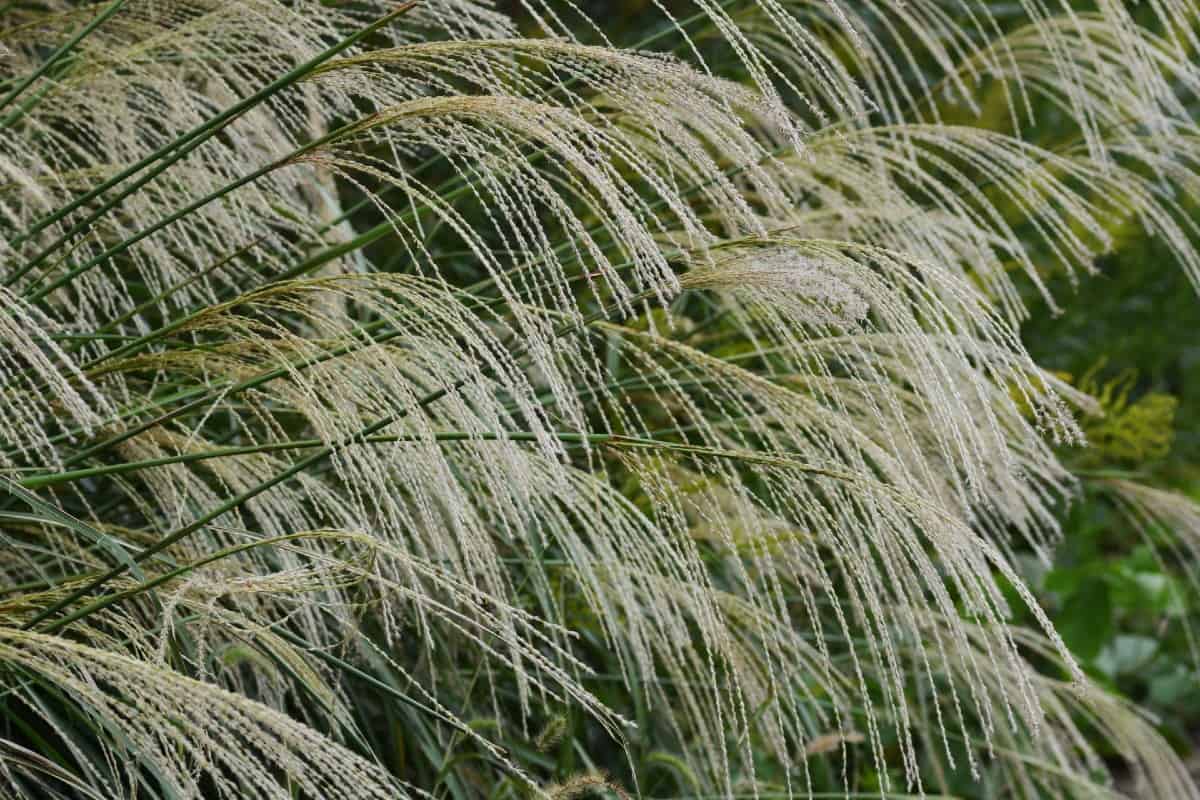 A deciduous, sun-loving ornamental grass, Japanese Silver Grass adds striking charm to any garden bed. These beauties are so popular that there are many different cultivators available for purchase, offering choices in leaf and plume shades, leaf width, and mound height.
The flowers of the Japanese Silver Grass stand out among other grass flowers. The flower plumes range from silver to a deep purple to red.
Flower plumes begin appearing in the late summer or early fall, and no matter the shade, it fades away to silver after four weeks.
New Zealand Hair Sedge (Carex comans bronze-leaved)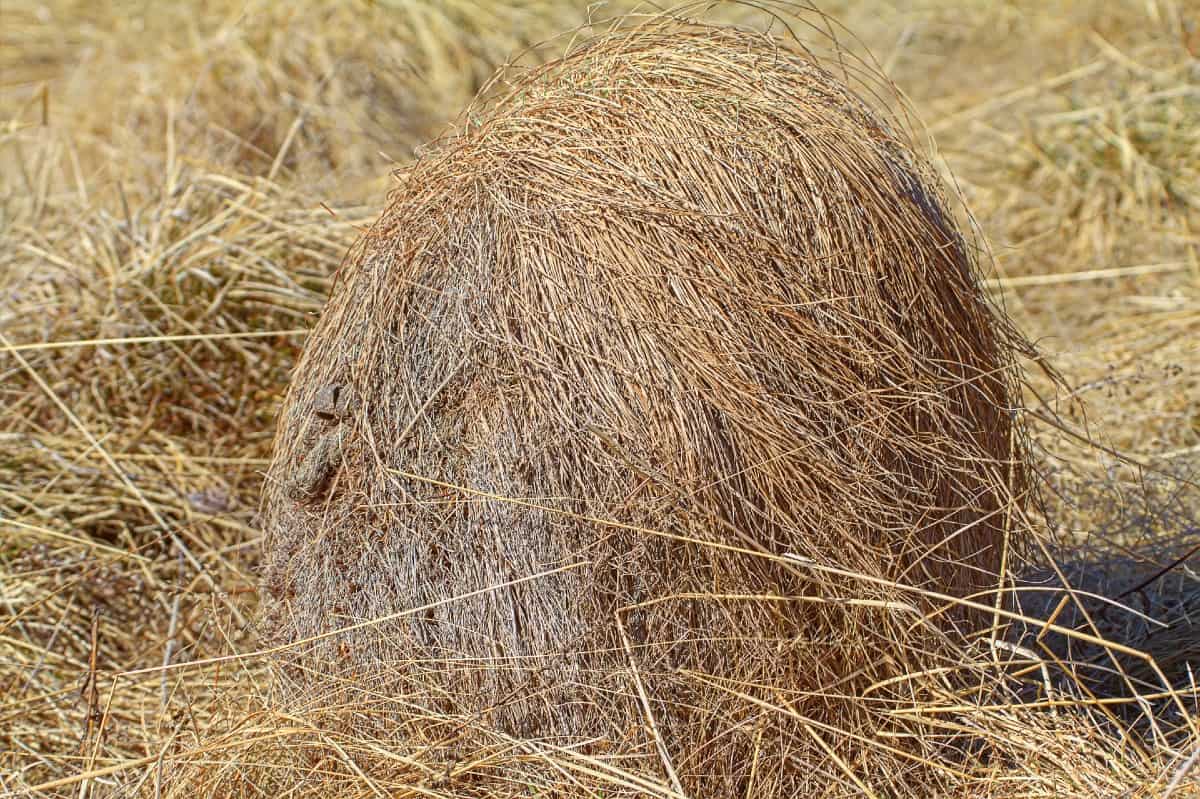 The New Zealand Hair sedge gets its name from its appearance. The low mound produces cascading, narrow red to brown blades that strongly resemble hair. Brown flower spikes blend in with the red to brown leaves later in the summer.
The ornamental grass pairs nicely with gravel, mulch, and other plants in a variety of gardens. The fountain-like clump reaches up to 12 inches tall and 24 inches wide. The grass prefers full sun but grows well in partial shade.
Choose a planting location with well-draining and fertile soil. This specimen works well in rock gardens, requires minimal care, and provides year-round interest.
Ornamental Grasses – Switchgrass (Panicum virgatum 'Shenandoah')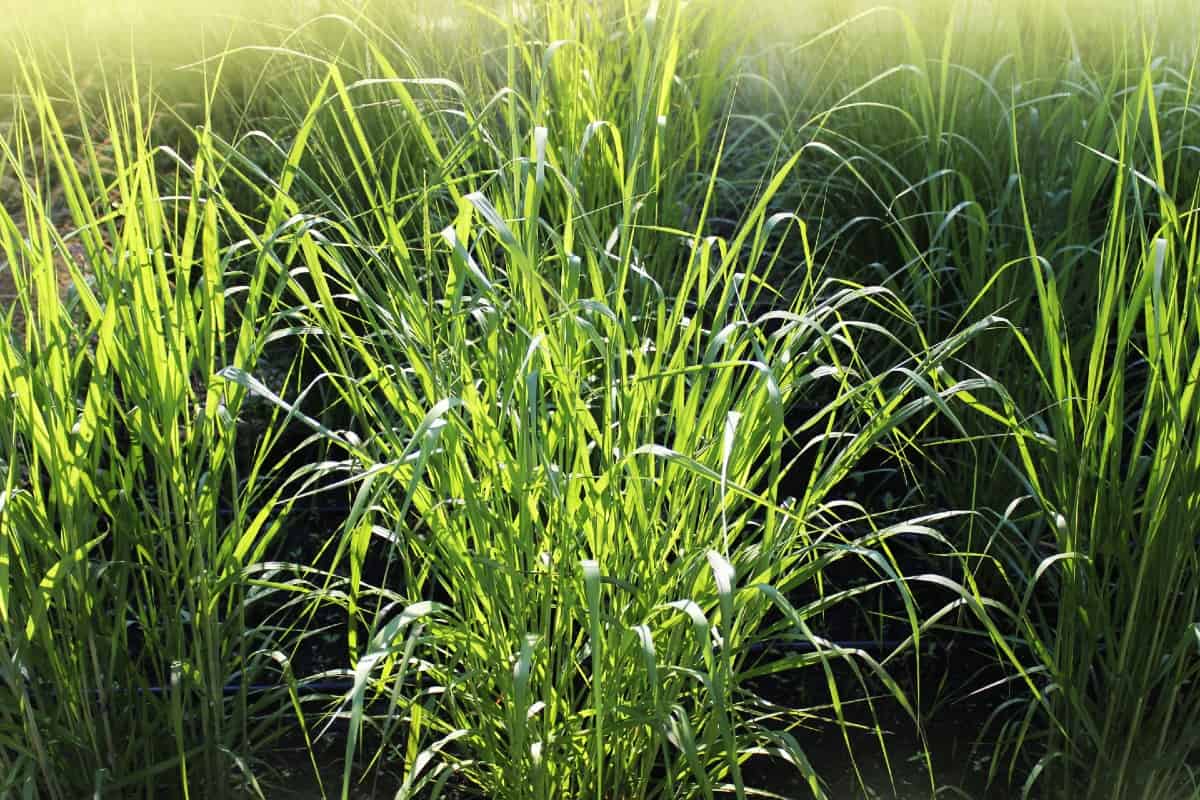 The 'Shenandoah' has the most beautiful burgundy blades of all the switch grasses. This cultivator produces a narrow and compact clump with steel blue to green blades in the early spring.
These blades take on a red tone in the summer before changing to burgundy, purple, or violet in the early fall. Reddish-pink flower spikes sit above the green blades, almost resembling a cloud.
This sun-loving, drought-tolerant grass grows in partial shade, but its erect form may collapse. Switchgrass tolerates a range of soil types but grows best in medium moist conditions.
Blue Sedge (Carex flacca)
A slow-spreading clump style grass, Blue Sedge extends arching leaves on the narrow side. The top of the leaves is blue-green, while underneath is a gray-blue. During the summer, this drought-tolerant grass produces brown flower spikes.
These flowers grow upright in the beginning, but start folding over to blend in. The round mound grows up to 12 inches tall and 18 inches wide and loves sunlight.
For optimal growth, choose a planting location for Blue Sedge kept on the slightly moist side. Although drought-tolerant, Blue Sedge can grow in two inches of standing water.
Knowing the best grasses for your intended purpose and location keep you from getting rid of quack grass or digging up a dead plant that didn't do as well as you had hoped. Choose more than one variety to add that "little something extra" to your yard or garden area.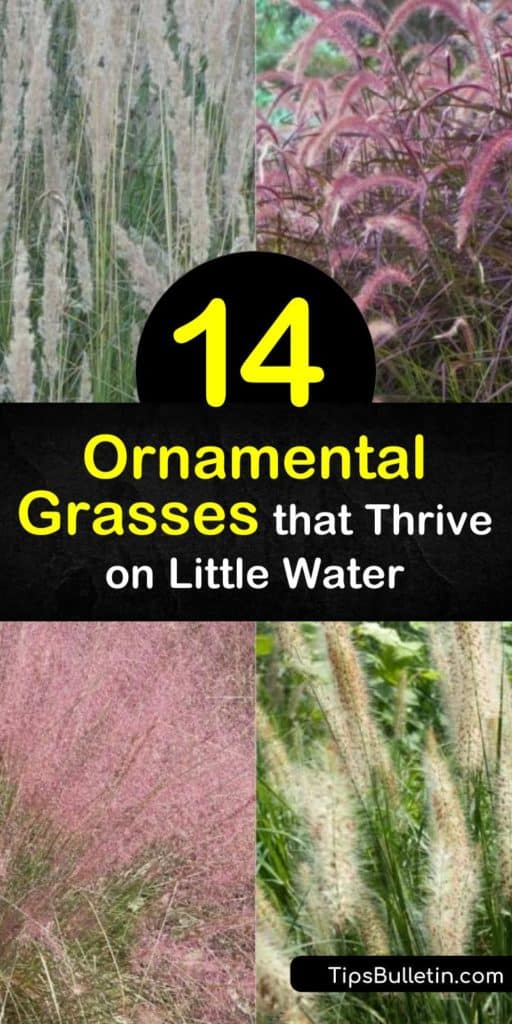 Thank you for reading our opinions on the best ornamental grasses to use when creating a drought-tolerant landscape. If you found any of our drought-friendly grasses useful, please share our views on ornamental grasses that thrive on little water with others on Facebook and Pinterest.