Without peppers, the gourmet world would be bland. If you are only familiar with the traditional bell pepper or mildly spicy jalapeno pepper, you're in for a treat. There are so many pepper varieties, ranging from sweet to fiery-hot, that your Mexican, Italian, Thai, Caribbean, or other favorite dishes will never be the same.
Some peppers are mild with no heat whatsoever and are perfect if you are intolerant to spicy foods, while others are so hot that cautionary measures are necessary when cooking with them. Some have a fruity flavor, like the mustard Habanero pepper, while others like the Ancho pepper are slightly smoky.
Not only is there a vast range of pepper varieties, but there are also many ways to prepare them and use them in dishes. For example, they are excellent for pickling, making hot sauce, stuffing with cheese, and adding to chili and stir fry.
With all the options, it's good to understand the different pepper types and how they vary in taste, appearance, and heat index.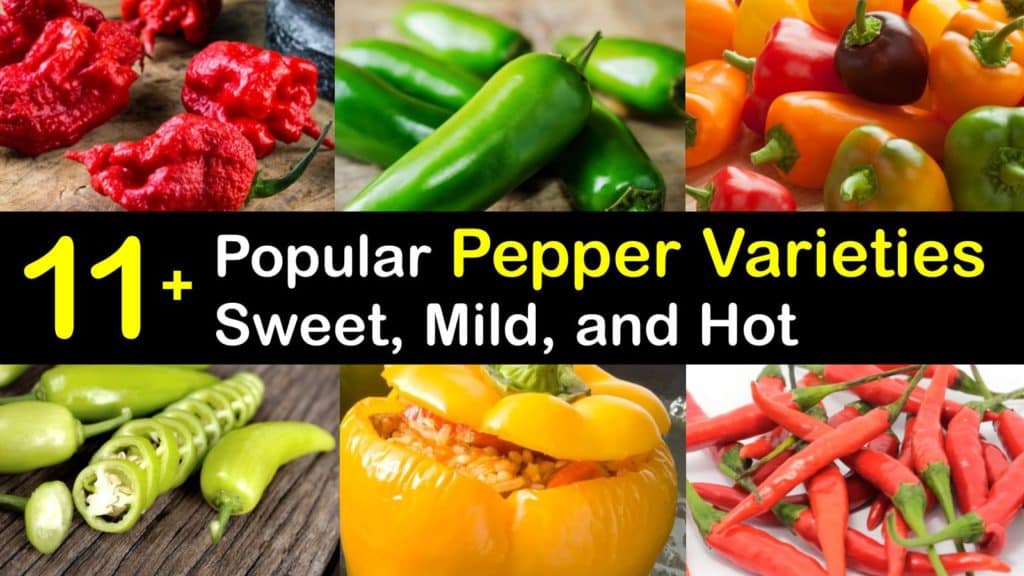 The Many Pepper Varieties and Their Uses
Some people prefer a sweet pepper, while others enjoy eating a hot pepper, and it's vital to understand the different varieties before incorporating them into a meal. Learn about some of the more popular sweet and hot pepper types to help you choose your next favorite pepper.
What are Peppers?
Browse through your local market, and you see an array of brightly colored bell pepper types, jalapenos, and other dainty, dark green, and deep red varieties. But, what are peppers, and are they a vegetable or a fruit?
Peppers (Capsicum)
Pepper plants (genus capsicum) are flowering plants of the nightshade family, and the genus comprises various forms of fleshy-fruited peppers. They are native to tropical America and an essential ingredient to cuisines of Mexico and Asia.
They were initially mistaken for a type of black pepper and taken back to Spain, where they grew in popularity and spread throughout the world.
While we think of the pepper as a vegetable, they are technically a fruit since they bear seeds on flowering plants. However, we commonly use bell peppers as veggies and hot peppers as a relish or ground into spices like paprika and chili powder.
It's easy to grow your own peppers, no matter what the variety. However, make an insecticidal spray to take care of aphids on pepper plants so they don't destroy your crop before you get to harvest it.
How Many Varieties of Peppers are There?
You may be surprised to know that there are well over 4,000 varieties of peppers worldwide, and they range in sweetness and heat. Learn the growing habits of peppers and how we use the Scoville heat index to rank them.
Types of Peppers
Since there are so many pepper varieties with varying heat levels, a scale was created to determine how much capsaicin each pepper contains. The more capsaicin they have, the hotter they are.
The Scoville scale uses heat units to measure the number of times capsaicin needs to be diluted by sugar water. For example, a bell pepper has a heat unit of 0 to 100, while a Ghost pepper, or Bhut Jolokia, has a unit of up to 1,463,000. This means that the different types of ghost peppers are diluted 1,463,000 times before the heat is undetectable.
All peppers are easy to grow, but some have a longer growing season and do not tolerate growing in regions with short summers.
Peppers like the Carolina Reaper and Pimiento take up to 100 days to ripen, and the Bird's Eye pepper takes up to 150 days. On the other hand, the Sweet Chocolate bell pepper only takes 57 days to produce fruit, and the Fresno matures in 75 days.
Sweet Pepper Varieties
If your tolerance to spicy foods is low, sweet peppers are the best choice. There are many sweet pepper varieties in USA and worldwide. Here are some of the more famous types.
Peppers falling under the sweet pepper category have a sweet, fruity taste with mild heat. The most common type is the bell pepper, and there are many varieties, from orange to red and green. Learn the best way to tell if a bell pepper is bad before using it in a recipe so you are always dealing with the freshest and safest ingredients.
Other sweet peppers include Anaheim, Pepperoncini, Cubanelle, Cherry, Poblano, and banana peppers, also called Hungarian Sweets or Yellow Wax pepper.
Varieties of Hot Peppers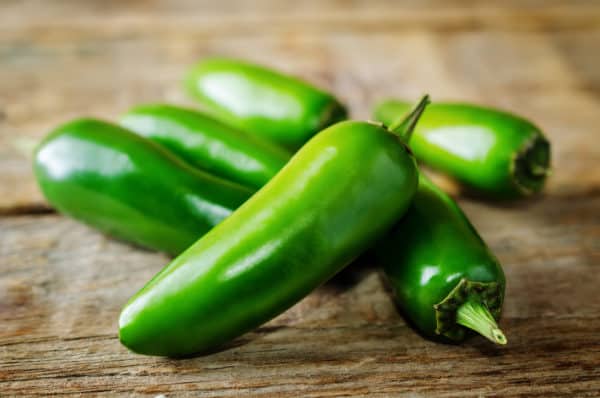 If you enjoy your food with a kick, you're in luck. There are so many hot peppers to pick from, and they range from mildly spicy to your-mouth-is-on-fire spicy. Here are some of our favorite varieties of peppers that pack heat.
Chili peppers range in color and size, just like sweet peppers. However, they have high capsaicin content, are a natural anti-inflammatory, and rank higher on the Scoville scale.
The Chipotle pepper is a chili pepper that you smoke, and it ranges between 2,500 and 10,000 on the Scoville scale and has the same heat as different Jalapenos.
Serrano peppers are a small relative of the jalapeno, and they measure 10,000 to 25,000 heat units. If you prefer spicier peppers, the Cayenne pepper ranks between 30,000 to 50,000, and the different types of Habanero have 100,000 to 350,000 units.
What is the Hottest Pepper?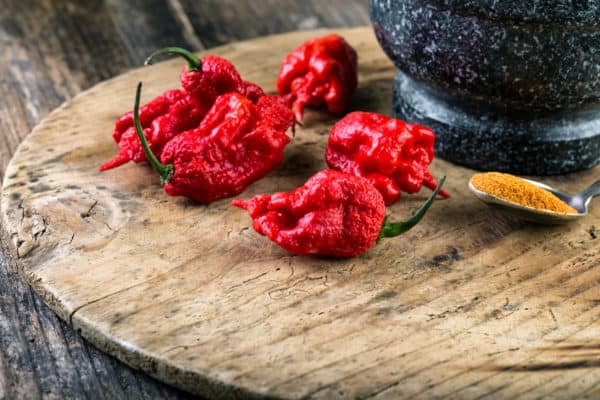 What are peppers, and which one is the hottest? Peppers are actually a fruit, and while many people debate which pepper packs the most heat, the Carolina Reaper ranks highest on the Scoville scale.
While many people think the ghost pepper is the hottest pepper with over 1,000,000 Scoville units, the Carolina Reaper tops the scale at over 2,000,000 units.
This red pepper grows an inch and a half to two inches long and has a scorpion-like tail. While it is the hottest of all peppers, it's also very sweet, and handling it with bare hands often leads to chili burn.
Peppers with Little to No Heat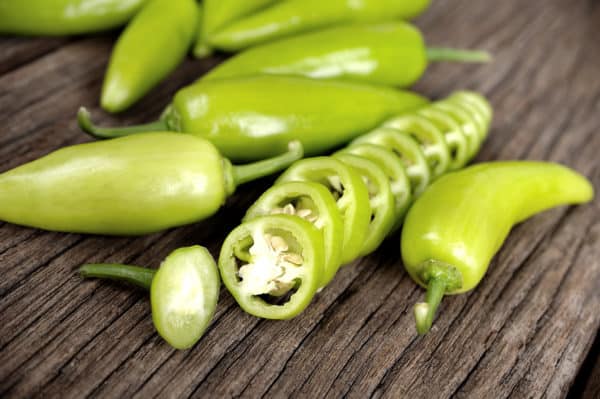 Unless you enjoy having the sensation of flames in your mouth, there is nothing more shocking than taking a bite of food that is too hot. Here are a few mild pepper varieties' names to ensure there are no spicy surprises in your next recipe.
Mild peppers are excellent for eating raw or cooking in dishes, and some of them contain no capsaicin at all. Two of the mildest peppers are bell pepper and Banana pepper. Bell peppers rank 0 to 100 on the Scoville scale, while Banana peppers have 0 to 500 units. Another mild chile pepper is the Pimento with 100 to 500 heat units.
Large Peppers for Stuffing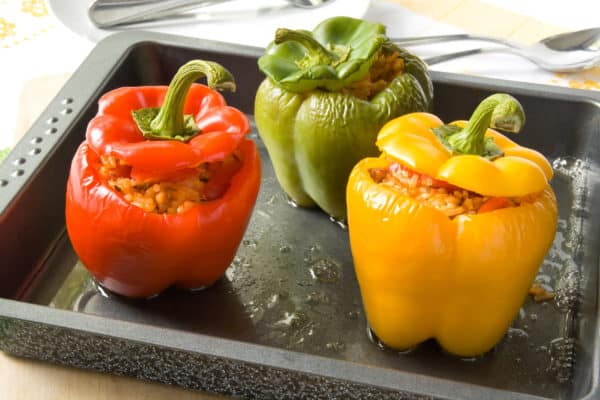 We love making peppers packed with rice, meat, and cheese and topped with a rich sauce. However, peppers grow in a wide range of colors and sizes, and not all of them are suitable for stuffing. Here are some of the best large peppers for making stuffed recipes.
Bell peppers are the most popular for stuffing with ground beef and rice and covering with marinara sauce. They are the ideal size and shape, and their flavor varies, depending on ripeness and color.
Poblano and Anaheim peppers are great choices for making chili Rellenos, a Mexican dish where you stuff large roasted peppers with cheese or minced meat, coat them with a fluffy egg batter, and fry them until golden brown.
Small Peppers for Cooking Whole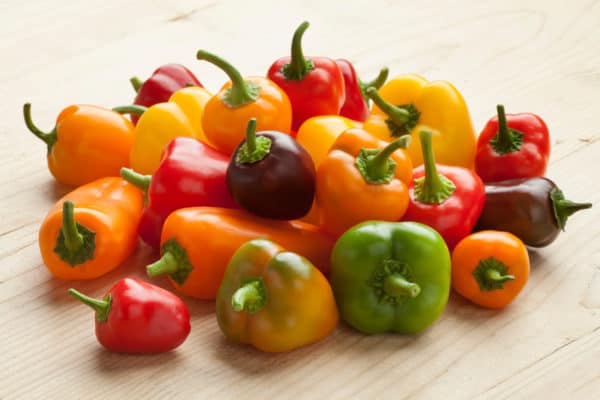 Some recipes like stir-fry call for whole peppers as one of the ingredients. While some peppers are too large to use whole, others are pretty small and ideal for adding to a variety of dishes.
Mini sweet peppers are similar to bell peppers, and they are small with a sweeter, floral flavor than the large varieties with softer flesh and taste great roasted or tossed in a salad. They have a long, tapered shape and are yellow and orange.
If you prefer a tiny, hot pepper, Thai peppers are small and slender, with a pointed end, and different varieties range in heat. This pepper is ideal for adding to noodles, curries, pasta, and soups and making chili sauce.
Easiest Peppers to Grow in the Garden
While most peppers are relatively simple to grow in a home garden, some require specific growing conditions and the proper climate. Here are some pepper varieties that tolerate growing in just about any area.
Two of the easiest peppers to grow in the garden are bell pepper and jalapeno pepper, and they are also the most versatile for cooking in recipes. Serranos and Cayennes are also good choices since they tolerate cooler climates and even germinate during low temperatures.
Try growing green Tabasco peppers, too, to make your own Tabasco sauce.
Tips for Growing Your Own Peppers
The best way to enjoy fresh, organic peppers is to grow your own at home. While they are an easy-growing plant, they still want a bit of TLC from you. There are some helpful gardening tips to ensure your plants thrive and produce an abundance of peppers at the end of the season.
Some peppers have a long growing season, and it's important to choose a suitable type for your USDA hardiness zone. Pepper plants desire a minimum of six hours of sunshine daily and an inch or two of water weekly.
Begin fertilizing your plants with a balanced fertilizer two weeks after the seeds sprout and spread mulch over the garden to retain moisture.
How to Make Chili Relleno Casserole
If you love Chili Rellenos but find them challenging to make, consider preparing a casserole instead. This recipe is delicious, and you don't have to go through the trouble of stuffing and frying peppers to make it.
Open and drain the can of chilies, slice the peppers open and rinse away the seeds. Spray cooking oil on the inside of a baking dish and arrange half of the peppers on the bottom. Sprinkle half of the grated jack and cheddar cheeses over the chilies, spread the rest of the peppers on top, and cover them with the remaining cheese.
Whisk the eggs, milk, flour, salt, and pepper in a bowl, and then pour the mixture evenly over the top of the cheese. Set the casserole, uncovered, in an oven heated to 350°F for half an hour and allow it to cool slightly before serving.
Using All Types of Peppers to Make Pickles
One of the most popular ways to store peppers is to make pickles. Refrigerator pickles are easy to make, and you do not need a water bath canner to prepare them. Here is a basic pickling recipe to get you started.
Prepare the peppers for pickling by slicing them into desired pieces, and pack the peppers and the smashed garlic into a large glass jar. Heat the cider vinegar, water, salt, and sugar on the stove to a near boil to dissolve the sugar and salt.
Pour the hot vinegar over the peppers to cover them, use a knife to push out any air bubbles, and let them cool at room temperature. Screw the lid on the jar and refrigerate the pickled peppers for up to a month.
There is nothing quite like the spicy flavor and vibrant color of pepper. However, not all peppers are created equal. Some are perfect for eating raw on a garden salad, and others are ideal for making Chili Rellenos, while some are more suitable for preparing homemade hot sauce.
We hope that understanding the different pepper varieties helps you choose the right ones to grow at home and prepare in recipes, and we'd love it if you'd share our pepper variety guide with the pepper-lovers in your life on Facebook and Pinterest.