There is much confusion when it comes to scallions and green onions. While they are technically the same thing, there are some differences between them. We discuss the flavor, texture, and health benefits of scallions vs green onions, how to store them, and ways to use them in recipes.
Scallions and green onions are popular for Asian cooking, and they taste great raw in salads or prepared in a stir-fry with olive oil. Their mild flavor and bright green color make them the perfect garnish for a side dish.
A trip to the local farmers market feels daunting if you're unfamiliar with the different species of onions. There are many types of onions and alliums, ranging from shallots, spring onions, and leeks vs green onions, scallions, and chives (Allium schoenoprasum).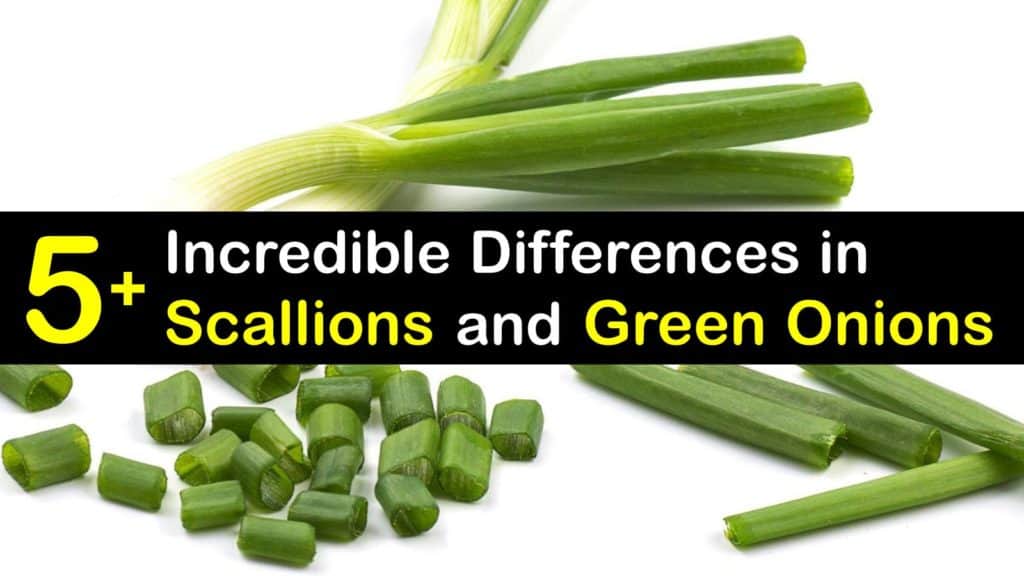 The Benefits of Scallions and Green Onions and Ways to Use Them
While a yellow or white bulb onion is pretty straightforward, young onions with green stems seem to have many names, and trying to find the right ingredient at the grocery store is often perplexing.
Before you make your next run to the store to pick up scallions or green onions, learn if these green stalks with an oniony flavor are different or the same. What about other types of onions? How does the flavor of scallions differ from white vs yellow onion or red onions? Learn about their nutritional value, ways to use them for cooking, and how to store them.
Are Scallions and Green Onions the Same?
Are scallions and green onions the same? Is there really a difference between shallots and scallions? We know you've been waiting with anticipation to discover the answer, so we'll just come right out and say it. The answer is yes, but sometimes no. Are you still confused? Here are their similarities and differences.
What are scallions, and are they different from green onions? For the most part, these two alliums are the same. However, there are times when they differ, and it comes down to the species of onions.
Scallions are from the species Allium fistulosum, are also referred to as bunching onions, and do not form a bulb. While green onions are often called scallions, they are also Allium cepa and are immature onions harvested before the white bulb onions form.
Both types look exactly alike with small white stems and hollow green leaves or stalks. They generally have a milder taste than regular onions, but the Allium cepa type has a stronger flavor.
Growing scallions from bulbs and green onions from bulbs work the same. It's also possible to regrow green onions in soil, just like scallions.
Nutritional Difference between Green Onions and Scallions
All fruits and vegetables are nutritious in one way or another, but the number of vitamins and minerals they contain vary by group. Here is the difference between green onions and scallions, their health benefits, and nutritional facts.
Green onions and scallions contain the same amount of nutrients. They are cholesterol, sodium, sugar, and fat free, an excellent source of folate and vitamin C, A, and K, and are low in carbs.
Incorporating green onions or scallions into your daily diet provides benefits such as bone support health, blood clot prevention and helps fight obesity-related diseases.
Flavor and Texture of Scallions vs Green Onions
Is a scallion the same as a green onion, and do they have the same flavor and texture? These two alliums are pretty much the same thing, but there is a slight difference, depending on whether they are green onions or true scallions.
Scallions and green onions have a sharp, slightly peppery flavor but a milder taste than onion bulbs. The green parts have a slight grassy taste with a hint of pungency, and the ends have a light, crispy texture similar to chives.
The white part is sharper and more intense and has a texture similar to an onion bulb. True scallions are tender and mild and do not develop a bulb.
Substitutions for Scallions and Green Onions
Are scallions and green onions the same, and can you substitute them with a different vegetable? These alliums are the same, for the most part, and are interchangeable for cooking.
There are also a variety of other veggies that are a great alternative if you cannot find scallions or green onions at the store.
Since they are relatively the same, the best substitute for green onions is scallions but you can also use them as a substitute for shallots. However, there comes a time when none of them is in stock, and an alternative is required.
The best replacement option is chives. They look similar, and their flavor is remarkably close to green onions, although a bit more delicate.
Another good choice is shallots. These are small onions with a subtle taste, and thinly slicing them works wonders as a replacement for green onions in a cooked dish.
Using Scallions and Green Onions in a Recipe
Since there is not much difference between green onions and scallions, it's easy to replace one for the other while cooking. Here are several different ways to incorporate their mild flavor in recipes.
Raw green onions taste great on green salads with vinaigrette, or slice them long and add them to a veggie tray. They are also delicious on deviled eggs and in tuna, egg, and potato salad.
If you prefer using them in a cooked dish, cut them into one-inch slices and add them to stir-fry, soup, stew, and meat dishes, or toss them into an omelet or scrambled eggs.
Ways to Store Scallions and Green Onions
Now that you understand the difference between scallions and green onions and how to use them in everyday dishes, it's a good idea to learn the right way to store them. Here are some tips for green onion and scallion storage to keep them fresh the longest.
When purchasing scallions or green onions from the store, look for those with a firm stem and bright colored leaves, and avoid them if they are wilted or have a slimy-looking texture.
To store them, place the white part of the scallions or green onions in a jar with enough water to cover the white roots. Set it in the windowsill and use them as needed while they continue to grow.
Or, cover the onion tops with a plastic bag, cinch the bag on the jar rim with a rubber band, and put it in the fridge. Replace the water every day to keep them fresh.
Another way to store green onions in the refrigerator is to wrap them with a damp paper towel and set them in a plastic bag or storage container.
While it's easy to tell the difference between regular onions, such as red, yellow, and white onions, understanding the difference between the onion-flavored green tops of chives, scallions, leeks, and green onions is a little trickier.
Fortunately, many of these alliums are similar and interchangeable in recipes.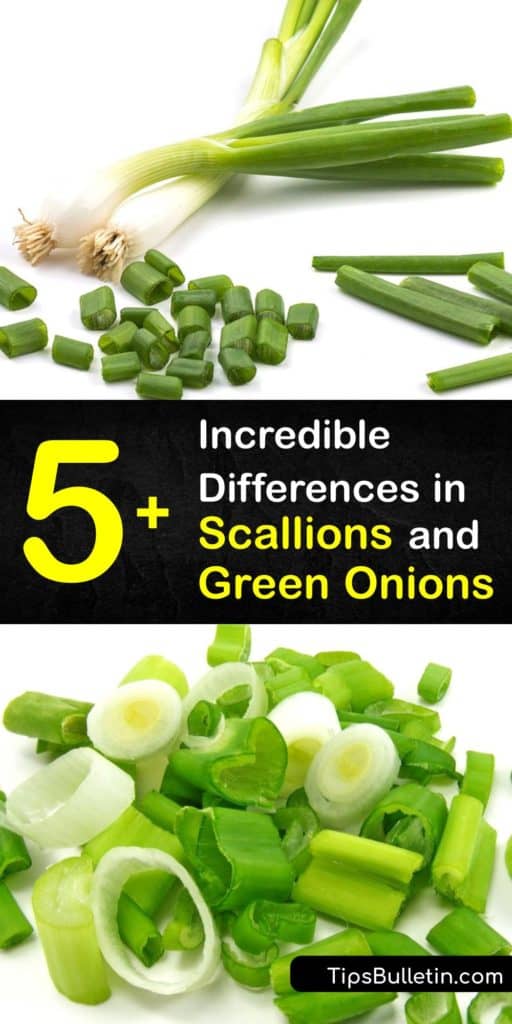 Now that we've helped you narrow down the differences between scallions vs green onions and ways to store and prepare them in dishes, why not share our scallion and green onion guide with the onion-lovers in your life on Facebook and Pinterest?