Broccoli (Brassica oleracea var. Italica) is one of the healthiest cruciferous vegetables in the world, packed with vitamin C and K. Sadly, it is one of the most disliked. Admittedly broccoli has a bitter taste, and if you didn't grow up liking broccoli, it might come as a surprise or shock that there are over twenty different types of broccoli worldwide.
While broccoli doesn't contain the exciting colors or taste of peppers or the appeal of other greens like bok choy and kale, broccoli is a versatile veggie used by many in popular dishes like stir-fry and pasta or cooked as a side dish.
Belonging to the family of Brassicaceae, broccoli is closely related to other green vegetables like cauliflower, cabbage, and collards. Broccoli itself results from breeding between crops from the northern Mediterranean and was improved through artificial selection in Italy.
Varieties of Broccoli
On a trip to your local grocery store, you may only see one type of broccoli with its light green stalks and deep green florets. This broccoli, often just called green broccoli, is popular because it grows easily for farmers and is versatile in the kitchen.
Breeding between hybrids created broccoli varieties with better yields, growth speed, and quality. This article explores popular types of broccoli you may not have known existed.
Popular Types of Broccoli
Other types of broccoli resemble green broccoli, though their size may vary, and some broccoli comes in a variety of shapes and textures. Among broccoli varieties, a classing system exists based on growth rates: early-in-the-year, mid-season, and specialty broccoli.
Arcadia and Belstar broccoli are two types of broccoli: heat-tolerant and cold-hardy. While Arcadia is best for planting in the fall or winter, Belstar, a mid-season crop, is best when planted in spring or fall. Like them, Diplomat broccoli is resistant to mildew and does well in cold weather and blooms in just two months.
Purple Sprouting broccoli, or Santee, produces tender purple flowers with green stems. Once cooked, its florets turn green, and it is best when grown in cool weather as it becomes bitter when the temperature gets too warm. In some regions, this broccoli is what to plant in February, as it likes cold weather.
Blue Wind and Amadeus are early bloomers that reach maturity in under 60 days. Amadeus grows smaller heads compared to other varieties of broccoli with a strong side shoot production after harvesting the main head. Blue Wind grows large heads with blue-green leaves and is excellent when steamed.
Alternatively spelled as broccoli raab or broccoli rabe, Rapini shares similarities with broccoli while being closest to a turnip, belonging to the same subspecies. Rapini grows quickly and is a favorite among growers for allowing them to cut-and-come-again for a constant harvest of greens.
Common Broccoli Types
Similar to the many cauliflower varieties, there is a variety of broccoli to choose from once you know more than just one type exists. The same goes for different types of kale plants.
Whether you're hoping to expand your culinary horizons or want to try growing a broccoli cultivar yourself, there are a few standout broccoli types to try.
Romanesco Broccoli
By far the most visually interesting broccoli, Romanesco broccoli is defined by its fractal-like appearance and nutty flavor compared to cauliflower. Each bud is made of a series of smaller flower buds arranged in a spiral and is found all over the crop.
Romanesco is an Italian heirloom crop that is sometimes called a Roman cauliflower due to its appearance combining broccoli with cauliflower. Taking roughly 75 days to mature, Romanesco is an excellent broccoli choice for home growers living in zones three through ten.
Calabrese Broccoli
Known as green broccoli, Calabrese broccoli is an Italian heirloom that is likely the most common of all broccoli types and easily recognizable. Italian immigrants introduced Calabrese broccoli to Americans in the early 19th century.
Calabrese broccoli is known for its blue-green heads and matures roughly 65 days after being planted in the fall. Like most cold-hardy crops, broccoli does well in cool weather. Going through the stages of cauliflower and broccoli growth in freezing temperatures cause the water inside the plant to freeze, causing the edible vegetable to become sweeter.
Calabrese broccoli owes its popularity to the ease at which it grows, and the harvestable side shoots the plant produces after the initial harvest of its large head. Calabrese is also an open-pollinated variety of broccoli, allowing pollination to occur through wind, insect, bird, or human intervention.
Gai-lan (Brassica oleracea var. Alboglabra)
Imagine kale leaves growing on thick stems like oversized spinach if you've never seen Gai-lan, also called Kailaan or Chinese broccoli. Chinese broccoli originated in China and is known for its similar but more bitter taste.
Chinese broccoli has a short growing time compared to other varieties of broccoli, reaching maturity between 35 and 50 days. Because of its growing period, it is an excellent vegetable for planting in early spring or late summer for harvest in fall.
A famous result of hybrid growing Chinese broccoli with regular broccoli is the creation of broccolini or baby broccoli. A combination of its parent plants, broccolini has thick stems with traditional dark green florets on top.
How to Grow Broccoli at Home
Broccoli falls in line with other vegetables; enjoying and thriving in areas that receive full sun. In spring and fall, broccoli does well in temperatures between 65 and 70°F and begins to wilt when temperatures regularly rise above 80°F. There is almost no difference between cauliflower vs broccoli in this regard.
In warmer climates, providing broccoli with partial shade prevents it from bolting. Sow seeds in soil with a neutral pH, around 7.0, rich with organic matter to keep it strong throughout its growing season.
Growing Broccoli
If you are growing broccoli in a colder part of the country, begin by planting your broccoli seeds inside at least six weeks before the last frost date of your area. After you start broccoli seeds and they germinate, and grow to at least five inches tall, harden the seedlings by bringing them outside daily to prepare for transplanting.
In warmer climates, sow seeds directly into your garden in early spring and again in early summer for a fall crop. For mild winters, broccoli overwinters for a spring harvest the following year.
Watch for bugs on broccoli plants while they grow and address them quickly so you don't end up with an infestation.
Harvesting Broccoli
Harvesting broccoli varies by the time of seed you plant, but if you're growing Calabrese, don't wait until your broccoli is the same size as what you see on the grocery shelves.
Within the variety, several cultivars grow larger heads. There is a best time to pick broccoli for the best taste. Your broccoli is ready for harvest for home growers when it reaches the size of an average fist.
Waiting to harvest to allow your broccoli to grow larger could result in the buds on your broccoli opening. You won't want to eat the florets, and while the stalk is edible, it becomes tougher.
Using scissors, cut the head of broccoli, leaving about four inches of the stalk attached to allow new flower heads to form around the remaining stem. These new heads are smaller than the original harvest but still edible and just as delicious.
We hope that learning about a few common types of broccoli encourages you to seek out new veggies the next time you visit the market or even experience growing new cultivars in the garden. Nothing sparks dinner conversation like serving the spiral buds of a Romanesco at the next family dinner.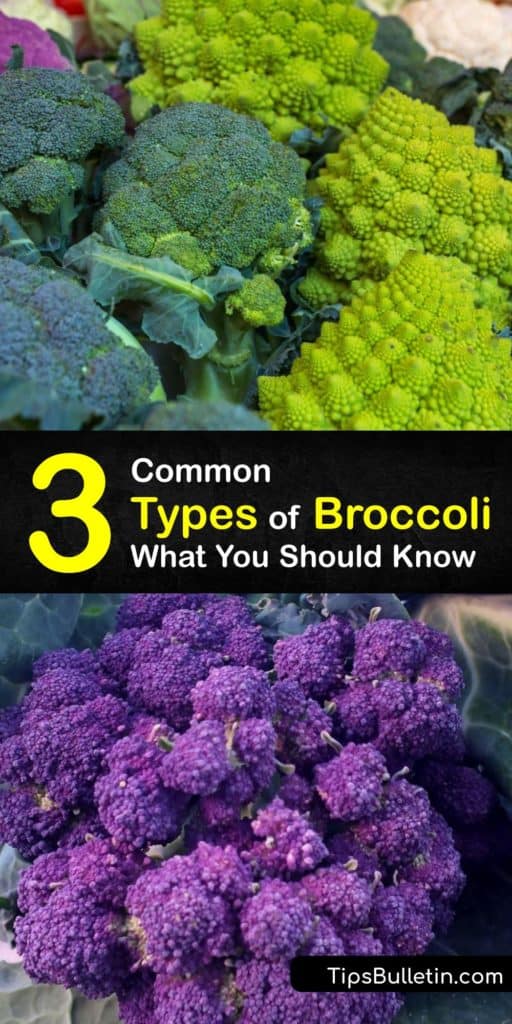 After learning about new types of broccoli, please share our article on different broccoli types on Facebook and Pinterest with fellow veggie lovers.