Most people believe that when the summer growing season comes to a close, their garden beds are rendered useless for the remainder of the year, but this is not true. There are plenty of vegetables to plant in October for a fall garden.
Of course, fall planting isn't for everyone, but those interested need to know what vegetables to plant in October and when to harvest them.
Finding vegetables to grow in October isn't the challenge. Instead, understanding how these fall crops thrive in cool weather is. Hot weather isn't suitable for all plants. There are plenty of plants that stand up to light frosts.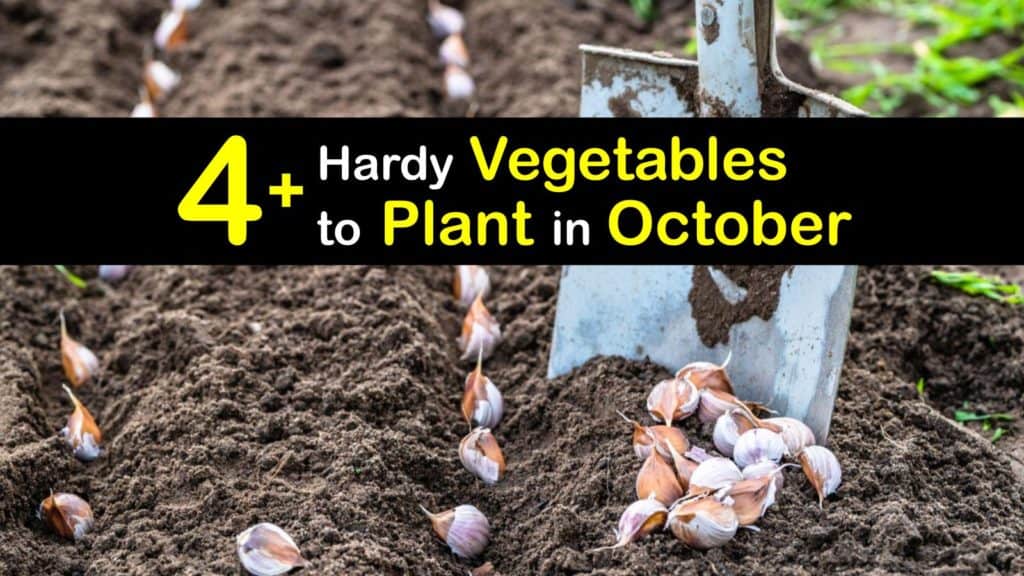 Prepping Vegetables to Grow in October
Most of these cool-season vegetables do better when planted in the late summer than in early spring. What can be planted in October for an early winter or late spring harvest? Keep reading to learn more about starting a garden in October in the USA.
Not a lot of people know how to run a fall vegetable garden. They are so used to a summer and fall harvest that they assume the space isn't usable once the weather turns cold.
You need to know a little bit more about planting during this time of year before learning what vegetables to plant in October.
Despite the cool weather lurking around the corner, the first half of autumn has plenty of planting dates to get your fall beds off to a good start. You may use a raised bed instead of the ground if you'd like.
Finding veggies to plant in October is only necessary if you live in USDA growing zones four through seven. Choosing seeds to plant in October also means that you will expect a late spring harvest.
Most of these plants must overwinter, and won't be ready to harvest when the ground is frozen. Using a cold frame to insulate the plants is possible if you prefer to plant in early winter and harvest relatively soon, but it isn't ideal for all plants.
When you find the seeds to plant in October, the way to plant vegetables safely is to sow them up to six weeks before the ground is frozen. Seeding them after this window doesn't give the plants enough time to establish.
The ground usually freezes around mid-November in the appropriate growing zones. Plants are much happier and healthier when placed in the soil than when kept in their nursery pots, although you may use a row cover as protection from light frosts until you're ready to plant them.
What Vegetables to Plant in October
Finding vegetables to plant in October isn't too tricky as long as you know which ones can withstand cold weather. Once you know what to plant, it's easy to get them in the ground before the first frost date of fall and wait patiently until spring to harvest them.
Germination usually happens two to four weeks after planting, and they take full advantage of the winter precipitation in warmer growing zones.
Root Vegetables to Plant in October
Root vegetables should be your go-to crop if you want to have a successful fall-planting season. Learn when to plant beets and other root vegetables that enjoy the cold weather. They include radishes, carrots, parsnips, turnips, and rutabaga, too.
Most of these vegetables come in an array of colors and fill your beds with purple, red, white, green, yellow, and pink hues in the spring. Turnips growing season is the same as several other tasty veggies. Root crops are insulated from cold temperatures because they are underground. Plant turnip seeds or other plants in loose soil so they have room to develop.
When you plant turnips or another root veggie, adding mulch to the base of the plants is a good idea so they hold onto even more warmth and keep the soil moist. Fertilize the ground before sowing the seeds directly into their assigned bed.
Leafy Greens for Fall Planting
Surprisingly, there are a lot of leafy green plants that also do well when planted in October. These vegetables to plant in fall set you up for success in the spring and save you a ton of hard labor later.
You get to focus on other vegetables, and the greens appear once the soil is warm enough to sustain them.
You might have to protect leafy plants during the arugula growing season with a row cover or cold frame during the spring, depending on how the weather is. The most popular leafy vegetables to grow in October include arugula, endive, and radicchio.
Planting arugula and other leafy veggies is simple, and some of them can even be regrown from the crowns of plants.
Brassica Plants to Grow Over Winter
Brassica plants are already a hardy plant family, making them an ideal choice if you want to take full advantage of your garden beds throughout the year. They are the perfect vegetables to grow in November for harvest the next spring.
Brassica family members include kohlrabi, cauliflower, Brussels sprouts, collards, and Swiss chard. Growing Swiss chard plants and other brassicas is easy.
Note that most brassica seeds are tiny and only have to be planted about a quarter of an inch in the ground. Plant collard greens seeds and other brassicas by choosing a location that gets full sun during the spring and start watering them regularly as winter comes to a close. You'll have a more successful crop.
Planting Alliums in October
Alliums are another plant family that features strong-tasting veggies that are amazingly hardy. They withstand cold temperatures and pop up first thing in the spring.
Allium plant members include leeks, chives, garlic, shallots, and onions. Although cilantro isn't a part of this family, we like to include it because it has a distinct flavor and survives as well as allium plants. It's easy to grow shallots and other alliums.
Allium plants have to overwinter. They start to make their appearance in the spring once the ground begins to warm and thaw. Growing allium plants in the summer makes them bolt faster, so planting them during October is the perfect solution.
Mid-summer is usually the best time to harvest garlic and most of the other alliums. Check the instructions on the bulb package for specifics.
Flowers to Plant in the Fall
Although they aren't vegetables, some flowers work as good companion plants to your vegetables and bring bright pops of color to all of your beds. Some of the best choices are calendulas, pansies, and petunias.
These are all cold-tolerant annuals that keep the deer from snacking on your plants as well. When your plants start to show up, the last thing you want is to welcome pests to your garden early in the season. To keep them at bay, make a DIY insecticidal soap.
Add the tablespoon of Castile soap and the cup of vegetable oil to a spray bottle. Fill the bottle with water, replace the top, and shake it. Spray the surfaces of your plants once they start to pop up in the spring.
There is no reason for you not to take full advantage of your garden throughout the entire year. You save yourself a lot of valuable personal time in the spring and focus more of your energy on the plants that need harvesting in the summer.
Knowing what vegetables to plant in October is only the first step of having a garden that supplies you with goodies year-round.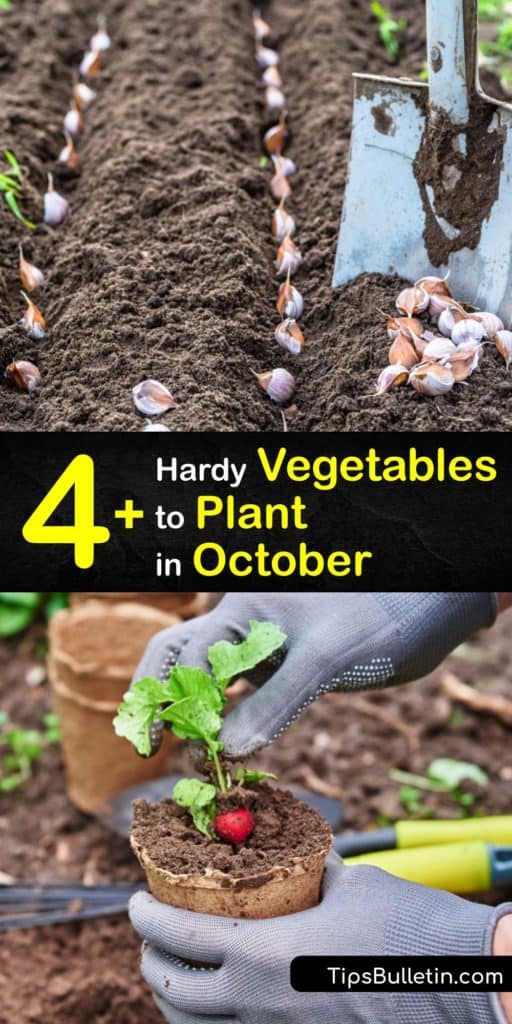 If this article listing vegetables to plant in October has given you bountiful harvests for every season, share these vegetables to grow in October on Facebook and Pinterest.