Blueberries are delicious in yogurt, pancakes, smoothies, muffins, and oatmeal, and they are also extremely nutritious, but they are also expensive, especially when they are not in season. Imagine growing your own blueberries and picking them straight from your garden whenever you desire. Learn about the different types of blueberries and how to grow blueberry bushes at home and give them proper care for a good berry harvest.
Did you know that these berries are considered a superfood? Blueberries are packed full of phytoflavinoids and antioxidants, and they have high potassium and vitamin C levels.
They are anti-inflammatory, and incorporating them into your diet is a great way to lower your risk of cancer and heart disease.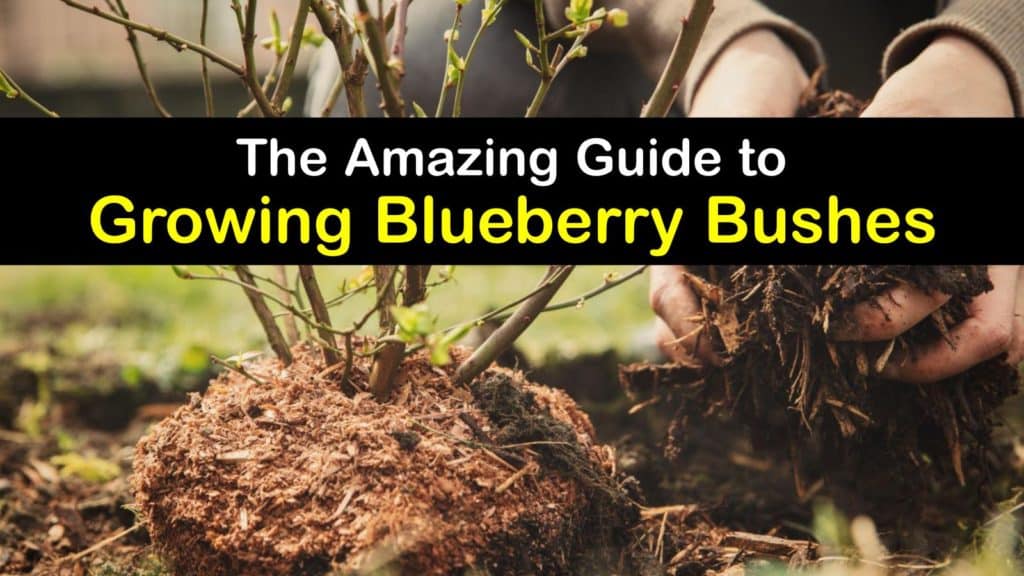 Growing and Caring for Blueberry Bushes
While your local grocer carries them seasonally, blueberries are often treated with chemicals, and the best way to enjoy their true benefits is to grow your own at home. Fortunately, these berry bushes are easy to grow as long as you have the right soil type.
Not only do you benefit from eating the plump and juicy berries at the end of the growing season, but the shrubs offer your landscape bell-shaped, creamy white flowers in the springtime and colorful leaves in the autumn.
If that's not enough, birds enjoy munching on the fruits, and butterflies are drawn to the blooms.
If you've always wanted to grow fruit around your home but aren't sure if you have space, blueberries are an option. While some shrubs grow up to eight feet tall, others only reach one to three feet in height, making them ideal for any size yard. There is little difference between blackberry and blueberry in this regard.
Discover the different types of blueberries available to help you choose the right one for your area. Growing blueberry bushes is simple to do and a great way to enjoy organic fruit from your personal garden.
While they require a bit of effort and time from you to get started, they are nearly maintenance-free once they establish themselves. Learn how to grow a blueberry bush and care for it year after year, and enjoy harvesting fresh berries for your favorite recipes.
Preparing to Grow a Blueberry Bush
There are a variety of plants that grow literally anywhere, but blueberries are not one of them. While they are relatively easy to plant, the way to grow blueberries is to give them the right soil conditions and climate to survive and produce fruit. Here are some facts to know before you grow a blueberry bush.
Blueberry plants are relatives of azaleas and rhododendrons, and they are two-for-one plants. They provide you with healthy fruits, and they fill the landscape with beautiful flowers.
Where do blueberry bushes grow best? They are acid-loving plants, so we recommend doing a soil test or sending a sample to your local cooperative extension office for testing. If you do it yourself, ensure the soil pH is between 4.5 and 5.5.
Most blueberry types are self-pollinating, but cross-pollination encourages bigger yields. They love growing in sheltered areas with full sun, so avoid planting blueberries close to trees where they receive too much shade.
They have a shallow root system and need acidic soil that holds moisture without getting too soggy.
These berry shrubs grow in USDA hardiness zone 3 through ten, depending on the type, so it's vital to check the plant's care tag and compare it to the zone you live in before planting it in your yard.
Types of Blueberry Bushes to Grow
Thinking that a blueberry is just a blueberry is a common mistake. It's blue and round, after all.
But, there are many varieties of blueberries and four main types. Learn the differences between them to help you make the right choice for your berry garden.
One of the first questions gardeners have is, how tall do blueberry bushes grow? The answer depends on the type. There are four main kinds – lowbush, half-high, highbush, and rabbiteye.
Lowbush varieties only grow one to two feet tall, are perfect for small yards, and thrive in hardiness zones 3 to 6, while highbush types, like Jersey and Bluecrop, grow four to seven feet tall and are hardy in zones 4 through 7.
Half-high types grow three to five feet in height and are suited for hardiness zones 3 through 5, and rabbiteye blueberry varieties are the largest, growing ten to 15 feet tall in zones 7 through 10.
Lowbush, half-high, and highbush blueberries are all types that grow well in areas with cold winters. If you live in the south, choose a southern highbush or rabbiteye cultivar.
Half-high, lowbush, and dwarf bushes are suitable choices for growing in raised beds or containers, depending on your hardiness zone.
Growing Blueberry Bushes from Seeds
There are different ways of growing blueberry bushes, including growing them from a garden center plant, cuttings, and seeds.
Since growing plants from seeds is the most common, find out the proper steps to take to sow lowbush blueberry seeds and nurture them into seedlings.
To grow blueberries from seed, the first step in seed propagation is to use lowbush blueberries after they freeze for three months to break the seed's nest period. There are three ways to go about this – blending, grinding, or mashing.
Put three-quarters of a cup of thawed berries in a blender, food grinder, or bowl and add the same amount of water. Blend, grind, or mash the berries for ten to 15 seconds and let them sit for five minutes.
Slowly pour off some of the pulp, add fresh water, and allow the mixture to settle again. Repeat until all the pulp is gone and only seeds remain.
After you prepare the seeds, fill a seed starting tray with finely ground sphagnum moss, sprinkle the seeds evenly over the top, and cover them with a thin layer of the moss.
Set the flat in a warm area where the temperature is between 60 to 70°F, cover it with newspaper, and mist the moss regularly to keep it moist but not soaked.
After the seeds germinate in about one month, remove the paper and place the tray on a sunny windowsill.
How to Grow Blueberry Bushes in the Garden
After you purchase a blueberry shrub from your local nursery or your seeds germinate into seedlings and are ready to move outside, it's time to prepare the bed. Here is how to get the ground prepared for planting and plant them in the garden with the right depth and spacing.
Learning when to plant blueberry bushes helps you get the biggest harvest. Spring is usually best. After testing the soil to ensure it is acidic, prepare the bed by digging holes 20 inches deep, 18 inches wide, and four to five feet apart if you're planting more than one bush.
Make a mixture of two-parts loam and one-part peat moss, organic matter, or sawdust and sprinkle it in the bottom of the holes. Position the berry plant in the hole with the root ball just beneath the ground surface.
Gently spread the roots out, cover them with soil, and press the dirt down around the base of the plants.
Spread mulch over the garden bed and water the plants well to help the roots settle. Fertilization is essential, so feed them with ammonium sulfate or high nitrogen fertilizer one month after planting.
Take advantage of blueberry companion plants for mutually beneficial plant properties. Companion planting for cranberries and blueberries can generate a better harvest of both fruits.
Caring for Blueberry Bushes
Growing blueberry plants is easy, but it's a long-term job, and they need a certain amount of care as they mature in order to grow healthy and produce flowers and fruits. Discover how to water, feed, prune and care for your berry shrubs each season to promote strong growth.
The first thing to do after planting your blueberry plants is to mulch the garden. Spread two to four inches of pine needles, sawdust, or wood chips, leaving a gap around the trunk for airflow.
Mulching retains moisture and stops weeds from taking nutrients out of the ground. Blueberries also require about an inch or two of water each week so water your plants at the base during dry spells.
Unfortunately, you may not be without blueberry problems while waiting for your ripe berries. Birds love munching on blueberries and while they are fun to watch, consider draping a bird net over your plants so they don't eat up all of your berries at the end of the growing season.
If you have a problem with slugs in the garden, use broken eggshells for blueberry plants. Sprinkle small pieces around the base of your blueberries (or even strawberries) to deter slugs and snails and give your plants a little extra calcium.
Pinch off any flowers that bloom on new shoots to help the bush put energy into the root system and do not allow fruiting for the first year or two after planting. Once a year, feed your plants by fertilizing in the spring when they start blooming.
Avoid pruning your plants for the first four years of growth. After that, the best time to trim blueberry bushes is in late winter or early spring before new growth appears. Remove weak, broken, or dead shoots.
Cut away low growing and crowded branches off highbush cultivars (Vaccinium corymbosum) and cut lowbush (Vaccinium angustifolium) stems to the ground.
Growing blueberries in your own berry patch means no more waiting for your grocery store to have them in stock. The easiest ways to pick blueberries is to harvest them as soon as they ripen or the birds will beat you to them.
All you have to do is choose the ideal berry for your area, give your plants the care they need to flourish and pluck healthy berries when they are ready for harvesting.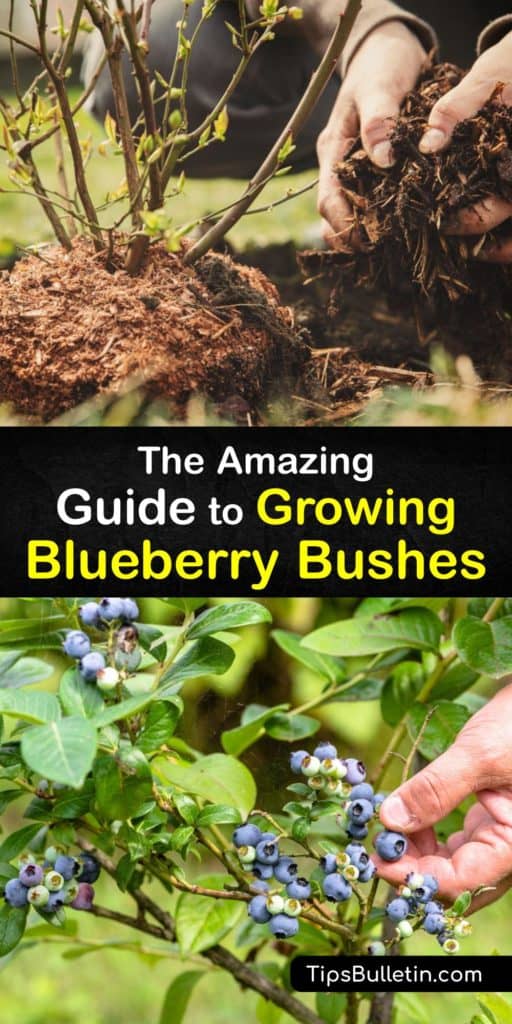 We hope that you enjoyed learning how to grow blueberry bushes in your home garden and that you get to reap the rewards of a juicy crop of berries, and we'd love it if you'd share our blueberry bush guide and growing tips with your friends and family on Facebook and Pinterest.