Tomatoes are an easy plant to incorporate into your garden that offers bountiful fruit production when correctly taken care of. One way to quickly evaluate the health of your tomato plant is to observe the leaves. Learning why are tomato plant leaves curling is crucial to maintain the health of your harvest.
Leaf rolling is a result of a wide array of environmental conditions. Some stress is unavoidable. However, some infestations are treatable, and returning your tomato plants to their best health is possible.
Leaves curl on tomato plant due to viruses, pressure on the roots, and incorrect day-to-day maintenance.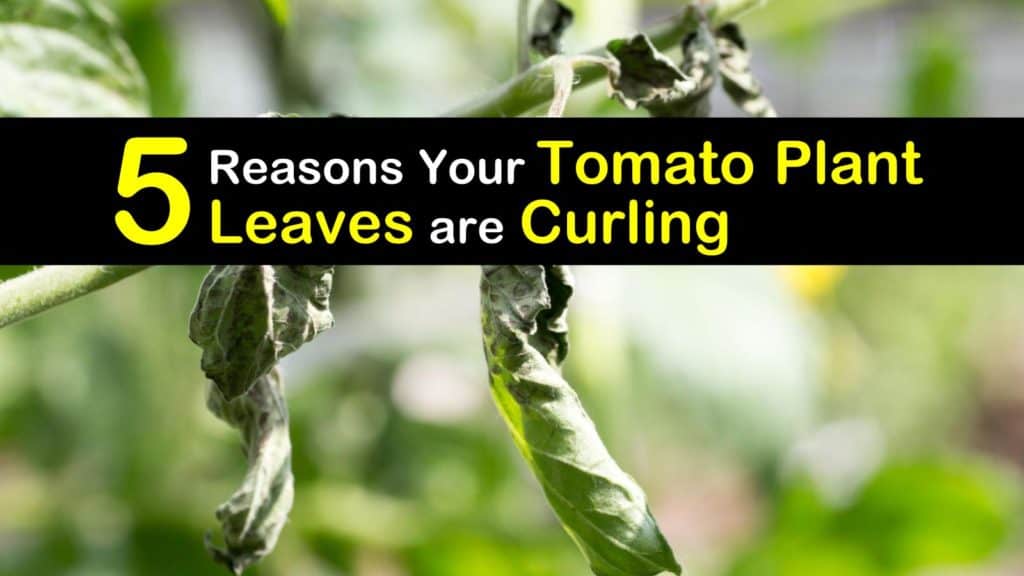 Tomato Plant Infections Spread Rapidly
Learn several possible explanations as to why the tomato plant leaves curl or yellow—identifying when you have yellowing or curled leaves on your tomato plant only takes a few seconds.
We show you how to pinpoint what is causing curled leaves during the growing season. Additionally, we give you directions on how to avoid diseases before infected plants overtake your garden.
Educating yourself about what causes tomato plant leaves to curl is essential to continue harvesting the fruit. Several things lead to leaves curling after you plant tomatoes. Plant growth is affected by a viral infection, transplant shock, herbicide damage, and even overwatering.
Common enemies of a tomato leaf are insects like broad mites, whiteflies, and aphids. Planting marigolds near your tomato plants keep these pests far away from the new leaves on the stem.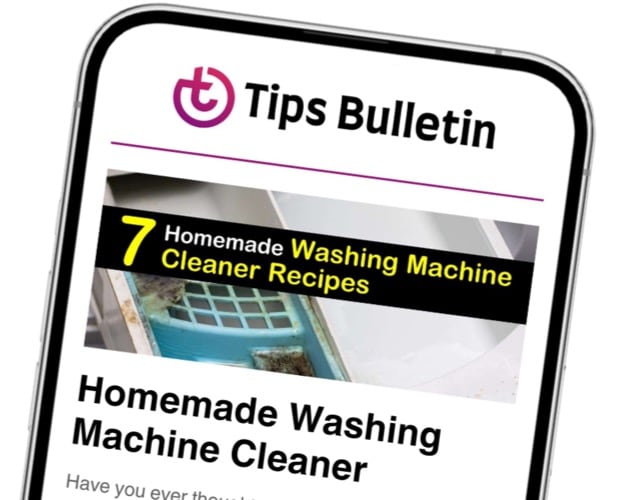 Finally, an email that Transforms Your Home.
Get the latest home and garden tips from our experts, delivered straight to your inbox.
You may also have a problem with your tomatoes themselves. Why do tomatoes rot on the bottom? A calcium deficiency is likely to blame for this issue.
Why are Tomato Plant Leaves Curling because of a Virus?
When you grow tomatoes at home, it is vital to your tomato plants' future health to prevent whiteflies because the insects carry a deadly virus. Leaves curl on tomato plant because of tomato yellow leaf curl virus that is transmitted by whiteflies.
If the new leaves turn to a pale green color and exhibit a leaf curl, your plant has one of the tomato plant diseases called tomato yellow leaf curl virus. The tomato plant also shows signs of stunted growth.
Repel whiteflies with this simple recipe for a natural spray for tomato plants to combat disease and insects.
Mix the peppermint essential oil with water in a spray bottle. Spray the all-natural insecticide on and around your tomato plant. The scent of the peppermint eliminates aphids and whiteflies.
Unfortunately, once your tomato plant is infected with the tomato yellow leaf curl virus, it is untreatable. Because it is impossible to return your tomato plants to their original health, it is important to protect them against harmful pests.
Leaves Curl on Tomato Plant Because of Herbicide Damage
It is crucial to understand that what causes tomato plant leaves to curl is controllable in some circumstances. If you use herbicide to kill weeds, keep in mind that the spray drifts farther than expected due to wind.
An herbicide is a spray that kills any unwanted vegetation in your yard. The most popular use of herbicide is to kill weeds that pop up randomly.
Identifiers that your tomato plant has herbicide damage include downward rolling of the lower leaves, white stems, and deformed fruit.
Herbicide damage is permanent in all tomato varieties, but new growth is possible if it is not killed. We suggest digging out the tomato plants if the infection is severe and growing new seeds.
What Causes Tomato Plant Leaves to Curl is Physiological
A physiological leaf roll is a result of environmental conditions and usually occurs during periods of unusual weather. One favorable aspect of a physiological leaf roll is that it does not impact fruit production.
Although it produces yellow leaves on tomato plants, it is a straightforward issue to handle. Why are tomato plant leaves curling? It may only be a result of the environment.
A physiological leaf curl may be caused by a drought, high nitrogen, phosphate deficiency, or excess older leaves on the plant. We suggest maintaining the same routine care for your tomatoes and avoiding severe pruning of curled leaves.
Also, continue with regular watering and make sure not to flood the tomatoes with excessive moisture. Doing so causes root damage and infection.
Mosaic Virus Causes Discolored Leaves
Leaves curl on tomato plant because of the mosaic virus, which attacks more than 100 different plants around the world. The disease is carried and spread by aphids.
Leaves curling and multi-colored leaves in colors of yellow, white, and dark green are obvious symptoms. The colored pattern shares a similarity to mosaic art, making it easy to see in your garden.
It is impossible to treat a plant infected with a virus, but there are ways to prevent it. Controlling pests like aphids prevent diseased plants. A great technique to use that discourages aphids is to spray the plant with neem oil.
Neem oil controls the aphids like tomato plants while also killing any adults or larvae already located on the young leaves. Learning what causes tomato plant leaves to curl is vital because it may be avoidable, like the tomato mosaic virus.
Transplant Shock Causes Stress on the Tomato Plant
We understand that sometimes you wish to change the spot where your tomato plants are in your garden or on your porch. Whether you are transplanting an indeterminate or determinate tomato plant or planting tomatoes in buckets from peat pots, the plant usually experiences transplant shock.
When relocating a well-established tomato plant, the roots undergo significant strain and damage. Because the roots are damaged, a tomato plant shows signs of wilting right after being transplanted.
Make sure to not overwater your tomato plant after transplanting it. The best thing to do for your tomato plant after changing its location is to be patient. After a few days, the leaves uncurl and go back to normal.
Spread a little mulch on top of the soil to maintain moisture more efficiently. Utilizing mulch also helps discourage excessive moisture from further weakening the plant.
Be sure that you allow enough space between tomato plants to keep diseases and pests from spreading.
The reasons as to why the leaves are curling or are discolored on your tomato plant are numerous. Unfortunately, viruses and herbicide damage are irreversible.
However, there are elementary steps that help you avoid the damage that a disease causes. Transplanting your tomato plant destroys the developed roots, so it is critical to refrain from overwatering when you notice the leaves wilting.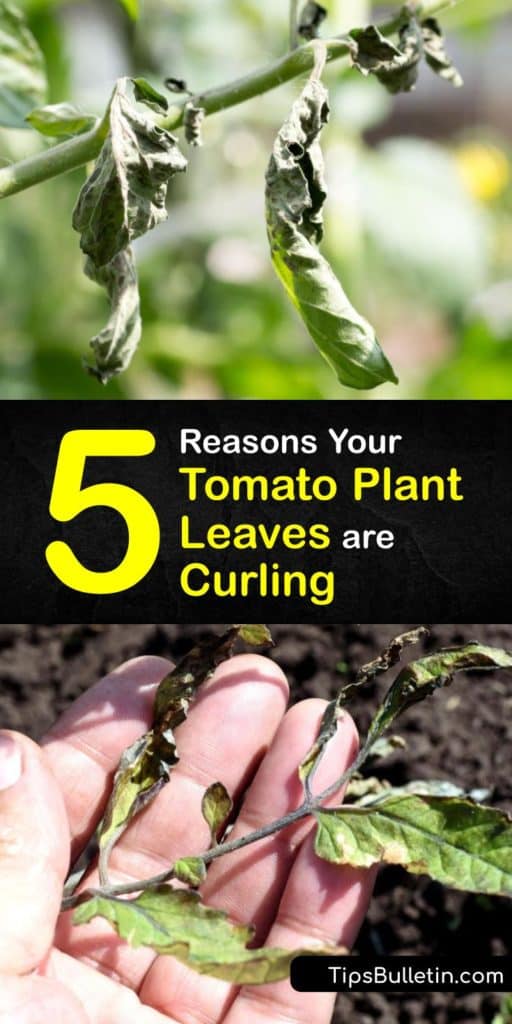 If we answered your question, "Why are tomato plant leaves curling?" share this article about what causes tomato plant leaves to curl on Facebook or Pinterest with your family.