Have you ever bought what you thought was a cucumber, only to slice it open and realize it's actually a zucchini? In this article, find out how to tell the difference between cucumber and zucchini, and we'll settle the zucchini vs cucumber debate.
They both have a cylindrical shape and dark green skin, and they're both members of the gourd family of plants. However, that's where the similarities between cucumbers and zucchini stop.
These two veggies have very distinctive flavors and textures and are used differently in the kitchen.
Cucumbers are almost always eaten raw or used for pickling. A type of summer squash, zucchini often gets cooked in a stir fry, used as a pasta substitute, or baked into zucchini bread. The young tender squash sometimes gets added raw to fresh salads.
Although the difference in appearance is sometimes subtle, there are several ways to tell zucchini vs. cucumber apart. Read on to learn what they are, along with a few creative and delicious uses for these summer veggies.
How to Tell the Difference between Cucumber and Zucchini
Cucumbers and zucchini might look alike at first glance, but upon closer inspection, you'll notice several unique characteristics. Once you slice them open, the contrast is even more apparent.
Most types of zucchini plants have zucchini with a large, woody stem at one end, while cucumbers have a small stem that may or may not still be attached. At the other end, you'll see a small scarred spot where the flower used to be.
Another easy way to tell cucumbers and zucchini apart is the texture of their rind. Cucumbers have solid, waxy skin that sometimes has small bumps. Zucchini feel more supple and slightly rough and are covered with tiny, prickly trichomes or plant hairs.
On the inside, both veggies have seedy flesh. Zucchini flesh is usually a creamy white color and has a spongy, somewhat dry consistency. Cucumbers have a slight green tinge and juicy flesh with high water content.
Growing Zucchini vs Cucumber
Both zucchini and cucumber plants belong to the Cucurbitaceae or gourd family and when to plant zucchini seeds is the same as for cucumbers. They're warm-season crops that grow best in an area that gets full sun and has moist, nutrient-rich soil.
Cucumbers, or Cucumis sativus by their botanical name, produce rough, triangular leaves and small yellow flowers. The majority of cucumber plants have a vining habit and grow best on a trellis. Vertical cucumber growing is perfect if you have limited outdoor space for a garden.
Several bush varieties of cucumber stay more compact, such as Bush Champion and Spacemaster.
Cucurbita pepo is the botanical name for a zucchini plant, and in some countries, it's known as courgette. Most Cucurbita varieties grow like small bushes, but there are also a few vining types like Raven and Thunderbird.
Planting zucchini seeds is just as easy as using seedlings. Zucchini plant leaves are larger with three or five lobes, and the precise shape and color vary somewhat between cultivars.
Taste Difference between Cucumber and Zucchini
Cucumbers and zucchini have markedly distinct flavor profiles. Cucumbers are famous for their cool, sweet crunch thanks to their crispy outer skin and juicy interior. Their small white seeds are usually visible in the center of the fruit.
The taste of zucchini is usually mild and ranges from slightly sweet to a little bitter, depending on how long it stays on the plant.
When harvested early, the squash has a sweeter flavor and more tender skin, and the tiny seeds blend into the flesh. Once it's more mature, zucchini becomes more astringent, and the rind begins to harden.
Try these tasty Cucumber Caprese Bites for a creative cucumber side dish. They're fresh, crispy, and easy to make. Feel free to adjust the recipe's measurements for your desired quantity.
Start by preparing a balsamic reduction glaze. Pour the balsamic vinegar and sugar into a small saucepan and turn your stove to medium-high.
As soon as the balsamic vinegar reaches a boil, reduce the heat to medium-low and simmer for 15-20 minutes, stirring occasionally. Once a thick syrup forms, remove the saucepan from the flame and set it aside.
Slice the cucumber into 20 half-inch rounds. Layer a slice of pancetta, a mozzarella ball, a cherry tomato half, and basil leaf on each cucumber slice and secure them with a toothpick.
Arrange the cucumber bites on a serving tray and drizzle them with the balsamic glaze. Enjoy immediately, and be sure to refrigerate any leftovers you may have in an airtight container.
Cucumber vs Zucchini Nutritional Value
The nutritional value of cucumbers and zucchini is roughly the same. Both veggies are low in carbohydrates, calories, and cholesterol because of their high water content. Zucchini is approximately 90% water, and cucumbers contain 96% water.
These foods are excellent sources of vital antioxidants, vitamins, and minerals that provide a wide variety of health benefits. The majority of the nutrients are in these veggies' skin.
Antioxidants like beta-carotene, vitamin C, and lutein play a critical role in combating oxidative stress from the accumulation of harmful free radicals in the body. They protect against chronic illness and support eye, heart, and skin health.
Cucumbers and zucchini are rich in dietary fiber, which keeps the heart and digestive system healthy and functioning correctly. They also aid in staying hydrated, which is essential for our overall well-being.
Also present in zucchini and cucumber are minerals like calcium, magnesium, manganese, and potassium. These essential micronutrients help lower blood pressure and reduce the risk of heart disease and stroke.
Vitamin A is beneficial for eye health, facilitates normal cell division, and boosts the immune system, and vitamin K encourages strong bones. Folate, or vitamin B9, assists red blood cell formation and robust cell growth.
Cooking with Zucchini vs Cucumber
In the US, cucumbers are most often eaten raw in salads and sandwiches or as part of a veggie tray or side dish, while cooked cucumbers are fairly standard in Asian cuisine. They're delightful baked or sautéed.
Zucchini also gets eaten cooked and raw but beware of slimy zucchini as it's probably spoiled.
Zucchini is an incredibly versatile ingredient that makes an outstanding addition to baked goods like zucchini bread, cake, and muffins.
Next time you feel like making an Asian-inspired meal, give this recipe for stir-fried cucumbers a try. It's a traditional Korean side dish that only takes 15 minutes to whip up.
Cut the cucumbers in half lengthwise, then thinly slice them crosswise at a slight diagonal angle. If you're using small cucumbers, simply slice them into thin rounds.
Place your cucumber slices in a colander and lightly salt them. Let them sit for about ten minutes to allow the salt to draw out some of the water. Press or squeeze them to extract the remaining moisture.
Heat a large frying pan on high. Add the vegetable or olive oil and stir in the minced garlic. After a few seconds, incorporate the cucumbers. Stir fry for about one minute, taking care not to overcook them.
Remove the pan from the heat and toss in the scallion, sesame oil, and sesame seeds. Serve immediately and refrigerate any leftovers in a sealed container.
Is Cucumber a Good Substitute for Zucchini?
The differences in taste and texture between zucchini vs cucumber are rather pronounced, so cucumber isn't usually a suitable substitute for zucchini. The exception might be fresh zucchini in a salad.
For a more similar substitute for zucchini in a recipe, a different type of squash like pumpkin or yellow squash works well, or try using eggplant. It has a similar consistency and a relatively neutral flavor that absorbs the aroma of the rest of the dish.
Substituting zucchini for pasta is an excellent way to enjoy comfort foods like lasagna without the carbs. It's also a perfect gluten-free alternative for those with dietary restrictions.
Begin by preheating your conventional oven to 400℉. Combine the ricotta, Parmesan, egg, salt, and pepper in a medium-sized mixing bowl. Slice your zucchini lengthwise, making the pieces your desired thickness.
Heat a large pan on medium and brown the ground beef. Measure out a half-cup of marinara sauce and set it aside. Pour the rest of the marinara into the pan with the ground beef. Stir well, then remove the pan from the heat.
Spread the reserved pasta sauce evenly over the bottom of a large baking dish. Set several zucchini slices in the dish, either overlapping or side-by-side, depending on your preference.
Scoop half of the ground beef onto the zucchini slices, then add half of the ricotta cheese mixture. Sprinkle a half-cup of the mozzarella over the top along with a pinch of your chopped herbs.
Repeat the lasagna layers a second time. The final layer consists of zucchini slices covered with a half-cup of mozzarella and the rest of the chopped herbs.
Bake your zucchini lasagna for 40-45 minutes, or until the cheese on top is golden brown. Garnish with whole basil leaves and allow the dish to cool slightly before serving. Keep leftovers refrigerated in an airtight container and consume them within a week.
Storage Options
Preserve cucumbers in the fridge, as well as zucchini, in the crisper drawer to keep them as fresh as possible.
For longer storage, freeze pickles and cucumbers in an airtight container for several months. Frozen cukes and zucchini are best in recipes rather than in a salad.
Cucumbers and zucchini seem similar when viewed from a distance, but you'll find a few pronounced distinctions up close. The most straightforward way to tell the difference between cucumber and zucchini is by feeling them.
Cucumbers have a hard, glossy rind. Zucchini rinds have tiny, hair-like fibers and a large stem.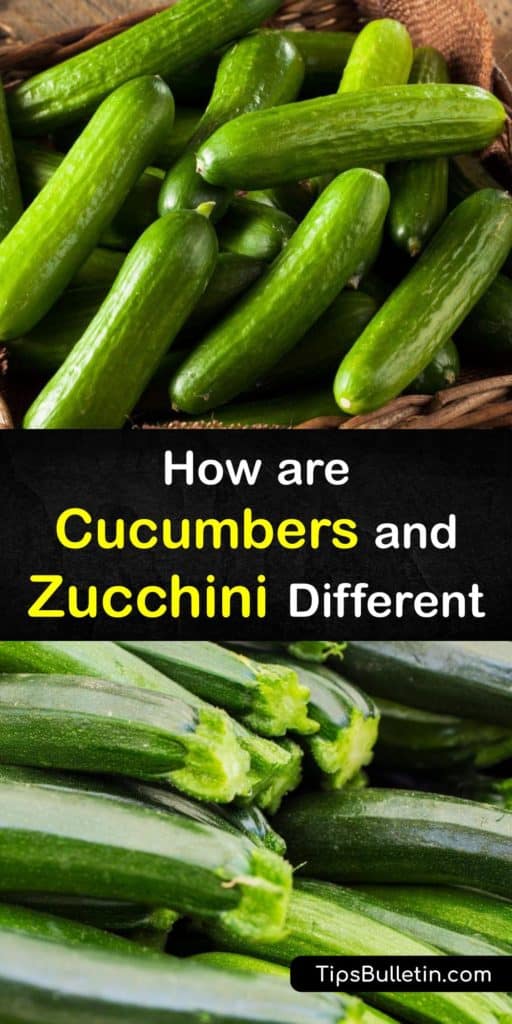 We hope you enjoyed learning how to distinguish between cucumbers and zucchini, and would appreciate it if you share this article about zucchini vs cucumber with your friends and family on Pinterest and Facebook.