Are you trying to add color to your landscape? Don't want to worry about having to replant every year? To add a lot of color without having to replant each year, use amazing perennials for full sun. Home gardeners know they face limited choices when it comes to adding color to shady locations.
When it comes to sunny spots, the options are endless, as most perennials thrive in full sun. With all of the different perennial choices, it's easy to become overwhelmed when you walk into your local nursery or home improvement store.
Rather than head out with no plan in mind, take a few minutes to come up with a list of perennials you wish to plant. The best perennials add color to your landscape for years to come, plus they are easy to care for and are fantastic at attracting butterflies, hummingbirds, and bees to your garden.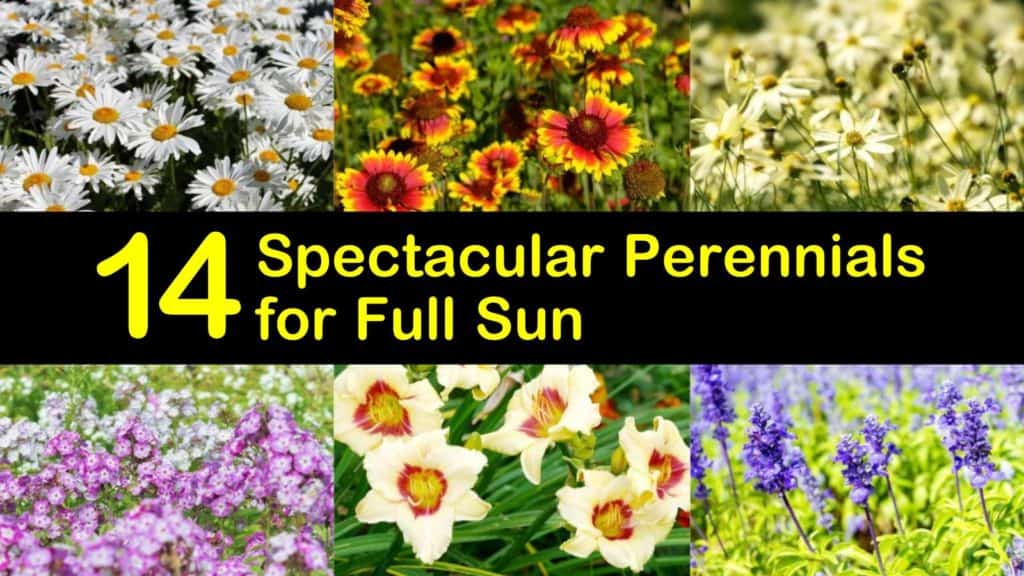 Amazing Perennials for Full Sun Locations
One of the great things about these amazing perennials for full sun is the color they bring to your landscape throughout your growing season. When choosing and planting these fantastic perennials, consider their blooming period; some perennials offer longer bloom times than others.
Mix some of the fastest growing shrubs for full sun with your flowering perennials for an interesting garden area with a variety of textures and colors. Try some ornamental grasses and ferns for sun, as well. You'll have a beautiful garden setting to enjoy in every season.
If you have a problem with mosquitoes, in addition to these flower suggestions, add a citronella perennial or ones that smell like mint or lemons to your garden beds. The mosquitoes will go elsewhere for an easy meal.
Tips on Caring for Perennials
For optimal results, plant perennials in the early spring or the late fall. Some perennials come with specific guidelines as to when to plant them. When the perennials bloom varies based upon when they were planted. Always plant perennials in well-draining, loamy soil and add organic compost to the ground before planting.
During the first year, water each perennial deeply. The deeper watering ensures the water reaches the roots of the plants. Avoid watering the foliage as it increases disease. To help retain moisture, add three inches of mulch to your flower beds. After most perennials are established, many are drought tolerant plants that only need extra water during dry spells.
For flower beds close to lawns, install an edge to keep the grass and perennials from growing into each other. One option is to establish a permanent border, but not everybody likes that look. If you wish to use something less noticeable, always use an edging tool to keep the edge of your grass clean.
Perennials require yearly fertilization to encourage blooms. When fertilizing your perennials, opt for a product that is low-nitrogen and high-phosphorus. Only apply fertilizer during the first few months of spring.
Some perennials require supports. When using the supports, put them in place shortly after you plant your perennials. Early placement is essential to prevent damaging the roots. When placing your supports, keep them close to the plants and loosely tie the stems to the poles.
Amazing Perennials for Full Sun – Purple Coneflower (Echinacea purpurea)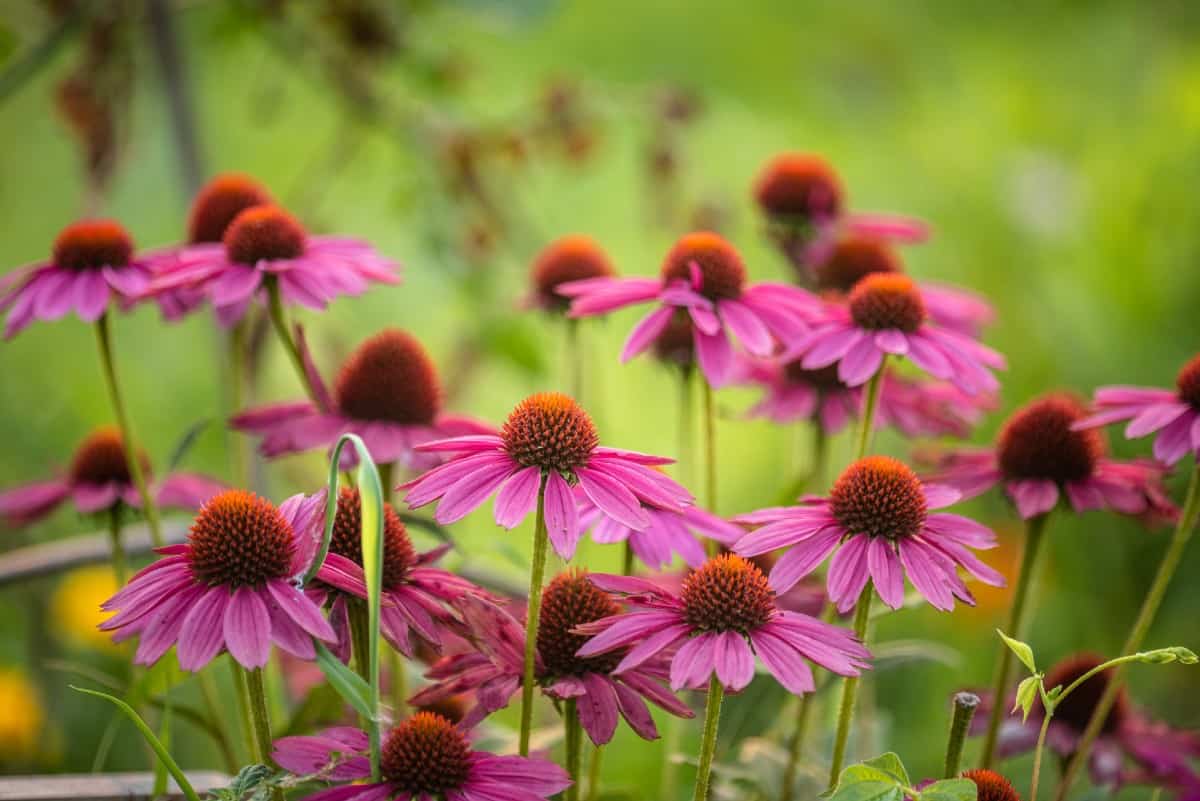 As a herbaceous perennial that requires full sun, the Purple Coneflower grows up to four feet tall and features purple flowers with a five-inch diameter. Flowers begin blooming in the early summer and continue to flourish until the end of August. The colorful flowers sit on stems with dark green leaves.
Keep the soil only slightly moist; a bit on the drier side when possible. The drought-tolerant Coneflower adapts to your garden environment as necessary. Deadhead the plant to improve its appearance throughout the summer.
Sage (Salvia officinalis)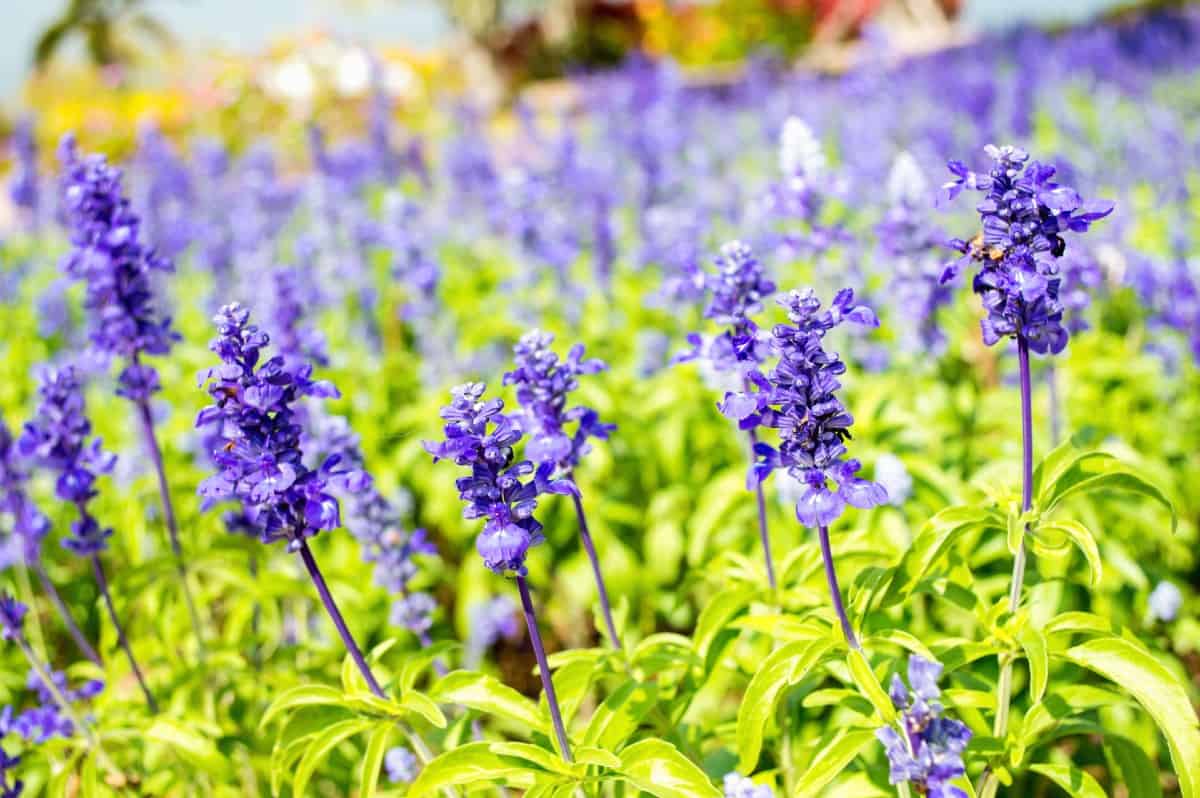 Drought tolerant Sage is a staple in many herb gardens, but it is also a sun-loving perennial that makes a beautiful addition to your landscape. Sage, which smells a little like pine, does well in several hardiness zones and offers a long growing season.
Avoid overwatering Sage, as too much water quickly kills off the herb. The evergreen shrub offers grayish leaves paired with woody looking stems and purple to blue flowers.
Stonecrop (Sedum)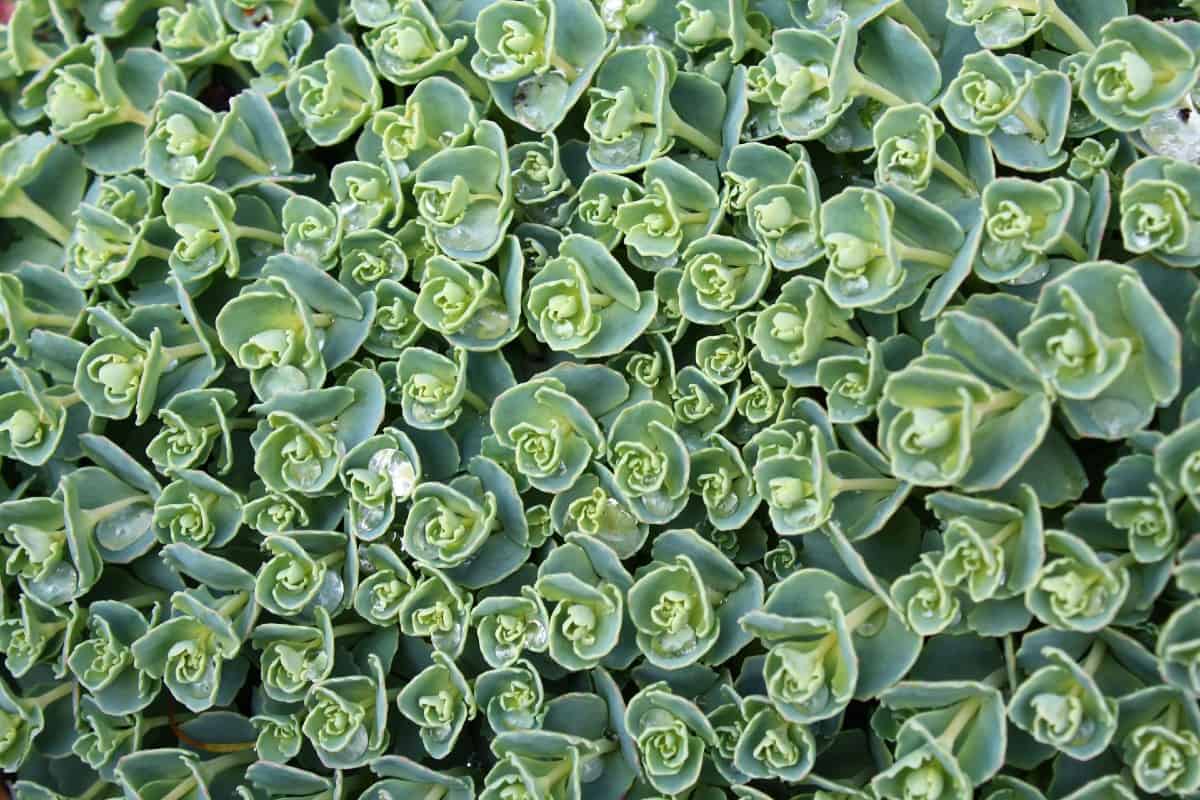 For those looking for succulents, Stonecrop is an excellent choice. Blossom colors are most often in the pastel spectrum but can vary. An extremely hardy succulent, Stonecrop requires minimal care, plus they work well in attracting pollinators as the flowers produce sweet nectar.
Stonecrop prefers hot and sunny locations with well-draining soil. A robust plant, Stonecrop doesn't fall victim to pest or disease. Use fertile soil or amend soil using compost before transplanting outdoors.
Peonies (Paeonia spp.) – Sun Loving Perennials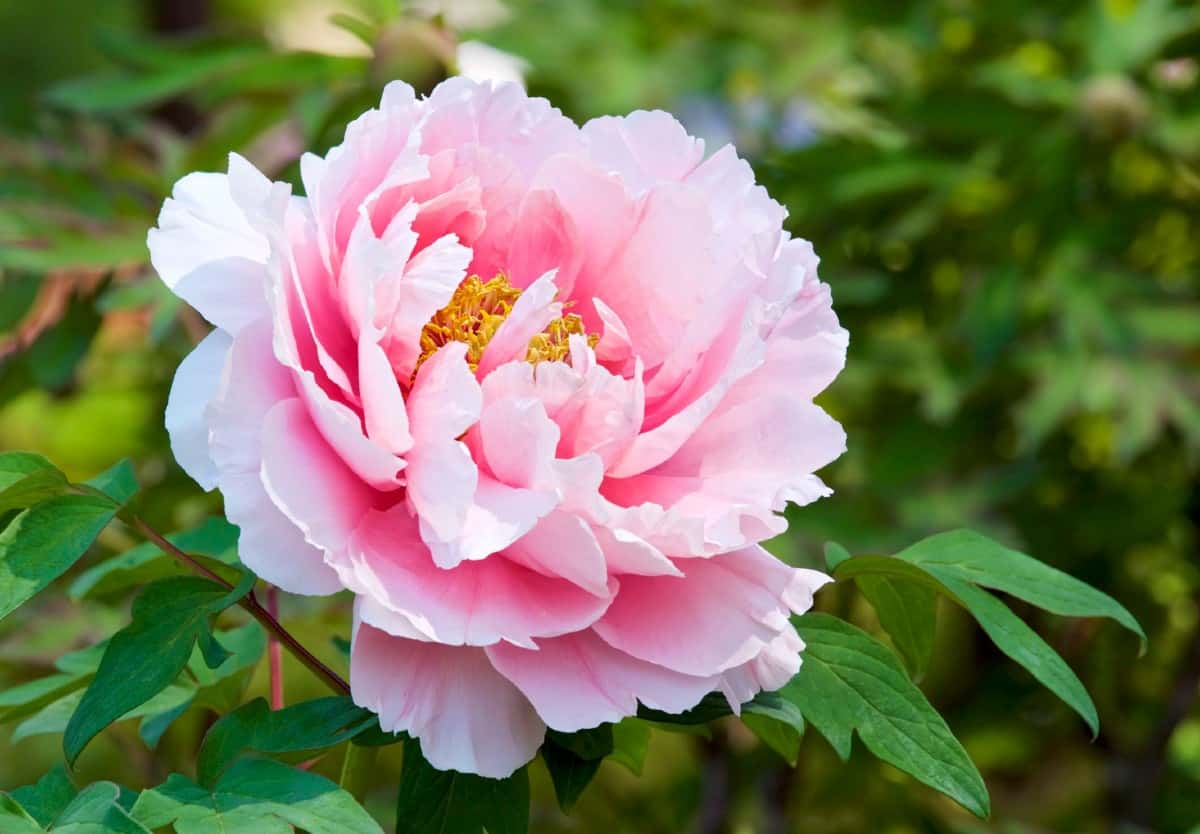 Peonies are easy flowers for full sun locations of the yard. They provide gorgeous blooms from early spring into the beginning of summer. The colorful flowers pair with lush green foliage, which lasts all summer.
As a bonus, peonies have a delightful scent and they make excellent cut flowers. When planting peonies, remember it grows as a bushy clump and works well as a low hedge or to line walks.
The glossy green leaves turn to gold or purplish-red during the fall. For best results, plant your peonies in the fall, the ones planted in the spring lag behind a year.
For a nice contrast, plant your peonies in front of shrubs for full sun. The bright blooms will stand out against the green background.
Moonbeam Tickseed (Coreopsis moonbeam)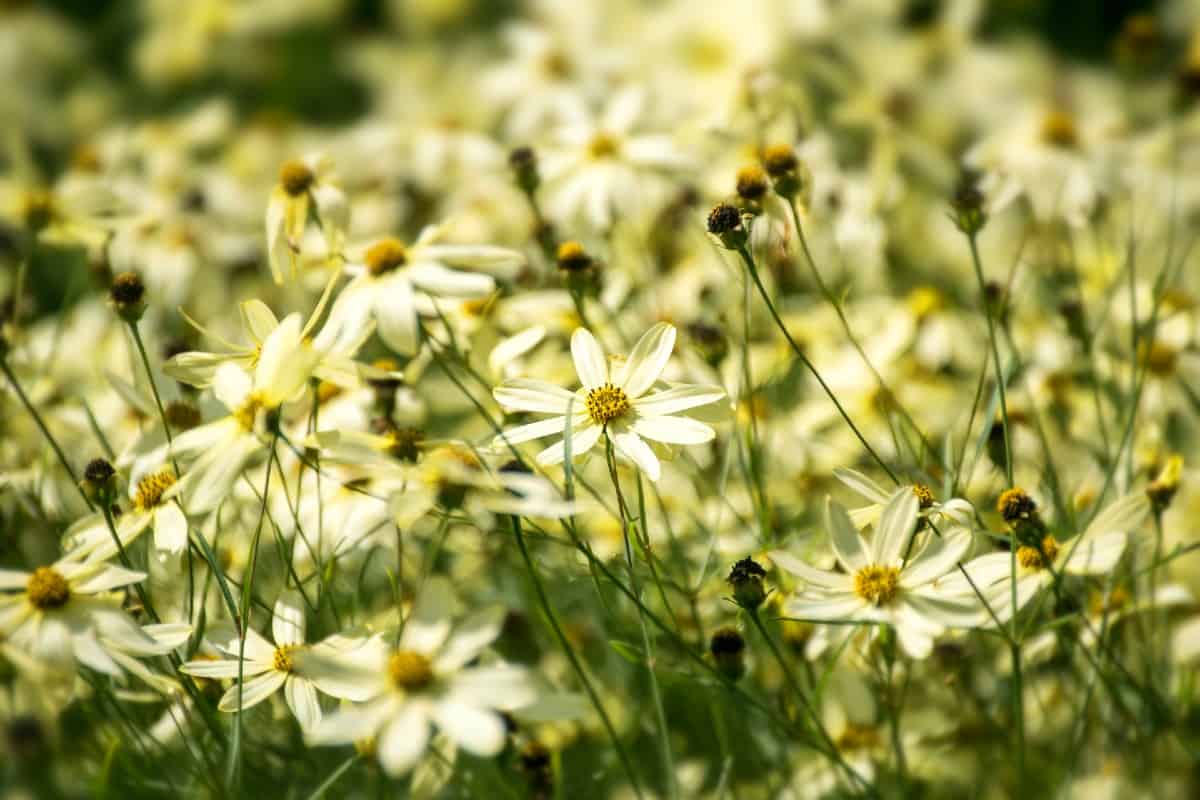 Moonbeam Tickseed is a showy perennial that works well inside or along the borders of your flower beds. The green foliage of the plant pairs with a creamy yellow flower. Moonbeam Tickseed is a sturdy and strong plant as it withstands high temperatures and humidity.
Yellow flowers first appear in the late spring and last until the end of summer. All Moonbeam Tickseed requires to survive is full sun and well-draining soil. It grows in just about any soil conditions, including sandy or rocky types.
Black-Eyed Susan (Rudbeckia hirta)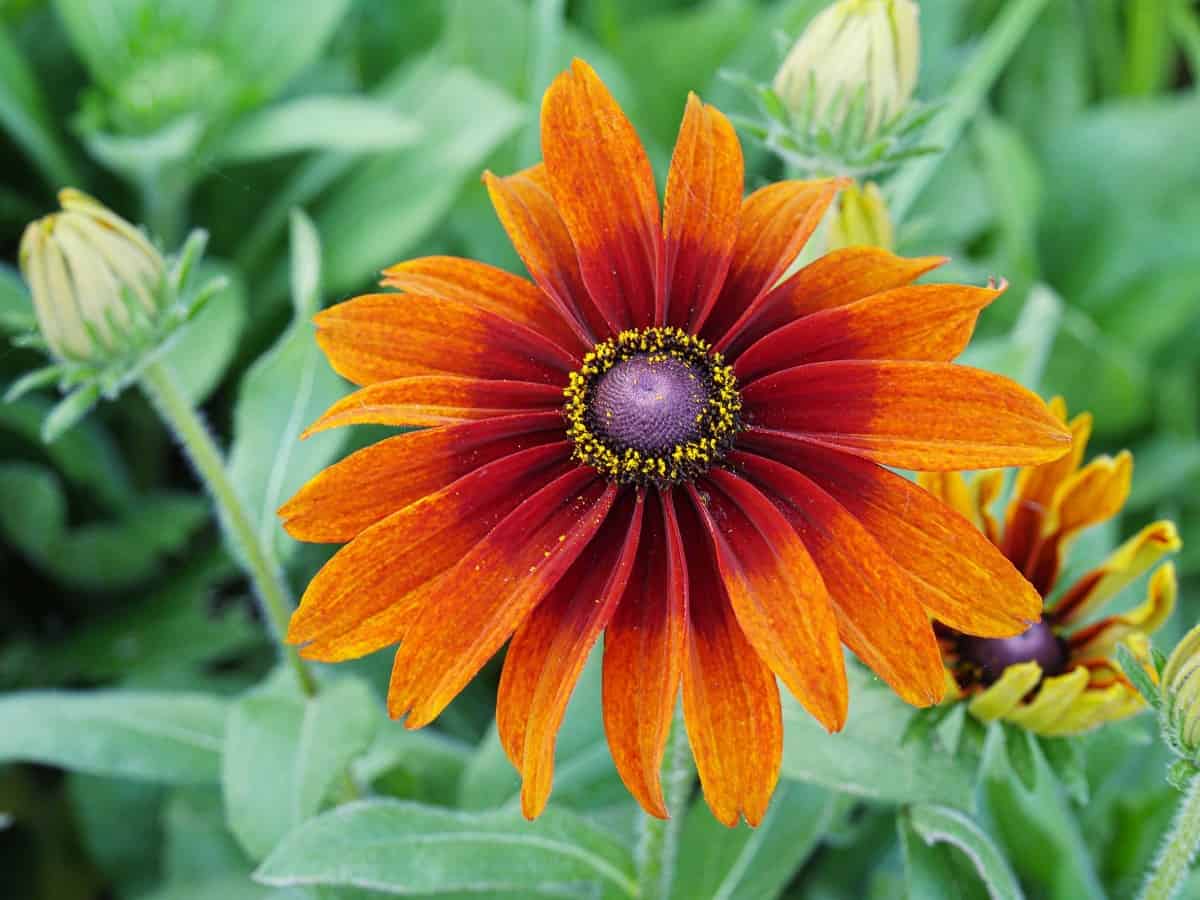 Add warmth and beauty to your landscape along with attracting pollinators by planting Black-Eyed Susan. One advantage of adding Black-Eyed Susans is how little maintenance they require. With these beauties, sit back and enjoy your yard rather than spend hours tending it.
Black-Eyed Susans belong to the sunflower family, which is evident from its flowers. The yellow flowers feature largish petals and a brownish-purple spot in the center. These plants reach up to three feet tall and bloom from June until the beginning of October.
As butterfly host plants for the pearl crescent butterfly, Black-Eyed Susans are popular for other pollinators, too.
Fantastic Perennials for Full Sun – Daylily (Hemerocallis)
As one of the easiest perennials to care for, choose daylilies of different varieties. If you require a long blooming sun-loving perennial that needs little to no attention from you, consider the Daylily for your garden beds. A drought-tolerant beauty, the Daylily comes in a variety of colors.
The plant is immune to stress from high heat and grows in almost every hardiness zone in the US. Daylily blooms only last for one day. One stalk is capable of producing a second bloom the very next day.
Most varieties bloom during the day, but there are a few that bloom at night. Several types offer blooms for five weeks and make excellent cut flowers.
Yarrow (Achillea millefolium)
As deer resistant perennial flowers, yarrow is an excellent choice for that sunny spot in your garden. The plant's aromatic leaves give off a spicy scent to help repel deer and other critters that may want to nibble on your plants.
When planting Yarrow, opt for a sunny location with well-draining soil for the best results. Yarrow is a drought-tolerant option for gardens and comes in a variety of color options.
Plants grow around four feet tall and provide flower beds with color from June until the end of September. Prune Yarrow in the late spring to prevent a scraggly looking plant and to allow for new growth.
New England Aster (Symphyotrichum novae-angliae)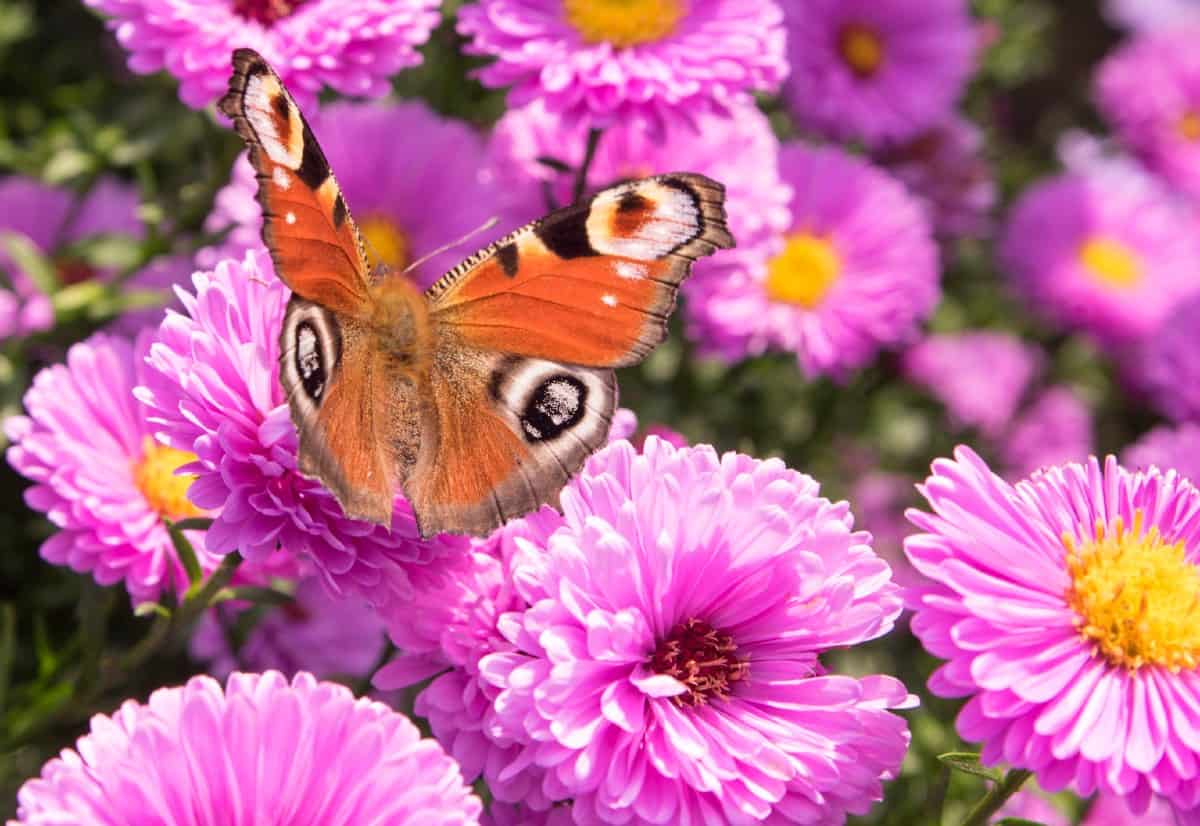 Known to attract pollinators, New England Aster is well known for the colorful blooms they provide from summer until late fall. Plant New England Aster in a location with full sun and well-draining soil that stays moist. The plant reaches up to six feet tall and resembles a shrub more than a plant, but offers small, feathery fragrant flowers.
Prune New England Aster in the summer or at the end of the growing season. Withered stalks provide texture to your barren landscape during the winter months. Divide plants as necessary to prevent it from overgrowing the area, as it is self-sowing.
Catmint (Nepeta) – Full Sun Perennials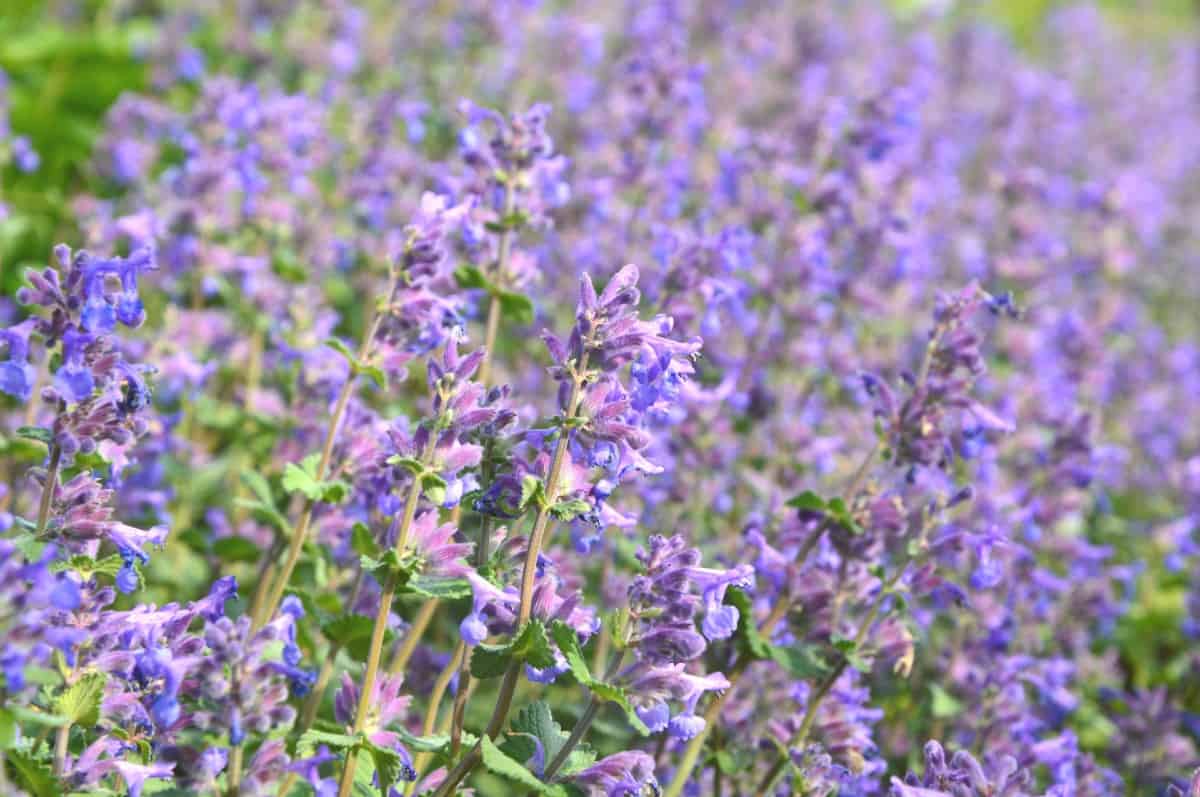 Catmint offers a long and continuous blooming period in gardens. The plant provides two main varieties 'Little Titch' and '6 Hills Giant,' and both live up to their names.
'6 Hills Giant' is on the tall side and works well with other tall perennials, while 'Little Titch' is shorter and gets lost among taller plants. Catmint is a relative of catnip, but it is a showier looking plant with better behavior.
The gray-green foliage of Catmint pairs with clusters of lavender-blue, white, violet, or pink flowers based on variety purchased. The gray-green foliage offers a fuzzy texture with scalloped edges.
Catmint is one of the perennials for coastal gardens as it tolerates all kinds of adverse soil and weather conditions.
Garden Phlox (Phlox paniculata)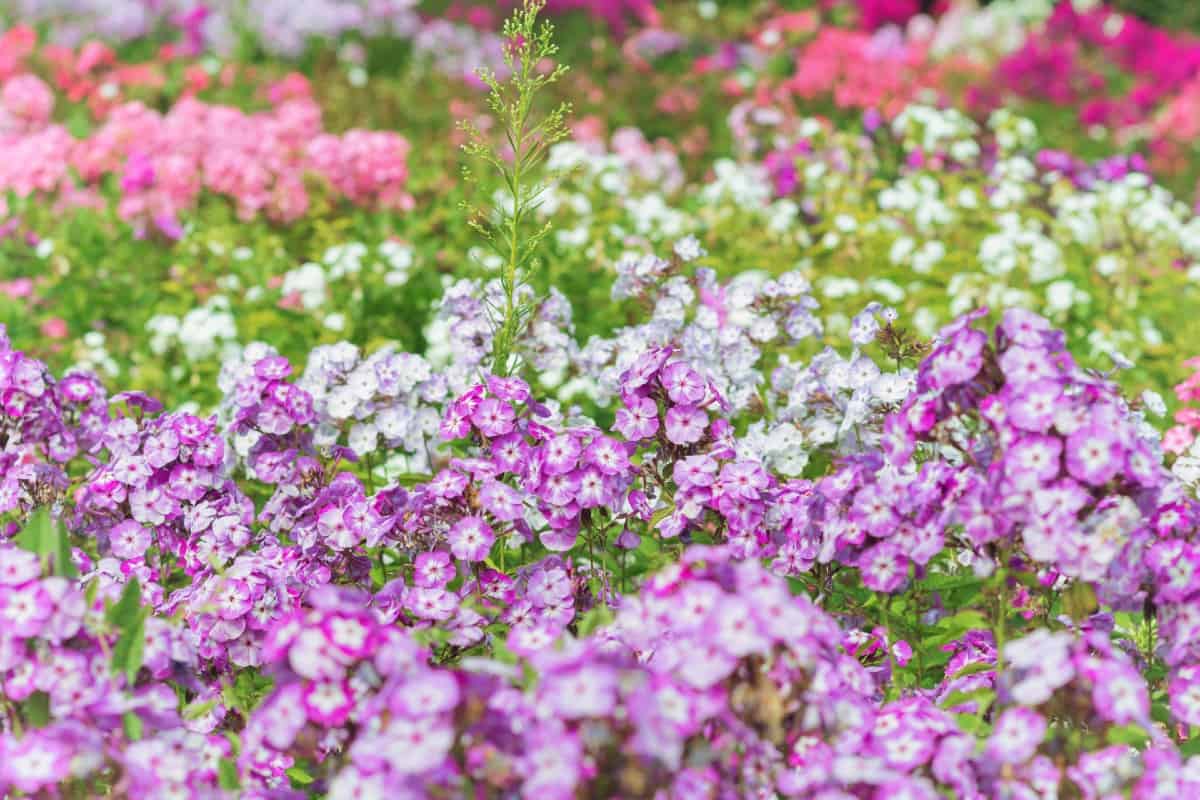 Garden Phlox is a low maintenance plant with an extended bloom time from early summer to the start of fall. The slender beauty offers blooms in a variety of colors, including rare blue blossoms. This plant prefers full sun to thrive but adapts to partial shade.
Garden Phlox does well when grown in zones four through eight. The plant reaches up to five feet tall, so it does better in the back of flower beds and doesn't require staking. Opt for well-draining soil on the alkaline side for optimal growth.
Rozanne Cranesbill (Geranium rozanne)
Rozanne Cranesbill works well as ground covers but also serves as a flowering perennial in garden beds. The most popular option is the dwarf variety with tiny, violet flowers blooming from spring to late summer. In most growing zones, Rozanne Cranesbill is evergreen and offers deep green foliage often marbled in chartreuse.
In hotter areas, the sun-loving plant requires partial shade. The plant grows around 20 inches tall and has a spread of 24 inches, so choose locations wisely.
Best Perennials for Full Sun – Shasta Daisy (Leucanthemum x superbum)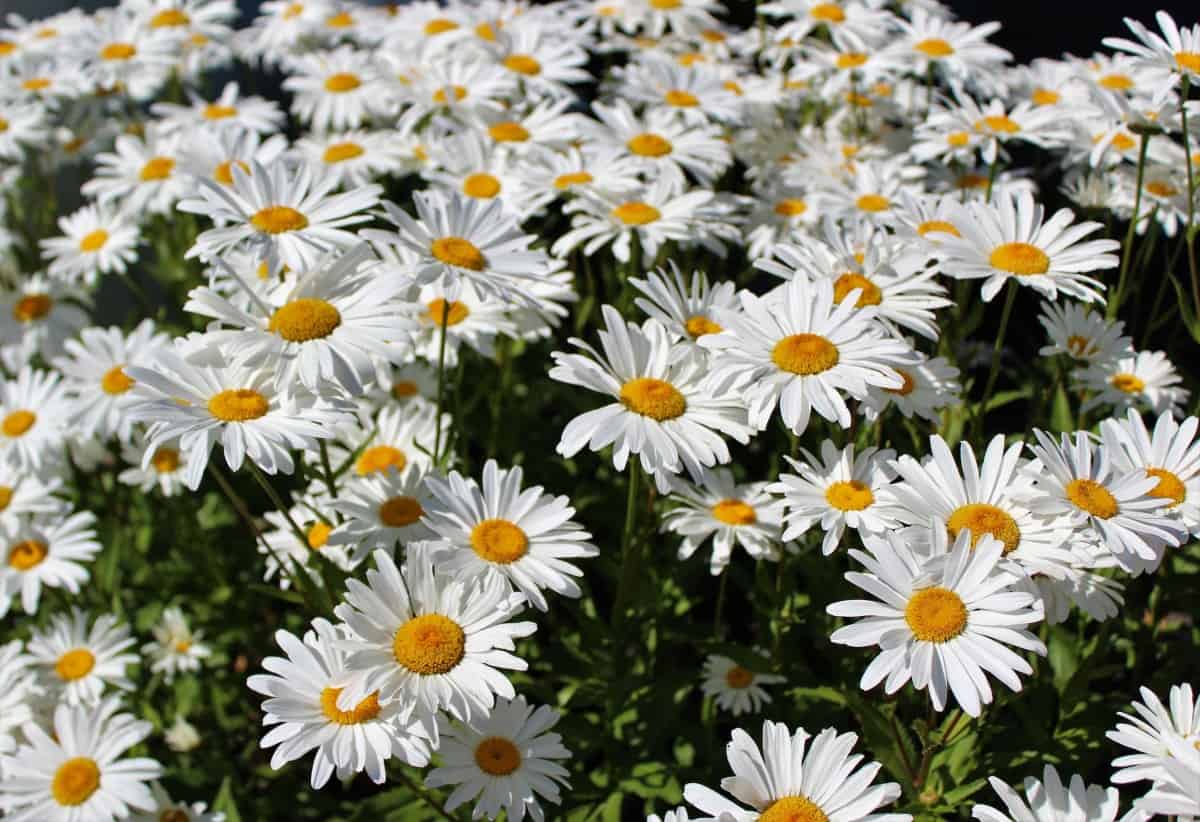 The Shasta Daisy has daisy-like flowers similar to the ones found along the roadside. The difference between these two perennials is the Shasta Daisy features white flowers that are larger than the roadside daisy. The flowers grow in clumps, and the plant itself grows up to three feet tall.
The white petals of the Shasta encompass a yellow floret and sit on dark green, glossy stems. The flowers bloom from early in the summer until early fall. The more sun the Shasta Daisy receives, the better the blooms look.
Blanket Flower (Gaillardia)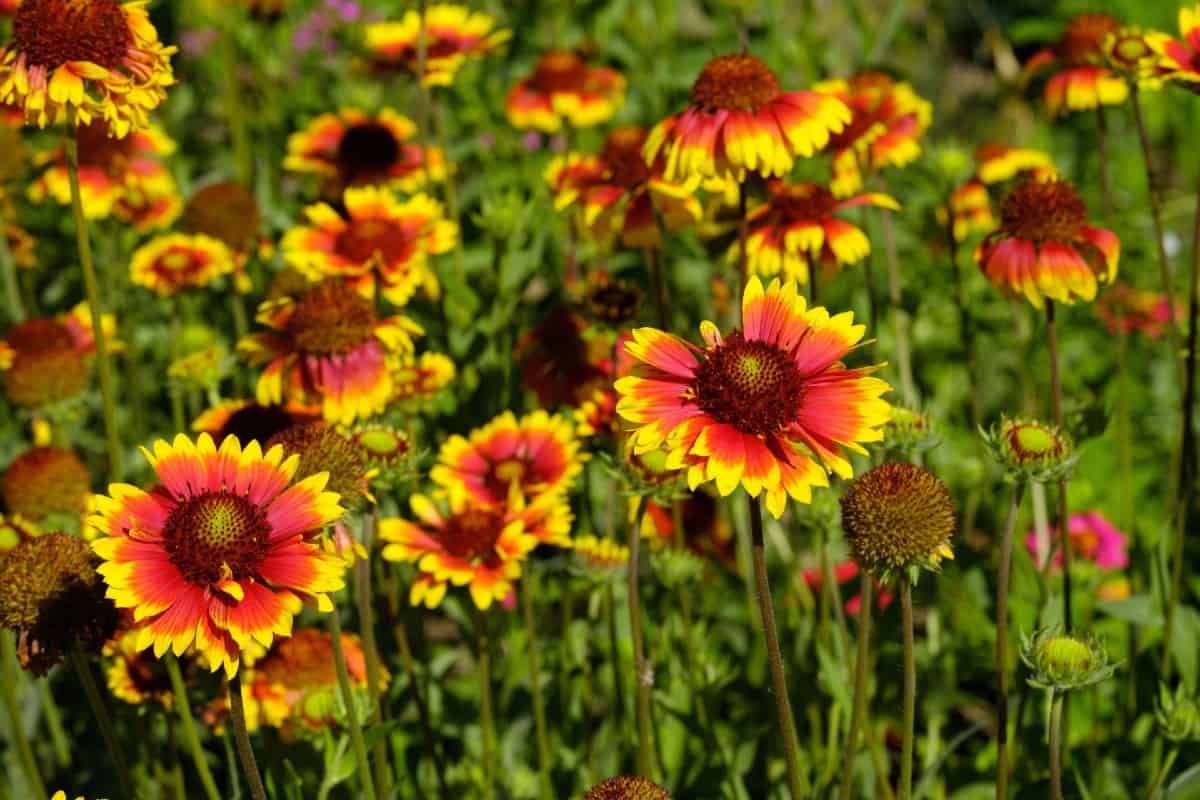 The Blanket Flower is an excellent option for any rock garden, as it is drought tolerant and requires very little care. If too much attention is given, the Blanket Flower becomes a sprawling mess instead of a beautiful flowering perennial. The plant is capable of thriving in the worst soil conditions.
With the Blanket Flower, blooms appear in yellow, red, and orange from the summer until fall. The flowers produce nectar, which in turn attracts a variety of pollinators.
Thank you for reading all about our full sun perennial flowers. If you found any of our ideas on the most spectacular looking full sun perennials helpful, please take the time to share these amazing perennials for full sun ideas with others on Facebook and Pinterest.