Beets are nutritious, colorful, and packed with flavor. Learn how to grow beets—Beta vulgaris subsp. vulgaris—to enjoy this delicious, showy root vegetable throughout the growing season. Although red roots are most common, you'll also come across yellow, white, and even striped varieties.
Most varieties of beetroot are round, but some have a more cylindrical shape. How long do beets take to grow? In general, harvest when the roots are one to three inches in diameter or smaller for baby beets.
Beet leaves are long and vivid green with red, yellow, or white veins. Beet roots and leaves are both edible and rich in nutrients like fiber, iron, potassium, manganese, folate, and vitamins A and C. Beets' red color comes from betalains, which are powerful antioxidants.
Try steaming, pickling, frying, or roasting beetroot, or eating it raw. The root crops make an excellent ingredient for soup or salad. The greens are particularly nutritious and delicious raw, steamed, or braised.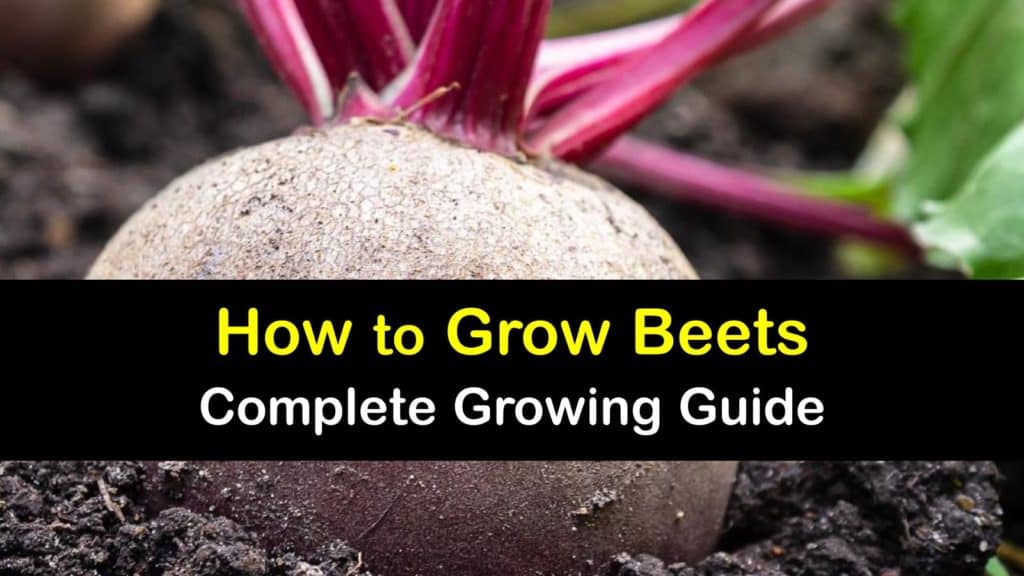 Tips for Growing Beets
This vegetable is relatively easy to grow. After sowing the seeds in early spring or late summer and thinning the seedlings, the best way to grow beets is to simply provide sufficient water and watch out for weeds and pests.
Learn the answer to questions like "How long do beets take to grow?" to maximize beet harvest time.
How to Grow Beets
These root vegetables are a cool season biennial. Direct sow beets starting in early spring, completing successive plantings to increase yield, or sow before the first fall frost to enjoy a fall harvest.
It's also possible to start beet seeds indoors and grow beets in pots. Each seed cluster contains several seeds. Soak the clusters before planting to encourage germination.
Ensure proper spacing and thin the seedlings to leave enough room for the roots. Beets thrive in loamy, slightly acidic to neutral soil and full sun. Therefore, amend the soil before planting, correcting a boron deficiency if necessary.
Apply mulch, remove weeds by hand, and water regularly. Fertilizer is less important for beets. Watch out for pests and diseases—a floating row cover helps protect against insects.
The answer to "How long do beets take to grow?" depends on the variety. Check the seed packet and harvest when the roots are your desired size. Pick beet leaves throughout the growing season.
Getting Started on Growing Beets
The first step for growing beets is choosing a variety and planting location. Make sure to plant when temperatures are optimal for germination.
Choosing a Beet Variety
Different types of beets have different flavors, features, and days to maturity. If possible, select a bolt-resistant and disease-resistant variety.
Golden beets have a lovely flavor and color but are temperamental to grow.
Choosing a Location for Planting Beets
Part of how to grow beets is finding a sunny location—ideally, the site receives at least six hours of sunlight daily. Beets also grow in partial shade, although they tend to focus on their leaves instead of their roots.
Avoid planting beets under a tree, near pole beans, and do not grow Swiss chard next to beets, spinach, or potatoes. On the other hand, companion planting beets benefits the beets and the plants around them.
It's possible to grow beets—particularly small varieties—in containers. Find a pot that's at least 12 inches deep and 12 to 24 inches wide at the top. Water more often than for beets in the ground.
Determining When to Plant Beets
As a cool season crop, beets do poorly in hot weather. Their ideal temperature range is 50 to 65℉. Although they tolerate light frost, they may go to seed if the cold lasts too long.
Direct sow beet seeds two to three weeks before the last spring frost when the soil temperature is at least 50°F. To ensure a steady beet supply, sow every two to three weeks until temperatures reach 75℉.
You can also start seeds indoors six to eight weeks before the last frost. Wait four weeks before hardening off and transplanting the seedlings. For a fall harvest, sow beet seeds approximately six to eight weeks before the first frost. Plant beet seedlings outdoors when they have at least one pair of leaves.
How to Plant Beets
The next step for growing beets is preparing the soil and sowing the seeds. Once the seedlings reach a certain height, you'll need to thin them.
Choosing and Amending Soil for Beet Plants
For growing beets, use loamy, well-drained, loose soil that's rich in organic matter. The ideal pH range is 6.0 to 7.5. Avoid clay soil since it's too heavy for the roots to grow.
Clear the soil of rocks and other obstructions to allow the beets to grow freely. Mix in aged compost and a little wood ash to promote root growth. Amend poor-quality soil with a balanced fertilizer.
Beets may develop black heart if there's not enough boron in the soil. Increase boron levels with compost or a seaweed extract spray.
How to Grow Beets from Seed
Soak beet seeds for 24 hours before planting to soften their tough outer shell and encourage germination. Sow the seeds a half-inch to one inch deep and two to four inches apart. The distance between the rows should be 12 to 18 inches.
Consider alternating beets with radishes, which grow fast and loosen the dirt. Cover the beet seeds with a thin layer of soil, then sprinkle a little water. Keep the soil moist to encourage germination.
Beet seeds typically germinate in 5 to 12 days. The process may take longer in cool temperatures.
If starting beets indoors, use a seed tray with cups about three inches deep, inserting one seed cluster per cup. Thin to one plant when the seedlings develop their first true leaves.
When the soil has dried out in the spring, gently remove the seedlings from the tray and transplant them to the garden.
Thinning Beet Plants
Thinning allows the roots to grow to their proper size. Thin the plants to three to six inches apart when they're about two inches tall.
Avoid pulling out the plants since that risks damaging the beets in the ground. Instead, snip off the beet greens at soil level with a small pair of scissors. Enjoy the thinned greens in salad.
How to Grow Beets: Plant Care
Beets require regular watering and occasional fertilizing, weeding, and mulching. Prevent insect pests by installing row covers.
Watering Beet Plants
Water your beets regularly—they require plenty of moisture to grow. If they do not receive enough water, beetroots may crack or turn stunted and tough. Aim to provide one inch of water per week. Water daily in hot, dry conditions.
Avoid soaking the soil. Excessive irrigation can cause rot and disease and encourage the plants to focus too much on leaf production.
Fertilizing Beet Plants
In general, beets do not require fertilizer during the growing season. However, if the soil is low in organic matter, apply vegetable fertilizer approximately two weeks after the beets emerge.
You can also side-dress with compost at midseason. Avoid feeding too much nitrogen since that promotes leaf development over root growth.
Weeding and Mulching Beet Plants
Weeds are an issue for young beet plants. Weeds compete with beets for water and nutrients. Keep your bed weed-free to prevent deformed roots.
Weed by hand since beets' shallow roots are easily disturbed. Tools might damage the roots, exposing them to disease.
Mulching retains moisture, discourages weeds, and prevents the soil from getting too warm. Mulch with grass clippings, shredded leaves, or straw, at least four inches deep.
Preventing Pests and Diseases on Beet Plants
Insects, bacteria, viruses, and fungal infections can all cause problems for beets. Deer and rabbits are also known to munch on the plants.
Several best practices help protect your beets from pests and diseases. Keep your garden weed-free, avoid overwatering, and thin the beets so that they're not too crowded. Plant resistant varieties, rotate crops and sanitize gardening tools between uses.
Fencing helps keep out deer and rabbits. Install floating row covers during insects' busiest time, May to late June.
Pick off bugs by hand or spray pesticide. Wear gloves for removing blister beetles since they release a chemical that causes blistering.
Remove any leaves affected by disease, but do not throw them in the compost. Spray a fungicide for fungal infections. Diatomaceous earth is an effective treatment for flea beetles.
How to Harvest and Store Beets
How long do beets take to grow? Pick beet greens throughout the growing season as long as you leave some attached to the plants. The time to harvest and the roots' final size depends on the beet variety.
How Long do Beets Take to Grow?
Expect to start seeing roots appear at the base of leaf stalks three to four weeks after planting. Beetroots typically mature in 50 to 70 days—check the seed packet to confirm your variety's days to maturity. Sugar beets and forage beets tend to mature more slowly.
Sweet-tasting baby beets have a diameter of approximately one inch. The average diameter for full-size beets is one to three inches. Although it's possible to harvest beets of any size, larger roots tend to be tough and fibrous.
Pick beet greens when they're two to six inches tall—any bigger, and they'll get tough. Expect to start harvesting the leaves about one month after planting. Use smaller leaves like lettuce and cook large ones like spinach.
How to Harvest Beets
To harvest the roots, loosen the soil, then gently pull out or dig up the roots. Expect to harvest about 15 pounds of beets per 10-foot row.
Leave one to two inches of stem attached to the roots to prevent the beet juice from staining during cooking. Twist off the leaves—don't cut them off.
When it comes to the greens, remove one to two mature leaves per plant. Leave at least three fully grown leaves on each plant since the roots need foliage to grow. Do not remove the small leaves at the center of the plant.
How to Store Beets
Keep beetroots in an unsealed plastic bag in the crisper for five to seven days. Store beets and the greens separately. Rinse the leaves, then refrigerate them for one to two weeks.
For longer-term storage, keep beetroots in a root cellar. Beets' storage location should be cool and dry with a temperature of 40 to 50℉.
Brush the dirt off the beets, then bury them in a box of sand or sawdust. Make sure the roots are not touching. Kept this way, they'll stay fresh for one to three months.
Note that small beets tend to store less well, and certain varieties last better than others. If your beets start sprouting, that's a sign that you're not storing them properly.
Try growing beets to add a beautiful, hardy root vegetable to your garden. Discover the answer to questions like "What are beets' care requirements?" and "How long do beets take to grow?" to know what to expect from the process.
Provide a sunny site and fertile, slightly acidic to neutral soil to help your beet plants thrive. Direct sow seeds starting in early spring to enjoy a bountiful beet harvest. Discover how to grow beets to add this bold beauty to your diet.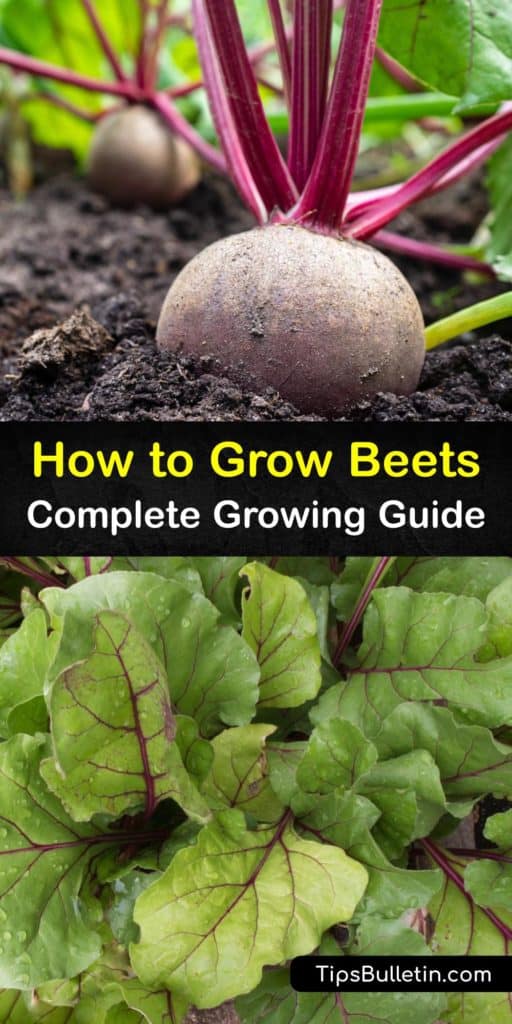 If you found these tips for growing beets helpful, please share this root vegetable gardening information with your friends on Pinterest and Facebook.