If you maintain a successful vegetable garden, consider adding celery alongside your other veggies. Not only is celery relatively easy to grow, but it also works well when planted with a wide array of flowers, herbs, and vegetables. Companion planting celery is easy because celery stalks have numerous companion plants.
Whether you are a beginner or an expert gardener, incorporate other plants in your vegetable garden to promote faster growth as well as more fresh food for you and your family. Finding the ideal companion plant as you are growing celery is all about personal preference. You can add a more colorful flower, like the marigold. Or, including a different vegetable to assist your celery is also a great option.
No matter what plant you decide for companion planting for celery, we show you what plants work best and which plants to avoid. Companion planting is all about allowing the plants to naturally help one another without interference, making your gardening experience smoother.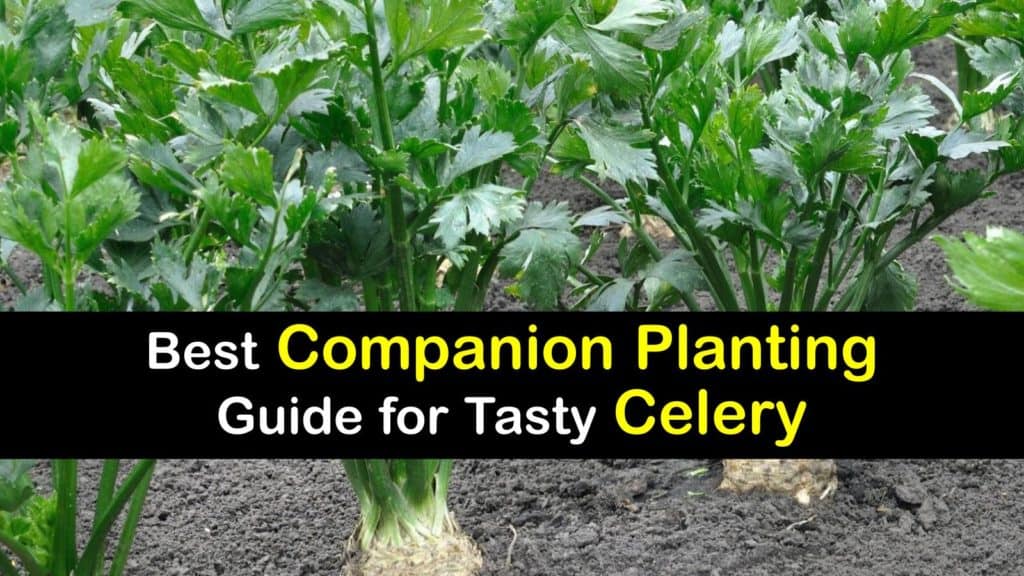 Why Should I Practice Companion Planting?
The best time to plant celery is a few weeks before the last spring frost. Whether you learn how to sprout celery from scraps or grow it from seeds, there are certain care requirements you must follow.
When you transplant your celery outdoors, think about companion plants to grow with it. Of course, you can also take care of growing celery indoors.
The number of advantages that companion planting carries is exceptionally vast. As most gardeners know, unwanted rodents and insects often try to steal the nutrients from your celery plants and other veggies.
When you learn what to plant with celery, some plants act as a natural insect repellent. Other companion plants help the celery grow faster and produce better-tasting fruit. Planting vegetables together has many benefits.
No matter what reason you choose to companion plant, your celeriac root thrives when grown next to the right kind of vegetable, herb, or flower.
Companion Planting Celery with Marigolds
Several flowers protect your celery from unwanted pests. Select flowers emit a strong odor that naturally repels whiteflies, aphids, ant colonies, cabbage worms, and cabbage moths from your vegetable garden.
Maintaining a healthy garden is complicated when there is a never-ending infestation of insects eating your celery stalks. To protect your garden, consider adding any of the following flowers.
The most effective flower when it comes to deterring destructive pests is the marigold plant. Marigolds have roots that produce a chemical that kills root-knot nematodes and other insects that try to eat your celery roots.
Marigolds are excellent bell pepper companion plants and add color to any veggie garden.
Additionally, marigolds repel tomato hornworms, cucumber beetles, and bean beetles while adding a beautiful touch to your vegetable garden.
Learning What to Plant with Celery
Some of the best companion plants for celery, whether you are planting celery from stalk or seeds, include members of the allium family. Alliums do an excellent job at enhancing the overall sweetness of the celery stalks. If you are wondering what to plant next to onions, go with celery plants.
Before you learn when to harvest celery that is crunchy and tasty, take the time to learn what to plant with celery. Alliums also contain anti-fungal properties for your plant's soil, repelling insects that poison the potting mix of your plant.
If you are not a fan of alliums, we suggest growing a plant from the cabbage family by your celery—plants like broccoli, kohlrabi, collard greens, Swiss chard, and kale.
Companion planting celery with veggies from the brassicas family provides benefits for both parties. The plants work together to deter insects while speeding up fruit production.
Companion Planting for Celery Next to Herbs
Herbs are multi-dimensional plants that provide your celery with helpful assistance. Not only do herbs work well when companion planting celery, but they also allow you to grow your own spices that add a flavorful punch to whatever dish you add them to.
Aromatic herbs attract beneficial insects and pollinators to your garden, stimulating faster growth. Additionally, herbs naturally repel large pests like deer, rabbits, and squirrels from grazing your veggies.
Tall herbs offer even more protection for your celery stalks, as they provide shade for the celery shoots. Learn what herbs to plant together with celery for maximum benefits. When your celery plants have mulch and partial shade, it prevents the plant from drying out and wilting.
Use Celery to Protect Zucchini
One of the most popular vegetables included in gardens everywhere is zucchini. Zucchini is extremely easy to grow and produces fruit within 60 days from seeding, much faster than most other plants.
Because the zucchini plant produces fruit so quickly, it uses most of its energy on production. Companion planting zucchini with celery allows your zucchini plant to be protected as it grows.
After regrowing celery in water, the transplanted celery guards and effectively deters whiteflies from attacking your zucchini. When you grow zucchini, there are a few popular plants to avoid growing nearby.
Potatoes, fennel, and pumpkins all negatively impact zucchinis development because they fight for nutrients in the soil.
Incorporate Bush Beans in Your Garden
When companion planting for celery, add bush beans or pole beans in your vegetable garden. Celery has several companion plants, and bush beans are an excellent way to promote steady growth from your celery stalks.
Bush beans do a fantastic job attracting beneficial insects like parasitic wasps that consume harmful pests like aphids. To further help all the plants in your garden, including your bush beans, we advise planting potatoes near your beans.
Potatoes are a great plant to have in your garden, as they are used for many lunch and dinner meals. The advantage of including potatoes next to your beans is that they naturally deter harmful beetles.
Give your bush beans and potatoes ample space between each plant, as interplanting them causes stunted growth.
Companion Planting Brussels Sprouts and Celery
Another great companion plant that grows well with celery is Brussels sprouts. Because the two vegetables have similar maintenance needs, it makes gardening much more manageable.
Additionally, Brussels sprouts take up very little space in your garden, allowing you to take advantage of the entire area. Brussels sprouts also attract essential beneficial insects like ladybugs and parasitic wasps to help pollinate your plants and consume harmful pests like aphids.
When planting Brussels sprouts, it is vital to understand that they do not grow well with strawberries, kohlrabi, or pole beans. Companion planting for celery is a fantastic way to conserve garden space while warding off destructive insects. Use celery to control potato bugs and cabbage flies.
Plants to Avoid Growing by Celery
Although celery has many plants, flowers, and herbs that grow well next to it, there are also a few vegetables to avoid. Plants like parsnips, carrots, aster flowers, and fennel stunt the growth and development of celery.
These plants fight for nutrients in the soil and do not allow the celery to secure its roots in the ground. Another plant to consider avoiding when it comes to gardening is radishes. A radish plant does not allow other plants to grow next to it.
If you grow radishes, plant them in a separate section in your vegetable garden, so all your plants sprout and produce healthy fruit.
Celery is very easy to grow, although the vegetables demand a lot of attention and careful maintenance. To make your daily gardening routine less stressful, implement companion planting.
Companion planting for celery allows your celery stalks to sprout quicker while also fending off insects like aphids and whiteflies that steal nutrients from your other plants.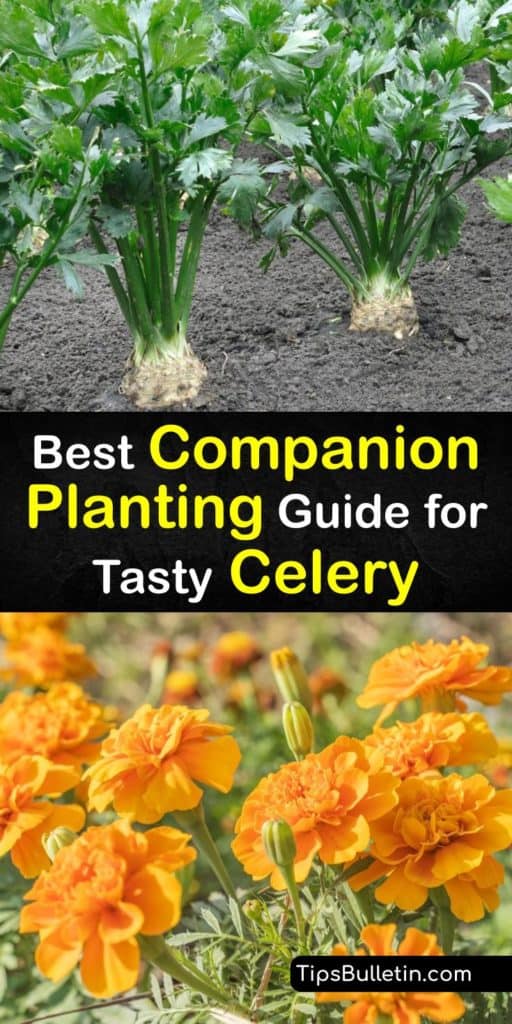 If you learned about companion planting celery, share this article with advice for what to plant with celery with your friends and family on either Facebook or Pinterest.